A decade ago, Chinese aircraft lessors owned 22 of China's 430 leased aircraft. In January this year, Mainland controlled lessors had a portfolio of 583 airplanes in a leased fleet of 1,235 China-based aircraft. Read More »
Even more attention grabbing is the number of Chinese lessors in play. "There are a lot of leasing companies in China," head of the Aerospace Finance Focus Group and a member of the Working Group on Transportation of the Hong Kong Economic Development Commission, Dewey Yee, told Orient Aviation last month. "The last count was 60."
He was speaking as Hong Kong formalized its grab for market share in the lucrative aircraft leasing business – valued at $225 billion globally in 2017 - after changes in the tax regime were passed into law in Hong Kong in July.
The new regime is intended to make Hong Kong a genuine competitor with global aircraft leasing giant Dublin, and to a lesser degree, Singapore and China's Tianjin special economic zone.
A career veteran of the industry who also is a special advisor to the Board of Ireland-based Aergo Capital Limited, Yee said while the overall number of Mainland lessors is big, many of them only have one or two aircraft on their books. In the next several years, he said, there probably would be "a significant consolidation or inactivity by a lot of those lessors".
"Simply, we will have too many people in the sandbox. There will not be not enough toys to play with and not enough profit to make," he said.
Yee's view is shared by the president of Minsheng Commercial Aviation's aircraft leasing arm, Wang Fuhou, who told delegates at a recent Shanghai conference that "this is a highly specialized and international funding and technologically intensive business. I believe we will see many withdraw or be forced by business problems to quit. We don't need this many (Chinese) aircraft leasing firms", he said.
Managing director of aircraft leasing and financing platform, Novus Aviation Capital, Hani Kuzbari, said the competition in China [among lessors] is putting severe pressure on leasing factors and returns. There is "all-time high liquidity and all-time low returns. In the industry cycle we're very much around the peak or post the peak," he said.
Separately, it is reported that certain Chinese lessors have told prospective airline customers "whatever offer our competitor has made, take 5%-10% off it. That is what we will give you".
Speaking from Hong Kong, Yee said there is not only pressure on lease rates. "There is pressure on each other to capture the market. All the big boys are trying to grow as fast as they can," he said.
"They've got a ton of money. They have cheap bank money and there are new players coming in such as asset managers representing institutional investors and private network investors that need yield and are very happy with a 3%, 4% or 5% return on their money. So yes, there is a lot of pressure on profitability at these lessors in China."
Not everyone is so pessimistic and the state of the business is not just about China. Hong Kong-based head of Asia-Pacific at Avolon, Simon Hanson, is one of them. Avolon became the world's third largest lessor when a division of the HNA Group, Bohai Aviation, acquired it for $7.6 billion last year. He said the industry is cyclical and dealing with it is nothing new.
Since becoming Chinese-owned, Avolon also has acquired U.S.-based CIT Leasing for $10 billion. Following the acquisitions, the lessor has expanded from a fleet of 200 aircraft to 921 at June 30 this year. The book included committed orders.
"What are the risks?" Hanson asked. "The risks in this industry tend to be exogenous risks we can't foresee. I suppose those on the horizon are geopolitical. We would be concerned about the various environments and potential for instability around the world. Is the cycle going to be like the last cycle? Definitely not.
"Could it be altered by the amount of capital we've seen come into the industry? Possibly. There are certainly high levels of liquidity around the world that may dampen the effect of the aircraft financing cycle. But I suspect it's the one shock we have not thought about that will mark a change in direction for the industry.
"We are sort of approaching that point, but it's hard to see where it is going to emerge. We have managed through multi-cycles and we are big believers in aircraft being good long-term investments."
There is little doubt that leasing rates are taking a hit in the present environment, geopolitical or otherwise. The latest figures from Europe's AviaAM Leasing, for the second quarter of this year, indicated a downward trend in aircraft lease rates compared with the same quarter a year ago. And there is universal agreement that Asia, and China in particular, are strongly influencing the rate erosion.
Narrow body A319-100 and B737-300/400/700 lease rates have dropped by 4.94%, 2.61%, 3.57% and 4.71%, respectively, compared with 12 months ago. Boeing 737-800 lease rates have slumped by 10.62%, although lease rates on Airbus 320-200s increased by 3.84%. Significant decreases in returns also were recorded for B777-200ERs (-32.90%0). Airbus 330-200/300s and Boeing 777-300ERs declined by 11.32%, 9.59% and 6.98%, also respectively.
The volume of entrants muscling into the leasing business is hardly surprising. Close to 42% of the global airline fleet is leased and the percentage is rising. In a business once dominated by western lessors, Chinese banks, institutions and individual global investors are eager for a share of the still lucrative business.
Bank of China's Singapore-headquartered BOC Aviation Ltd is a long term player in the industry, while Hainan Airlines parent, the HNA Group, the Bank of Communications (BOCOM), China Minsheng Banking Corporation and CDBALF are more recent entrants in the industry via their rapidly expanding subsidiaries.
They target Chinese airlines, but also, increasingly, are doing deals globally, traditionally the domain of Western lessors. Chinese local governments, including Tibet and Xiamen, as well as insurers, also have launched leasing arms, supported by government measures to boost growth.
Senior vice president of BOCOM Leasing, Li Ru, said these trends are behind the fierce competition for clients and qualified staff. "Profit margins are shrinking every year. Rents are falling, but our plane-buying costs are still growing annually," he said. To be noted is the fact that in the case of China many domestic lessors only lease aircraft to domestic airlines.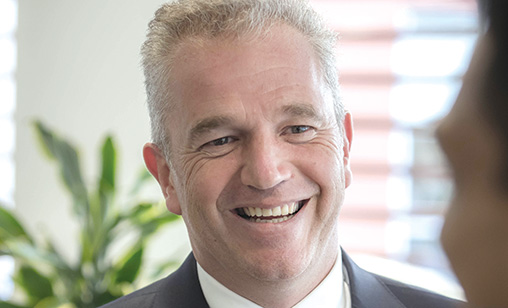 'We are just beginning to scratch the surface [for lessors], certainly in China and India. Having a positive spin on Asia-Pacific is important, particularly if you put it in the context of what Hong Kong wants to achieve as part of that. Its right bang in the centre of the largest growing market in the world. We don't really see an end to that at the moment"
Simon Hanson
Head Asia-Pacific Avolon
When it comes to the Mainland, there are valid reasons for global lessors' attraction to Chinese airlines. In a report released in May, "Land of Silk and Money, an analysis of China's Aviation Market", Avolon's head of strategy, Dick Forsberg, highlighted the impact of China as the world's largest generator of outbound travel, with more than 120 million Chinese visiting international destinations in 2016.
"Today, 150 airlines provide international services from 82 Chinese airports, operating 800,000 flights annually on 1,200 airport pairs. China's international air traffic has been growing at an annual rate of 14% since 2010 and reached 126 million passengers in 2016," the report said. Forsberg forecast more than 3,000 additional aircraft will be required by Chinese airlines in the next decade of which less than 50% have been ordered. All of which is music to the ears of lessors.
It is one of the key reasons Hong Kong has passed into law its generous new tax regime for aircraft lessors. The law offers a tax rate of 8.25%, half of the prevailing Hong Kong corporate tax rate. See Hong Kong's new tax regime, page 17.
So how difficult will it be to attract lessors and their specialized staff from Dublin, a city with cleaner air, lower living costs and a better quality of life than Hong Kong?
Yee said that question has been answered. A number of companies, such as Avolon and GECAS - Dublin-based AerCap and GECAS are the only lessors larger than Avolon - and some others have set up in Hong Kong.
But it is not about setting up, he said. "It's about locating the special purpose vehicle (SPV) in the Hong Kong jurisdiction. The main reason there are a lot of companies in Ireland is that the Irish SPV enables you to enjoy certain double taxation benefits because of taxation treaties between Ireland and a number of countries.
"Ireland has 70 or 80 treaties where you lease an aircraft from an Irish SPV to a third country. Because of the agreements, you have a lower withholding tax rate that is anywhere between 6% to maybe 7% or 8%. If you don't have that treaty in place it's as high as 15% to 20% in withholding taxes on the rental income."
For those leasing aircraft into China from Hong Kong, Yee explained, the withholding tax rate previously for Mainland China was 7%. The rates were 6% in Singapore and Ireland.
"The [Hong Kong] government lowered the double taxation, the treaty rate, to 5%. It is now 1% lower than Singapore and Ireland. That 1% is quite significant if you are dealing with very large sums of money," he said.
"But we have less than half the double taxation treaty agreements with other countries of Singapore and Ireland. The Hong Kong government recognizes this and is negotiating with countries with that in mind, especially when it comes to aircraft leasing. In fact, some recent treaties are actually more favourable than those with Singapore and Ireland."
That optimism is shared by China Aircraft Leasing Group Holdings (CALC). Chief executive, Poon Ho Man, told Orient Aviation the government's decision to move ahead with a dedicated tax regime to develop the aircraft leasing business in Hong Kong is welcome news for the industry.
"Hong Kong has a well-developed and sound financial infrastructure with a relatively transparent and simple tax filing procedure," he said in a statement. "It will be a new driver for economic growth with ripple effects and benefits in employment and Hong Kong's competitiveness in the global market.
In the meantime, "CALC is working towards being a full value chain aircraft solutions provider for global airlines. We are well positioned to capture significant opportunities globally", CALC chairman, Chen Shuang, said when the lessor announced its annual results last month.
Poon said CALC will deliver 20 more aircraft by year-end and will have a fleet of 110 airliners in the same period. He expected to take delivery of 40 aircraft annually from 2020, with half of them to be leased to customers outside China.
In July, it ordered 50 B737 MAXs, worth $5.8 billion at list prices. They will be delivered by 2023. In 2014, the lessor made a US$10 billion commitment for A320s. "We hope to play a role in facilitating Hong Kong to become an international aircraft leasing hub. We believe that the revision of the tax code will allow Hong Kong to emulate and catch up with Singapore and other aircraft leasing hubs," said Poon.
Whether it can remains to be seen. A clause in the legislation requires a lessor to have its central management and control in Hong Kong, which requires the entity's executive officers and senior management exercising day-to-day decision-making powers to be based predominantly in Hong Kong.
A foreign corporation looking to take advantage of Hong Kong's lower tax regime cannot operate through a Hong Kong branch office. It is estimated about 60% of the world's leased aircraft are owned and managed from Ireland. Will any of these companies move their headquarters to Hong Kong?
Avolon is an interesting case in point. It is now Chinese-owned, but the lessor appears to have no intention of moving its head office from Dublin to Hong Kong. It has offices in Hong Kong, Shanghai and Singapore, said Hanson, but they are staffed by "coverage people" who look after relationships with airline customers and banks or in the trading area.
"We increasingly have a locally based legal presence, a team of lawyers who are documenting our transactions. We find it very helpful to have lawyers in the same jurisdictions as our trading and airline customers," he said.
"But the main hub of the business is out of Dublin. We are in daily contact at multiple levels with video conferences and telephone calls. That's the way this business works. It's very much about going back to the global hub, which is Dublin.
"Then you have the situation where you ask do you want to replicate the environment that Ireland has spent many years investing in and nurturing? Clearly, that's the way Hong Kong and Singapore are looking at it at the moment.
"From an Avolon perspective, we're here because we need to be close to our customers. This is where the growth is and we resource that appropriately."
Interestingly, Hanson said being Chinese-owned did not mean it made it easier to lease planes in China. "We have to compete with the airlines like everybody else. Even with HNA airlines it's a competitive process. It's pretty much business as usual for us. We are the same as every other lessor knocking on doors."
Hong Kong would not be wise to ignore the possibility of Ireland retaliating to its new lessor rival. A tax director with accountants BDO Ireland, Angela Fleming, last month warned about moves [in leasing] by Singapore and Hong Kong into China, particularly after Singapore announced an extension to its existing aircraft leasing regime to 2022 and Hong Kong's legislation was passed into law.
"While significant growth in Asian markets presents massive opportunities for Ireland, we cannot ignore the threats posed by those jurisdictions which are competing for a bigger share of the aircraft leasing market," she said.
"The aircraft leasing industry is of such significant value to Ireland that we cannot allow ourselves to become complacent."
She urged Irish authorities to look for ways to attract and retain the pool of highly skilled professionals that are the cornerstone of the aircraft leasing industry. Recent "hints" from Ireland's new Taoiseach about tax cuts may be very welcome in the leasing space.
Avolon's Hanson said: "Asia is a fast growing market. It has good future potential. There is the growth of the middle class. Sixty per cent of the world's population is here. When you look at the penetration of aircraft compared with the more established markets of Europe and North America, there is significant growth in this region. It still excites me today as much as it did when I arrived here 16 years ago".
Hong Kong's new tax regime for aircraft lessors


After more than four years of effort by the Working Group on Transportation of Hong Kong's Economic Development Commission, Hong Kong's tax legislation for aircraft financing and leasing business was passed into law on July 7.
Under the concessionary tax regime, the assessable profits from prescribed activities by a qualifying aircraft lessor and a qualifying aircraft leasing manager are subject to profit tax of 8.5%.
The assessable profits of the aircraft lessor are calculated at 20% on the net lease rental payments excluding depreciation allowances. The changes in Hong Kong legislation offer a dedicated concessionary tax regime to aircraft lessors as well as aircraft leasing managers considering entry into the aviation leasing market in the region.
The tax treaty network also is a critical factor for aircraft lessors and Hong Kong is behind other leasing centres on this front. The Hong Kong Special Administrative Region (SAR) government is committed to working towards extending its tax treaty network and intends to provide more industry training given the potential growth of the aviation industry.
Given Hong Kong's proximity to Mainland China and its similar culture and language, aircraft lessors based in the SAR have the advantage of understanding the sentiments of the growing aviation market. The introduction of the concessionary tax regime is a key step in the right direction.
Around 93% of respondents to a PwC survey in February this year said they were confident Hong Kong would become a promising regional aircraft leasing hub and supported the government initiative.
PwC understands several aviation investors have expressed interest and have commenced to plan their aircraft financing and leasing business in Hong Kong, which signals a promising future for aircraft financing and leasing in the SAR.
* PwC Asset Finance and Leasing Tax partner, Clarence KF Leung