Long-touted as Asia's version of the Single European Skies, the drive towards an open skies regime among the 10 members of the Association of Southeast Asian Nations (ASEAN), officially scheduled to arrive in 2015, is dogged with disagreements among member states about how far they are prepared to go to fully liberalize their aviation markets. Read More »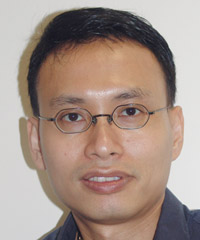 'The single market is unlikely to be realized in substance, and certainly not by 2015'
Alan Khee-Jin Tan
Professor of Aviation Law
National University of Singapore
"The single market is unlikely to be realized in substance, and certainly not by 2015," said Alan Khee-Jin Tan, professor of aviation law at the National University of Singapore, who pointed out that even at this late stage, ASEAN's Multilateral Agreement on Air Services has yet to be accepted by all countries. For smaller nations, signing it would mean competing with more efficient airlines in Singapore, Malaysia and Thailand, he added.
The most worrying aspect, according to most observers, is although there has been partial liberalization between secondary ASEAN destinations since 2009, there remain deep divisions between ASEAN members, comprising Brunei, Cambodia, Indonesia, Laos, Malaysia, Myanmar, the Philippines, Singapore, Thailand and Vietnam.
One of the main dissenters is Indonesia, which is resistant to fully opening its markets. Tan, in a recent media report, said to protect themselves from competition, Indonesian carriers, including national carrier, Garuda Indonesia, had been aggressively lobbying their government to steer clear of the ASEAN deal.
"In turn, this restricts the operations of other ASEAN carriers into Indonesia, subjecting them to finite capacity that remains negotiated bilaterally," said Tan.
Garuda president, Emirsyah Satar, said Indonesia was willing to open up to more flights from other ASEAN countries, but it needed to be assured they would not use other regulations to block Indonesian airlines.
Indonesia is critical to the entire open skies concept because it accounts for almost half of the ASEAN population. Its absence would significantly reduce the clout of the single market and its potential 600 million customers.
A second pact, the Multilateral Agreement for the Full Liberalization of Passenger Air Services, has found even less acceptance.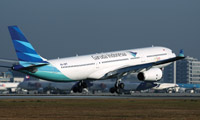 Garuda Indonesia: has aggressively lobbied its government to steer clear of the ASEAN Open Skies deal
The dissenters also include Brunei, Laos and Cambodia. Another complication is that all the member states hold the right to deny access to any ASEAN airline seeking to enter their skies.
"This introduces risk and uncertainty for any potential cross-border investments in 'community' airlines," said Tan. "Meanwhile, the likes of [low-cost carriers] AirAsia and Jetstar can expand only by incorporating local subsidiaries that must remain substantially owned by local interests."
These warnings come as Southeast Asian carriers, particularly some budget operators, fiercely jockey for position to gain open access across the region.
Among the leading expansion-driven players are Indonesia's Lion Air and Malaysia's AirAsia. The latter moved its headquarters to Jakarta and set up AirAsia ASEAN last August.
"One of the reasons for locating the office in Jakarta is to help us engage more closely with the ASEAN Secretariat, which is headquartered here," said AirAsia group chief, Tony Fernandes. "AirAsia ASEAN will help ensure that our voice, our concerns and appeals are heard much more clearly in the corridors of power with ASEAN."
Big full service carriers like Malaysia Airlines, Singapore Airlines and Thai Airways International also have been actively pursuing strategies that will allow them to take advantage of open skies, not only within ASEAN, but between ASEAN and major regional growth markets such as India and China.
MAS chief executive, Ahmad Jauhari Yahya, said the carrier was eyeing new destinations in the region, particularly in China and India. Its offshoot, Firefly, is planning more flights within ASEAN, to Indonesia, Singapore and Thailand. Another subsidiary, MASwings, which offers services between Sabah and Sarawak, is looking at opportunities in the Brunei Darussalam - Indonesia-Malaysia-Philippines East ASEAN Growth Area.
'Carriers in smaller countries are becoming very nervous about the threat open skies will present to their survival'
Yahya said the ASEAN open skies policy was about open competition. "The policy will keep airline companies on the same level. You are no longer bound by national policies. It will also encourage more travel and competition which is good for the consumers," he said.
Despite Indonesia's reluctance to fully enter open skies its airlines have been preparing for it. Garuda's fleet will more than double by 2015, including a large number of single-aisle aircraft suited to the shorter runways of secondary airports. These destinations will be largely served by its budget subsidiary, Citilink.
Lion Air, Indonesia's second largest airline, has been making headline news with record orders for new planes.
In the Philippines, Cebu Pacific Air has been expanding in preparation for ASEAN developments. Philippine Airlines (PAL) recently announced a partnership with Cambodian businessman, Neak Oknha Kith Meng, for a joint venture airline, Cambodian Airlines, aimed at entering a market that is among the least developed in Southeast Asia.
Despite this activity there are growing doubts airlines will be granted the freedoms they expect. Carriers in smaller countries are becoming very nervous about the threat open skies will present to their survival.
Neil Dave, consulting analyst, aerospace and defense at Frost & Sullivan Asia-Pacific, warned the implementation of open skies policies may adversely affect the growth of aviation, especially in countries with a developing aviation industry.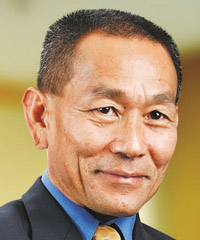 Ahmad Jauhari Yahya, chief executive, MAS: ASEAN open skies policy is about open competition. MAS offshoots Firefly and MASwings are eyeing more flights within ASEAN
He suggested there would be short-term pain for long-term gain. Open skies would bring stiff competition from mature, foreign carriers that could eventually "squeeze out smaller players" from a developing aviation industry, leading to loss of aviation related jobs, he said.
"Although this competition is a natural by-product of the introduction of such laws [open skies], it is essential to note the impact that open skies policies could have on the national airline companies," said Dave.
"Countries such as India and China have been experiencing rapid growth in air transport services and domestic aviation infrastructure and are major competitors in the market. Other ASEAN countries will be forced to improve their air transport services across the region to remain competitive."
The reality is that small operators in the lesser ASEAN nations, such as Myanmar, Cambodia and Laos, are going to have a tough time competing against big, cashed-up rivals determined to grab a slice of the smaller countries' growing business and leisure traffic, say industry insiders.
Even countries that have embraced open skies have tempered their enthusiasm. Vo Huy Cuong, director of the Air Transport Department at the Civil Aviation Administration of Vietnam (CAAV), said the country agreed to liberalize cargo and passenger services markets with many members of the ASEAN bloc, including Singapore, Malaysia, Thailand, Laos and Cambodia and was in the process of considering unlimited flights from Vietnam to destinations in other ASEAN nations.
But he emphasized the country's entry would still depend on the strategies of other member countries and domestic traffic rights would continue to be for Vietnamese airlines only.
One of the big concerns for carriers is that for open skies to develop in a meaningful way, there must be adequate infrastructure such as airports and air traffic services.
Most major capital city airports are operating at full capacity and many secondary airports urgently need upgrading. While plans are in place for expansion at many facilities little will be ready by 2015.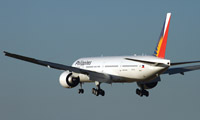 Philippine Airlines: has established a joint venture with new Cambodian carrier, Cambodian Airlines
This is reflected by the Philippines approach, which involves what it calls a "pocket open skies" policy. It restrains access to Manila's Ninoy Aquino International airport because it is facing serious capacity limitations, but opens the nearby Clark International Airport.
On the other hand, Indonesia is opening five of its major airports; Jakarta, Surabaya, Bali, Medan and Makassar, while restricting access to other airports. That may not help. Surabaya is already heavily congested and Jakarta's Soekarno-Hatta International is serving more than twice its design capacity.
Said Frost & Sullivan's Dave: "The current lack of infrastructure in developing ASEAN countries to support the change in policy may lead to over capacity of airports. With the increase of air travel within the ASEAN region, the over-utilization of airspace and technical delays may result in a high possibility of air routes within the region becoming overly congested."
The University of Singapore's Tan has another critical point to make: the failure of ASEAN members to immerse themselves in a truly single aviation market could cause serious damage to the competitive position of their airlines.
"There is an irony – which often escapes the ASEAN members – in this unwillingness to go the whole way: it can actually strengthen the competitive position of non-ASEAN member," he said.
Tan cites the landmark ASEAN-China Air Transport Agreement adopted in 2010, already in force between China, Singapore, Malaysia, Thailand, Myanmar and Vietnam, with the other five ASEAN countries having the right to become signatories whenever they feel ready.
"This agreement and its first protocol provides for unlimited third/fourth freedom access for airlines on both sides, effectively superseding the relevant bilateral agreements between the individual ASEAN countries and China," he said.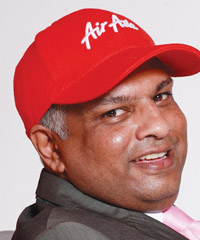 Tony Fernandes, AirAsia Group chief executive: competition breeds winners; more liberalisation needed
"Hence, airlines from Singapore, Malaysia, Thailand, Myanmar and Vietnam now have unlimited third/ fourth freedom capacity to points in China, with the exception of Hong Kong, Macao and Taiwan, which are points excluded by the Chinese side. Reciprocally, the Chinese airlines have similar unlimited third/fourth freedom access between China and points in the relevant ASEAN countries."
But Tan said protectionism within ASEAN means its carriers will be at a disadvantage to Chinese airlines. "This paradox occurs because ASEAN airlines are only able to operate to the Chinese points from points in their own territory. The Singapore carriers, for instance, can only operate to China from Singapore and not from other points in ASEAN.
"Similarly, the Malaysian carriers have unlimited access into China, but only from points in Malaysia. To connect China with other ASEAN points outside the airline's home country would require the grant of seventh freedom rights among the ASEAN countries themselves, something that is not [yet] contemplated.
"On their part, the Chinese carriers can effectively connect any point in their backyard with any point in the ASEAN countries that have accepted the ASEAN-China Agreement. If all ten ASEAN countries eventually accept the agreement, the Chinese airlines will still remain the only carriers that can connect any point in China with any point in ASEAN," said Tan.
With ASEAN actively looking to establish new agreements with India, Japan and Korea similar to the agreement with China, without achieving a single unified market in their own backyard first, the ASEAN countries risk disadvantaging their own airlines in the long run, according to Tan.
Despite these shortcomings, he said ASEAN's plan was for the overall liberalization process to proceed in a dual-tracked fashion. "The overriding hope is that in time, ASEAN member states will recognize that it is in their collective regional interest to forge a common market and a common position for negotiating with other countries.
"But even the most optimistic observer will concede that time is not on ASEAN's side. Progress is certain to be slow, with big players such as Indonesia continuing to hold out," said Tan.
Nevertheless, most analysts agree the region will ultimately benefit from increased liberalization and eventual open skies.
Frost & Sullivan's Dave believes in the long run it will bring about real and spill-over benefits to various industries. "With ASEAN countries being some of the main exporters of electronic goods globally, the open skies agreements will boost economic and trade growth," he said.
"Furthermore, the strong trade and tourism industries are set to improve as demand for air transport continues to rise among these regions. Increased flexibility, route coverage and profitability as a result of these open skies policies are expected to contribute to these developments."
AirAsia's Fernandes has no doubt open skies is the way of the future. He said "competition breeds winners" and there must be further liberalization, not only within ASEAN.
"It's clear that consumers, airlines and the aviation industry can only gain once artificial restrictions to markets are dismantled. The ASEAN Open Skies agreement aims to do just that, but we should not stop at the regional level," he said.
SES and ASEAN Open Skies: no comparison
There are huge differences between the open skies in force in Europe and the planned ASEAN Open Skies. In Europe, airlines have unlimited freedom to operate whenever and wherever they want, even between second and third party countries, as well as to fully own airlines in any country within the European Union.
In Southeast Asia local ownership rules will remain and multilateralism will not be the order of the day. Air rights will still be negotiated bilaterally.
In ASEAN, only third, fourth and fifth freedom relaxations among member states are contemplated. Seventh freedom access (allowing, for instance, a Singapore carrier to connect Jakarta and Manila without the flight originating or terminating in Singapore) is not included. Neither is the sensitive right of cabotage, the ability of a foreign airline to connect two domestic points in a country.
The third, fourth and fifth freedom relaxations are set out formally in two multilateral agreements. The first is the Multilateral Agreement on Air Services (MAAS). This contains two relevant protocols that free up third, fourth and fifth freedom access respectively among the ASEAN capital cities.
These protocols have been accepted by all ASEAN countries, except for Indonesia and the Philippines. This means Jakarta and Manila remain excluded from liberalization.
The second is the Multilateral Agreement for the Full Liberalization of Passenger Air Services (MAFLPAS), which abolishes third, fourth and fifth freedom restrictions among all other ASEAN cities. Indonesia, Brunei, Laos and Cambodia have yet to accept it.