Australia charts new territory for Japanese tourists
Australia's Alliance Airlines and Japan's largest tour operator, JTB, have signed a three-year contract to provide charter services within Australia for Japanese travel groups. Chief correspondent, Tom Ballantyne, reports from Brisbane, Australia.
It has been a busy start to 2018 for Australia's Alliance Airlines, the world's largest operator of Fokker jets and turboprops. Read More » It took delivery of its 32nd plane, a Fokker F100, at the turn of the year and in February the airline signed a three-year contract, largely an initiative of Tourism Australia, to bring more Japanese visitors to Australia's tourist hot spots.
At its peak, 700,000 Japanese a year flocked to Australia, but the market dwindled to more than 300,00 annually before it began to recover. To December 31, 2017, 434,000 Japanese visited Australia, a 4% increase over the previous 12 months.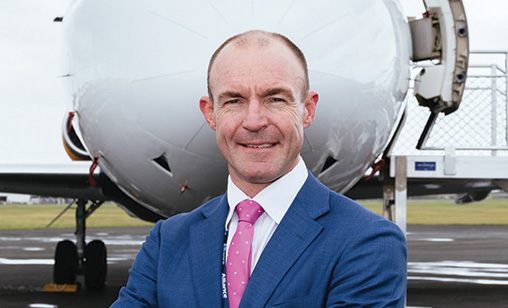 'We very much have ten plus years in the current fleet. We are very bullish about our remaining life span in the aircraft. We get almost better dispatch reliability than you would from a new jet. The economics are more than satisfactory. They are very compelling. We monitor the replacement options, but from an economic perspective we are nowhere near any replacement.'
Lee Schofield
Alliance Airlines CEO,
operator of an all Fokker fleet
"JTB has a vision to drive up these numbers," said Alliance Airlines CEO, Lee Schofield, "Alliance comes into the strategy because we can open up areas of Australia to the Japanese that are not available from scheduled services. JTB does the distribution in Japan. Our role is providing air tours."
Schofield wants to negotiate similar contracts with Mainland Chinese agencies. In 2017, 1,355,500 Chinese visited Australia, a 12% increase compared with 2016, and contributed A$10.4 billion (US$8.1 billion) to the Australian economy. Tourists from New Zealand slightly outnumber Mainland visitors to Australia, however the Tasman visitors spend less than a third of the money Mainland Chinese travelers outlay during their Australian stays.
"There are some discussions. Nothing we can announce but we are interested. We would be silly if we were not," Schofield said.
The first Alliance Airlines charter flight will take place this month after JTB delivers its Japanese passengers to Darwin. Alliance will fly the group to Uluru (formerly Ayers Rock) and onto Australia's eastern seaboard, which will be a non-scheduled domestic service.
"At the moment, scheduled services fly to Uluru from Melbourne and Sydney. We can do it out of the Gold Coast, Brisbane and Cairns and, potentially, the Whitsunday Islands. In 2018, there will be about 20 flights. We are starting small, but there could a great amount of growth added to the network in 2019," said Schofield.
Alliance is essentially a charter operator whose business includes fly-in-fly-out services to Australia's mines, where many of the sites are hundreds of kilometres from the nearest airport.
It flies scheduled services from Brisbane to Emerald, Cloncurry, Mt Isa and Rockhampton on wet leases for Virgin Australia as well as operating code shares to Bundaberg, Gladstone and Port Macquarie with the carrier.
Alliance has two VIP aircraft in its fleet, including a former Dutch Government VIP jet that can take 24 passengers. It also has 100-seat Fokker 100s, a Fokker 70 with 48 business class seats, standard Fokker 70s with 70-80 seats and turboprop Fokker F50s for airports that can't take jets.
Bankrupt Fokker ceased production in 1996, but Schofield told Orient Aviation the fleet is highly economic to run. "The analogy we use is that it is like your grandfather's old axe. It has the same head but lots of new handles," he said.
"Our heavy maintenance procedures effectively pull it apart and put it together as new. Fokker Services still do a great job of maintaining the type certificate support. Secondly, while calendar age is probably one factor it may be the least relevant factor.
"Most important is how many flights and how many take-offs and landings an aircraft has done. That determines its real maintenance life. On average, we are one-third of the way through the available life of our fleet so we will never have an exhaustion of life.
"We have an open relationship with all the 100-seat jet manufacturers and always listen to what they have to say but we are a long way from that."
Its latest F100 was rolled out at Brisbane Airport with a special commemorative livery to celebrate and pay homage to Australian aviator, Sir Charles Kingsford Smith. The occasion celebrated the 90th anniversary of his historic first trans-Pacific crossing from the U.S. to Australia.
That Fokker aircraft, the "Southern Cross", took 83.5 hours to complete the journey, with stops in Hawaii and Fiji. The original aircraft is on display in its own memorial hangar at Brisbane Airport.