Easing passenger irritation at Asia-Pacific airports
At any Asia-Pacific hub airport – and many of the region's smaller ones – long check in queues, backed up lines at security barriers and delayed flights are the norm. Read More » If that is the situation in 2018, what will air travel be like for the 4.1 billion passengers forecast to fly in the region in 2036?
SITA CEO, Barbara Dalibard, said the answer is "smart use of technology to help manage rising passenger numbers, limited infrastructure and increased complexity." Like its rivals, Sabre and Amadeus, SITA is banking on its offerings in biometrics, artificial intelligence, machine learning, robotics and Blockchain to cope with the air passenger bulge that is close to overwhelming many airports in the region.
"Biometrics is becoming more commonplace at airports worldwide. The technology is delivering secure seamless travel from check-in to boarding," said Dalibard. "We have biometric self-service solutions operating globally, including in Australia, the U.S., Mexico and the Middle East."
In acknowledgement of the importance of managing air passenger growth, the International Air Transport Association (IATA) has announced its inaugural Global Airport and Passenger Symposium (GAPS), which will be held in the first week of October in Athens.
The association said the primary drivers of change will be data-driven technology solutions. Primarily, they are the transfer of some airport processes off site, wider implementation of real-time exchange of operational data, back office efficiencies and innovation in identity management (One ID).
IATA and its OEM partners also aimed to improve aircraft design and on-board systems to provide airlines with more options for product innovation and revenue generation.
"Air travel is expected to double by 2036. The industry will not be able to handle the growth or evolving customer expectations with current processes, installations and ways of doing business. GAPS brings together experts to share research and learnings and collectively shape solutions for the future passenger journey," said IATA's senior vice president, airport, passenger, cargo and security, Nick Careen.
An estimated US$430 billion either is being invested in airport expansion or planned to be so. Accompanying this infrastructure pipeline is widening agreement that bricks and mortar alone won't solve the problem.
After Australia introduced ePassports in 2005, Sydney Airport began rolling out smartgates at its arrival terminals two years later. The technology, after some operational difficulties, was expanded to departure terminals in 2015. Now, the e-gates are the primary method for processing travellers through Australia's major international airports. At peak travelling times, a single SmartGate can handle as many as 150 passengers an hour or one person every 24 seconds.
A number of the region's airports are experimenting with biometrics to speed up passenger processing. Last May, Seoul's Incheon International Airport launched SITA's self-service bag drop technology at its new Terminal 2 to cope with the recent Winter Olympics Games visitor influx and to prepare the airport for the 100 million passengers a year it is forecast it will need to process by 2030. Drop&Fly simplifies the bag drop process, commands less space in terminals and improves accuracy in baggage handling.
In June, the Malaysia Airports Berhad, which operates the country's 39 airports, introduced a mobile app that applies Big Data Analytics (BDA) to the passenger experience. Using MYairports passengers can plan their journey to the airport ahead of time and be navigated intelligently from airport check points to the boarding gate in the fastest possible time.
Malaysia Airports is undergoing a digital transformation with BDA applications and the Internet of Things (IoT) devices that will anticipate foot traffic flows, manage facilities for passenger comfort and reduce queuing congestion.
MAB managing director, Badlisham Ghazali, said: "The MYairports mobile app is meant to help passengers plan their journeys in the palm of their hands. The app gives live updates of flight information, time left to board flights, shopping and dining promotions, critical airport information and way finding around the airport."
At London Heathrow, one of the world's busiest airports, Vietnam Airlines can move its flights from Gatwick to Heathrow because the airport's more efficient use of digital data allows it to add slots to its daily roster. It is technology that would benefit many of the region's congested hubs.
The Cloud, Blockchain, The Internet of Things and Big Data will better manage the tremendous growth of coming years. Amadeus' global head of commercial for travel intelligence, Didier Mamma, pointed out at the recent IATA Aviation Data Symposium in Berlin that data was the key to unlocking so much opportunity, but it required a new mindset.
"There was an ever-greater need and opportunity for the industry to employ sophisticated personalization techniques and intelligent merchandizing to optimize their operations and reduce costs," he said.
"Airlines [and airports] that harness data and analytics for operational and customer experience transformation will be the winners," he said. "One of the success factors in becoming data-driven is creating a company culture that places data at the heart of the organization.
"The technologies that will change the future are not new, but they exploit the fundamental laws that are converting our world from analogical to digital and creating the foundations for innovation."
For airport operators, data mining provides great potential for revenue generation. With the relevant data, airports can prompt passengers to use their waiting time to shop and dine at venues digitally determined to match their preferences.
Dalibard said airline-owned SITA was investing in technologies with its industry partners, including a US$25 million project to tackle poor on-time performance. "SITA's technology harnesses advance machine learning and artificial intelligence to forecast aircraft arrival times as far out as 24 hours giving airports the opportunity to proactively manage and mitigate disruption," she said.
"Autonomous vehicles and the potential use of robotics is another field of development, with particular interest shown in Kansai Airport's trial of KATE, SITA's autonomous check-in robot."
Another example of the future of airports is baggage management. This year IATA Resolution 753, which heralds the implementation of baggage tracking, came into force. The tracking system's data identifies where baggage processes can be improved.
"We won't see a sudden change in 2018, but it is a real turning point for the industry as airlines begin to unlock the value of tracking data for the 4.65 billion bags they carry. Looking ahead, combining data collected from bag tracking with data science and machine learning promises even more significant improvements in baggage handling operations," said Dalibard.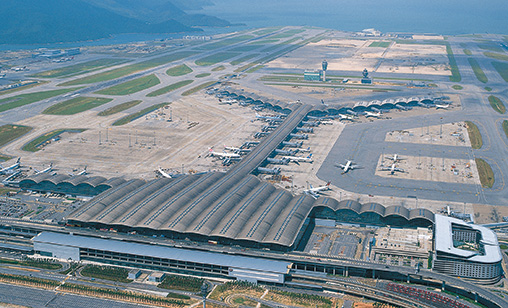 Hong Kong wins plaudits for efficiency


A Global Airport Performance Benchmarking Task Force report released at a recent conference in Seoul awarded top scores to several Asia-Pacific airports for their superior operations in demanding situations.
Hong Kong International Airport was named as the number one airport for performance in the over 40 million passengers per year category. A.B. Won Pat International Airport in Guam was ranked as the most efficient in the below 10 million airline passengers a year category.
Other winners in the region were Jeju International Airport at 25-40 million passengers a year and Gimhae International Airport at 10-25 million passengers annually. For the eighth consecutive year, Sydney Airport was determined to be the most efficient airport in Oceania, the study said.
The benchmark project is compiled by the College of Business at Embry-Riddle University in Daytona Beach, Florida with the goal of providing comprehensive, unbiased comparisons of airport performance worldwide.
The research team measured 205 airports and 24 airport groups for their productivity, operating/management efficiency, unit cost competitiveness and comparative airport charges.
"Airports have to be efficient and innovative to compete for airline business, passenger popularity and cargo operators," said professor of air transport management in Embry–Riddle's College of Business and the task force project's manager, Dr. Chunyan Yu.