"Malaysia Airlines gave a life to me and my family, including my late mother and my late father," Malaysia Airlines Berhad Group CEO, Izham Ismail, told Orient Aviation in an exclusive interview last month. Read More » "This is something I will never forget. I have found my purpose in life by giving the best I've got to this organization. I have two families, my immediate family and my extended family. Malaysia Airlines is my extended family."
Izham joined his "second family" 39 years ago after he graduated from Manila's Philippines Aviation School in 1980. He has never worked for anyone else. Initially, he said, his career plans were different. "I come from a very poor family. We really, really struggled to find a meal on a daily basis," he said.
"Luckily, I had the chance to further my studies. I dreamt of becoming an engineer, but I realized that it would take years before I could support my family out of poverty. Flying school, when the opportunity became available, was the fastest track to stability for my family, so I took that route."
Izham started his career in 1980 as a second officer flying a Malaysian Airline System (MAS) Fokker 27. He flew the turboprop for two years before earning certification for the B737-200, followed by the wide body DC 10-30, the Fokker 50 and then B737-300/400/500, A330-300, B777-200 and B747-400 aircraft. He has flown 13,054.4 hours of which 7,473,52 hours were in command.
"I flew a lot of airliners in my day. I was on the B737-200, the DC 10 and took delivery of the A330 when it was launched in 1993. I then moved to the B777. My last aircraft type before I stopped flying was the B747-400," he said.
Izham said that even as a second officer in the eighties, he knew he did not want to spend his entire career in the cockpit because it would take him away from his family. He loved flying, but when he was offered a Malaysia Airlines management traineeship in 1990 he did not hesitate to accept it.
"As time had progressed, I felt this was not me, this is not Izham. I was very lucky when Malaysia Airlines realized in 1990 it was very weak in leadership succession planning. It launched a management trainee programme and I was very fortunate to be selected," he said.
Izham completed the traineeship and went on to Harvard Business School where he graduated with a degree in advanced management. He has held 17 management positions at the airline group, including executive vice president flight operations, director of operations, Malaysia Airlines emergency response centre chairman and CEO of MASwings, Malaysia Aviation Group's turboprop subsidiary that serves rural Sabah and Sarawak.
He also is on the boards of Hamilton Sundstrand Malaysia and GE Engines Services Malaysia and several MAS subsidiaries, including the training academy.
MAB CEO said B787 deal has lapsed


"The agreement with Boeing for the 787 Dreamliners has lapsed. The Memorandum of Understanding we signed was a non-binding MoU," Izham told Orient Aviation. "To be honest with you, I'm not in a rush to buy new airplanes. My number one objective at this stage is to stabilize the organization," MAB group CEO, Izham Ismail, told Orient Aviation exclusively.
"Notwithstanding that, I am very cognizant the A330 fleet will be ready to leave in 2023 or 2024. With that in mind, my primary objective is not to spend too much money, stabilize the organization, bring everybody to first base, identify and groom my successor and equip him or her, with what it takes to bring Malaysia Airlines to second and third base."
Before Izham was promoted to Group CEO of the Malaysian Aviation Group and Malaysia Airlines Berhad in December 2017, he was the airline's chief operating officer (COO). His responsibilities included restructuring the engineering division, bringing digital transformation to the airline and introducing the technology for live 15-minute tracking of aircraft at MAB as now required by the Internatonal Civil Aviation Organisation. Within a few months of his appointment as COO, he had implemented 43 fuel initiatives that reduced fuel burn by three per cent.
Izham is very conscious of the fact he is in charge of one of Malaysia's oldest and most recognized brands. He oversees a workforce of 13,000 and a fleet of 84 aircraft (as of October). Public scrutiny of his performance extends to his management of fierce competition and a challenging operational environment, as well as the airline's progress to profitability.
In the first half of this year, MAB's fuel costs increased by 37% and the carrier was hit by a severe pilot shortage. "The most challenging period was the second quarter when we ran out of pilots. We had to reduce our production and cancel flights throughout the year," he said.
"Two months on, we have managed to recover. We have recruited approximately 110 pilots. We expect normalization by the middle of the fourth quarter, which is early December. We are targeting full production in 2019."
MAB's criteria for qualifying pilots is 4,500 flying hours, higher than the industry average of 3,500 flying hours. "When we reset the organization and started from zero, 6,000 employees left, but we kept all the pilots. But it became clear our packages were not attractive enough and people started to leave," he said.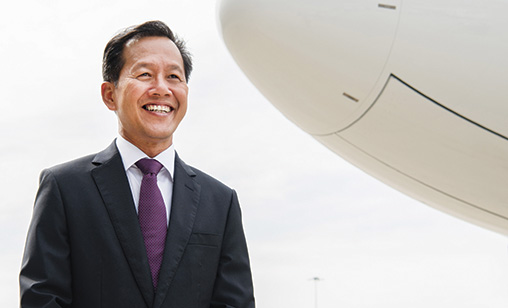 'I'm continuing the path of the MRP. If we were talking baseball, you could say I'm bringing the team to first base. When the organization is strong enough, my successor will take Malaysia Airlines forward to the second and third bases. My job is to douse the fires, stabilize the organization and turn it around'
Captain Izham Ismail
Group CEO Malaysia Airlines Berhad
"We were looking to recruit new pilots, but we could not attract experienced people. We only appealed to young pilots, cadet pilots. The situation has improved, but it remains a long-term focus for us. According to the latest figures, 257,000 new pilots will be needed in the Asia-Pacific to 2037."
"People are actually rejoining. People who left for so-called better opportunities are starting to return. We adjusted the packages to going rates and added some benefits. We have set an internal target of recruiting 250 pilots by the beginning of next year. As of today, we have hired 110."
MAB is three years into its biggest transformation, the Malaysia Airlines Recovery Plan (MRP). It was designed by two former and successive MAB CEOs, Christoph Mueller and Peter Bellew. Mueller now works for Emirates Airline and Bellew has returned to Ryanair in Dublin. The MRP has reduced the carrier's comparable unit costs by 5%.
Following a weak 2017, yield and RASK have improved for the last three quarters, but Izham told Orient Aviation the gains were offset by raising fuel prices, foreign exchange volatility and overcapacity in the domestic market.
"There are certain challenges to executing the MRP. When the turnaround plan was designed it took into consideration certain parameters for capacity in the market, fuel and foreign exchange," he said.
"But as you know, our industry is very competitive and evolves on a daily basis. It is difficult to stay on track. But if you ask me if we are on track with the MRP, I can say 'yes, in totality we are', although we are facing strong headwinds from the current market place. Malaysia Airlines needs to be agile and respond to changes quickly."
Everybody in the industry is curious to know if MAB is making money. Since the company was delisted, financial transparency has been limited. "I'll be very clear. The next two quarters will be very tough. We are not looking at turning a net profit in 2018, but remain very hopeful about profitability in 2019. We all hope 2019 will be a better year for us," he said.
The airline's focus is to improve and drive yield with better pricing strategies, especially for its premium cabins and corporate clients. MAB has upgraded its in-flight catering after recommendations from a special "food taskforce" that examined the choice and quality of on-board meals.
The 71-year-old carrier will make "market-based" adjustments to its network that veer away from low yield routes especially on sectors "swarmed" by AirAsia and Malindo Air.
"Our competitor is not AirAsia. Our competitors are in the premium market, the likes of Singapore Airlines and Cathay Pacific. But you are right, AirAsia is playing in our playground and for a premium organization to go head-to-head with a budget organization is tough. Very, very tough. So, what do we do?," he said.
"Our strategy is to remain relevant in those markets swarmed by AirAsia, but at the same time to take our business to other markets in ASEAN of four to nine hour flights where there is less competition."
Izham said MAB will never abandon the domestic market. "We remain relevant in the domestic market as the national flag carrier. For example, we used to fly to Alor Setar five times a day. AirAsia and Malindo are flying there five to six times a day. So, is it really necessary for us to still fly five times a day? No. So now we fly twice a day only," he said.
MAB boss frustrated by airline overcapacity


For years, industry analysts have pointed to overcapacity in the Malaysian market and warned the system could collapse. "That's my headache and frustration, too," said MAB Group CEO, Izham Ismail.
"The capacity supply in Kuala Lumpur is sitting at 1.79 times more than demand. It is really, really, really very challenging. I need to be looking at what's good for the country, but at the same time there are four airlines based at our Kuala Lumpur hub – AirAsia, AirAsia X, Malaysia Airlines and Malindo Air. It's crazy. That's something I hope the policymakers will eventually look into. It's a very sensitive subject."
"Let's not forget this is good for our country. When the two biggest airline companies in Malaysia go head-to-head, the customer benefits. We understand very clearly that the domestic market is low-cost, 'so we say okay, let them do it'. In the end, everybody wins. The country wins and it will be a positive economic development for Malaysia."
Long-haul AirAsia X recently revealed it was evaluating A321neo and/or A321LR aircraft. It said it could potentially operate its shorter flights of up to eight hours with the A321neo/LR and fly its A330-300 and incoming A330neo fleets on longer missions. The long-haul LCC said it planned "to grow markets with a smaller aircraft and defend markets with a bigger aircraft". AirAsia X operates 31 A330-300s and has ordered 100 A330-900neo jets.
AirAsia has outstanding orders for 100 A321neo and 275 A320neo, which could potentially be converted to A321LRs for AirAsia X. Lion Air Group, which includes Kuala Lumpur-based Malindo Air, has an order backlog of approximately 250 B737 MAX series aircraft.
Malaysia Airlines has 84 aircraft flying to 61 destinations, including 16 domestic routes. Its longest flight is a double daily service to London Heathrow. The British capital is MAB's only European destination after it eliminated Amsterdam, Frankfurt, Paris, Rome and Zurich from its network as part of the MRP. The carrier also has stopped flying to Buenos Aires, Cape Town, Karachi, Los Angeles, Manchester and New York.
"Would it be beneficial for us to compete in a sector that is unprofitable? No, of course not. A very good example is Kuala Lumpur-Canton (Guangzhou) which we fly with a B737-800," he said. "It is a very profitable sector so we will roster an A330 on the route from October. This is what I mean by navigating ourselves in the market place."
At press time, the fleet of Malaysia Airlines was made up of 15 A330-300s, 5 A330-200s, 6 A380s, 6 A350-900s, 48 B737-800s and 3 A330-200Fs. "We have enough wide body capacity. We are leasing ex-airberlin A330-200s. We have five in the system and one more for delivery this month. That should be sufficient for us to manage our network," Izham said.
"We're still in the RFI [Request for Information] phase with the OEMs. The fleet renewal campaign is being examined. We should have more visibility in Q1 about extra new-generation wide bodies. It all depends on where we decide to fly next."
The airline group has firm orders for 25 B737 MAX aircraft and 25 options. The airline said these would be replacement aircraft for current B737-800s from 2019.
It also had agreed in principle to acquire eight B787s, worth US$2.5 billion at list prices in 2018, which were scheduled for delivery from mid next year. Many in the industry said the deal would add unnecessary complexity to the airline's all-Airbus wide body fleet. More extreme was the criticism the order was written to please friends in Washington. Whatever the reasons for the deal Izham is not proceeding with it, he revealed exclusively to Orient Aviation.
For the A330 fleet replacement, MAB is considering the A330neo or additional A350s, but again, Izham emphasized he was not ready to sign any deals soon as the focus is on returning to "full production".
In late July, the Malaysian government released an independent report on the March 8, 2014 unsolved disappearance of MH370 and all passengers and crew en route to Beijing. The document identified lapses in communications at Air Traffic Control centres in Malaysia and Vietnam and forced the retirement of the minister in charge of aviation at the time of the MH370 loss. The independent investigating team refused to rule out third party interference in the loss of the aircraft.
Izham told Orient Aviation last month: "The new Malaysia Airlines Berhad is not really connected to MH370 anymore. The old Malaysia Airlines is being run by the administrator who is guiding and liaising with the government. The old Malaysia Airlines provide data and support. At the new Malaysia Airlines, we remain steadfast and continue to also offer support to the next of kin, especially the crew members. We will continue to do so."
As for the challenges ahead for the "new" Malaysia Airlines Berhad, Izham recognized there are plenty. "Of course, there are many, many challenges ahead, but it will be okay as long as we are stable and united as an organization," he said.
"I know the organization inside out. I've been with the airline for 39 years. I have been groomed in management since 1990 and placed in various divisional departments, so you can say that I have risen from the rank and file," Izham said.
"I have tons of friends at Malaysia Airlines, I call them my family, which makes it sometimes difficult to reprimand, but also to award outstanding performance. I'm not an expert in all areas, certainly I'm not an expert in revenue management," he laughed.
"My strength is getting along with people. My number one agenda at MAB is to unite our 13,000 family members. That is my calling and my strength," he said.
Izham stressed that people development and succession planning was an integral part for the organization's sustained success. Earlier this year, he appointed Boo Hui Yee and Ignatius Ong, as CFO and Group Chief Revenue Officer, respectively. They were both drawn from the ranks of the carrier.
"As I keep saying, this organization has given a life to me and my family. This is something I will never forget, and I have found my purpose in life giving the best I've got to Malaysia Airlines. How do I lead these people? I lead them from my heart. I learned to be very hard on people who are not connected to this family. My team knows I'm not shy to speak out when I see something that is not right. But, I also learnt to be very forgiving, accommodating and create career paths for those who do their best, who unite the extended family that I have. This is the most important," Izham said.
"On certain weekends, I used to fly a small twin-engine plane, a Diamond 42 (DA42). We went island hopping and such things, but for the last 10 months we've had zero trips," he said.
"Nowadays, my life starts at 7am and ends at 10pm. The 7-8am window is my 'me time' in the office and I use that quiet and peaceful period to prepare myself for the day and reply to the most important emails. I get on average of 300-350 emails a day, including some 20-30 customer complaints that come to me directly. I try my best to respond to every one of them. The 7 o'clock window is very important to me. It's my time to ask, "is my organization on track today?".