Obviously, for Korean Air (KAL) president and chief operating officer, Walter Cho, the détente between his country and its northern neighbor is a welcome turn of events. Read More » For the last two years, North Korea has launched several ballistic missiles into the skies over the Sea of Japan and it has been very bad for Korean Air's (KAL) business.
Today, an apparent new phase in positive relations has begun on the divided peninsula while globally de-nuclearisation is on the agenda for discussions between the U.S. and North Korea.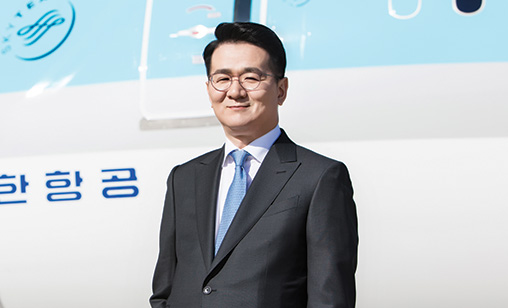 'The LCC sector is growing extremely fast. They are taking market share in Korea and on international and regional routes in Asia. We are very aware of this and formed our own LCC, Jin Air, about 10 years ago. It is doing extremely well, outperforming KAL dollar for dollar. We protect ourselves and that acts as a barrier between KAL and other LCC competition'
Walter Cho
Korean Air president and chief operating officer
"When tensions were at their peak, interest in Korea because of the tension and not the country itself resulted in people avoiding it. It was a very critical situation for the [Winter] Olympics. Fortunately, it became very calm. It is going in the right direction. If everything turns out well we will have a very big opportunity in North Korea," Cho said in Jeju at the Association of Asia-Pacific Airlines Assembly of Presidents last month.
It will be an opportunity that will be some time coming. KAL will not launch flights to North Korea's capital, Pyongyang, anytime soon. But a permanent thaw in north-south relations is possible, Cho said in Jeju.
"I don't really want to go too deeply into politics, but as a Korean citizen I would hope for peace. I believe the way the government is doing it, there is a very good chance," he said.
But he warned the opportunities for the carrier in North Korea will be in the longer term. "The infrastructure is not there [in North Korea]. The market is not there. It will be a long shot, but once the political situation improves, hopefully there will be some traffic generated from North Korea and we will take a shot at it," he said.
He said there have been talks about allowing KAL to overfly North Korea, an option not available to the South Korean flag carrier at present. "We have been discussing it internally. It would save a lot of cost for us. But we have to be very careful about this possible change because of U.S. sanctions. There is no time line," Cho said.
Tensions with its northern neighbor have not been the only setback to KAL's business. Last year, China banned its citizens from participating in package tours to South Korea as a result of the deployment of a U.S. missile defence system, THAAD, in the country. The ruling savaged tourism in a major KAL market.
By November last year, the impact of the ban was made clear. KAL reported a 22.7% decline in operating profit for its third quarter, with earnings from Chinese flights plummeting 19%. Japan exacerbated the problem with an 11% fall off in passengers on South Korea-Japan routes.
Shrugging off the decline, KAL reported a record net profit of $798.2 million for the full 2017 year, despite operating profit dropping 11.4%,to $840.6 million. Tickets sales improved because of an increase in passenger traffic from destinations beyond China and Japan.
"Overall our performance on the carried passenger list was good. The growth was constrained by political instability in the region, especially between South and North Korea and the U.S., which significantly affected our results," Cho said.
"This year the market from South Korea to the U.S. and Europe was very good. We are [still] struggling with China due to these political issues, but Japan is slowly and steadily regaining momentum. At this time, we are doing much better than last year."
KAL is proceeding through a fleet development exercise, in particular for its wide bodies, with initial decisions on fleet renewal expected to be made next year. KAL operates 175 aircraft: eight A220-300s (formerly the Bombardier C Series) with two more to come, eight A330-200s, 21 A330-300s, 10 A380s, 11 B737-800s, 16 B737-900s, six B737-900ERs, three B747-400s, 10 B747-8s, 14 B777-200ERs, four B777-300s, 24 B777-300ERs and eight B787-9s with two more to come. On order, for delivery from 2019, are 30 A321neo and 30 B737 MAX 8s.
Its freighter fleet is four B747-400Fs, seven B747-8Fs and 12 B777Fs. Business jets make up 16.7% of the group's aircraft stable.
Cho said KAL's market has grown significantly, particularly across the Pacific to the U.S. and Canada, which meant the airline sees a need for larger wide bodies for both trans-Pacific and intra-Asia routes.
KAL is unique in that it operates wide bodies on very short routes, including Seoul Gimpo to Jeju Island, the world's busiest domestic route at 13.2 million passengers – and growing – in 2017.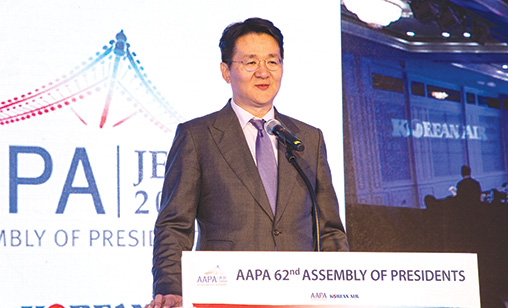 'As well as operating short-haul, it has been flying a B777-200ER long-haul to Honolulu. It has been operating to Hawaii with very big success. We have been asked for more of that aircraft, so it is a possibility we will utilize Jin Air to compete in that long-haul budget market. Jin is actually looking into expanding the long-hauls. We could extend it to some European cities or the U.S. where traffic rights are not a constraint'
"I am very pleased with our fleet of Airbus and Boeing planes, but they are starting to show their age. We have to look for replacements. We operate wide bodies that other airlines use for long-haul, but we have a lot of need for them," said Cho.
"We do not have anything I can share now, but we are in the process [of making fleet decisions] We might make a decision next year." On Cho's radar are the B777X, the A350 and more B787s.
"Since we have B787s there is a very high possibility we will expand our B787 fleet. The 777X is coming up and it would be a good replacement for our B777 older generation planes but we are keeping the A350 in mind as well."
Asked why KAL decided to order Boeing and Airbus narrow-bodies, Cho said the airline had looked at every available option. "We took the best of each. The A321neo has great potential for longer range routes compared with the B737s," he said.
"It has a wider cabin and is more comfort orientated. The economics outperform anything in its class. It may be seen as not making sense to take both of them. For us, growing our fleet as well as having the need for usage for Jin Air, KAL's wholly-owned LCC cost subsidiary, I believe made a case for the decision.
"We don't have any problems or issues with both of them. The neo will have more than 200 seats, the MAX around 170 and the A220 128. They are all in different categories. different classes."
Cho made it clear in Jeju there would be no rush to launch multiple routes. "We have more than 80 international destinations, but we have many we do not serve daily. My first aim is to make everything daily before we expand too much. At press time, the carrier announced several route changes.
"I want to increase frequencies rather than add routes. Boston will be one of our very few opportunities as a destination. I see very strong potential in Boston, but also I would like to put more flights into San Francisco, Los Angeles and New York in the very near future, hopefully with B787 size aircraft."
The South Korean leisure market is expanding into Eastern Europe and northern Scandinavia countries that were non-existent on KAL's route map a decade ago. "Koreans travel all over the world now. They are looking at places we had not focused on. There are a lot of destinations we could develop, but as a business traveler I would like all my destinations be daily flights," Cho said.
"Firstly, it is critical for the business traveler to have a satisfactory global network. Secondly it is important to have at least one flight a day back home."
Conversely, Cho is looking ahead of immediate demand for frequency to European and Asian expansion. "The problem is open skies. We don't have open skies with Europe and we don't have open skies with a lot of countries in Asia so it is not possible right now. But we see a lot of opportunities," he said.
KAL wants to develop more joint ventures or co-operative agreements with partner airlines. A major joint venture with SkyTeam alliance partner, Delta Airlines, has been in place for more than six months. Cho said it was working extremely well.
"The number of transit passengers [from Delta] in our terminal at Incheon has grown quite significantly, to 300 plus passengers a day. We continue to expand as our flights to Boston have been launched along with Minneapolis. We have to grow our capacity every year so transit passengers will grow it further," he said.
"We are seeing so many benefits from the Delta JV, including its marketing power in the U.S. and our marketing power in South Korea and Asia. Together, it brings so much to us, much greater than I was expecting, both in profit, numbers and transit passengers."
Future JVs will not be as "tight" as the one with Delta, Cho said, but they could involve closer co-operation. He would like to complete a deep JV with a Chinese airline; an impossibility for now because South Korea and China do not have an open skies agreement. However, KAL can co-operate with SkyTeam members that include China Eastern, China Southern and Xiamen Airlines.
Another major issue for Cho to manage is the rapid LCC market take-up in its home territory. Six South Korean budget carriers hold 40% Soth Korea's domestic airline market. KAL has decided to remain focused on its full-service offering and is meeting the challenge with its LCC subsidiary, Jin Air.
Jin Air is the country's second largest budget airline, but it has not been without its problems. Earlier this year, South Korea's Ministry of Land, Infrastructure and Transport held hearings to determine if the airline's licence should be cancelled because of allegations of abuse of power.
Accusers had discovered that the younger daughter of KAL chairman, Cho Yang-ho, had been a board member of the carrier from 2010-2016. Cho Hyun-min, or Emily Cho, is an Hawaiian-born U.S. citizen. South Korean law stipulates non-Koreans cannot hold a post on the board of a domestic or international logistics company. In August, the Ministry decided against revocation of the Jin Air's licence, but placed restrictions on new routes, new aircraft registration and non-scheduled flights.
Cho said: "Hopefully, we will reach an understanding of each other. We hope to solve the matter before it effects Jin Air's expansion. This is an important issue because Jin has aggressive growth plans."
In Jeju, Cho declined to comment on the negative publicity the airline had received from the "nut rage" episode between another of his sisters, Heather Cho, and a KAL flight attendant or the recent news that his father and KAL group chairman, Cho Yang-ho, had been indicted on charges including embezzlement and breach of trust by South Korean prosecutors.
Asked what was being done to keep the airline brand strong in the light of such scandals, Cho said: "I believe our brand and our reputation starts with our employees. I am trying to communicate more with them. Make sure they are happy working for us and with us and make sure the product is there. I think happy employees generate more happy customers."
Unlike several of its competitors, KAL has refused to introduce a premium economy cabin on its aircraft. Cho believed KAL's economy class is very close to other airlines' premium economy product. "We have good pitch in economy and to introduce premium economy we would have to reduce our economy pitch. Maybe we'll just make our entire economy cabin premium," he said.
KAL's A380s have the lowest seat count of the type across the world. "We launched the A380 with 407 seats. I believe it is still the lowest seat count in the industry. We have just under 300 economy seats on the A380. If we put in premium economy it would go down to 200. That would make the total count 350 or 370 seats and it would affect us. It will be very difficult to make a profit out of it," he said.
Cho said customer service starts with a product." It always starts with economy class. We always advertise our great product in First and Business class, but what really matters in general is the onboard service. It's not a case of the food or the smiles of flight attendants. It is the seat that is most critical. We need to give passengers something that's bearable for 14 hours of flight. Some of our long hauls go more than 10 hours. I'm a very tall guy. If I cannot fit into the seat we don't put it in," he said.
KAL has lost a lot of pilots to competing airlines, particularly in China. "We don't see it as much as we did a few years ago. But it still is an issue, although low-cost carriers are a bigger issue than China now," he said. "I received an email yesterday that two of our pilots had resigned. One to China and one to a low-cost carrier in Korea."
"KAL encourages gender equality but "unfortunately we see a very small number of female pilots in our fleet, but we always welcome them", he said. The bigger concern KAL and other airlines have is the shortage of pilots. "Training a pilot is a long-term investment for us: to have them sufficiently trained to be safely operating our planes. Its critical to maintain that manpower but it's becoming tougher and tougher. We are constantly hiring."
Like other airlines in the region, KAL faces difficulties with infrastructure choke points that impact on its operations. "It is happening everywhere. In Hong Kong and at all major Chinese cities. Singapore has slot constraints and airspace over flights to Europe. It is of very serious concern to us and all the airlines coming into Asia," he said.
"Incheon is starting to see constraints on slots. It's not that building another runway will solve it. It's that the airspace is very limited over Korea and that constrains our usage of the airport."
Cho is quite pragmatic about achieving cost reductions at the group. "Right now, airlines are never that profitable. There is not much we can do. Most of the costs come from fuel (KAL hedges about 20% of its oil needs). We don't have control over price. However, we will grow our network, grow our marketing to increase revenue and partner with other airlines like Delta. We are looking at possibilities with other airlines to do JVs and also even stronger partnerships. It is the only way you can do it," he said.
Preparing for impact of global trade tensions


KAL is one of the region's largest cargo carriers and the sector is a significant contributor to the carrier's revenue. Like other airlines in the region, it is concerned about escalating Sino/U.S. trade tensions.
"In 2017, the cargo market was quite strong and relatively, in 2018, it grew but at a slower pace. But it still grew. But the trade tensions in the world will have some effects. We don't see it yet. I see the constraints coming up in a very short time. However, we are preparing for it.
"Anything from the U.S. to China and vice versa is going to be affected. We are looking at alternative markets to China and to U.S," said Cho.