Qantas-Cathay codeshare unconvincing
Demonstrated consumers benefits are weak. Regulator yet to make a decision. Read More »
An unanswered question about the proposed Qantas-Cathay codeshare is if the cooperation is genuine to enhance market access and provide new competition, or if the codeshare is merely meant to bully mutual competitor Virgin Australia.
Qantas and Cathay want to expand their existing codeshare relationship by applying their codes to some overlapping Australia-Hong Kong flights. They have previously only codeshared on domestic Australia flights and services beyond Hong Kong. They have not partnered on overlapping Australia-Hong Kong flights.
Codeshare flights would only be for sale on connecting itineraries involving a transfer in Australia and/or Hong Kong. Codeshare flights would not be for sale on itineraries purely between Hong Kong and the three cities they both serve: Brisbane, Melbourne and Sydney. This would prevent any lessening of competition on overlapping flights, where the bulk of capacity is. (Qantas codeshares on Cathay flights from Hong Kong to Cairns and Perth, which Qantas does not serve.)
So a passenger could fly Qantas from Wagga Wagga to Sydney and then on Cathay to Hong Kong. Or a passenger could fly Qantas from Melbourne to Hong Kong and then on Cathay to Colombo – or an itinerary behind an Australian gateway and destined beyond Hong Kong. But a passenger could not buy a Brisbane/Melbourne/Sydney-Hong Kong ticket with one leg on Cathay and one on Qantas, or a ticket with all flights QF-marketed but CX-operated.
Examples of tickets Qantas and Cathay propose to sell.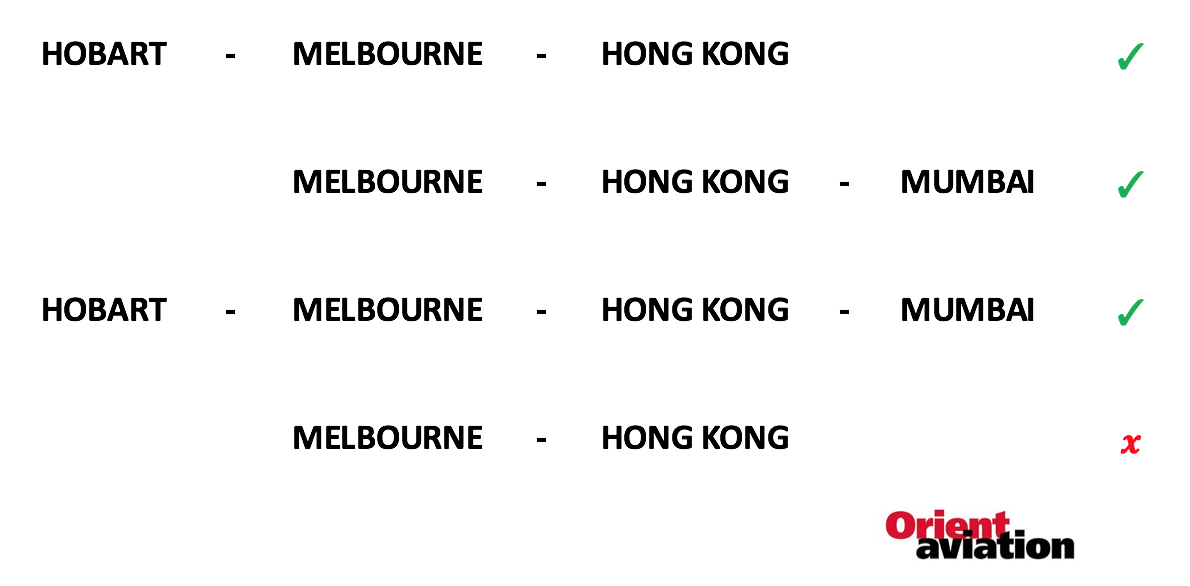 Source: Orient Aviation
Qantas claims the objective is to improve access to South Asia (India and Sri Lanka) via Hong Kong. Codesharing on some Cathay Hong Kong-Australia flights will improve transfer times.
The purported benefit is evident from South Asia to Australia, where Cathay's South Asia flights arrive in Hong Kong early morning but Qantas' Australia flights do not depart until the evening, requiring a day layover. Connection time can be significantly reduced (by 7-10.5 hours) if Qantas codeshares on Cathay's daytime departures from Hong Kong.
Connection flows from South Asia to Australia. Qantas being able to codeshare on earlier Cathay flights will significantly reduce connection times.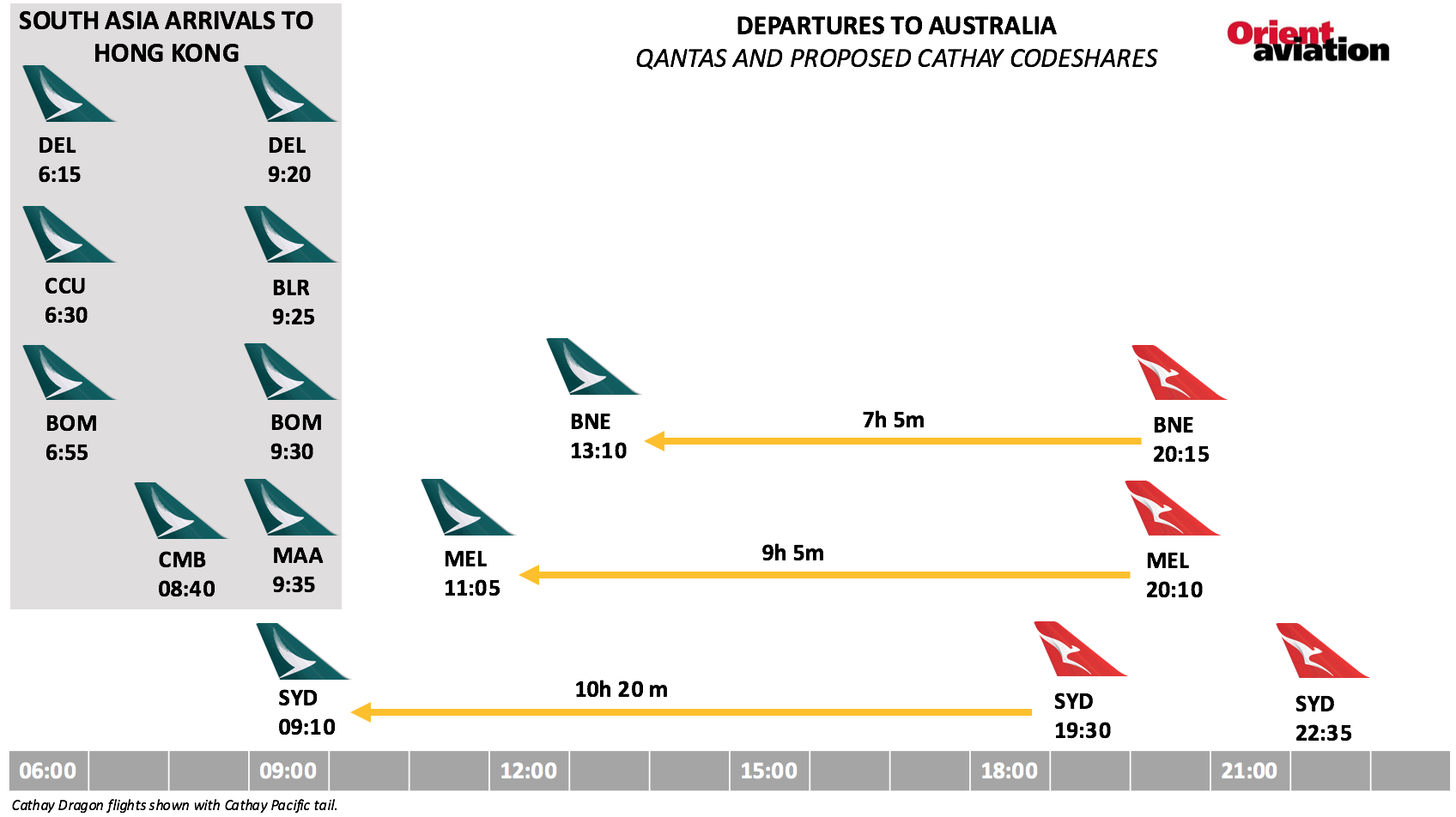 Source: Orient Aviation
Yet there is no benefit in the other direction, from Australia to South Asia. Qantas' flights arrive into Hong Kong in the early evening and connect to Cathay's evening and late evening flights to South Asia. It is thus strange Qantas writes that "Qantas can now offer convenient, round-trip connectivity via Hong Kong to five codeshare destinations in India".
The Cathay flights that Qantas intends to codeshare on are overnight services that arrive in Hong Kong early morning, requiring an even longer layover than Qantas' own services.
Connection flows from Australia to South Asia. Qantas flights already connect to Cathay flights. Cathay flights do not enable earlier connections.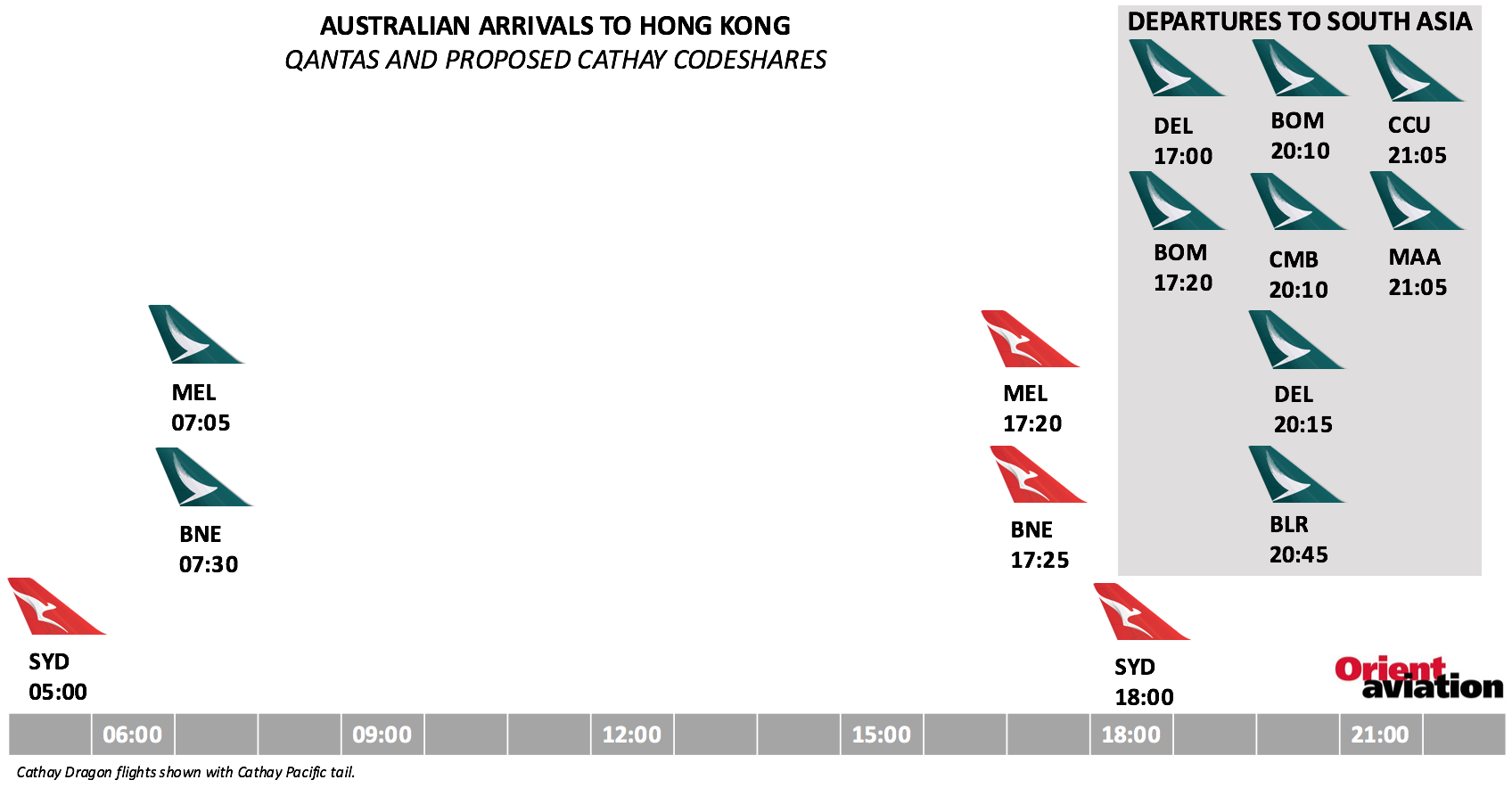 Source: Orient Aviation
Those proposed codeshare flights could connect to Japan, Korean and Southeast Asian destinations. But Qantas gives those markets only two sentences in its regulatory submission. In comparison, Qantas discusses South Asia for approximately 600 words – which equates to one page out of a submission that is only seven pages.
If South Asia was the genuine impetus for the codeshare, Qantas should have noted why it needed Cathay codeshares on flights offering worse timings than Qantas' own metal.
There could be alternative solutions. Qantas already has access via the oneworld interline agreement to Cathay's daytime Hong Kong-Australia flights. The ACCC is more warm to a hardblock codeshare between Qantas and Cathay where rates are pre-set and could be approved by the regulator. Qantas proposes a freesale codeshare, which is generally favoured by airlines.
It is unclear what Cathay receives from the proposed arrangement. Rather than have Qantas carry a passenger from Australia to Hong Kong and then transfer the passenger in Hong Kong for an onward Cathay flight to South Asia, Cathay could carry the passenger the entire journey. Cathay has not made a submission.
Alternatively, Qantas and Cathay may want to partner to further squeeze Virgin Australia, whose Australia-Hong Kong load factor has been 62% with low yields. Its JV partner Hong Kong Airlines has exited the Australia market and is reviewing the rest of its network, which could impact the JV's reception in Hong Kong and Virgin's ability to sell beyond Hong Kong.
Australia-South Asia connections are not Qantas and Cathay's objective but the means, on weak foundations, that let them increase cooperation and tighten market power.
Competition regulator ACCC said: "our main competition concern is that the conduct may soften competition in the Australia-Hong Kong air passengers services market by making it easier for Qantas and Cathay to coordinate their price and capacity decisions so as to raise price (or reduce service) for Australia-Hong Kong passengers who connect with a domestic Australia flight and/or a flight between Hong Kong and places in Asia." The regulator worries airlines may end up "delaying the deployment of additional capacity between Australia and Hong Kong."
The ACCC overlooks that if Qantas and Cathay can sell more destinations and city-pairs, they will be less dependent on Brisbane/Melbourne/Sydney-Hong Kong O&D itineraries, which are commonly booked.
Virgin Australia's regulatory submission was weak. First, it failed to convey how Qantas' purported benefits are actually weak or non-existent. Second, Virgin argued Australia has previously rejected overlapping codeshares. But those previous cases were in markets where local traffic (such as Sydney-Tokyo) was the objective. In this case, Sydney-Hong Kong would be unavailable for codeshare purchase unless travelling beyond Hong Kong.
Qantas for its part initially did not disclose that the Australia-Hong Kong codeshares would only be for connecting flights. Nor did Qantas disclose that only some overlapping Australia-Hong Kong flights would receive a codeshare. Flights closely scheduled to each other would not have a codeshare.
Qantas should have known it would trigger anti-competitive concerns by not detailing the limitations of the codeshare. Alternatively, Qantas may have intentionally withheld information so as to provide a drip feed and ultimately obfuscate the regulator.
Only 10% of Australia-Hong Kong traffic transits via a third country, such as Singapore, according to regulatory filings. Qantas and Cathay account for 90% of non-stop capacity while Virgin holds the balance.
Qantas and Cathay have become friendly with the benefit of time and change in dynamics: Virgin Australia has entered the Australia-Hong Kong market, Qantas is no longer so strongly tied to Emirates, and Qantas gave up its attempt to establish Jetstar Hong Kong on Cathay's home turf (but Qantas is said to have conducted due diligence on an HK Express investment).
A strong Qantas-Cathay partnership never developed, partially because the two knew regulators would not permit collaboration when they had such a tight grip on the market. Virgin Australia's entry is letting Qantas and Cathay see how much they can chip away at regulators increasingly pressured to approve cooperation.