When the U.S. Federal Aviation Administration (FAA) awarded a Category 1 safety rating to Vietnam in February, clearing the way for the first non-stop flights between Vietnam and the United States in aviation history, it was a decision a long time coming. Read More »
"This is a great achievement for us as the process spanned more than ten years," Vietnam (VNA) Airlines CEO and president director, Duong Tri Thanh, told Orient Aviation last month. Despite welcoming the breakthrough, Thanh is not about to launch VNA metal across the Pacific any time soon.
Firstly, the carrier does not have aircraft that can make the journey non-stop. Secondly, he realizes one-stop services present a major commercial risk. So, while waiting for suitable planes, the plan is to significantly expand codeshare arrangements with Skyteam Alliance partner, Delta Air Lines.
The approach is a reflection of the measured attitude the quietly spoken, thoughtful 58-year-old has taken since becoming head of VNA in June 2016. The U.S.-Vietnam non-stop opportunity will be developed, but only when the time is right, he said, conceding the Ho Chi Minh City to Los Angeles and San Francisco markets may be among the world's largest unserved non-stops.
At present, passengers travelling between Vietnam and the U.S. must travel via a third country hub, a requirement that has significantly benefitted foreign carriers.
In 2017, Vietnam-U.S. traffic totaled 700,000 passengers with an average growth rate of 8%. Estimates point to traffic increasing by 18%-20% when VNA launches a direct U.S. route. There are an estimated 1.4 million Vietnamese-born residents in the U.S. They make up the sixth largest foreign born group in the country.
"In terms of one-stop, there are about 20 airlines competing in this growing market with convenient transit times via Northeast Asia and Southeast Asia hubs," Thanh said. "Several other factors, including technical complexity and aircraft also have to be taken into consideration when deciding if the Vietnam-U.S. route is commercially viable.
"For the time being, while traffic levels are sufficient, it will be hard to overcome high operating costs and intense one-stop competition given the price sensitivity of leisure passengers.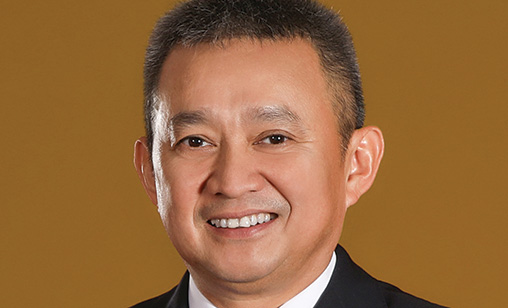 'All the viable commercial opportunities for the direct route are being considered carefully. We have been accelerating the preparation process for potential Vietnam-U.S. flights, but there is still much work to do concerning legal procedures, commercial activities and aircraft resources. In the meantime, we will continue to expand codeshare cooperation with the American carriers until we have suitable aircraft'
Duong Tri Thanh
Vietnam Airlines CEO and president director
"We are cooperating with Delta to have codeshare flights from Vietnam to airports in Japan, like Narita, and via Frankfurt to 15 destinations in the U.S. The codeshare products of VNA and Delta will be greatly expanded."
At present, VNA holds an estimated 38% of the domestic market. It is a dramatic decline from a peak of close to 80% eight years ago when LCC Vietjet entered the market. The privately-owned budget carrier, which is expanding like wildfire across the region, holds 48% of the local passenger market.
VNA said careful management, fleet modernization, network expansion and a focus on inflight service have contributed to its improved financial results. Last year, the carrier and its subsidiaries, the 70/30 joint venture Jetstar Pacific with Qantas, and the take up on its domestic carrier, Vietnam Air Services Company (VASCO), earned consolidated revenue that exceeded $4.35 billion for the first time.
Pre-tax profit for the group hit $121.7 million, 15% above forecasts. In 2018, VNA carried more than 22 million passengers on 142,000 flights and shipped 350,000 tonnes of cargo. Its average on-time-performance (OTP) was 90%.
Thanh said last month: "Vietnam Airlines' strong earnings performance capped another year of extraordinary achievement, including surpassing the $87 million mark in profit. We made significant progress on several key initiatives in 2018, including improved human resources management, building an enhanced product portfolio and achieving a higher ranking on the OTP index."
The carrier maintained its profit momentum in the first quarter of this year with a 4.3% increase in revenue to US$1.05 billion. Consolidated profit before tax was already 45% of the forecast plan for 2019.
At press time, the Ho Chi Minh Stock Exchange (HoSE)announced the listing and the first tradind day, May 7, for 1.4 billion shares in Vietnam Airlines. All of the airline's shares were moved from the Unlisted Public Company Market. HoSE listed the airline's value at 14 trillion dong (US$602 million).
Vietnam's domestic market is one of the fastest growing in Asia, where VNA is pitted against ambitious VietJet, and recent arrival, hybrid carrier Bamboo Airlines. Both these airlines have their sights set on long-haul routes.
VNA said it is well positioned to compete with rivals as it is ready to sign off its 2021-2025 fleet development plan. It has a vision strategy in place to 2030, is incorporating new digital industrial technology, Industry 4.0, into the airline and is synchronizing its IT systems and digital business into operations.
New listing to reduce government equity


A recent critical development has been the April announcement that the Ho Chi Minh Stock Exchange (HOSE) has approved a listing of 1.4 billion VNA shares on the Southern Vietnam bourse, marking the latest step in the government's plans to reduce its ownership in the flag carrier to 51%.
The carrier's shares were traded on the Unlisted Public Company Market (UPCoM). VNA is 86.1%-owned by the country's Ministry of Transportation. It had an IPO in 2014 when it sold a 3.48% equity stake. VNA shares are traded on UPCoM at around VND 40,900 each (US$1.77), valuing the company at around $2.5 billion.
Listing on HOSE is expected to improve VNA's corporate transparency, standardize management practices and provide greater investor access to the group. In 2016, All Nippon Airways (ANA) spent $108 million for 8.8% of VNA becoming VNA's first foreign investor. . Foreign ownership of Vietnamese airlines is capped at 30%. It is expected the imminent share sale will attract another private investor.
"The Government of Vietnam decided it would reduce its share in Vietnam Airlines to 51%. It would mean from here to a few years [ahead] the government would divest more than 35% of its shares. The way to do that is the combination of the government selling its shares or we issue new shares so the dilution would give way to more investors, a new airline or strategic partner," said Vietnam Airlines CEO and president director, Duong Tri Thanh.
"There is increased competition not only in the domestic market, but in the international market because of the presence of new airline models (Ultra LCC, LCC, hybrid). There is over-capacity and a decrease in average fares. However, it [competition] helps boost demand for the industry and motivates full-service carriers, including us, to improve service quality to compete better," Thanh said.
VNA has implemented its own dual brand model, using the mainline airline, Jetstar Pacific and domestic VASCO to maintain its market presence in both the full-service and low-cost sectors. "Jetstar Pacific learns from the Jetstar Group's low-fare airline model to better compete in the low-fare segment. Both airlines utilize resources such as aircraft and pilots for international and domestic network expansion with convenient schedules. They co-operate in marketing and sale activities," he said.
Thanh told Orient Aviation "we have been fast expanding our network in destinations, frequencies and capacity as well as through joint ventures and code-share cooperation with 26 airlines including Air France, Aeroflot, All Nippon Airlines (ANA), Korean Air, El Al Airlines, Garuda Indonesia, Bangkok Airways and the like. This helps to enhance passenger convenience and boosts VNA's presence in foreign markets."
VNA operates 11 787-9s (with eight more to come) and 14 A350-900s. Its fleet also includes 57 A321-200s, seven A321neo (13 more to come) and three ATR 72-500 turboprops.
"We are the first airline in Vietnam and Asia and also the second worldwide to operate both of the latest new generation aircraft, the A350-900 and the 787-9. Now our focus is our narrow-body fleet strategy. It has just been started with the delivery of some A321neo from an order of 20 aircraft that will be received from now until the end of 2019," Thanh said. "We have almost completed the transformation of our wide-body fleet as we receive more aircraft from the orders we have made."
"Deliveries of the A350s and 787-9s have enabled VNA to phase out its 777s and A330s, which gives us one of the youngest wide-body fleets in the region. These aircraft are flying on the Hanoi-Ho Chi Minh City domestic trunk route and to destinations in Europe, Northeast Asia, Southeast Asia and Australia.
Aviation lifer


Aviation has been a lifelong career for Duong Tri Thanh, (58), culminating in his appointment to the top job in June 2016. After he graduated from Vietnam's Foreign Trade University in 1983 he joined the Vietnam Air Traffic Management Corporation of the Civil Aviation Administration of Vietnam as a coordinator controller and then studied at the Vietnam Aviation Academy in 1985.
He was recruited to Vietnam Airlines in 1990 and completed a Master of Science program of Air Transport Management at Cranfield University in the UK in 1994. He was made general manager of the airline's southern branch in 2004 and moved up to executive vice president in 2008, a position he held until he was appointed CEO and president eight years later.
As president and CEO, Thanh has set specific targets for the airline's next five-year plan of safety, quality and efficiency as well as building the partnership with VNA's foreign strategic shareholder, ANA HOLDINGS INC.
"New generation aircraft such as the A350 and B787 are our game changers. "The A350 fleet is completed, while delivery of the eight 787-10s starts from July 2019 until early 2021. The -10s will allow us to further up-gauge high-demand international and domestic routes.
"By the end of this year our fleet will expand with 12 more A321neo and three 787-10s.
"For the next 5-10 years, we have enough wide-body aircraft and are now shifting focus to a narrow body, fuel efficient type."
VNA expects to supplement its fleet with 50 firm orders, with 50 options, for new generation narrow-bodies to meet market demand from 2021- 2025. As for those non-stop U.S. flights, Thanh said VNA is examining suitable aircraft to economically operate routes to North America. They include the 777-8X and the A350-1000, with their arrival in Hanoi planned from 2022 once the fleet order is finalized.
While new aircraft are the lynchpin of VNA's expansion, the carrier is intensifying the introduction of technology and digitalization in its operations. "In the fast-changing air travel industry it is vital to improve our digital abilities and create a competitive edge. We aim to become a digital airline by 2020," said Thanh.
"We are the first airline in Vietnam to incorporate wireless streaming complimentary entertainment into our aircraft. Passengers can use their personal electronic devices to connect to the onboard network. It adds competitive edge to Vietnam Airlines' operations." Wi-Fi onboard is being tested on the new A350 fleet and will be launched in the coming months.
The carrier believes it must constantly update its mobile applications to reach its customers and is applying the automated Commercial Analytics tool provided by cloud platform, Salesforce. It provides insights, predicts outcomes, finds recommendations and allows the carrier to act quickly on a complete, AI-powered analytics platform.
It also has enhanced its strategic cooperation with technology solutions provider Sabre. "We incorporated Sabre AirVision Inflight to drive cost savings of up to 10% of the total catering budget. Sabre's Passenger Service System identifies increased revenue opportunities [for us] by tailoring offers and experiences to meet the needs of every traveler," Thanh said.
Social media is not being ignored. "We have a strong base of nearly two million followers on Facebook, with 15 sub-pages in different languages and nearly 90,000 followers on Instagram as well as a presence on Twitter, YouTube and WeChat. These are the most effective channels to communicate with customers both domestically and internationally," he said.
The heart of the carrier's focus is the country's culture. Vietnamese roots and backgrounds are "at the very core of what we are in terms of image, hospitality, inspiration, creativity, innovation and making travel more relaxing but yet still professional", Thanh said.
This includes the traditional Ao dai uniform of the cabin crew, the Lotus brand logo and the signature drinks and seasonal fruits served inflight. "Vietnamese cultural touchpoints are greatly embedded in our products and services," he said.
Like his airline peers across the region, Thanh faces the challenges of airport and air traffic infrastructure shortfalls, congestion and the need to attract pilots to crew an expanding fleet.
"Rapidly growing passenger numbers may spell good news for carriers including VNA, but airspace capacity and airport infrastructure are under unprecedented strain, which results in lower on time performance. VNA is unable to get more slots, especially during peak periods," he said.
"In Ho Chi Minh City, the airport can provide 44 slots per hour in daytime, but demand is 50-55 per hour. In China, VNA has a lot of difficulty when applying for slots at most of airports, especially in Beijing and the Eastern Region, including Nanjing, Qingdao and Shanghai.
"Some 4%-5.3% of VNA flights are affected due to Air Traffic Control, causing many actual flight times to be 40 minutes longer than scheduled. Compared with 2016, the Hanoi-Ho Chi Minh City flight time has increased by about 20-25 minutes per flight," he said.
Relief is on the way but it will be some time coming. Construction is progressing on an international airport at Long Thanh, 40 km east of Ho Chi Minh City with operations scheduled to commence in 2025. It will have four runways, three terminal buildings and is planned to handle 100 million passengers a year.
Proud record of local pilot training


"Nearly 75% of VNA pilots and 95% of A350/B787 pilots are Vietnamese, showcasing that we stay true to our heritage," said Duong Tri Thanh.
"We take great pride in VNA's ability to master advanced technology. We believe this is a valuable asset to our company. It is useful to have exposure to aircraft technology from both Europe and North America.
"From having to hire up to 50% of expat pilots in 2010, by 2018 the percentage of local pilots accounted for nearly 75%. We have medium and long-term strategies for pilot increment in line with market growth."
VNA established the joint venture, Viet Fly Training Company, with Airbus and ESMA to promote cadet training. "We provide world-class training with the launch of the first flight simulator complex in Vietnam, in partnership with CAE, one of the world's leading civil aviation training organizations. The facility provides programmes for A320/A321/A350 and 787 aircraft, a milestone in VNA's training investment," he said.
"We are focusing on improving the quality of instructors and examiners. VNA has developed an income plan as well as additional benefits for better long-term financial management for pilots. VNA's compensation and remuneration levels for pilots are comparable to those of major regional airlines."
"Until then," said Thanh, "we will have to accommodate ourselves to the situation." Four other international airports, at Cat Bi, Phu Bai, Vinh and Chu Lai, are being renovated to tackle the surge in demand."
On the network front Thanh said: "We want to maintain our position and market share in markets where we have strong presence. While there is a lot of room for growth, congestion in our main hubs, especially Ho Chi Minh City, results in crowded terminals and outdated facilities, making it impossible for us to increase frequencies except at night.
"We want to add domestic routes to meet increasing tourism as well as enhancing connectivity between the country's large economic zones, hence boosting regional economic development."
Internationally, VNA will add flights on existing routes to Europe and review the possibility of launching routes. "It is hard for international arrivals to reach 19% growth, as was the case in 2015-2018, because of infrastructure constraints. As well, key markets like China and Korea have hit their limits. We will consider launching more services connecting tourist destinations in Vietnam with North and Southeast Asia."
Thanh pointed out the advantages of its SkyTeam membership, which allowed VNA to "reap the benefits" of an extensive global network of 14,500 daily flights to 1,150 destinations in more than 175 countries. Additional benefits from the alliance are SkyPriority, SkyTransfer, SkyTeam Rebooking and Round The World ticketing.
"Through code sharing with SkyTeam members, we have extended our global network to 60 offline routes to 45 destinations to which VNA does not operate. We also have better access to loyal customers thanks to the cooperation of FFP programs among SkyTeam members.
"We are encouraged to improve our product and service quality and raise technical standards to international levels to fully enjoy the benefits that the alliance offers and create a seamless travel experience to our customers with SkyTeam carriers."