Independent MROs stand their ground against OEMs
Boeing's Services Market Outlook 2019-2028 has forecast the global aviation support and services 10-year market would be worth US$3.1 trillion to 2028, with an annual growth rate of 3.5%. Read More »
Commercial services, Boeing estimated, would be US$1.68 trillion for the decade, including the business and general aviation sectors.
Key trends at commercial airlines are improved management of MRO hours and aircraft down time, transfer of more work regimes from heavy shop checks to line maintenance, more pooling of inventory, adoption of retrospective and predictive maintenance driven by data analytics and greater application of maintenance planning tools.
At the other end of the spectrum, airlines, especially start-ups and LCCs, are not as willing as in the past to set up costly in-house MRO shops to service their fleets.
Global aviation MRO, Lufthansa Technik, told Orient Aviation the aftermarket does not need OEMs to provide a high quality and competitive service. It is well supported by existing MROs.
Lufthansa Technik vice president corporate sales Asia-Pacific, Gerald Steinhoff, said: "It is certainly the case for base maintenance in the Asia-Pacific. Airframe OEMs have made a few attempts to enter the market by promising investments and partnerships, but we don't see the service improving."
"Component OEMs follow very different repair strategies, the regional Lufthansa Technik sales leader said. Parts and the supply chain are the largest sectors of the commercial airline aftermarket, which also is benefitting in availability from used serviceable materials from ageing retired aircraft.
The Boeing forecast said new generation aircraft will increase to 50% of the global fleet by 2028. MRO providers will need to invest in training, digital capabilities and infrastructure upgrades to support these aircraft types, in a labor market that will remain tight and force inter-country recruitment.
"Some OEMs would rather experience the efficient setup of base maintenance, which has excellent engineering and planning skills, volume and the highest quality standards that MROs offer," Steinhoff said.
"On the airframe OEM side, it is a differentiated picture. Boeing has not been too competitive in the Asia-Pacific while Airbus defined very challenging targets for its aftermarket share of new aircraft types.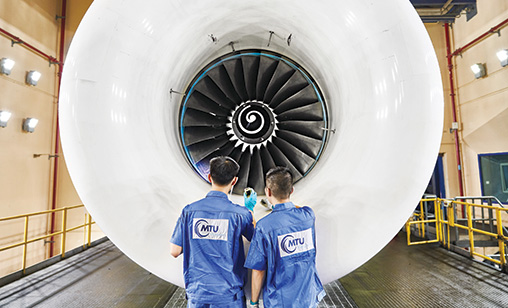 Engine MRO strengthening ties with OEMs for technology and licence access


Asia is number one in the world for engine MRO volume in revenue terms. It produces a quarter of all shop visits, MTU Maintenance Zhuhai president and CEO, Jaap Beijer, told Orient Aviation last month.
"Asia's importance will continue to grow, also in terms of shop visits, which will represent well above one third ten years from now," he said.
"As most visits will be performed on narrow body engines, MTU Maintenance Zhuhai, the largest narrow body shop in Asia, is ideally placed to serve this growth as an independent service provider.
"Generally speaking, there is increased OEM coverage for next generation engines. Independent providers will need to intensify their cooperation with OEMs to access engine MRO and potentially IP protected repair licences as well as MRO volume.
"At the same time, engines entering maturity, such as the V2500 and CFM56, will increasingly become available to independent MROs.
"MTU Maintenance Zhuhai believes it is very well positioned to work on next-generation engines – both through parent company, MTU Aero Engines, RRSP agreements with OEMs and its joint venture with China Southern.
"China Southern is China's largest airline group and introduced A320 and 737 MAX services in 2017. We count on them for base workload.
"As well, through its risk and revenue sharing partnership, MTU holds 18% in the Pratt & Whitney 1100G-JM program."
"Specifically, on the A350, this approach led to very strong competition with partially unrealistic and highly subsidized prices."
Despite that, at least two very strong independent MROs, of which Lufthansa Technik is one, are in the A350 market.
"It is the same with aircraft like the 320neo and 787. The air framers have created more competition, but now every competitor has to prove they can deliver what they have promised.
"Some component OEMs are stepping back from repair and joining forces with strong independent MROs. We see this in our partnership with Honeywell on the A350 and in China, where we are signing Meggitt, Honeywell and others to licence Lufthansa Technik Shenzhen for exclusive repairs."
The trend was reinforced with announcements at June's Paris Air Show that included US$1.5 billion in tailored agreements for Collins Aerospace from customers that spanned aero structures and power and controls units.
Leading Asia-Pacific carrier, Japan Airlines (JAL), signed up for Collins' FlightSense platform that will require the UTC-owned conglomerate to manage JAL's MRO supply chain, provide the carrier with on site inventory and improve shop visit efficiency.
AAR told our special report team the increasingly active participation of OEMs in the aftermarket is an opportunity and also a challenge for AAR and the MRO market.
AAR vice president sales Asia-Pacific, Colin Gregory, said the U.S. headquartered group uses its aftermarket experience and wide variety of services on all aircraft platforms to offer tailored solutions from a single independent supplier.
"There are a few consortiums starting to form in our industry that may deliver on the promise of shared data," he said.
"OEMS are moving rapidly to control and charge for use of their data. But as one of the largest MROs in the world, AAR generates much of the data it needs and always is finding new avenues to capture additional data.
"We are seeing an increasing number of OEMs enlisting us to support their parts distribution agreements with Airbus and Boeing fleets and improve their aftermarket distribution of new parts.
"AAR has recently reported great success in broadening the geographic reach, duration and bundled services in the existing contracts."
AAR has partnerships with more than 30 OEMs, which help it to supply military aircraft operators and commercial airlines with parts. Its OEM services group plans to open an MRO facility in India by year end. It always is looking for growth opportunities in the region, Gregory said.
Asia-Pacific largest market for GTF engines
"The Asia-Pacific represents a key market for Pratt & Whitney-powered aircraft platforms with more than 20 GTF engine customers and 260 GTF-powered aircraft operating in the region. It is 60% of the GTF fleet," Pratt & Whitney senior director aftermarket operations Asia-Pacific, Brendon McWilliam
, told Orient Aviation last month.
"Asia-Pacific MRO demand will be more than 40 percent of the world's MRO support by 2036," he said.
"In addition to meeting the growth generated by orders for nearly 10,000 GTF engines, Pratt & Whitney is investing in new technologies that include hybrid electric, advanced high-temperature materials, additive manufacturing and digital technologies.
"For operators to predict current and future MRO across their fleets, aircraft engine health monitoring is a critical activity. Pratt & Whitney's Flight Acquisition Storage and Transmission (FAST) system is designed to capture and analyze engine and aircraft performance parameters.
"When an aircraft equipped with Pratt & Whitney engines lands, the FAST system provides cellular transmission of engine and aircraft performance data from the aircraft to Pratt & Whitney, where a full-flight data intelligence report is produced to provide operators with information that can improve engine maintenance predictability.
"For GTF fleets, we're collecting significantly more data at different times in the flight envelope, including at engine start, limb-out and descent and more reports such as oil monitoring."
Pratt & Whitney also provides opportunities for customers to invest in virtual reality technologies that allow viewing of an running engine or examination of its parts without having to dissemble the whole engine.
Pratt & Whitney's GTF MRO network consists of Pratt & Whitney as well as engine program partners JAEC, MTU and LHT that provide GTF MRO maintenance.
"We are on track with plans," said McWilliam. "The GTF network spans three continents with active engine centers to date including IHI-Mizuho, Eagle Services Asia and soon MHIAEL in the Asia-Pacific.
"By 2020, we will ramp up GTF MRO capability to 10 active GTF MRO engine centers with three more to come online by 2020.
"For repairs, we have expanded our relationship with Hanwha Aerospace and are committed to up-skilling our workforce.
"As we become more automated, it will increasingly become important for skills in our workforce to include information and data processing.
"Mechanical engineering and so forth is still relevant for the aerospace MRO industry. It is not about software development but being able to take advantage of technology, interpret and apply the gathered information benefit, and adapting to the future needs of the industry."