By Dominic Lalk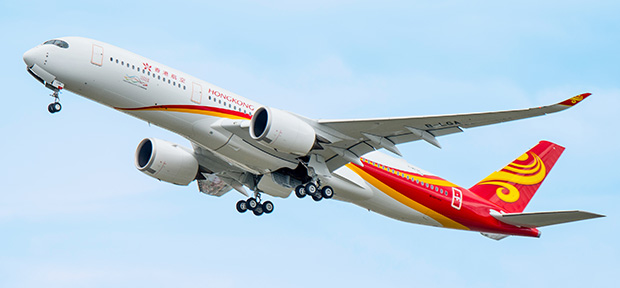 Hong Kong Airlines on Thursday took delivery in Toulouse of the first of 21 on-order A350-900s, marking a new era in long haul route expansion for the airline. Also this week, Hong Kong-based Cathay Pacific Airways announced A350 routes to Brussels, Copenhagen and Dublin that will start flying in 2018.
It also was reporting season in China this week with China Eastern Airlines leading the pack with its announcement of an interim US$660 million net profit. Air China came in second with net earnings of US$594 million, followed by China Southern Airlines at US$420 million. Each of the 'Big Three' recorded strong domestic yields but slippage on international flights.
Also in China, Chongqing Jiangbei International Airport has opened a third runway and a third terminal, increasing its capacity to 60 million passengers a year. Further south, Shenzhen's Donghai Airlines could become the first Mainland airline to offer nonstop China-Darwin services.
In Australia, Qantas Airways said it will cease flying to London via Dubai from March and opt instead for Australia-Singapore-London. Earlier in the week Joyce announced changes to the Qantas Group executive leadership team that included Gareth Evans' shift from Qantas International to CEO of the Jetstar Group and Jayne Hrdlicka's move to CEO of Qantas Loyalty and Digital Ventures from head of Qantas' stable of budget airlines.
Hong Kong Airlines enters new era with first A350 delivery Read More »