Opportunity has come knocking at the door of India's largest privately owned low fare airline like never before. Read More » As India's aviation sector recovers, finally emerging from COVID's long and dark tunnel, factors have combined to make the next few months - if not years - IndiGo's moment in the sun.
After several quarters of big losses, the LCC reported a net profit of Rs 1400-odd crore October-December 2023 followed by a little more Rs 900 crore in profit in first quarter 2023, ensuring the airline ends its previous financial year with only a small loss. To top this, fiscal 2023 begun with the LCC announcing its largest quarterly profit, Rs 3000 crore, built on a 30% increase in revenue.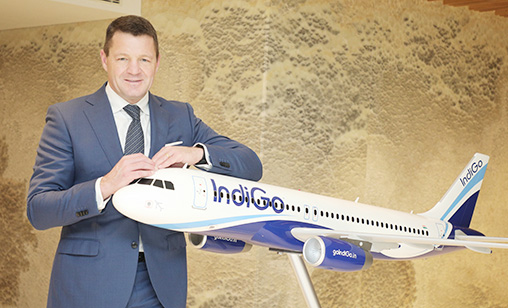 'At IndiGo, we feel we are at a stage where we can offer a fully-fledged classic loyalty program. In the past, we offered some cash discounts through credit card tie-ups, but now with very regular fliers and high frequencies between metros, the time is right'
Pieter Elbers
IndiGo CEO
Readers need to appreciate the opportunity being offered to IndiGo does not present itself often in India's hyper competitive aviation environment, especially in a world of much uncertainty.
COVID-19 weakened IndiGo's pre-pandemic rivals as never before. Go First, which at one time held a 10% share of the Indian air passenger market, declared bankruptcy in May. SpiceJet, operating with 110 aircraft at its peak, has shrunk to almost half its former size.
As 2023 progresses, the impact of Go First's fleet grounding is benefitting all airlines, but especially IndiGo. The Delhi-headquartered LCC has injected additional capacity into the market to mitigate the gaps created by Go First's demise.
Tata's national carrier, Air India, will offer credible competition in Indian aviation, but it has yet to make its presence felt in any significant manner or aspect. The Tata's and Singapore Airlines jointly owned and run Vistara is preparing for its much dreaded merger with Air India. The flag carrier itself is in throes of dramatic and hopefully transformational change.
It will take time for the Air India/Vistara combination to become a formidable airline rival although the pain and presence of the change ahead is being felt by everyone including IndiGo. Akasa, the newest kid on the airline block, is too small to matter.
Add to this mix of factors are externalities that have worked in the market leader's favor. Although the Ukraine war shows no signs of ending soon, fuel prices have cooled since June 2022 after a supply increase, a huge relief for all consumers of aviation turbine fuel (ATF).
For the last few quarters, IndiGo's fuel costs per available seat kilometer (CASK) have been lower than in 2022 and early 2023, with the latest quarter, to June 30, recording another decline.
Additionally, the rupee has closed stronger in the last two quarters, resulting in a small foreign exchange gain for IndiGo although this trend may well change.
Overall, non-fuel CASK at IndiGo increased a little due to slightly higher maintenance costs and inflationary pressures but other factors overrode these negatives. Higher load factors, better yields and economies of scale spread fixed costs more efficiently across the carrier, boosting IndiGo's bottom line.
It reported a steep rise in revenue – 32% higher than the matching quarter last year – after demand began to rebuild in the summer of 2022.
If the stars are shining bright externally for IndiGo, they could not be more sparkling for its new CEO: the man of the moment. To say Pieter Elbers, the 53 year-old former president and CEO of KLM Royal Dutch Airlines landed in New Delhi in a sweet spot at India's largest private airline would be putting it mildly. His arrival in September last year coincided with IndiGo's announcement of its first profit after several quarters of losses.
Elbers, who started his career at 22, post a degree in logistics management and a mandatory stint with the army, spent 30 years with his country's carrier including stints in Italy, Greece and Tokyo.
He has been blown away by India and IndiGo, which have impressed him in a range of ways.
Coming from a company with a 103 year-old history, operating to 250-odd international destinations with wide-bodies and a single hub (Schiphol), he has moved to a very different environment.
The market in India, he said, goes up and down much faster than in other parts of the world. "Moreover, the dynamics of the market here are very 'last moment'. We are able to load and dispatch flights here at a perilously late hour, yet people are traveling!", he said, adding it was a contrast to Europe.
He also is very struck by the commitment of IndiGo's workforce that comes together to ensure more than 1,800 flights daily take off and land safely from different bases in a vast network of domestic and some international routes. As he travels from Dharamshala to Chennai to acquaint himself with the airline's operations, he is coming to understand Indian states and their diversity better. He is quite taken with what he is seeing.
NO TWIDDLING THUMBS
If external factors are stoking IndiGo's recovery post-pandemic, the airline itself has not exactly been twiddling its thumbs. There is a new management team in place and with Elbers leading the charge to expansion, IndiGo is well placed to recoup some of its losses accumulated during the pandemic.
Some senior roles previously managed by one executive have been split into three or four separate positions. The LCC has a new CFO and a new chief of human resources. It has recruited two aviation industry veterans, Abhijit Dasgupta and Vinay Malhotra, who have had long careers at Jet Airways and Emirates Airline, respectively.
Despite engine related supply chain delays, which resulted in 37-38 IndiGo aircraft being grounded at any time, the airline has exceeded its capacity guidance, albeit marginally, over the year-ago corresponding period.
The airline also took the proactive decision to replace its Pratt & Whitney engines with CFM power plant as troubles mounted for U.S. engine manufacturer.
By acting in time, IndiGo mitigated some supply side challenges by extending some leases and bringing in a small number of aircraft on damp lease. Cockpit crews are airline employees but cabin crews and the aircraft are outsourced.
At the start of the last fiscal year, IndiGo delivered capacity guidance of 17%-18% and marginally exceeded it. "This guidance was given before we knew about the supply chain problems, yet we managed to exceed it. I'm quite happy about that," Elbers told Orient Aviation.
The carrier was able to do some positive "jugaad" - quickly acting to solve problems - to capture a share of the traffic rebound, he said.
Capacity has been deployed on several destinations - Ras-Al-Khima, Mopa-Goa, Nashik, Itanagar and Dharamshala to name a few - and the decision is showing results. New routes have been introduced to the network, notably Jaipur-Bhopal, Indore-Surat and Pune-Varanasi, among others.
Particularly, the carrier is making a concerted effort to improve its aircraft utilization. At press time, it was close to pre-pandemic 13 hours per day. Its goal is 14 hours daily across the fleet.
It also has doubled down on its cargo operations - launched more determinedly as one of the survival tactics during the pandemic - as it began to see how lucrative this line of business could be.
Two full freighters were added to the LCC's fleet at the end of last year and a third freighter is coming on line this year. Two leased 777s are increasing the carrier's cargo offering. Fellow LCC, SpiceJet, took early steps in development of cargo during COVID. IndiGo and other rivals have followed suit. However, analysts believe IndiGo, a far steadier ship, will soon overtake SpiceJet now mired in problems. Other opinion makers believe it already has happened.
To save turnaround time, the carrier introduced a three-point disembarkation system to reduce turnaround time by a couple of minutes per flight. "One may say 'what's the big deal but with 1,800 flights a day, two or three minutes a flight adds up to a big number," argues Elbers.
INTROSPECTION AND INTERNAL CHANGES
While many aspects of IndiGo's operations were a happy revelation for Elbers, there are a few issues he wants to address straight away; making the airline more digital, more customer oriented and more punctual. For a country so digitally savvy and gifted, IndiGo could pull up its socks in this aspect.
"I realized quite soon IndiGo must prioritize this aspect of its operations. The whole world comes to India for a lot of its tech needs, so we should be not just with it but ahead of the pack in this," he said.
Elbers believes the airline also must focus on its customer loyalty program. IndiGo's loyalty program operates with specific banks and credit card tie-ups. Very few regular IndiGo customers are aware of it and if they are, they do not avail themselves of it. This situation may have been acceptable when the airline was establishing itself but now, with a customer base of close to 100 million travellers, it needs a push, which will happen imminently.
He also has learned that the complexity of the airline's operations along with its sheer size, had resulted in a slip in its on time performance (OTP) post-pandemic. A renewed focus has been placed on redressing this downward drift since last November.
BIG ELEPHANT IN THE ROOM
Perhaps the biggest elephant for Elbers is its need for captains, crew and skilled senior management. IndiGo's relationship with its cockpit crew has been fraught for a while, going through ups and downs. In general, it is fair to say pilots are IndiGo's unhappiest employees and the individuals most critical to the airline's functioning.
Recently, the airline has lost some senior commanders and long-time loyalists, all with a minimum of 10-15 years of high level flying experience. They have joined Gulf carriers, but the drift seems to be more of a trickle than a flood. Keeping cockpit crew happy has never been a strength of IndiGo's management.
IndiGo pilots say they are overworked and fatigue is one of their biggest challenges, a factor that came into focus last week with the death of a commander while on duty.
Senior captains at the airline and outside of it said flight duty timing limits (FTDL) routinely are pushed to the limit, resulting in many crew exhausted from "cumulative fatigue".
"It is like asking a man to take the treadmill test, reach the peak rate and expect him to stay there permanently," a senior commander of more than ten years at the airline told Orient Aviation. He pointed out the limits are there for a reason. "One cannot always be at the [sharpest] edge," he said.
IndiGo pilots also argue they are underpaid. Last October, the airline said it had restored pilot salaries to pre-pandemic rates, but it did not incorporate annual increments pilots feel are due to them from 2020 to 2022.
A salary increase for captains is expected in October. Senior captains granted only single digit pay increases will be a severe disappointment in view of the airline's three profitable quarters. On the other hand, there is a view that only the prospects of wide-body induction (read career progression) will convince senior flight crew they have a future at the airline.
Elbers acknowledges the airline has lost some loyal soldiers in recent times, but said while some factors are within the carrier's control, some remain outside of it.
"A lot of Middle East carriers have started to hire after COVID. They had reduced numbers during the pandemic and this is creating career opportunities outside our control," he said.
"Let me say that the pandemic was an unusual time, but things are and will be very changed going forward internally."
Elbers believes the airline's better results will convince many pilots to stay at IndiGo. "When people are not certain about the direction or the future of the company, disillusionment can set in. Our last three quarters of results should drive home the bigger picture that IndiGo is a solid, stable base with growing opportunities for those who want a steady career," he said.
THE INTERNATIONAL FOOTPRINT: WHERE NEXT?
The airline is on an expansion spree. In June, it announced an order for 500 Airbus aircraft, an addition to the 480-odd airliners it has previously ordered. For Airbus, it was its largest order it had received from a customer. It also defined the scale of IndiGo's ambitions considering it now flies around 300 aircraft to 26 international destinations.
Since June the airline has been in overdrive with international expansion, adding 174 international flights a week in the second quarter of the calendar year. Recently Tbilisi, Baku, Nairobi, Jakarta. Singapore, Abu Dhabi, Ras Al Khaimah and Bangkok have been connected with different Indian cities.
IndiGo is operating two 777s to Delhi-Istanbul and Mumbai-Istanbul on damp lease to cater for increasing demand for travel to and from India.
Through codeshares, IndiGo is connecting passengers to Washington DC, Boston and New York as well as 33 codeshare destinations in Europe, including countries from Scotland to Denmark, Portugal and Spain. It has added codeshares for connectivity across multiple continents with agreements in place with Turkish Airways, Qatar Airways, American Airlines, KLM-Air France, Qantas Airways, Jetstar and Virgin Atlantic.
Elbers and the airline's senior management won't rule out anything, including an eventual wide-body operation, which many in the industry argue it will be well advised to do as it begins to compete more intensely with Tata's carriers.
But the LCC intends to carve its own path and develop an airline that matches the needs of the Indian consumer while remaining very close to the IndiGo mission.
INDIGO AND INDIA WILL MOVE IN TANDEM
As India's dominant carrier approaches 100 million customers this year, it is counting on the fact its own journey will closely mirror the size and potential of the country, matching it every step of the way.
India is forecast to be the third largest world economy in the not-too-distant future. The nation's diaspora is traveling like never before and it has a young, ambitious and curious population.
As it breaches the 100 million passenger mark, a moment Elbers said is big for IndiGo, but also "a big moment for India" because there are just a handful of carriers in the world with more than 100 million customers. Speaking for his airline's founder and management he said: "We are not on a mission to just fly planes, but to help develop this country as a purpose if you wish. The growth of the country matches our ambition to double in size, from 300 to 600 aircraft by the end of the decade."
Coming from a European perspective, Elbers finds it heartening the goals of India's aviation sector are aligned with the goals of developing the country's push on the GDP front. India's recent hosting of the G20 summit was an example of the airline helping to act "as a tool to catapult India to its next logical position in the world".
"New infrastructure is being built. We will have new airports in Mumbai and Delhi. In general, aviation is expected to play a major role. It is definitely exciting for me, as a European, to see the role the airline is expected to play in the country's growth journey. The challenges are the speed of growth and the consequent infrastructure challenges that we need to deal with," Elbers said.
Although IndiGo looks ideally placed to make its mark as a global airline player, analysts and experts said taking anything for granted in this volatile sector would be a mistake. Aviation remains highly vulnerable to external shocks: wars, plagues, demonetisation, supplier and vendor shortages and many variables outside the airline's direct control, they told Orient Aviation.
Notwithstanding the above, the stars do seem to have aligned in a perfect synchronization for IndiGo, allowing Elbers and his thousands of employees to make good from the discipline the airline displayed during COVID and to deliver on the bets on growth it is taking post-pandemic.