Upping aviation's ante
Blooded in political and aerospace battles, International Air Transport Association director general, Alexandre de Juniac, intends to take the case for understanding aviation's contribution to the global economy to heads of state as global travel and trade become ever more entwined.
International Air Transport Association (IATA) boss, Alexandre de Juniac, belies appearances. Chatting with Orient Aviation in his office overlooking Geneva International Airport's runway in December he appeared to be the epitome of patrician authority. Read More » But appearances, as is so often the case, can be misleading.
The newest and seventh director general and CEO of IATA may be the product of a privileged upbringing and education, but when it comes to aviation the 54-year-old former chairman of Air France KLM has fire in his belly about the industry and its importance to the global economy.
'IATA has to be fast, fast, fast. IATA should pave the way, lead the race, be at the forefront of all the evolutions if we want to represent and serve the industry. Otherwise we will lag behind and we will bring no value," he said.
"Promoting the business of freedom could be an approach that talks to politicians at a high level by telling them freedom is an important issue, especially when we are facing protectionist rhetoric," he said.
De Juniac is talking about the industry's concern that some countries are backing away from Open Skies and returning to heightened protection of home carriers. Like his predecessorm Tony Tyler, de Juniac would not identify specific spats, including the widely reported rift between U.S. and Gulf airlines as the carriers involved are IATA members. But he holds strong views on the subject.
"We think protectionist measures intended to raise the number of barriers to goods being exchanged or for people to move across borders are a big mistake. It's a big mistake for our industry, obviously. But it's a big mistake for the global economy. It is something that will erode freedom. If we think that we fight for a cause, which is the business of freedom, and I am strongly convinced that we are fighting for this cause, any measure that restricts the movement of goods or aviation is a threat to freedom."
He said it is still early days, he told Orient Aviation in January, for the Trump administration. "We have not seen the specifics of his policies and their impact on aviation, but he has identified three areas we are monitoring closely – building infrastructure, securing borders and pulling back on trade," he said.
"I don't think anybody will disagree with the need to improve U.S. air transport infrastructure. The air traffic management system is in desperate need of modernization. And some key airports – such as New York – need major overhauls.
"As well, there has been a huge effort to have more effective border security in the U.S. and globally with new technologies. We hope any upgrading of security will include a benefit to passengers as a result of the vast amount of information that is available to border control in advance of a passenger arriving at the border checkpoint."
"The last point, pulling back on trade, is the most worrying. Where the skies have been opened, we have seen demand grow with social and economic benefits to all parties. I hope that the Trump administration will recognize this in its approach. But it is too early to make any predictions on how that might play out in the context of specific agreements."
De Juniac opposes privatization of airport infrastructure


"After twenty years of privatization in many parts of the world – Australia being one of them by the way – very frequently privatization has led to uncontrolled local monopolies and very often they are not sufficiently regulated. As a result, the costs the airlines pay and therefore the passengers pay have significantly increased after airports have been privatized," he said.
De Juniac pointed to Singapore, where the government had considered placing the biggest expansion of Changi Airport, including the multi-billion dollar new Terminal 5, into private hands.
"It changed its mind and the cost will be shared between the government, the Changi Airport Group and other private stakeholders. "The Singaporean government was looking ahead at its long-term plan or vision. It was explained to me that because of the cost of the project, they could not put it on the shoulders of the private sector. They had to share it."
Since de Juniac took over in September, he has visited every continent except Australia and Antarctica. He said governments such as Singapore and the Gulf states understand aviation is vitally important to their economies, others do not. "They don't see the consequences of the decisions they make. We have to repeat and probably say it differently to explain to governments the value of aviation," he said.
"We must extend the scope of our lobbying beyond the limit of the various transportation ministries or departments. We should speak to finance and probably industry ministers and to the prime minister or head of state. We have the authority and we have the legitimacy. We are viewed as an important body so we shouldn't be shy," he said.
"Perhaps our contribution, our documents, are not clear or precise enough to convince the top levels of government of the importance of aviation. We have to keep repeating the message, but also its about changing the formula and explaining the negative influence of economic measures on aviation, economic growth and prosperity.
"We should show examples that lower charges and taxes and have increased dramatically the number of passengers. Or we have increased charges that have led to a drop in passenger numbers."
IATA wants more LLC members


De Juniac would like to see more low-cost carriers joining IATA. "The LCCs are growing very fast so their market share is increasing. In some countries like India they have enormous presence," he said.
"It raises the question of integrating these new model airlines into our association. They are more than welcome. We have some low-cost members, but frankly the big guys are not among our members. We should have operators such as AirAsia, Cebu Pacific and Jetstar on board."
What would they get from membership? "They are part of a big institution. We would represent and lobby for them. Sometimes they underestimate the importance of representation and advocacy. It is an important mission for IATA to represent those airlines."
De Juniac is acutely aware of the challenges ahead for the industry. One that never goes away is infrastructure, particularly airports. "My view is we are heading for an infrastructure crisis because of a lack of political will, a lack of long-term planning and probably a fragile assessment about what has to be handled," he said.
"It is a constant battle to persuade governments to understand the industry's infrastructure requirements. We expect nearly four billion travelers in 2017. In 2035, we expect 7.2 billion. It is growth that will bring net economic benefits to the world's economies but only if infrastructure development can keep pace. In the Asia-Pacific by 2035, we estimate that the region could see 72 million jobs and US$1.3 trillion in GDP from the air transport sector."
De Juniac holds the same views on air traffic management (ATM). "We have problems in the Gulf and in China. We have a U.S. Nextgen system that is not working as well. They have to plan in advance for the increase in traffic.
Cross-border ATM issues in Asia are "terrible" and are preventing the system from operating properly. There also are social constraints because governments are terrified about losing control.
IATA's NDC has signed on 86 airlines


De Juniac underscored the work IATA is doing by using technology to support process innovation. "It covers a large area of the work IATA does. Smart Security, Fast Travel, the e-Air Waybill and New Distribution Capability (NDC) are all examples. I am particularly enthusiastic about NDC - another IATA global standard - which will fundamentally modernize the distribution process," he said.
"Already, 86 airlines either are using parts of NDC or they have said they plan to implement it. The program is gaining traction and is a win-win. With NDC, airlines will better understand their customers' needs and travelers will enjoy greater choice and transparency when buying travel through agents," he said.
"Having said that, there are some interesting developments in Asia, including co-operation between Hong Kong and Singapore. It's a start. We have to advocate to governments and push, push, push. We also have to be transparent by putting the data on the table and explaining the problems, taking public opinion as a witness. We must point to bottlenecks and explain the reasons for them."
Preventing increased taxes and charges are major battlefields for IATA. De Juniac did not hesitate to reel off a string of raised charges by what he calls "short-sighted" governments:
Australia plans to increase its passenger movement charge to US$43.60. The Maldives, totally dependent on tourism, are planning to add $25 to its "airport development fee"' even though none of the money would be spent on the airport. Germany is adding up to 52 cents per passenger to its departure tax. It already collects more than $1 billion a year.
Norway introduced a new passenger tax with another increase planned for 2017 and Sweden is considering a tax of up to $47 per passenger. The UK continues to increase its Air Passenger Duty (Air Passenger Duty) in line with inflation, despite evidence that it costs the UK economy $19.8 billion. Combined increases in passenger fees in the UAE and Qatar are putting at risk the Gulf's amazing success story by adding $700 million in new costs to the industry.
"In December, IATA announced airlines globally were expected to earn $35.6 billion in 2016, a record profit, even if slightly less than originally forecast. "This strong performance on profitability will extend into 2017. Even though we expect conditions to be more difficult, we see a soft landing safely in profitable territory.
De Juniac's Asia-Pacific perspective


*Safety is always the top issue. But it is no secret we have some regulatory issues in Indonesia, the Philippines and Thailand. We are here to support expert support to keep flying safe but we need an equal commitment of resources from the governments.
*Competition has never been so tough so understanding the customer is more vital than ever. New Distribution Capability (NDC) is a great innovation for airlines that will help them their customers and meet their needs. Chinese airlines have been most active in pioneering the NDC standard. As other see the benefits, I am sure they will join in.
*To meet the growth in the region major investments are needed at airports. Consultation is critical. Ultimately, the costs will be billed back to the users – airlines and their customers. I am concerned we are not seeing sufficient quality consultation when important decisions are taken.
*Effective implementation of ASEAN open skies is a key agenda item. A key component of the success of the European single market is the regulatory convergence around it. It's not just about market access. Airlines will need common rules to deliver the greatest possible impact from opening the skies.
*The more countries in the region work together on aviation, the stronger the region will become in the global context. It is a major player with its market size. Some countries like Singapore, Korea, China and Malaysia – to name a few – have a lot of individual influence in the international arena. Working together more closely will augment their capability to be an even more potent force.
* There has been consolidation in the low-cost sector, but the current regulatory structure will not allow for the cross border consolidation that we have seen in Europe. I don't see the Asia-Pacific suddenly jumping ahead in this area. The current priorityis market access with the effective implementation of ASEAN open skies.
*I don't give grades [on infrastructure]. There are clearly governments in the region that "get it" with respect to aviation – Hong Kong, Singapore and South Korea. Japan has massively revitalized its infrastructure and regulatory processes to stoke a tourist boom. I would also put China on this list but with the caveat it needs to get in front of demand growth and solve major congestion problems.
* My biggest concerns in the region are the Philippines, Indonesia and Thailand. Their major hubs – Manila, Jakarta and Bangkok – are struggling. Service levels are suffering and airlines cannot satisfy passenger demand with available capacity. We need some leadership vision to drive major investments and improvements.
"A net profit of $29.8 billion in 2017 will mean eight years in the black for the industry. And it will be the third year in row where the return on invested capital (7.9%) will exceed the cost of capital (6.9%). At least we make a margin now, but we should do better. We are only making 5% of our revenue as profit."
With 18,000 direct routes and average fares cheaper by about 60% (in real terms) compared with 1995 levels, travel is a better deal than ever, he said.
"But performance across the industry is not uniform. The benefits of an improved industry structure are keeping airlines in North America at the top of the profitability league. But with a net profit margin in that region projected to be 8.5%, it is only a 'normal' return to investors.
"For a truly healthy industry we should be seeing similar levels across the industry. So there is a lot of work still to do," he said. Are there too many airlines fighting for too few passengers, asked Orient Aviation. de Juniac replied: "There are too many seats."
Cargo, said the IATA boss, is recovering, but not fast. We are not at the level of 2008 but we are approaching that level. The industry has shifted from non-specialized transportation of goods to a more specialized focus on high level products such as pharmaceuticals. It also is an industry that is moving from full freighters to bellies.
"We should better use e-commerce to address that but it's a different logistic model. It is stupid to demand that an item carried from Taiwan to Hong Kong needs 33 pages of documents. In the end, cargo spends more time being processed than being moved."
Another priority, in tandem with the cornerstone of improving safety, is security. "Flying is secure. I fly with confidence and you should too. But there are risks and challenges -insider threats, landside exposure at airports, overflight of conflict zones and cyber security.
He said a recent UN Security Council Resolution reminded governments that keeping aviation secure is integral to a state's responsibility for national security. "Governments can and must do more - upping their game on intelligence gathering and sharing vital information among themselves and with industry. It's the only way terrorists can be kept away from airports and aircraft.
"Industry has a role. My previous employer, Air France, was specifically mentioned on ISIS websites. So I have thought long and hard about security. And you will see IATA becoming more active in this space."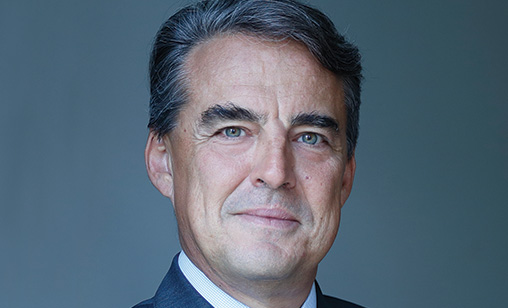 Equipped for the job


With a noble lineage stretching back generations – an ancestor fought in the Napoleonic Wars – and an elite education at France's Ecole Polytechnique de Paris and Ecole Nationale de l'Administration under his belt, it is hardly surprising that Alexandre de Juniac has been chosen as the seventh director general and CEO of the International Air Transport Association.
He has three decades of broad aviation experience and public service experience that have range from senior roles in the French government and the aerospace group, Thales, to chairman and CEO of Air France and then chairman and CEO of Air France-KLM.
De Juniac began his career in the French civil service in 1988, at the Conseil d'Etat (State Council). He progressed to the Department of Budget in 1993 but two years later he moved to the private sector where he took a management job with the French aerospace conglomerate, Thompson-CSF, later renamed Thales.
After 14 years with Thales, which took in painful periods of restructuring, de Juniac returned to French government service as chief of staff to the then minister of economy, employment, industry and employment, Christine Lagarde. In June last year, Lagarde was confirmed for a second five year term as head of the International Monetary Fund.
In 2011, de Juniac was appointed CEO and chairman of Air France, an airline that was collapsing in on itself following the 2008 Global Financial Crisis. At the time, French newspaper Le Parisien, wrote that de Juniac was "parachuted to the top of a company on the verge of a nervous breakdown" and he faced "a perilous mission".
Air France was in a tail spin, haemorrhaging cash and passengers. It had reported four years of increasingly heavy losses, was overstaffed and had a crippling cost base that made it vulnerable to low-cost competitors.
In the 2009-2010 fiscal year, the airline posted an unprecedented loss of $1.65 billion.Tragically, that news was followed by the loss of an Air France plane and all 228 passengers and crew on a flight from Rio de Janeiro to Paris.
De Juniac, who had never worked at an airline, was tasked with saving the business at a carrier where staff was hostile to structural change and the jobless figures were escalating.
By the time he left Air France-KLM for IATA, de Juniac had been credited with returning the airline to profitability and had moved up to CEO and chairman of Air France-KLM.
It was not the first time he had led an aerospace restructuring. Before he returned to government in 2009, he had restructured Thales, a flagship French company that manufactures electrical systems for the aerospace and transportation industries.
Thales was a mirror image of the job de Juniac took on at Air France. The company suffered from bloated overheads, excess staff, uncompetitive products and consequently heavy losses. Within a couple of years he had fixed all four.
Little wonder then that he has settled into the top job at IATA so quickly. He said the prospect of thousands of hours in the air, pushing the causes of airlines around the world does not faze him.
"I am not very sensitive to jetlag and I sleep quite well in planes," he said. "I prefer short trips with a full agenda to over long trips without a full agenda. It's also interesting to go from one place to another and meet the key people."
As for leisure time, he intends to enjoy all that Geneva offers. "You can go to the mountains to ski. I do sailing and music and read novels.I was in a band for 10 years, rock and roll, jazz and pop music, playing piano and vocals," he said.
Musicianship is becoming something of a tradition among IATA bosses. His predecessor, Tony Tyler, plays guitar and the harmonica.
In fact, Tyler brought his harmonica to dinner before he left Geneva and "and we improvised something", said de Juniac.