When the U.S. government last month reacted to recent missile tests in North Korea by preparing for deployment of a Terminal High-Altitude Area Defense (THAAD) battery in South Korea, it was a body blow to the north Asian nation's travel industry. Read More »
Within days of the North Korean tests, the Chinese National Tourism Administration imposed a ban on "zero dollar" shopping tours to South Korea and Mainland Chinese travel agents reported thousands of cancellations as tourists re-booked their trips to Japan or Southeast Asia. South Korea's southern resort island of Jeju, which draws some three million Chinese tourists annually, is bearing much of the brunt.
Photos: Gareth Jones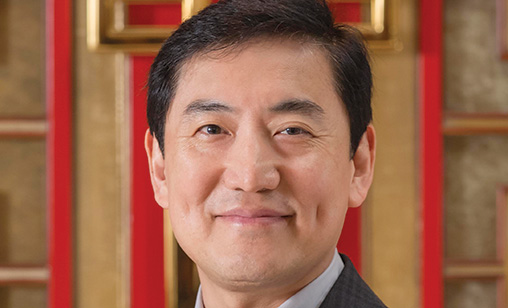 'Where we can compete, we compete. Where we can't, we don't. We try to move quickly and that formula has been working well for us. We always try something different and disruptive so that Korean Air or Asiana cannot fly as a monopoly. We have a winning formula not only from our pricing but from other different products. So the customers like us'
Ken Choi
Jeju Air CEO
"That's a temporary setback," the CEO of Jeju Air, Ken Choi, told Orient Aviation in an exclusive interview in Hong Kong last month. "The Chinese market has always been challenging. At the same time as it has been an opportunity for us.
"Fortunately, or unfortunately, we will see. For now, Chinese business accounts for only 5% of our schedule. We were thinking to run more charter business this year, but that plan might have to be set aside for a while until things settle down."
The unflappable 51-year-old's response to the sudden fall off in his carrier's bookings reflects the carrier's steady approach to barriers thrown up on its path to expansion. And there are always some. In late March, China denied Jeju Air's application to add flights from Seoul's Incheon airport to Jinan and Yantai from this month to October, although Mainland regulators did re-approve existing services to Weihai, Jinan and Yantai.
"We are focusing more on Japan," he said. The challenge is to adjust ourselves quickly." Jeju Air, majority owned by household products conglomerate, Aekyung Industrial Company, already is the leading LCC among Japanese and Korean budget airlines operating between the two countries.
"We are running to six major cities and are adding some secondary cities this year. Most importantly, we are trying to build frequencies and capacity into our major markets where we think we have a leadership, such as Kansai, Narita and Nagoya. The market is very naturally suited to LCCs and also is ideally distributed between inbound and outbound carriers. Depending on the currencies, they fill each other's seats. So that works pretty well for us for now," Choi said.
Founded in 2005 and launched in 2006, Jeju Air was Korea's first LCC. Banker Choi was appointed as CEO in 2012 and led the airline's successful stock market debut in November 2015. It has been a perennial profit-maker.
"It was tough for the airline in the beginning, but I have been serving the carrier for almost five years and it has been a very lucky ride," he said. "My previous jobs were mainly in financial services, venture capital and fund management. I had not worked in an airline. I started off with financial engineering and distribution, but at the end of the day the airline business is very much focused on operations.
"The flight office still accounts for 70% of the business. Making the product stable and uniform across the board to meet customer expectations is very important and hard to deliver. We were lucky enough to have financial resources to invest at least 2% every year in IT technology. That put us in a relative position of leadership in IT. So we just keep executing and we have been doing better."
Jeju Air flies 28 B737-800s. Passengers carried have increased from 5.55 million in 2014 to 7.19 million in 2015. Last year, the numbers grew to 8.6 million with around 10 million expected this year. It has carried more than 40 million passengers in its lifetime and expanded to 150 flights a day to 40 domestic and international destinations.
Choi said the carrier had forecast a fleet of 40 aircraft by 2020, but that has been revised to 50 airplanes and 65 routes in the next three years. "That [forecast] gives us the economies of scale to provide a very stable cash flow. So I think it will be very difficult for our competitors to come in," he said.
Until now, the carrier's fleet was fully leased, but this strategy has changed. In January, the airline ordered three next generation B737-800s.
Choi told Orient Aviation: "This acquisition is a major step in our strategy. We fully understand the benefits of owning and operating airplanes. It drove our decision to purchase these airplanes. We are confident this order will allow Jeju Air to strengthen its position as a leading low-cost carrier in Northeast Asia."
In 2015, Jeju's net profit jumped 47.3% year-on-year, to $38.8 million, driven in part by historically low oil prices and supported by increased inflight sales and network expansion. The airline's profit margin hit an all-time high of 8.5%, well ahead of the industry's global average.
Last year also produced positive results, when revenue rose to $669.3 million and the airline's reported profit was $47.94 million. Its financial position is extremely healthy, with equity rising from $32.2 million in 2012 to $239.3 million in 2016. Analysts forecast revenue of around $814.5 million this year, increasing to $945 million in 2018, with profits in 2017 of $51.3 million and nearly $59 million in 2018.
Jeju Air's results are being achieved in a very competitive sector of the market, including several LCCs with powerful backing. South Korea is served by six budget airlines. Jin Air is owned by Korean Airlines and Air Seoul and Air Busan are controlled by Asiana Airlines. Lesser players are Eastar Jet and T'Way Air, Planned LCC, KAIR Airlines, recently ordered eight A320ceo and has said it intended to launch services next year.
Another hopeful, Fly Yangyang, has been refused an air operators certificate, but it intends to reapply for permission to fly as soon as allowed. Nambu Air also has been set up, but no launch date has been announced.
"I understand new entrants might eventually have AOCs and enter the market but good luck with it," said Choi.
Existing LCCs have 60% of South Korea's domestic market and Jeju has 15% of the budget sector. Of that market share, 22% is international traffic with analysts forecasting that foreign routes will soon make up 30% of Jeju's traffic. For January this year, international passengers carried by South Korean LCCs soared 48.3% year-on-year.
Choi said Korean Air and Asiana have tried to protect their international businesses by placing their subsidiary LCCs on some routes, which Choi said had been an effective strategy. "Some of the routes where we thought we had leadership became kind of shaky," he said.
"But it's in transition. It's very important for us to keep our market and leadership on certain routes and we have to be more aggressive in developing new routes that are profitable to us."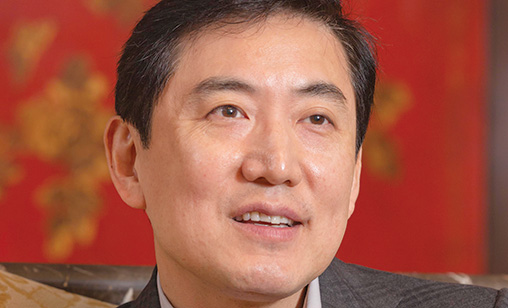 'Regardless, Jeju will take an LCC leadership position and we hope to remain the cost leader. Our objective is to dictate that market as an LCC leader. I always see challenges as an opportunity. Market limitations and macro situations are challenging, but we can deal with it'
Ken Choi
Jeju Air CEO
Apart from China and Japan, Jeju flies to Hong Kong, Macau, Kota Kinabalu, Cebu and Manila in the Philippines, Taipei, Bangkok and Phuket in Thailand, Hanoi and Danang in Vietnam and Guam and Saipan.
The domestic market is so crowded and finite - only six of Jeju Air's 40 routes are domestic – that international expansion is essential. It is why Choi and his team are considering long-haul low-cost operations.
Market limitations, particularly the country's relatively small domestic market, meant Jeju Air had to look to "expand beyond a 4,000km radius unless there is some kind of a big break like open skies with China or North Korea unification", Choi said.
"It would be an opportunity, but we can never rely on that. In a three-year timeline we have to ask ourselves what will be the next phase of our growth engine?"
It is why Jeju is thinking about a long-haul strategy, he said. "What kind of fleet? What kind of training systems? If we address this what would be the most risk-managed way to deploy? We have just started addressing these questions with our top team," he said.
But he stressed the airline wanted to be cautious about going long-haul. "There is no proven success formula in the long-haul LCC business. We have to address the cabin product very smartly. We have to structure the cost smartly to ensure it can be a profitable business," he said.
Choi saw Southeast Asia as important market, but he conceded that on routes longer than four hours it was very difficult to compete with budget carriers such as AirAsia and Cebu Pacific.
"They are very respectful cost leaders so we have to prepare ourselves. Scale and partnership are the answers. Instead of fighting each other we would rather work with them."
This approach is the reason that Jeju was a founding member of the groundbreaking LCC Value Alliance, along with Cebu Pacific, Nok Air, NokScoot, Scoot, Tigerair, Tigerair Australia and Vanilla Air.
Set up last year, it is part of the world's first dedicated multi-carrier booking system created by Air Black Box (ABB). The booking system allows LCCs, for the first time, to interline and promote each other's brands.
Eventually, it is expected to bring significant passenger gains for each of the carriers, although it was not happening overnight. The technology is still being integrated into the system. Choi said this year's traffic gained through Value would not exceed 1% of total sales.
"We should be realistic in our expectations. Hopefully next year, once we promote the Value alliance, that will rise to 3% and then 5%. It will gradually expand. This is very much an investment in the future," he said.
He is interested in other partnerships that will bring in feeder traffic to Jeju, even with full service carriers and particularly airlines that fly trans-Pacific routes. South Korea and the U.S. have an open skies agreement and Choi believed his country is ideally situated geographically to feed traffic from North America through to Southeast Asia.
His problem, at the moment, appears to be size. Jeju Air approached oneworld alliance member, American Airlines, about a partnership but it came to nothing. "We are still a small carrier so the feedback we receive is they are not ready to pay attention to us. We are not a priority to them. We recognize that. We need some time to prepare ourselves. But we clearly see there might be another market that effectively competes with the legacy airlines enjoying the cross trans-Pacific market. If there is an opportunity (to partner with a legacy carrier) we will certainly take it."
Choi said Jeju Air has been very fortunate to have exceeded its business plan every year by a certain percentage so it meets shareholder and employee expectations. "That's a very strong signal to the market and very strong confirmation to the people who invested in us. We feel very fortunate," he said.
"On the other hand, the world is changing very quickly. We have to be nimble. Our size has doubled in terms of employees and turnover, which adds more complexities in distribution and operations. So execution and nimbleness is critical if we are to maintain our competitiveness against the market players."
Honed by finance


Jeju Air chief executive, Ken Choi, has broad international business experience and perspective from his cross-border investment and consulting career. Before he moved to Jeju Air, he had a successful career at global financial institutions and venture capital companies including Citigroup, Sit/Kim International, Bokwang Venture Capital and East Gate Capital Management.
He is no stranger to government, as he served as president of the Korea Game Industry Agency (KOGIA), the authority that governs and promotes the digital media industry in South Korea. Running KOGIA ranks at vice minister level in the nation's Ministry of Culture, Sports and Tourism (MCST). A U.S. certified financial analyst, Choi holds a Master's degree in Engineering Management from Stanford University and a Bachelor's degree in engineering from Seoul National University.