For years, Taiwanese carriers were excited by an expected breakthrough in cross strait transfer traffic from the Mainland. They hoped the Chinese government would lift bans on travellers transiting onward from the Mainland to North America and beyond. Read More » But not for the first time in Taiwanese aviation, politics intervened.
In May 2016, Taiwan's pro-independence Democratic Progressive Party (DPP), led by Tsai Ing-wen, came to power. China Airlines' strategy for growth was one of the first casualties of the victory.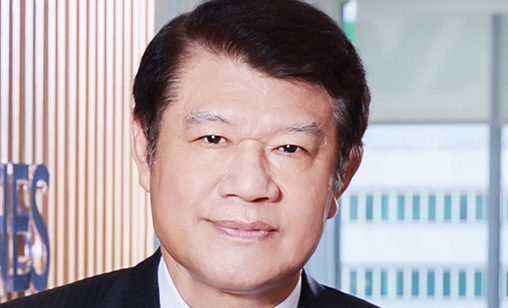 'CAL is a proponent of a separate low-cost terminal at overcrowded Taoyuan International Airport. Full-service and LCC are completely different. The airport needs to build a separate LCC terminal to cope with the onslaught of budget carriers into Taoyuan'
Nuan-Hsuan Ho
China Airlines chairman
Very quickly after she won office, president Tsai made it clear her government would not recognise the "1992 consensus" as the singular foundation for cross strait exchanges. Her policy position forced the 58-year-old carrier to abandon the Mainland transit passenger strategy that was a linchpin in its plans for a return to sustainable profits.
To conform with the "New Southward Policy" of the Taiwanese government, CAL had to shift from its former focus on China's transit market to connecting passengers from Southeast Asia to its five European destinations and four gateways in North America, via Taipei.
"For Southeast Asia, transfer traffic to Europe and the U.S. is strong and there is a very solid tourist customer base going that way. And don't forget about the many ethnic Chinese in Southeast Asia who go home a few times a year," CAL chairman Nuan-Hsuan Ho, told Orient Aviation at his CAL Park headquarters in Taoyaun, adjacent to the international airport, last month. "This is very substantial traffic with a lot of growth."
The Mainland stalemate, however, endures. When Orient Aviation asked if a breakthrough was likely this year, the CAL chairman smiled and shook his head. "Unfortunately, there have not been any developments in the cross strait transfer traffic situation. It's not a very liberal market."
Since cross strait flights became largely unrestricted in 2008, CAL has expanded its regional network to 152 flights a week to 32 cities in China and now offers 75,000 seats a weekly between the Mainland and Taiwan. The flag carrier is the largest cross-strait airline in available seat kilometres (ASK) and holds 30% of the market.
Of the 2.6 million Mainland Chinese tourists who visit the U.S. annually, 60% transit through third party airports such as Hong Kong, Seoul and Tokyo, records the U.S. Department of Commerce. Lifting transit restrictions that would present Taiwan to the Chinese travelling abroad as an appealing alternative to the three other transit hubs would give CAL access to a large and new segment of the trans-Pacific market.
Two years ago, when Ho's predecessor, Huang-Hsian Sun, spoke to Orient Aviation, the future for CAL looked very different. The then boss predicted a major breakthrough on the issue was likely in 2015.
But sensitive political relationships are just one of the challenges CAL faces. The competitive landscape has become more difficult for CAL in the past two years. An onslaught of low-cost carriers (LCCs) flying to Japan and South Korea has forced the flag carrier to reduce frequencies and capacity to North Asia, an operating environment that is not expected to change soon.
In the meantime, Mainland Chinese tourists to Taiwan slumped 50.2% year-on-year in the first four months of 2017, to 610,524, reported the Mainland Affairs Council (MAC), with figures drawn from National Immigration Agency statistics.
Tour and independent arrivals dropped by 61% and 36.3%, respectively. To date this year, tour groups made up 43.8% of all arrivals. CAL has cut its capacity, which has improved its cross strait load factor from 77% last year to 79% this year.
CAL closed 2015 with a net profit, but returned to the red last year as it began writing off the majority of its A340 and B747-400 passenger fleet. "We continue experiencing financial duress because of the retirement of the A340 and B747. This year will be challenging, but we're looking at a more positive result in 2018," Ho said.
"We have a brand new fleet of A350 and B777 aircraft which will improve our service quality in the long-haul market. With our comprehensive regional network and improved aircraft rotation and scheduling, we offer better transfer connections than ever."
"Up to May, we saw very strong forward bookings. It's a very good sign, especially as this time of the year is usually less busy for CAL."
CAL has a fleet of 67 passenger aircraft: six A350-900s, 24 A330-300s and one A340-300X to go, and six B747-400s, 10 B777-300ERs and 20 B737-800s. Its subsidiary, Mandarin Airlines, has six E190s and its Tigerair Taiwan budget offshoot operates 10 A320ceo.
The A340 will be decommissioned this year and the B747s will follow by 2018. CAL is expected to have 10 A350s by year-end and all 14 firm order XWBs in 2018. "We are very satisfied with the A350 aircraft. We started flying it non-stop on long-haul routes to Europe, which replaced the A340 and B747 aircraft operating via Bangkok. We have a very positive load factor to Europe that is averaging 87%," Ho said.
Rostering the A350 to Europe meant some capacity changes. CAL's XWB is configured with 306 seats. The carrier used to fly a 380-seater B747 to Amsterdam and has served Frankfurt, Rome and Vienna with 276-seat A340s.
As for the six options it has for the A350, Ho told Orient Aviation he would fly to France the day after the interview for discussions with Airbus. "At the moment, we don't think the A350ULR variant is an option for us. We have direct flights from Taipei to New York on B777s, which is our longest route. We have started a deeper partnership with Delta Air Lines and they are helping us with connecting passengers through the U.S. gateways," Ho said.
Ho admitted the airline was losing money on the five times a week service, but he is not alone when it comes to the route. Hong Kong's Cathay Pacific Airways signalled trouble this year with its flights to New York and said yields were declining. Singapore Airlines and Thai Airways International dropped their nonstop flights to New York because they were losing money.
"Everybody is flying into JFK [New York], but not everybody is turning a profit on the route. It's a very saturated market," said Ho. But CAL is not prepared to relinquish its flagship service. "Even though the profit margin is very low and it's a very stressful market, it's still an important one that you cannot give up. It's something we need to work on," he said.
CAL said its reinvigorated partnership with Delta could mend its bottom line on the New York route. "For now, the route is unprofitable, but we will retain the current frequency into JFK," he said.
Until last month, CAL flew the A350 to Europe and the B777-300ER to North America. It only began operating the A350XWB to San Francisco on May 14. From August, CAL will replace its five times a week B747 Vancouver services with the A350.
"One of the reasons we fly the A350 to Europe is that it is much easier to obtain supplies and spare parts when we need them, especially since it's a relatively new type of aircraft," Ho said. "As we take more deliveries, we need to roster the A350 into other long haul markets, so we have requested Airbus to focus more on the North American supply chain in order to support our operations there."
CAL is overdue for a single aisle order, with the topic on the table for more than two years. But a leadership change, tenser relations with Beijing, previous uncertainty about the CAL/Tigerair relationship and the market pivot from North to Southeast Asia have conspired to delay the decision.
Ho knows he must act fast. Some of CAL's 20 B737-800s are almost 20 years old. "We want to lower the average age of our short-haul fleet. We are studying the A320neo and the B737 MAX series," he said, and added he hoped to make a decision about the order this year.
"Like I said, I will be visiting France later this week, but I also will be visiting Boeing in June," Ho said. "Both manufacturers are giving us more or less the same offers on the items we are considering."
Also on Ho's to-do list is a replacement for its older A330 fleet in the medium-term. "We have mapped out the life cycle for the A330 fleet, but have not made a decision on its replacement yet," he said.
"For now, we are focusing on the single aisle order. We need to determine the market before we decide if we want to replace the A330 fleet one-for-one or if we want to grow with the replacement order."
Compared with rival EVA Air's massive wide body backlog, Ho said CAL tended to be "more conservative" because the airline "wants to strike a real balance between supply and demand".
EVA is forecast to become Taiwan's largest airline in passengers carried and revenues earned by 2018. It has a passenger fleet of 33 B777-300ERs with three more on order, two B747s, 10 A330s and 22 A321s.
In 2015, EVA signed Taiwan's largest commercial aircraft order in the country's history: a US$8 billion commitment for 18 B787-10s plus six options, and two additional -300ERs. EVA plans to lease another two -10s and four B787-9s from Air Lease Corporation (ALC).
Did Ho believe the market can absorb such steep capacity increases? "Our biggest competitor, EVA Airways, and CAL have a very different customer bases," he said. "For example, we differentiate ourselves with flights to Europe. EVA offers one-stop connections from Taiwan to Europe via Bangkok. CAL offers nonstop flights with our new A350s."
"We have a totally different frequent flyer base from EVA. They use Star Alliance, but we are a member of SkyTeam. This makes us attractive to some and less attractive to others, but at least we're not necessarily fighting for the same passengers. The differentiation is very obvious. Consider it like the NBA (U.S. National Basketball Association). The different teams have different fan bases. Each of them is loyal to their base. It's kind of like that."
From December 1, the airline will return to London after a five-year absence. CAL used to operate into Heathrow, but will now serve Gatwick Airport three times a week with the A350. "There are slot restrictions at Heathrow. At Gatwick, they are offering good slots. There are a lot of services and conditions provided by Gatwick. Gatwick has been very welcoming," he said.
CAL wanted to add Paris to its route map, but did not win access to Charles de Gaulle Airport. "We do not have traffic rights to fly into Paris. One problem is EVA flies there, but we're working on that," he said.
CAL is considering other European destinations this year. "We would really like to fly into Milan, but we are flying into Rome so the market might not be big enough," Ho said.
"Recently, a lot of foreign dignitaries have come to me and asked for possible developments on routes to their countries. Examples are Brazil, Mexico, Israel, the Czech Republic and even Latvia and Slovakia. A lot of requests are coming in. Of course, they have to fit into the overall network."
CAL joined SkyTeam in September 2011, which increased its international destinations from 118 to 1,052, but this does not exclude the carrier from looking elsewhere for partnerships that could be both lucrative and more convenient for passengers.
CAL has code shares with Qantas Airways, China Southern Airlines, China Eastern Airlines, Shanghai Airlines, Xiamen Airlines, Delta Air Lines, Garuda Indonesia, Vietnam Airlines, Korean Air, Czech Airlines, KLM, Alitalia, Japan Airlines, Hawaiian Airlines, Virgin America and WestJet.
It has retired its first-class cabin and now offers business, premium economy and economy classes. "We no longer see the feasibility of first class service in the market. Our new business class product is mostly fulfilling the needs of the first-class passenger," Ho said.
The CAL chief had a surprising response to the premium yield decline across Asia-Pacific carriers in the past 18 months. "For us it's different. We actually have very healthy premium loads. It's been steady for CAL. We're very, very satisfied with the launch of our premium economy class," Ho beamed. "Launching the premium economy class is a reflection of the overall Taiwanese economy. More passengers are able to afford a level of premium nowadays."
Nevertheless, the CAL chairman recognized the growing importance of LCCs."They are here to stay," he said. CAL took full control of its Tigerair subsidiary in 2016, but has no code share or interlining agreements with the LCC.
"LCCs usually fly into markets not served by full-service carriers. For us it's the same. Tigerair serves specific markets that CAL does not serve. But it's harder in Southeast Asia to differentiate. You usually see two brands in the same market," he said.
"We try to cooperate with each other, for instance in the form of short-term wet leases between CAL, Mandarin and Tigerair, to adjust capacity to demand.
"We do not have a seamless product between CAL and Tigerair, but when you are looking at the CAL group of airlines, you may consider Mandarin Airlines. We code share and interline with it. That said, we always are looking for synergies between our three airline brands. It's primarily about resource sharing under the same roof." The three airlines have a joint aircraft procurement policy and share crew deployment.
CAL wants a separate LCC terminal. "Terminal 3 and the third runway are vital for us to alleviate all the constraints we are experiencing. It something we hope will happen in the near future," he said.
Taoyuan has frequent delays, leading to disruptions in the wider network. "We have a very close relationship with the Taoyuan International Airport authorities. We have set priority for flights for which delays are unacceptable," Ho said.
Whatever the challenges ahead, Ho is prepared for them. "At CAL, our best asset is our employees. This is critical for us to stay sustainable and competitive in the Taiwanese air travel market," he said.
Ho was credited with swiftly and amicably solving last year's cabin crew strike, immediately after taking over at CAL in June. It was the first time flight attendants in Taiwan had exercised their legal right to strike.
Ho's popularity among the executives at CAL Park was palpable during your correspondent's visit. The former chairman of Taoyuan Metro Corp. comes across as a very kind and gentle leader.
Ho finds his balance in daily exercise. An athlete in college and a record-holder in the scholastic 200m and 400m sprints, a pair of trainers travels with Ho wherever he goes. "It's very important to me to exercise every day. It keeps me calm and makes me more content when working in the stressful aviation industry." The 64-year-old jogs at a steady trot for an hour every day, before returning to his chairman's suite.
Airbus and Nordam to partner with China Airlines


In January, CAL and Airbus signed a Memorandum of Understanding (MoU) to jointly develop the airline's maintenance, engineering and technical training capabilities in Taiwan. Under the agreement, CAL and Airbus will evaluate technical and business solutions to develop the carrier's services for all Airbus aircraft it operates, including the A350 XWB, A330/A340 and A320.
The partners will jointly evaluate and promote CAL's retrofit activities and cabin and airframe modifications, as well as considering the expansion of the maintenance training centre in Taiwan from ab-initio programmes to courses for mechanics. In addition, they will evaluate the benefits of the Satair Group and other Airbus affiliates becoming key parts providers for CAL.
"Through Airbus' industry know-how, CAL and our associated Taiwan Aircraft Maintenance & Engineering Co. (TAMECO) maintenance subsidiary are going to accelerate our maintenance and engineering capabilities for the major Airbus aircraft types, including the newly introduced A350 XWB," Ho said.
CAL also signed a MoU with the NORDAM Aerospace Maintenance Group in March. The two parties plan a Taipei-based MRO for thrust reversers and other composite parts in the Asia-Pacific, including nacelles, radomes and flight controls. It would be the Oklahoma company's only commercial MRO facility in the region.