You would think that an airline boss trying to grow his business at an airport and in a region clogged by congestion and slot shortages would be pulling his hair out, but Andrew Cowen, the CEO of Hong Kong-headquartered budget carrier, HK Express, is far from fazed by the situation. Read More »
He is bent on expanding the budget carrier regardless of the region's operational limitations. And his intentions are not all talk, a situation made clear by the airline's latest statistics. Close to 345,000 passengers flew on the carrier in July, which was a 38.8% increase over the same month in 2016. In the past 12 months, HK Express has grown by 22.6%, and carried nearly 3.4 million customers.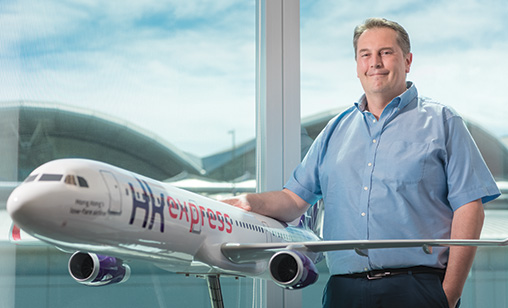 Photos: Graham Uden
The results were achieved despite slot constraints at its home base and severe air traffic congestion along China's coastal air ways into Hong Kong. Hong Kong International Airport's (HKIA) $18 billion third runway, approved last year, will not be fully operational until 2024, which meant that HK Express could not fly to 30 or 40 destinations in Mainland China that it would like to serve for quite a while yet.
Yet Cowen stressed: "Hong Kong airport is working with the Civil Aviation Department. They are very alert to the difficulties airlines have in securing slots. Naturally, they want to support growth at the airport. They are working very hard. There's no question about that. There is a program of action underway to increase capacity at the airport's existing two runways.
"That said, there is certainly a great desire on our side for that third runway to be built and for the full three-runway system to be operational."
The operating circumstances in Hong Kong make HK Express's ever improving results impressive. Ultimately majority owned by China's HNA Group, the airline that was transformed from full service carrier, Hong Kong Express, to an LCC punches above its weight.
It started flying with three A320-200s and now operates an all Airbus fleet of 12 A320-200s, four A321-200s and three A320neo. It has nine A320neo and eight A321-200s in its order book. It flies to 26 destinations in nine countries, including nine airports in Japan, making it the airline with the largest number of flights between the two countries.
Also in its network are South Korea, Taiwan, Thailand, Vietnam, Cambodia, the Philippines and the Western Pacific island of Saipan, Kunming and Ningbo and charter flights to Baotou and Lanzhou.
Cowen rejected any suggestions that HK Express's growth in China has been curtailed by the fact its HNA-owned sister airline, full service Hong Kong Airlines, has a large network on the Mainland.
Destinations across China are available to the airline's passengers through its partners in the world's first budget Alliance, U-Fly Alliance, he said. U-Fly Alliance members are Lucky Air, Urumqi Air and West Air in China and South Korean budget carrier, Eastar Jet.
"I should highlight what the U-Fly Alliance is all about. We all understand that when it comes to air services between Hong Kong and China the key competition is the Mainland Chinese carriers coming the other way and bringing many Mainland China visitors to Hong Kong," he said.
"This means you are competing with Mainland carriers for sales on the ground in China. That's very hard to do when you have a limited number of frequencies and you are only flying to Hong Kong and so on.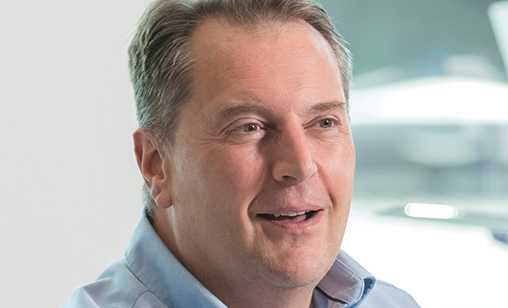 'Infrastructure – both airports and air traffic control – remained HK Express's biggest challenge "by some way", but Cowen is not complaining. Full marks and three gold stars to the planners in this part of the world who are able to move forward faster than elsewhere. Unfortunately, it is still not as fast as travel is growing. It's a constraint that makes forward planning difficult'
Andrew Cowen
Director and CEO HK Express
"This was one of the rationales for establishing U-Fly. By partnering with Yunnan's Lucky Air, Urumqi Air and Chongqing's West Air as well as Eastar Jet - and hopefully more airlines in the future - effectively we are partnering with airlines that have very strong positions in their local markets.
"They have very high brand awareness and extensive networks. So the U-Fly Alliance is a relatively low risk way for us to access the quite complex and certainly very competitive China market.
"We can offer those destinations via interlining with our partners. Its early days, but we truly think: 'let's lay the foundations now and we'll get the benefits in time'."
As for overlapping with Hong Kong Airlines, he said: "Obviously, there is some overlap, but I prefer to say it is not so much overlap but more about offering a broader choice of brand and products in that particular market.
"For example, both carriers fly to Tokyo Narita. In our mind it's a simple execution of a twin brand strategy, so generally our approach is: 'let's work to spread our footprint more broadly because there is half the world's population within five hours flying time of Hong Kong'."
Tying together the U-Fly Alliance arrangements has taken longer than anticipated, Cowen said, with delays mostly about the technical challenges. "In the case of Lucky, we are interlining across HK Express' Navitaire reservation system and TravelSky," he said.
"As you might expect, there was a lot of complexity. We had hoped to move faster, but we are solving technological issues we think will return a lot of dividends.
"You have to start somewhere. That is why, when we stand back, we can see we have gained access to a very complicated China market in a low-risk, pretty inexpensive way. We have partnered with some very strong LCCs. We are solving technological challenges and then, as growth continues, hopefully we will reap the dividends of that." HK Express was preparing to go live on Lucky Air's network at press time.
Another recent development Cowen is keenly anticipating is the value of the partnership between Virgin Australia, which is now flying to Hong Kong, to HNA Group carriers including Hainan Airlines, Hong Kong Airlines and HK Express.
"We have had a number of preliminary discussions with Virgin Australia," said Cowen. "It is one of the critical steps in allowing us to complete all our interline arrangements, which are fairly well advanced. We think there is a great opportunity."
He sees Australians and their families flying to Hong Kong with full service Virgin Australia and then taking advantage of his LCC to make side trips to China, Japan, Vietnam or other destinations.
He also sees travelers from the carrier's secondary Japanese destinations, rather than backtracking to catch flights to Australia from Tokyo, travelling on HK Express to Hong Kong to connect with Virgin flights. "That's where we think there is a really great opportunity," he said.
In the meantime, there have been some challenges in building the HK Express fleet. It is flying three highly efficient, fuel-saving A320neos and had planned to have another two of the type in its fleet in 2017.
Cowen refused to take the aircraft because of well publicized reliability issues with their Pratt & Whitney engines. "We have been in negotiations with Pratt &Whitney about that and I am happy to say we are receiving very good support from them. They are making a very significant effort to address the engine's issues," he said.
The delivery delays have meant plans to remove two non-standard A320s, equipped with CFM engines, from the fleet, have changed. "In the early years of an LCC, it is quite normal to have a mix of aircraft that is not as standardized as you would like. We have been taking advantage of those neo and A321 deliveries to simplify our fleet."
While the airline wanted to standardize its fleet, he said, it also had to make sure enough aircraft were kept on hand for market expansion. "This circles back to slots. It's a bit of a juggling act between [scheduling] our aircraft deliveries and making exit plans for aircraft to enable that standardization. We have to be in a good position to grab slots when they come up." However the fleet management plan is resolved Cowen said the carrier should have 24 to 26 aircraft by year-end.
Future aircraft orders remain an open question. Cowen said: "We are reasonably happy with the commitments we have. To go beyond them is premature. It is still a few years to the third runway and there is not enough clarity about slot availability [once the third runway opens]," he said.
"It does not make sense to order three aircraft or 13. If you're going to do an order, do it properly: 30, 40 or 50. We are comfortable the demand is there, but until the infrastructure has caught up with that demand, it's a bit risky [to acquire more aircraft].
"Then, you have to overlay the general competitive environment, the economic situation and the political situation when making the decision. Putting all this together, we are very happy with the commitments we have made and think 'let's be a little bit cautious'."
Further ahead, HK Express may order wide body aircraft. "It's an open question for us," said Cowen. "In no way are we saying no to that, but only that it is a little early for us.
"The A321 has given us an extra 50 seats per slot pair, or around 27% more seats, which is nice growth without consuming slots. In the A321 (230 seats), we have an economy cabin that is not much smaller than most full service A330 operations. They have something like 240 to 260 or maybe 280 seats.
"To have a very cheap aircraft at more or less the same capacity, while being taught how to grow in aircraft size, hopefully puts us in a position in a few years to be confident we can comfortably fill wide bodies."
Network-wise, the next major event for the carrier will be the planned launch of flights to Guam, via Japan's Nagoya, in October. The LCC used to operate a direct Hong Kong-Guam service, but cancelled it last year because of soft demand and high costs.
"Coming off Hong Kong – Guam was not to come off forever. We decided to suspend the service because we are always under pressure to optimize the use of our slots. I don't want to say we go in, out, shake it all about. We don't operate like that. We are very serious about any market we enter. We want to stay there for the long term," he said.
"But sometimes various variables come together, for example demand, the general yield pressure and so on. It makes sense to redeploy the assets until certain aspects of market conditions change. In our return to Guam, being granted Fifth Freedom rights through Japan, aligned with the fact there is a strong history of travel between Japan and Guam, made it a far better prospect."
Asked if he was nervous about the the U.S. / North Korea war of words and North Korea's threat to target Guam, Cowen said: "I don't know if nervous is the right word, but certainly we are very alert to the ongoing situation and, as you would expect, we have contingency planning for reasonably foreseeable scenarios.
"None of us can look into the future. Who knows? It could all be sabre rattling and die down, which we very much hope it does. Or it could clearly deteriorate, but certainly we want to ensure our passengers safety. We continue to track the situation very carefully. The safety of our guests is the top priority. That said, the bookings on Nagoya-Guam, our first Fifth freedom route, are going very well."
Cowen won't be specific about cities on his planning radar, but admitted the carrier had a "Top 20" list. "Our data base runs into hundreds of destinations. But we have an ongoing analytical and evaluation process that is always running with a top ten or a top twenty destinations," he said.
"We are keen to fly to more Japanese destinations. We'd like to do more Chinese and more Southeast Asian routes to develop our network into a fairly broad base."
Despite the airline's high load factor and its best on-time departure performance (OTP) in Hong Kong, Cowen wants more of the market. The carrier's logic is that if a passenger is on board a HK Express aircraft he or she is not on someone else's aircraft.
"You are able to upsell all the ancillary revenue to the passenger. And, if you do a good job with that passenger or that guest, hopefully you have an ambassador who will tell friends about the fabulous price and experience they've had," he said.
"That's our basic strategy, somewhat reinforced by very competitive market conditions that are putting pressure on yields. It does not make sense in such a market to try to drive up yields. You are left high and dry.
"It does not mean you are trying to drive yields down, but we want to ensure we remain price competitive at all times and fill the aircraft."
As well as becoming a preferred carrier for an increasing number of outbound travelers from Hong Kong, the airline is working hard to attract more inbound passengers. "The fact we fly so much to Japan means we are establishing a reasonable degree of awareness of HK Express in Japan," he said.
"This allows us to grow our proportion of sales at that end of the route. It's a means of spreading our net wider and not having all our eggs in one basket."
The carrier has been building a series of associated businesses and offerings that have enhanced the overall product. They include reward-U, a frequent flyer program that offers an efficient "any seat redemption" process to members with no blackout dates.
Started a year ago, it has more than one million members. U-FLY Holidays, still small but growing, sells holiday packages. The carrier also has a free corporate membership club; a program to attract small business travelers. It offers increased flexibility, convenience and value for money for their HK Express tickets.
"Most of these things are orientated to the leisure traveler, the family traveler, the price-sensitive traveler. I want to highlight the fact that we have invested a lot in our small business product, U-Biz. People tend to think of Hong Kong as a place of big corporates, but some 95% of businesses are actually SMEs (small to medium enterprises)," he said.
"Small businesses are price sensitive. We are seeing great growth in passengers taking advantage of that offering. We remain very determinedly to be low fare, low cost and very technology enabled - but not too fancy about technology. We want passengers to be able to do business with us easily. Travelling on an LCC does not mean you are not going to get good service."
A practised LCC hand


South Africa-born Cowen has a wealth of experience in aviation. He started his career at British Airways in 1989, eventually managing the airline's financial affairs at its American business unit in New York before he was promoted to Head of Strategy for BA's low-cost carrier, Go. He was a member of the group that negotiated a management buy-out of the LCC that the participants later sold at a profit to EasyJet.
A graduate of City University, London, Cowen is a qualified chartered management accountant whose experience includes management roles at low-cost carriers in Britain, the Middle East, Vietnam, the Philippines and Japan. Before he took on HK Express, he guided the establishment of Japanese LCC, Peach Aviation, an Osaka-based joint venture initially owned by Japanese and Hong Kong interests, to launch.
From 2005 and 2009, he was CEO of Saudi Arabia's Sama Airlines where he was the leader of the start-up team that put the carrier into operation. In 2009, he moved to Kuwait's Jazeera Airlines as acting CEO before turning his attention to the Asia-Pacific.