After more than three decades working outside India, recently appointed Jet Airways CEO, Vinay Dube, has come home. Read More » With recent forecasts that predict India will be the third largest aviation market in the world by 2020, his timing is perfect. It is anticipated that by 2036, Indians will take four times more flights than they do today and Dube plans to be there for the corporate ride of his life.
In an exclusive interview with Orient Aviation last month he made it clear he was hell bent on ensuring Jet Airways will capitalize on this growth momentum and come out on top.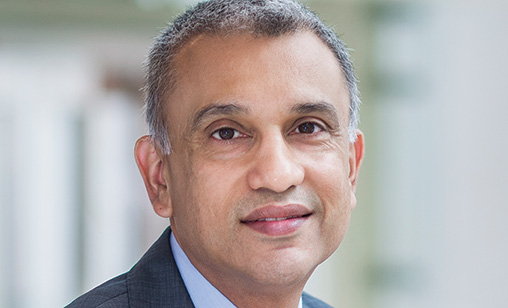 'In a Forbes report in March, a regional aviation consultancy said it believed Etihad would sell its 24% equity in Jet Airways this year, possibly to none other than Dube's former employer, Delta Air Lines. What is the cost for someone like that going out and making a statement like that? All I have to say is: You heard it from me; you heard it from Peter. I can't speculate on why a third party would say something like that. There's nothing to it'
Vinay Dube
Jet Airways CEO
Dube took over as CEO of the Mumbai-based full service carrier eight months ago, capping a career of more than 30 years in aviation that included international management roles at American Airlines, Delta Air Lines and Sabre.
"I was born and raised in India. I have kept in touch with my family and the country over the last 35 years, going back and forth. One of my two brothers lives in Mumbai, my father lives in Mumbai, even my wife lives there," the unassuming Dube told Orient Aviation in Hong Kong last month.
Dube was a typical third culture kid. "I was 16 when I left India. I went to international school in Wales and did my IB [International Baccalaureate] there. After that I went off to the U.S for my undergraduate and graduate degrees. My first job was with American Airlines in 1990.
"When American spun off and created Sabre, I was spun off with that group as part of the airline solutions team. We did a lot of consultancy and software services for airlines around the world. I lived a year in Frankfurt, a year in the UK, a year in France then two more years in the UK. It was a lot of travel." He spent 17 years between American and Sabre followed by a decade with Delta, most of it as head of the airline's Asia-Pacific operations in Hong Kong.
After 30 years abroad, it could be expected that working for an Indian company would be challenging, but it has not been the case, said Dube. "The transition has not been particularly crazy or difficult for me because my entire life has been spent adapting to different corporate and national cultures," he said.
"I have been wandering for the past 35 years: 20 years in America, seven in Europe, seven in the Far East. I've worked with Lufthansa, British Airways, Air France, KLM, Korean Air, the Japanese, the Chinese, all with Sabre and Delta. Jet Airways was yet another one of them. There are some differences, but at the end of the day it's an airline so the transition has been just fine, no issues."
Leaving Delta was not an easy decision for Dube. "I was incredibly happy at Delta. Delta is a very employee-centric company. They treated me extremely well. I left because it was as much a move to India as it was moving into a CEO role," he said.
"My father is 88 years old. Just over three years ago my mother passed away. That got me thinking that I should see if I could get a year or maybe two or three or five with my father."
Dube came Jet Airways via an unusual route. "India has always been on my mind. I told Delta I wanted to move to India and the way I got the job was that Delta introduced me to Jet. So it's one of those stories where if you're honest and straightforward with your bosses good things can happen," he said.
Dube quickly realized that some of the knowledge, skills and abilities he acquired overseas did not necessarily apply at Jet Airways. A lot of the organizational and technical infrastructure airline chiefs take for granted in Europe and the U.S. have not yet arrived at Jet Airways.
Jet Airways to buy Air India?


Is Jet Airways interested in acquiring Air India and Air India Express? "I think there's a little too little information at this point for me to be able to tell you if we're going to make a pitch," Dube said.
"Having been through the merger and acquisition of Delta and Northwest, I know such scenarios often look easier on paper. When you execute them, they're fraught with danger and have the ability to bring both the acquirer and acquiree down. I would not want to embark on something like this until a whole lot more information is known for me to even be able to tell you if we're interested or not."
"Until we know a little more, what the government plans, how much of Air India it plans to dispose of, in what shape and what format, what the debt structure looks like, what the labour agreements are, it's too premature to say whether we are interested or not."
Several potential bidders for Air India have emerged in recent weeks. "India is a strategic market for Singapore Airlines (SIA). We have an open mind," said David Lim, general manager for India. SIA already has a foot in the door in India through its part-ownership in full-service Vistara. Other potential suitors for Air India include India's largest carrier, low-cost IndiGo Airlines, Tata Group and Turkey's Celebi Aviation Holding.
Quizzed on a Reuters story published in late March saying "informed sources" were suggesting a consortium of Jet, Delta and Air France-KLM was looking into acquiring Air India, Dube said: "I'm the informed source and I'm telling you that people talk a lot. If you ask me have I thought about it for more than 10-15 minutes, then I will tell you 'yes, I have', but again it's way too premature because we just don't know enough. Right now there's no internal taskforce or anything like that."
"There really are 101 differences. The infrastructure, the data and the analytical capabilities at Jet are vastly different. Whether it's plain software systems in the operations arena for forecasting and network planning, fleet optimization or revenue management technology, the data and analytical infrastructure, both in terms of hardware, software, and the people who do the analysis is hugely different. It's a lot more advanced on the Delta side than it is at Jet," he said.
Applying advanced data analytics and introducing technologies are top of Dube's agenda. "Indians export technology and analytics to the rest of the world, so the capabilities certainly exist at both Jet and in India. It's just being a small airline versus an airline that's ten times the size. The historical need has not been as prevalent at Jet. We are now at 118 aircraft and are mapping our way toward 175 so the requirement for better data analytics is very apparent. It's an area I have to build up," he told Orient Aviation.
"As the CEO you say 'OK, what are the analytics related to this and how do I answer that question'. Some things you can't do without data even though you want the data because you have to make a very quick decision. It's a mixture of getting people to work on data analytics and also making decisions without the data, based on intuition and gut, not just my own but that of the 16,000 plus employees I look after."
"It's the good old CEO life. Moving into a role where you can actually control all of the buttons and knobs that you have at the airline's disposal is extremely exciting."
Jet Airways is listed on the Bombay Stock Exchange. Fifty one per cent of the airline is owned by founder and chairman, Naresh Goyal, through his company, Tailwinds International. The remainder is held by other investors, including Etihad Airways' equity of 24%.
From 2010 until 2015, the airline was bleeding money. In 2016, it eked out an INR11.7 billion net profit (US$180 million), followed by a INR3.9 billion profit in 2017.
Will Jet post a profit this year? "I obviously cannot forecast profitability for you right here, right now. What I can say, and that's very apparent, is that we're going to grow. That's not just us, but the whole Indian aviation industry," he said.
"Some of that might be challenged as fuel prices have gone up by almost US$10 a barrel in the seven months since I arrived in Mumbai. That's just my luck I guess, but it puts a lot of pressure on the business."
Jet Airways embarked on a wide-ranging restructuring in 2015, largely because its cost base was much too high. "Our costs are still way too high. It is a very traditional restructuring of a legacy airline that we have to continue. My predecessors have spent a lot of time restructuring costs, but you can't do it in 12 or 18 months. It's a multi-year journey," he said.
"We operate on a very traditional model: high costs of distribution, fleet complexity, high cost of sales and some people inefficiencies. Aircraft utilization, which at one point was not as high as the traditional low-cost carriers, has been addressed. Then there is high debt and therefore high servicing costs.
"When you want to reduce your unit cost, one of the best ways is to grow. So we have the benefit of that. At the same time, for example, we don't have the benefit of bankruptcy protection – Chapter 11 – which there is in the U.S."
One of the hottest topics in Indian aviation is the proposed sale of government-controlled Air India. The flag carrier, Jet Airways and Vistara are the only full-service carriers on the Indian subcontinent.
Intent on being a world beater


Could the long-haul market out of India soon belong to IndiGo Airlines, the LCC that is closing in on an order of up to 50 A330neo.
"I have no issues with that. I say to them bring it on. We are very happy to compete head-to-head with anyone. Its music to my ears when a LCC that's been ultra-disciplined over the last ten years decides to suddenly have turboprops and wide bodies, adding complexity to their operations, while we are going in exactly the opposite direction, creating fleet simplification and reducing our cost. I'm extremely happy with this development," Dube said.
"Of course they are a real competitor to Jet Airways. They've got a good airline with a good management team. Essentially, we still go after the same market share. There's a reason why the legacy carriers in recent years all started unbundling their fares," Dube said. Are they also a threat? "Everyone is a threat. In our business you simply can't afford to be complacent," he said.
"Having said that, I would bet on myself that after our restructuring, we could take on any airline in India and worldwide. The brand and the service culture we have at Jet is far superior to anybody in India and is on par –in my view – with the finest in the world."
In February, India's minister for civil aviation, Jayant Sinha, said the government planned to split debt plagued Air India into four units and offer at least 51% of each of them for sale.
The minister said Air India and its low-cost subsidiary, Air India Express, would form the core airline business, while three other units – regional subsidiary Alliance Air, MRO operator Air India Engineering Services and ground handler Air India Air Transport Services – would be put on the market separately.
Dube is crystal clear about Air India's fate. "My view on the whole Air India business is that no matter what happens, who buys it, what happens to it, it's a good thing for Indian aviation if Air India has to go," he said.
"Anytime you have a subsidized carrier it tends to skew the market. India's aviation market is mature enough in terms of free market economics, competition, low fares and network penetration. As a country we don't need a state-subsidized carrier. No matter what happens, we'll be fine at Jet."
Any potential bid for Air India would certainly have to be approved by Jet Airways investor, Etihad Airways. Many in the industry have been suggesting Etihad and Jet Airways would part ways this year, speculation the CEOs of both airlines unequivocally deny.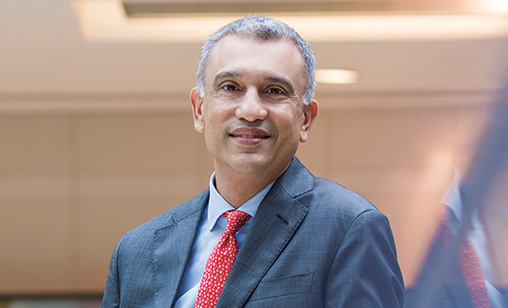 'I'm keen on following the money trail. I don't care personally about planting Jet's flag on the shores of any country. It's not about market share for me. It's not about sexy new destinations. It's about making money. I have no cadence or pace that I need to follow in terms of X number of destinations I have to launch per year. It's really all about the best utilization of our assets'
Vinay Dube
Jet Airways CEO
When Orient Aviation spoke to Etihad Airways CEO, Peter Baumgartner, in February, he said: "It is a highly successful and very carefully managed partnership. We make sure we can take advantage of the full potential on both sides. It's a very happy marriage."
Dube agreed. "Our marriage is more than happy. Etihad has two seats on our board. We have a wonderful relationship. They're not overbearing," he said.
"For me, working with Etihad has been great. When a CEO goes into a new role, you are looking for people that can speak your language. At Jet, there are a number of board members who are incredibly smart and very experienced, but they don't have huge aviation experience. The Etihad folks do so I'm personally leaning on them to help with discussions at the board level."
In the past decade, there has been a lot of industry talk about Jet Airways joining one of the big three global airline alliances, another rumour Dube quickly puts to rest.
"As you know, I have a lot of deep experience with alliances. My first job at Delta was VP Alliances. I've a good sense of how they work. My view is we are not in a hurry to join any of the 'Big Three' global alliances. Most of the value we are going to get in the short- and medium-term is from deepening our partnerships, our bilaterals. That is exactly what we will be doing," Dube said.
"Since I arrived at Jet, we have signed an extended commercial agreement with Air France-KLM, strengthened our cooperation with Delta and Virgin Atlantic while continuing our strategic partnership with Etihad. We will follow that path without being confined to one of the major alliances."
Jet Airways has a robust and expansive domestic and regional network but it is short on long-haul destinations. It operates more than 500 flights a day but at March 30, its long-haul network consisted of Amsterdam, Paris, London-Heathrow and Toronto (operated via Amsterdam).
As a result, Jet relies heavily on traffic from Etihad, Air France-KLM, Delta and its huge codeshare partner network of Aeromexico, Air Canada, Air Seychelles, Alitalia, All Nippon Airways, Bangkok Airways, China Eastern Airlines, Fiji Airways, Garuda Indonesia, Hong Kong Airlines, Jetstar, Kenya Airways, Korean Air, Malaysia Airlines, Qantas Airways, South African Airways, United Airlines and Vietnam Airlines to provide the long haul services its customers demand.
Jet Airways used to fly to New York, Johannesburg, Shanghai and San Francisco, but a return to these cities in the near future is not a priority for Dube.
"It is not that we don't have long-haul growth. We have just [October 2017] launched Bengaluru-Amsterdam, Chennai-Paris and a third daily Mumbai-Heathrow service. We also have some of our widebodies flying domestic routes and some flying to the Gulf. Its not optimal utilization, so we have some spare capacity there," he said.
Jet will start taking delivery of 75 B737 MAX 8s in July. Dube confirmed to Orient Aviation a top-up order for another 75 at the press time. He stressed more than once that Jet wants to simplify its fleet.
The airline's fleet includes seven A330s (-200s and -300s), 10 B777-300ERs, 83 B737s and 18 ATRs (three 72-600s and 15 72-500s). The initial batch of 75 B737 MAXs will completely replace the carrier's current B737s by 2025. The new order of 75 aircraft will be for growth. "We expect 8%-10% fleet growth a year for the next five years, to 165-170 aircraft," Dube said. The aircraft will have a common configuration of 12 business class and 162 economy seats.
No wide body orders for now


Jet Airways ordered 10 B787-9s Dreamliners in 2006, but deferred delivery of the aircraft "indefinitely" when its restructure took priority.
"We're not in the process of any request for proposals for wide bodies. The B787 order is where it was a few years ago. There's no movement on that, one way or the other. Right now we don't need the capacity. I'm not asking for any more wide body capacity," he said.
"There will be some sub-fleeting in there, some will be high-gross, some low-gross variants. You don't need that extra weight and thrust for some of the shorter missions," he said.
In line with early government-backed regional connectivity programmes, Jet Airways has amassed a fleet of 18 leased ATR72s and the turboprops are to stay.
"We will have a requirement for the next 20 years or so until the infrastructure, roads, bridges, railways and buses improve. It's a spread-out geography with all kinds of terrain. We will have a requirement for small aircraft servicing regional routes. So I don't see our ATRs going anywhere at this point. We have 18 and that's plenty for us," he said.
He added that its wide body fleet of 10 B777-300ERs and seven A330s were adequate for the carrier's needs for now.
Nonetheless, the Jet Airways CEO did have some news for Orient Aviation on the wide body front. Dube said the airline has decided to retire the first class cabin, only featured on the B777-300ERs, which primarily fly the three times a day Mumbai-Heathrow route. The first class cabin "real estate" will be taken up by a new business class product.
"We are refurbishing our B777-300ERs. They have 346 seats and a better number for that should be much closer to 400+ seats, 20% more ASKs, 20 % less CASKs and an elevated customer experience. This is something that we will do so our long-haul cost structure will go down," he said.
"We have a great business product today, but it's a bit tired. We will introduce a state-of-the-art business class following the refurbishment. Who needs first class if you have an outstanding business product? We are in a unique position where we can have our cake and eat it too."
The refurbishment of the airline's ten B777-300ERs will take 18 months. It might refurbish the A330s at a later date.
This CEO is obviously proud of his airline and he is clearly pleased about his return to his natïve India. "We have a fantastic staff and a great spirit. Aviation in India overall is taking off. There's a palpable sense of excitement everywhere," he said.
"We have almost no infrastructure concerns and a great relationship with the directorate general of civil aviation (DGCA). Perhaps there may be minor slot shortages. But you know what? If that pushes fares up one of two per cent, that's not bad.
"I can honestly say we have a wonderful minister, a great secretary and an excellent DGCA. Is it the world's best in terms of maturity, the rules and the regulations? Of course not. There's a lot more we can do. But are they great people to work with? Absolutely."