The transformation program Singapore Airlines is undergoing, explained the carrier's boss, Goh Choon Phong, last month is forensically focused on building the best foundations for the airline group – and it could result in a complete change in the company's structure, he said. Read More »
"Of course, there will be specific challenges along the way. Fuel price is one of them as well as increases in capacity, whether from the Gulf carriers, the Chinese carriers or the proliferation of low-cost carriers (LCCs) in our market," said Goh (55).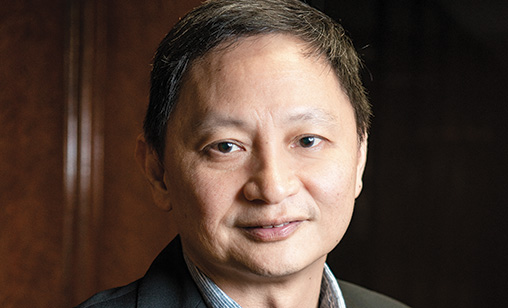 'We think we should be progressive. Generally, we are talking about the aviation and travel related space, but if something comes along where we can leverage our reputation and data base to be more relevant to our customers while also creating revenue opportunities, why not?'
Goh Choon Phong
Singapore Airlines CEO
"Do we do something incremental? Make short-term changes to address immediate concerns or do we look at ourselves more fundamentally and ask 'maybe we have to change the whole structure'?"
Since taking charge of SIA in 2011, Goh has been driving change unthinkable for the group a decade ago. He has built a powerful budget subsidiary by taking control of regional low-cost carrier, Tigerair, and merging it with Scoot, the group's 100%-owned medium to long-haul LCC.
He has led a multi-hub strategy by forging joint venture airlines in India and Thailand, launched a major digital transformation program and is investing heavily in the group's fleet and product to maintain SIA's reputation as a world leader in service innovation.
Goh also has been pushing harder on adjacent businesses to secure new sources of revenue. Examples include the joint venture (JV) Airbus Asia Training Centre in Singapore and another JV with Boeing and CAE, Singapore CAE Flight Training (SCFT). The Airbus venture, Goh said, is tremendously successful.
"We have more than 40 airlines from all over the world training with us. As we speak, we are considering how to expand further than we initially planned. It has become another revenue stream. That's the total purpose. This is part of our adjacent businesses strategy. We want to have some focus for growing revenue beyond ticket revenue," he said.
Now into phase two of its three-year transformation program, Goh said that "in this second phase, we are basically focusing on the core business. It is about how we continue to ensure we can establish ourselves as the number one market leader in providing customer service products to our customers".
While the market has been tough, with yields under pressure, SIA is making a huge investment in new wide-body jets. It has 25 A350-900s in its operating fleet and 42 more to come.
They will replace A330-300, B777-200, B777-200ER and B777-300 aircraft. The carrier was the launch customer for the ultra-long-range A350-900ULR. It has four in service with three more to be delivered. In October, the A350-900ULR variant launched the world's current longest non-stop flight, from Singapore to New York.
The carrier also was the launch customer for the B787-10. It has ordered 49 with seven of the type in operation. It has firm orders for 20 B777-9s that will commence arriving at the airline from 2022. Its current fleet of 115 planes includes 19 A330-300s, 19 A380-800s, seven B777-200s, six B777-200ERs, five B777-300s and 27 B777-300ERs.
Singapore Airlines digital blueprint


Singapore Airlines Group CEO, Goh Choon Phong, said there are four legs to its digital transformation:
* How to create greater digital awareness across the organization among all staff, including putting all staff through basic courses in digital appreciation and getting staff to initiate projects so there is hands on experience of how they can improve their work flow.
* Upgrading and reinventing the airline's infrastructure because being more flexible in data analytics requires a different IT infrastructure.
* Creating new delivery capabilities, which means more manpower both in business units and in IT. There has been more recruitment of necessary talent in data analytics, important for both the digital delivery of the IT applications and the business.
* Creating an ecosystem such that staff who are implementing and conceiving digital initiatives are able to collaborate with external communities such as start-ups and research institutions.
"We have ordered more than $50 billion worth of aircraft," said Goh. "New generation aircraft such as the A350 and B787 are our game changers. The A350 in particular, if you look at the size of the aircraft and the operating economics, has allowed us to finally grow in areas we could not have served with larger B777s.
"We have launched routes like Dusseldorf, Stockholm and now non-stop to Los Angeles and New York in a much more viable manner. That's a cost reduction measure in itself and an investment in the future. It is strategic because it is opening up opportunities for growth."
Non-stop Singapore to Seattle will be launched next September. SIA also is stepping up its airline partnerships, including joint ventures with Lufthansa and Air New Zealand and collaboration with other Star Alliance partners and non-Star carriers such as SkyTeam member, Air France/KLM.
"This again is about leveraging the combined strength of partners to make us more competitive by offering joint FFP programs, corporate access, more choices and better connectivity for our customers," he said.
As it progressively updates its fleet, SIA has not ignored the contribution of its flagship A380s to the airline. With 19 of them in the fleet - five of them recently acquired with a new cabin layout - it is spending $850 million reconfiguring the original 14 of the type.
"Because of new seats and a new layout, we were able to optimize the configuration with 471 seats. The program actually achieves two things," Goh said. "One, it provides the latest and best industry leading product across all cabins to all customers. We also saw the opportunity to optimize the real estate deployment and utilization that increased our seat count by 14% to 15%. This is quite significant for any plane. We don't pack people in. We want to give people lots of room and comfort so they enjoy the flight with us."
SIA will not order more A380s, said Goh. It believed 19 were optimal for the fleet. "Clearly, there are airports that are slot congested. You can name quite a few, whether they are in China, London or even Sydney. We find it to be a useful aircraft for these dense, slot congested routes. At the same time, customers love it so again this is serving our passenger preference."
When it comes to the bottom line, cutting costs by slashing staff numbers is not what SIA does. "As an organization, we have been quite disciplined in managing our manpower. Our fundamental belief is our staff are truly our greatest asset in many, many ways," said Goh.
"The basic DNA is to want to serve customers. But as history has proven, continuing to innovate is very much part of what we have been doing. You just have to see how many firsts we have achieved in our history. And a lot of times we find these new things that we are doing in positioning the organization for the future require us to increase the number of people, rather than reduce them.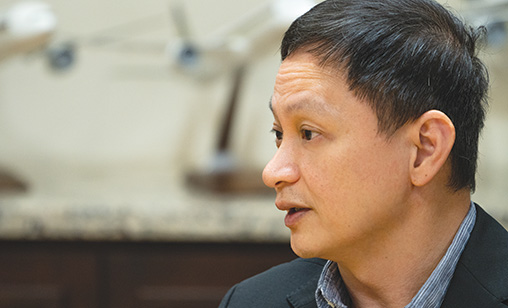 Goh Choon Phong, 55, joined Singapore Airlines in 1990. After holding several senior positions including Senior Vice-President Finance, Senior Vice-President Information Technology and Senior Vice-President Commercial Technology and overseas assignments in China and Scandinavia, he spent four years as President of Singapore Airlines Cargo before becoming Executive Vice-President Marketing and the Regions in June 2010. He joined the airline's Board on October 1, 2010 and was appointed chief executive on January 1, 2011.
A board director of SIA Engineering Company, he is also Chairman of Budget Aviation Holdings, which owns and manages Scoot and is a member of the National University of Singapore Board of Trustees as well as an Independent Director on the board of Mastercard Incorporated. A member of the Board of Governors of the International Air Transport Association, he was the body's chairman in the June 2017 and June 2018 year.
A recipient of the Centre for Aviation's 'Asia-Pacific Airline CEO of the Year Award' in 2015, in 2016 he received the 'CEO Lifetime Achievement Award' from the Airline Passenger Experience Association as well as the 'Eisenhower Global Innovation Award' from the Business Council for International Understanding. He was also named the 'Outstanding Chief Executive Officer of the Year' in the Singapore Business Awards 2017. Goh holds a Master of Science in Electrical Engineering and Computer Science as well as three Bachelor of Science degrees in Computer Science and Engineering, Management Science and Cognitive Science, all from the Massachusetts Institute of Technology.
"Then the question is: how can we provide the kind of training, the kind of coaching that will allow our staff to transition into this new working environment? If you talk to our staff many are very excited about what is going on.
"They want to be involved. They can see they will be part of a new environment where they create new things and position the company for the next leg of our growth. This is important. Airline knowledge also is very important. The combination [of these factors] is what we focus on to grow rather than shrink the business."
SIA's portfolio strategy has seen the merger of budget carriers, Tigerair and Scoot, and the planned integration of full service subsidiary SilkAir into SIA. Retrofit work on the SilkAir fleet will begin in 2020, with the merger scheduled for completion in 2021.
It is possible now, said Goh, because technology and seat manufacturers are offering product that is closer to SIA aircraft interiors. The merged SilkAir will have an IFE system that is not part of its present cabins and will potentially have WiFi availability.
"With that kind of alignment in product and services we can rebrand and absorb SilkAir into SIA." It will, explained Goh, provide a lot more synergy. "Basically, it means the group will have two brands, Scoot and SIA, rather than four. We are sharpening the approach to this portfolio model. It will be Scoot for all the budget type services and SIA for all the premium services," he said.
"We have one single unit to look at all the planning, the group network connectivity. Scoot has Berlin and Athens. It covers a lot of the regional medium-haul destinations as well: Australia, Japan and certainly the Chinese cities. "Now it has within its fleet, because of the integration with Tiger, a sizeable narrow-body fleet."
Scoot's fleet is two A319-100s, 24 A320-200s with two to come, one A320neo with 38 more on order, 10 B787-8s and eight B787-9s with eight more to come. At press time, SIA announced the mainline carrier would take over Scoot's Bengaluru and Chennai services. Scoot will take over SilkAir's Laos route and its services to three second tier Indian cities and also to Kota Kinabalu and several Indonesian destinations.
The group's has two joint ventures; full-service Vistara with Tata in India and medium to long-haul LCC NokScoot with Nok Air is an acknowledgement by SIA that Singapore is not a big market compared with other countries.
"Its geographic location does give us some advantage, but it also prevents us from tapping into certain markets. When we look at expansion and meaningful hubs outside Singapore, NokScoot was one of them for the budget business," Goh said.
"The choice of Bangkok is quite clear. It is the most travelled destination by visitors, even more so than Paris and London. It's been a great attraction for all kinds of travelers. The idea of setting up a JV based in Thailand that caters especially for the LCC market was an appealing one. It provides a twin hub for our budget operations, Singapore and Bangkok. They are attractive in different ways. Bangkok also is a great gateway into China."
Vistara is another vital component of the multi-hub strategy. "The potential of the Indian travel market is well known," Goh said. "Around 2024, India is expected to be the third biggest travel market in the world after China and the U.S."
Goh conceded the Indian domestic market was difficult at the moment, but he said: "if you look at it, the Indian domestic market and the Indian international market are quite different. The Indian domestic market is hugely competitive. People will move from one airline to another because of the slightest difference in fares."
Vistara's goal is "absolutely" to go international. "When we started Vistara it was a key consideration. Now, it is clearly recognized as the best airline in India for product quality and service levels. It is poised to serve the international market with a product and service offering that can compete effectively with international carriers," Goh said.
In July, Vistara ordered 13 A320neos and 10 B787-9s to extend the airline's premium services to international routes. It operates 21 A320s, eight of them A320neos. It plans to increase its fleet to 50.
"We continue to focus on how Vistara can grow," Goh said. "From an SIA perspective, we give it whatever support it requires. We are very glad our partner has a similar long-term strategic mindset when planning the airline's growth."
Goh said the mix offered by the group's carriers has been valuable. "We serve 29 points in China, which makes us one of the biggest, in numbers, of carriers serving China. And we have 14 points in India. That is the biggest, in the number of points, of foreign carriers serving India," he said.
"It would not have been possible had we not had an LCC in our portfolio. Many of these points are only feasible with an LCC because the traffic segment is more budget conscious. Scoot is about 40% cheaper relative to SIA, which gives us a lot more flexibility in serving different markets."
Beyond the nuts and bolts of airline operations there is an underlying but critical element in the re-engineering of SIA: the digital transformation needed to keep up with the fast changing world of information technology (IT).
Fuel bump hurts profits


Rising fuel costs weighed heavily on the Singapore Airlines group's interim financial performance despite solid progress in its three-year transformation program. In November, the group reported an operating profit of $426 million for the first six months of its 2018-2019 financial year, down 44.1%, or $336 million, from its $762 million result in the same period a year ago.
Group net profit declined to $196 million from $435 million, 68.9% lower than for the previous 12 months. The company said the decline was the result of a $379 million, or 20.4%, increase in fuel costs.
Higher oil prices offset a 5.8% rise in passenger revenue and a 7.4% lift in cargo revenue. The group's passenger traffic expanded by 8.8%, outpacing capacity growth of 5.4% and driving up passenger load factor for the group's airlines by 2.6%, to 83.6%.
The fuel burden was reflected across all airline operations. The mainline carrier reported its operating profit declined by $271 million, to $418 million. Regional subsidiary, SilkAir, reported an interim loss of $3 million, a reversal from last year's profit of $22 million. Budget subsidiary, Scoot, recorded an operating loss of $10 million.
The company said forward bookings were expected to be stronger year-on-year, but there were cost pressures arising from significantly elevated fuel prices compared with a year ago and keen competition in key operating markets.
Despite global trade tensions, cargo demand in the near term was expected to remain healthy during the seasonal peak, a group statement said. "Amid continuing challenges in the operating environment, the SIA Group remains committed to its three-year transformation program to enhance customer experience, grow revenue and improve operational efficiency. The program has been producing positive results in all of these areas to date."
Goh is no stranger to the computer world. He holds post graduate degrees in electrical engineering and computer science from the prestigious Massachusetts Institute of Technology. He said: "as part of our transformation, an overall theme is to create a very dynamic innovative culture within the organization. In the last couple of years we have been establishing a digital blueprint for the organization.
"We have put in place a way for us to connect our people to the start-up community, especially in this part of the world, so they can come in and co-create solutions with our people. This kind of cross-pollination is very important. It could potentially create business ideas and streams of revenue as well as allow our people and start-up communities to develop projects and products for travel-related businesses."
SIA's Kris Lab allows staff to work with start-ups with similar interests. "If they have any idea from any part of the group, be it Scoot, SilkAir, SIA, overseas or whatever, they have a collaborative platform to exchange ideas and experiment with concepts. If the idea looks interesting, SIA will give cash, no questions asked, to take it forward and prove its viability," he said.
SIA operates a central pricing system, which gives it great nimbleness in response to market patterns. Goh said. "We have implemented state of the art, I would say leading edge, revenue management systems, developed with the supplier.
Amadeus has provided us not only with the ability to do demand forecasts, but also the capability to accommodate a sense of elasticity of demand. It means you receive some direction or sense that if you were to change pricing how demand would be affected. Therefore, you can try to optimize the combination of pricing and demand so that you optimize the revenue that occurs."
SIA is the first airline to make practical use of Blockchain technology, leveraging it to implement ways for customers to redeem their Frequent Flyer points by purchasing petrol at service stations or goods at supermarkets.
"We believe there is a lot more potential in it. We are making use of data analytics in the engineering field for predictive maintenance. We are using data analytics to look at recruitment and how we can enhance our recruitment process. We are looking at data analytics to offer a lot more personalized content for our customers. There are a lot of exciting things going on and many of them are ideas our staff conceived," Goh said.
Tapping into IT partnerships is part of the SIA transformation agenda. "You can imagine the Apples, the Microsofts, the Amazons or Alibaba where we could work with them. Recently, we announced some collaboration with them to see if we could achieve work on technologies and create applications together," Goh said.
"Related to that are research institutions, the universities where we have more fundamental issues that might require a few more years to think through and to develop solutions. Usually, these are deeper, harder problems. Deeper technology issues.
"These research collaborations will be another leg of the program. You will be pushing not just for an immediate application or implementation of an app, but examining fundamental issues that ask how we can leap frog to that place. There are a lot of things going on. For example, Artificial Intelligence (AI) applications in all areas of engineering."
All of this, Goh pointed out, is not just about saving money. "Cost efficiency is certainly one aspect of the situation. It also is about better productive efficiency and, very importantly, the opportunity to create lines of business, revenue generation opportunities and other business ideas," he said.
Like all airline chiefs, Goh realizes that while airlines are arguably the most important element of the value chain because they operate the equipment and transport passengers, they have the lowest margins compared with other sectors in the industry, including airports.
"We have been in that position for a long time. The value chain is not quite balanced. At the same time, it is what it is. Of course we want to see a better balance, but we have to deal with the situation. We have to assume we are able to grow in a sustainable manner despite the problems," he said.