In September last year, the then president of China Southern Airlines (CSA), Tan Wangeng, told delegates at the World Routes Conference in Guangzhou that the carrier, Asia's largest airline and the third biggest carrier in the world, planned to have 1,000 jetliners "real ones, big ones, not small regional jets, turboprops or ancient aircraft built in the old Soviet Union or more recently in the third world" in its fleet in less than two years. Read More »
By 2035, he said, that number would rise to 2,000 airliners at least, representing fleet growth of 287% in 16 years.
If that seems overly ambitious, consider this: in 1998, the Guangzhou-headquartered CSA fleet had just crept past the 100 mark. In November last year the airline made a brief announcement that its fleet had topped 800 and that it had nearly 270 new jets on order.
Today, more than 2,000 CSA daily flights travel to 224 destinations in more than 40 countries. With American Airlines (AA) a CSA shareholder – it invested US$199.6 million for 2.68% of the carrier in 2016 – the two airline giants are progressing through a deepened code-share relationship that provides large scale entry into each other's home market.
As well, in the final days of 2018, Qatar Airways negotiated the purchase of five per cent of CSA, a move that opens up extensive network opportunities for both airlines. Development of these partnerships has followed CSA's widely predicted and recent departure from the SkyTeam alliance given its close ties with AA, a oneworld member. Whether it will join the oneworld alliance, in which both American and Qatar are members, remains to be seen.
CSA has spearheaded the remarkable growth of China's airline sector by rapidly extending its reach – from dominance in the domestic market to global recognition as the Mainland's leading international airline.
Most of that growth has been engineered by 54-year-old Tan, although he eschews the limelight and insists the success of the carrier is due to his employees and their dedication to developing superior operations and a top class cabin product. Nevertheless, under his stewardship net profit grew more than 10-fold, from US$80 million in 2010 to $985 million last year.
A CSA executive director since June 2016, president of the carrier since January 2009 and vice chairman since January 2013, Tan's tenure at the airline group is at an end. In January Beijing announced that China Eastern president Ma Xulun, had succeeded Tan at CSA.
"Sometimes it takes them a little while to fill these slots because they rotate people around the industry quite a lot and maybe there are some other pieces to the puzzle," said one observer.
In the meantime, Tan has moved onto the country's largest aircraft manufacturer, the Commercial Aircraft Corporation of China (COMAC). The OEM is delivering its ARJ21 regional airliner to customers after years-long delays and has commenced test flights of its 190-seater C919 single aisle aircraft. In partnership with Russia, it also is designing a wide body airplane, the CR929.
COMAC held a party committee meeting in November to appoint Tan as deputy party boss, a position that would place him in an extremely high-level executive job at the manufacturer.
Chinese media has reported Tan was transferred to COMAC because the senior management of the manufacturer was seen to be tech heavy and lacking the skills necessary to manage such a large and geographically diverse group. It is understood Tan is expected to correct this imbalance.
Tan has left an indelible mark on CSA by positioning the airline for the next stage of its growth. CSA's net profit in the final quarter of its current year, did plunge, mainly as a result of higher fuel costs (Chinese airlines hedge minimally) and foreign exchange issues but it is far from reporting losses.
The latest monthly traffic statistics, for December, reveal CSA continues to outperform its rivals. Released last month, they showed domestic passenger numbers for the month rose 5.8%, to 9.7 million. International passengers were up 14.7%, to 1.6 million. In the 12 months to December 31 last year, passengers carried by CSA rose 10.8% year-on-year to 139.9 million. This included a lift in domestic passengers to 119.5 million and a 16.4% increase in international traffic, to 17.9 million. Air cargo volumes also were up 3.3%, to 1.7 million tonnes.
When he spoke at Routes, Tan said: "China's aviation market is growing rapidly, driven by outbound tourism. The growth rate of outbound tourism is 20% in the past year and could reach 200 million tourists by 2020. Half of China's tourists are tending to take China-based airlines and this provides us with plenty of opportunities for development."
'You're at Air China today, China Eastern tomorrow and two years later you go to China Southern. That's not uncommon here," Orient Aviation was told last month'
As a result of the rapid expansion, more widebody aircraft will be needed in the near future. At press time, 12% of the CSA fleet was wide bodies. CSA intends to increase these numbers to 15% by 2020.
The fleet includes 271 Airbus single aisle family jets – A319-100s, A320-200s, A320 neo, A321-200s and A321neo. It has ordered 25 A320-200s, 85 A320neo, six A321-200s and 36 A321neo.
It operates 50 A330s, which are scheduled to be returned to lessors from this year. On order are 20 A350-900s with deliveries to commence this year. It also is the only carrier to operate the A380, of which it has five.
Its Boeing narrow body fleet consists of 26 B737-700s, 165 B737-800s and 24 B737 MAX8s. An order is in place for 56 more of the latter with the purchase of 30 of those awaiting Chinese government and shareholder approval.
The long-haul Boeing fleet is 10 B777-300ERs (eight more to come), 10 B787-8s, eight B787-9s (12 more to come) and 10 B787-10s. Its regional aircraft fleet is 20 Embraer 190s and it has placed an order for 20 of COMAC's C919s. Its cargo fleet is made up of two B747-400F and 12 B777F full freighters.
China-U.S. code shares expand beyond major cities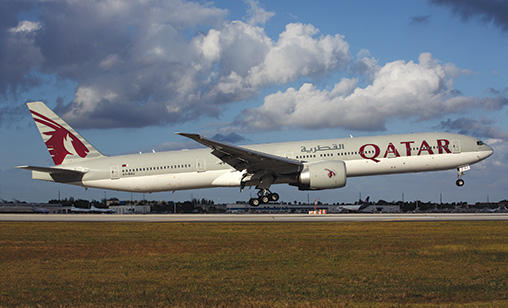 In December Qatar Airways purchased 5% of China Southern Airlines, almost double the holding of the Mainland carrier's other partner, American Airlines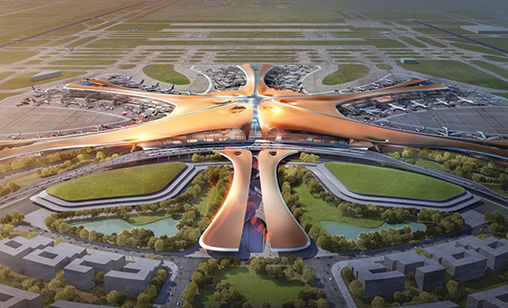 New airport will increase China Southern Airlines passengers to 50 million annually
CSA will expand its route map to Latin America and Africa in the next three years with Brazil and Argentina the most likely launch destinations. In Africa, the airline's expansion will be in line with China's "One Belt One Road" policy to deepen relations with its allies. In addition, it will increase frequencies to New York, London and Paris.
Beijing's second airport at Daxing, set to open late this year, will be the largest airport in the world. CSA will establish a second hub for the group at the gigantic new facility.
CSA international flights are fed traffic from several domestic airlines in which it holds majority equity. They are Xiamen Airlines (55%), Chongqing Airlines (60%), Hebei Airlines (99.23%), Jiangxi Air (60%), Zhuhai Airlines (60%), Shantou Airlines (60%), China Southern Henan Airlines (52.65%), Guizhou Airlines (60%), China Postal Airlines (49%), Sichuan Airlines (39%) and a 4.92% holding in Haikou Meilan International Airport.
It also has plans to set up a carrier sometime this year in the Xiongan New Area, an economic zone south of Beijing. Expected to start flying from the Beijing Daxing International Airport (BDIA) once it opens, the wholly-owned subsidiary will operate under the name Xiongan Airlines. It will have domestic, regional and international networks.
It is not known if Xiongan will be a low-cost carrier (LCC), although CSA has shown interest in moving into the budget airline market. Last October, China's largest privately-owned LCC, Spring Airlines, bought 1.63% of CSA.
CSA has not let up in its efforts to improve the carrier's operational efficiency and service levels. At the China International Import Expo in Shanghai last November its executives signed 40 new contracts with international suppliers in the global aviation manufacturing industry, including Pratt & Whitney, General Electric, Rolls-Royce, Rockwell Collins, Thales and Honeywell.
They covered aircraft engines, aviation supplies, special vehicles, cabin equipment, in-flight entertainment systems and other major imports. The airline said the deals were part of its accelerated transformation into a world-class competitive transport enterprise.
The agreements will significantly improve the operational capacity of the airline's fleet and provide an enhanced travel experience for the airline's business and leisure passengers, CSA said.
Its resignation from Skyteam underscored CSA's determination to free itself from alliance restraints and forge co-operative deals with anyone that can bring benefits to the table. When it announced it was leaving the alliance a statement from the carrier said it would allow the airline to "explore possibilities to establish new partnerships with advanced airlines around the world, promote bilateral and multilateral co-operation and provide quality services to passengers around the world".
It has a wide range of partners, from Australia's Qantas Airways to Finnair, but the expanded deal with AA has become a cornerstone of its network expansion. Trans-Pacific traffic between China and the U.S. is a major battlefield and CSA is taking advantage of its increased ties with its U.S. partner to compete with rivals, Shanghai-based China Eastern and Beijing-based Air China.
CSA told Bloomberg Television last November that after the opening of Beijing Daxing it will fly almost 50 million passengers in and out of China every year. That compares with 30 million travelers who flew the airline in 2016 from its home hub in Guangzhou. It will operate 250 aircraft out of Daxing and introduce more U.S. flights, along with AA, into its network.
'The airline tends to cooperate with the budget carrier even though the business models and the management are totally different. The mainstream airlines need (to be) in partnership with them and China Southern Airlines is looking into the possibility of establishing a joint venture. The airline is facing a stiff competition with international airlines and low-cost carriers are fighting for a market share'
In the last few months CSA and American have expanded their codeshare cooperation followed by the introduction of reciprocal frequent flyer benefits and lounge access. From January, in addition to 14 Chinese cities served beyond Beijing, American placed its AA code on flights from Beijing and introduced codeshare services beyond Shanghai to 14 more domestic cities, bringing its total codeshare services on CSA beyond Shanghai to 20.
Adding to the six U.S. cities served by CSA on American, the Chinese carrier will place its CZ code on flights beyond Los Angeles, San Francisco and New York. With this expansion, CSA will have its CZ code on flights operated by American to 21 cities in the U.S.
In December, it launched non-stop Los Angeles-Shenyang in China's northeast. It is the country's fourth largest city and was China's first capital, from 1625 to1644.
The reciprocal frequent flyer agreement means American AAdvantage members can earn and redeem miles from China Southern's network of 3,000 plus daily flights to 224 destinations in 40 countries worldwide. In turn, China Southern Sky Pearl Club members have the ability to earn and redeem miles throughout AA's network of 6,700 daily flights to nearly 350 destinations in more than 50 countries. The two carriers offer reciprocal lounge access to their passengers.
"We are very pleased with the progress we have made so far in our newly formed relationship with the largest airline in Asia," said AA president, Robert Isom. With the opening of Beijing Daxing International Airport in 2019 and the ability to cooperate fully with China Southern, we are incredibly excited about American's future in the Chinese market."
Whatever happens, there is no stopping the rise of China Southern. Before he departed north to COMAC, Tan said the airline is promoting itself simply by being in the market and pointed to the large number of international routes it has launched in recent years.
As international capacity grew, the airline's international brand grew. It uses Twitter and Facebook and other social media and sponsors major sporting and cultural events. In his view it time for the voice of Chinese airlines to be heard on the world stage. There is little doubt it already is happening.