All Nippon Airways signals appetite for Southeast Asia with PAL investment
All Nippon Airways (ANA) has confirmed its 9.5% investment in privately-owned Philippine Airlines (PAL) signalling its readiness to engage in hand-to-hand combat with rival, Japan Airlines (JAL), in the battle for market share in Southeast Asia.
On January 29, in a bold defensive move, All Nippon Airways made it clear it had no intention of surrendering market share to Japan Airlines in the demographically dynamic Southeast Asian region. Read More »
Conscious that JAL is expanding its network between North Asia and neighbouring nations to the south, ANA HOLDINGS INC, the parent of ANA, will invest US$95 million for 9.5% of Lucio Tan-controlled Philippine Airlines (PAL). Billionaire Tan took back full ownership of PAL from investor, San Miguel, in September 2014. ANA HOLDINGS INC. will acquire its equity in PAL from Trustmark Holdings, which is owned by the Lucio Tan family, the largest shareholder in PAL.
The deal expands PAL's code share relationship with ANA, established in 2014, and places the ANA vice president for Global Strategy, Tadahiro Uematsu, on PAL's board. Investment regulations cap foreign ownership of Philippines companies at 40%.
At a press conference where the deal was announced, Uematsu said landing slots were mostly full at Tokyo's Haneda and Narita international airports which made the deal necessary. It boosts passengers without increasing flights.
ANA said that "in line with its Mid-Term Corporate Strategy from 2018 to 2022, it was expanding its international group network, considered its main growth pillar, and strengthening its partnerships with foreign airlines to provide more convenience for its passengers".
All Nippon Airways orders 48 narrow bodies to fleet its regional expansion


Boeing won its first Japanese commitment for its B737 MAX 8 with the announcement ANA HOLDINGS INC. would order 30 of the type, including 10 options. The group also orded 18 A320neo, with deliveries all of the airplanes scheduled from 2021 to 2025.
"The decision was based on the economic growth of Asia and emerging countries with demand in the Asian aviation market and inbound demand on the rise," the ANA parent company said. "ANA and Peach Aviation each selected its optimum aircraft to fit their strategy to grow."
"The A320neo that currently serves ANA international routes was chosen for its excellent fuel efficiency and cruising performance to support [LCC] Peach's strategy. The specific markets to be served by the new order have not been finalised," ANA said.
"The B737 MAX 8, compared with current aircraft, creates a more comfortable atmosphere. It is also fuel efficient and is expected to improve efficiency by approximately 15%. Given the plane's benefits to the domestic market, it will succeed the B737 NG series."
"This purchase underscores ANA HOLDINGS's belief in the dynamism of the Asian region, the great potential of the Philippines' multi-awarded flag carrier and our confidence the Philippine air traffic market will continue be an economic leader in ASEAN," it said.
Tokyo-based aviation analyst, Kotaro Toriumi, told the Nikkei news agency he believed JAL had become a threat to ANA. The flag carrier had emerged from its 2010-2017 period of tax payer supported bankruptcy in much leaner shape and had since delivered higher profits in some periods of the last two years than ANA. ANA maintains JAL was treated favourably by the government to the detriment of its expansion and investment initiatives.
ANA reports turning point results for December quarter


All Nippon Airways (ANA) has reported a 30% net profit decline, to 106.8 billion yen (US$97 million), for the nine months to December 31 last year. ANA HOLDINGS CFO and senior vice president, Ichiro Fukuzawa, said: "Increased revenues, mainly in air transportation, resulted in operating revenues of 1.568.4 billion yen, while operating income was 156.6 billion yen. Ordinary income was 154.1 billion yen due to an increase in operating expenses."
Steadily increasing and robust demand resulted in an increase in operating income by 500 million yen to 51.4 billion yen, compared with the reported months of a year earlier, he said.
"It is a great turning point and a good sign for further profitability," he said. International passenger revenue increased 11%, or 49.2 billion yen, year on year, he added.
Since completion of its bankruptcy penance, JAL has established a code share with Hawaiian Airlines, which has developed into an application for a joint venture, and Aeromexico has abandoned ANA for JAL as a code share partner.
In October last year, Garuda Indonesia, also a code share partner with ANA, announced it would apply to the appropriate authorities to form a joint venture with JAL.
In the meantime, ANA continues to consolidate its four-year lead over JAL in international passenger traffic and tied up an 8.8% investment in Vietnam Airlines in 2016. Vietnam is the fourth largest future airline market in the Asia-Pacific after China, India and Indonesia.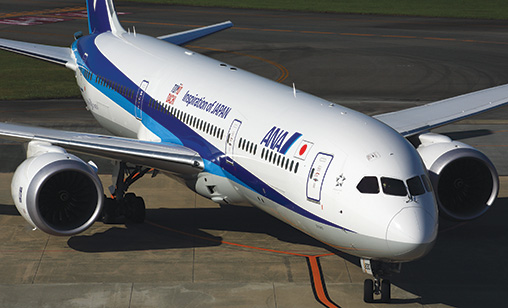 All Nippon Airways adds Perth and Chennai to network


Japan's biggest airline, All Nippon Airways (ANA), continues to set the pace in North Asia with the January announcement of its network expansion strategy for the next 12 months.
It will launch direct services from Tokyo Narita to Perth from September; the first Japanese airline to operate the route. In another first, Narita to Chennai in southern India will be added to the ANA network late this year. The new services follow commencement of Tokyo-Haneda to Vienna this month.
The carrier, which has won five-star SkyTrax ratings for six consecutive years, said the new routes were based on rising global demand and were to be incorporated into the ANA group's Mid-Term fiscal year 2018-2020 corporate strategy. The airline is enhancing its "Tokyo Metropolitan Dual Hub Model" that makes full use of both Haneda and Narita airports.
ANA forecasts the flow of people and goods in the Asia-Pacific will expand as key economic agreements such as the Regional Comprehensive Economic Partnership (ECEP) deepen. "By opening a route, ANA will contribute to expanding commercial exchanges between Japan and Australia as well as between Japan and India," an ANA statement said.
"The new routes also will strengthen the air travel network in the Asia-Oceania region and enhance the presence of ANA in this vital market." The decision to add Perth to the network was made following increased demand from key industries in Western Australia including mining and agriculture, the airline said.
ANA believed Tokyo-Perth would capture growing demand for travel between the two cities, particularly as the seasons are reversed in Japan and Perth, which should support a stable market for two-way leisure travel throughout the year, it said.
"This coincides with projected increases in demand over the medium to longer term for routes between Asia and North America. ANA will employ Japan's first A380 aircraft on its Hawaii route this year," the carrier said.
"Additionally, it plans to improve profitability by introducing the B787-10, the latest variant of the B787, onto its Southeast Asian routes, with the goal of winning business from connecting traffic via Japan."
On the cargo front, ANA said "building on the changes to its passenger side, ANA's potential to meet demand for cargo transport will increase with the introduction of a new Boeing 777F large-scale air freighter".
"Not only code-sharing but more company tie-ups, including investments and joint ventures, are necessary to prevent JAL from taking more of ANA's partners," Toriumi said.
Recently, in a notable global airline survey, PAL was voted the world's most improved airline for the latest year. It is proceeding through an expansion of its fleet to 100 aircraft and flies to 80 destinations across the globe. ANA flies 14 times a week to the Philippines and PAL operates 84 services a week to nine Japanese destinations. The two carriers also operate 16 code shares to Japanese domestic cities and 11 in the Philippines.
All Nippon Airways rival, Japan Airlines (JAL), announced last month it would commence direct Narita-Bengaluru flights in the summer of next year. At present there are no nonstop flights operating between Japan and the "Silicon Valley" of India. The airline said the route would provide North American passengers with a new option for travelling to southern India.
Next month, JAL will launch a direct Narita-Seattle service and increase frequency from Narita to Moscow's Domodedovo International Airport from four a week to daily.