These are exciting times for Scoot, said the LCC's CEO, Lee Lik Hsin. Read More » "Since the merger of Scoot and Tigerair in 2016 we have chalked up double digit growth. We have gone from a fleet of 35 to 49. We have announced another 10 new planes on lease and are upsizing the A320s to A321s."
Four Chinese destinations have been transferred to Scoot from regional full-service carrier, SilkAir, which is being merged with Singapore Airlines (SIA). Next year, six Indonesian destinations will be added to the Scoot network. "So, the pace continues unabated," said Lee.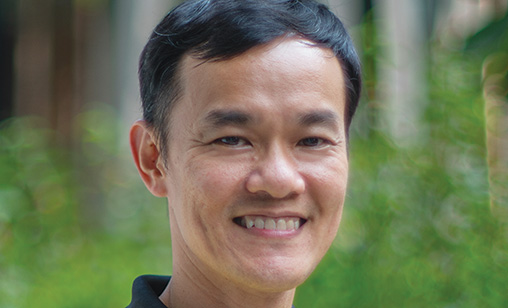 'We have done well. Our load factor for China routes is very good. In fact, we are carrying more than SilkAir did because we have higher seat counts'
Lee Lik Hsin
Scoot CEO
But none of these impressive numbers can disguise the fact that market conditions are tough. In fiscal year 2019, reported the financial statements of parent SIA, Scoot sank into the red with an operating loss of US$10.8 million, down from an operating profit of $56.4 million a year earlier.
Costs of Scoot's expansion, as it took over routes previously served by SilkAir and/or SIA, as well as the launching of long-haul routes, outpaced revenue growth. Performance also was substantially affected by a slowdown in Mainland tourists and operational disruptions caused by Rolls-Royce engine maintenance issues on the carrier's 787 fleet.
In spite of a disappointing fiscal 2019, SIA said Scoot had "continued to lay the foundations to benefit over the medium and long term from growth in the budget travel segment", Lee said.
"It's a crowded market. It's a tough market. In the end, we, as do all of our competitors, believe in the underlying growth of the demand. We are lucky in a way. Singapore is a very heavily utilized airport. Origin destination pairs involving Singapore are among the most heavily travelled in this region. We are able to tap into that," he said.
"It is very difficult in this industry for demand and supply to be in sync. But there are times when airlines cannot grow fast enough and all airlines do quite well, as we did in 2015-2016. We registered record profits. At the time, we were growing upwards of 15% a year.
"Normally, when you grow that kind of capacity you don't expect to have good profits but we did. Obviously, the last year and a half has not been that great. It is a cycle."
With a bachelor degree in economics from the University of Pennsylvania and a long career with SIA, Lee is well used to the volatility of the airline business. At SIA, he has been the airline's regional vice president for West Asia and Africa and the North Asia sales regions, head of SIA's company planning and fuel department, senior vice president corporate planning and president of Singapore Airlines Cargo. He was appointed CEO of both Scoot and Tigerair in May 2016 and led the two carriers through their merger.
The combined airline resulted in immediate fleet growth, transforming Scoot from an all-wide body 787 operator to a dual twin-aisle and single-aisle airline with 12 787s and 23 A320 variants. "The first couple of years after the merger, we had more growth in the wide-body fleet," said Lee. "We went from 12 to 20.
"On the narrow-body side of the house we grew from 23 to 29. For the next phase, the narrow-bodies will probably be a bit bigger, but we do intend to increase wide-bodies."
This strategy is reflected in the order Scoot placed last July for 16 A321neos, which are scheduled to arrive at the airline progressively from the last quarter of 2020. To support growth, Scoot will convert six A320neo orders to the larger A321neo and lease another 10 A321neo by the end of the 2020-2021 year. There also are two more 787s at the carrier.
Asked if an order for long-range single-aisle jets was being considered, Lee laughed. "I think you are referring specifically to the A321XLR. For now, we have not confirmed any orders. The A321neo is more about upsizing because of the capacity and the slot constraint situation in Asia. We can grow just by putting a slightly larger single-aisle on the route," he said.
"When you talk about the XLR, trying to get to about eight hours or so, yes, it gives you a little bit more range and the destinations you can cover. Ultimately, you have to measure that against the unit costs in comparison with a wide-body. For us, we have not come to a clear conclusion. For now, we will rely on the wide-body."
Scoot's lack of action on the A321XLR front speaks for itself. "The manufacturers continue to be in conversation with us. Never say never. But at this time we have not seen the need," said Lee.
Essentially launched as a medium to long-haul LCC, Scoot's longer haul routes now include Australia, Athens and Berlin. It flies to 68 destinations across 17 countries and territories, with nine more destinations in India, Malaysia and Indonesia planned for the network by the second half of 2020.
When asked about Berlin and Athens, Lee said they "are clearly not amongst our top performing routes but we think they are a tool to offer niche opportunities". It launched Singapore to Honolulu via Japan in late 2017, but has terminated the route.
"We continue to explore other points, but we will be very measured. Not excluding the possibility of a new destination in the next one to two years, we won't have a European network," he said. "We will serve a small number of points in Europe. That is very different to saying we have a European network. We always knew long-haul was a niche market for budget airlines and that it would be a challenging market," he said.
"We have seen failures or pull-backs by other airlines trying to operate long-haul, so we will continue to grow but very cautiously. It is one destination at a time but long-haul is part of our overall network proposition."
Lee has not hesitated to withdraw from under-performing routes. In June, Lucknow and Kalibo were dropped. Quanzhou in China followed in August. This month, Male will disappear from the Scoot schedule due to weak demand and a shortage of aircraft, Lee said.
China is probably Scoot's most important market. "Today we stand with the largest Asian carriers flying to China, either full-service or budget," Lee said. "If you look at the top tier in volume of operations and capacity into China, we are all hovering around/over 20 points each, which is what we have.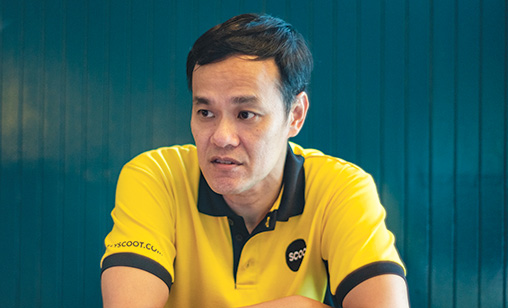 'Around 11%-12% of our passengers are connecting and this will only continue to grow. Our own network reach is wide. We serve 68 points. It is not that much smaller than the number of SIA destinations. We are able to do a lot on our own, but there is a case for feed and de-feed into the SIA network. We will pursue these opportunities as well'
Lee Lik Hsin
Scoot CEO
"Our competitors have it too, but clearly we are big in China. It takes up a significant portion of our overall network and we continue to be confident as we have done with the recent takeover of points this year [from SilkAir]."
Elsewhere in Asia, competition has never been tougher and Lee considers there is overcapacity in the market. "Our current financial performance sort of reflects that," he said.
"We are at less pricing power compared with a year or two ago. It is a reflection of demand not catching up with supply. If you talk just about Southeast Asia, every country has multiple budget airlines these days, whether it is Malaysia, Indonesia, Vietnam, Thailand or elsewhere.
"Even when you go to North Asia, Korea and Japan, the competition is keen. No doubt about that. At the same time, we have confidence in our underlying business model and underlying demand growth.
"It is a matter of riding it out. Making sure we have the best possible cost structure, are the most efficient operator and have a product proposition that offers value to our customers. Choice is very important to our customers, both for network and the ability to select what they want. Finally, we try to be as engaging as possible and have character."
Scoot has character aplenty. It was voted Best Low-Cost Airline in Asia in 2019 by Skytrax and consistently polls as one of the top LCCs in both the long and short-haul budget categories. It also has a respected parent in SIA.
"Clearly, we benefit tremendously from having a strong parent which can provide financial support. It makes it much easier for us to secure very favourable deals with key partners like aircraft manufacturers and other suppliers," Lee said.
"Commercially, that is what the customer sees. We have created programs where passengers can benefit from both products at the group office and also the group provides some synergy that benefits the customer.
"An example is the frequent flyer program (FFP). Normally, a budget airline would not have much to offer the passenger but we can rely on SIA's FFP. Similarly, SIA passengers can use their FFP membership to claim flights on Scoot. It helps drive a lot of Scoot revenue."
At its Singapore home base, the network connectivity it receives from code-sharing with SIA is critical to its operations. "This is about connectivity and our connectivity proposition has improved significantly," Lee said.
In Europe, Scoot has codeshare arrangements with local carrier, Aegean Airlines, in Athens and in Berlin is in the process of "working out the mechanics" with SIA Star Alliance partner, Lufthansa.
It also is a founding member of the low-cost Value Alliance, launched in 2016, which uses proprietary technology to allow flyers to view, select and book online the best available airfares on the flights of any of the member airlines. Collectively, the seven member airlines - Cebu Pacific (including wholly owned subsidiary Cebgo), Jeju Air, Nok Air, NokScoot, Scoot, Tigerair Australia and Vanilla Air - fly to more than 160 destinations.
Scoot is no different from LCC rivals who are developing better value fares and packages for customers. Its 787s have a recently re-named business cabin, ScootPlus, Scoot-in-Silence, a child free zone, BoardMeFirst for priority check-in and boarding privileges and comprehensive travel insurance, Scootinsurance.
Like all carriers in the region, Scoot has to cope with challenges, such as continuing protests in the precincts of Hong Kong International Airport. Lee said: "We do fly to Hong Kong. In general, I would say we tend to say specific incidents will always have specific impacts. Our general principle of planning and operations is we will have to adapt," he said.
"Confidence and belief in the growth of travel, specifically the growth of budget travel in the region, is still there. You know there will be kinks along the way and whether that will be about trade or whatever impacting travel. Fundamentally, as a budget airline we are more about leisure travel and less about corporate travel.
"Whenever there is some sort of situation in any specific location, and it happens with most airlines, you usually try to ride it out. It could be a really bad year economically or it could be a big weather event and inbound travellers hesitate to go there.
"But with scheduled airlines there are considerations like slot retention. You have to maintain a certain level of consistency in your operations."
Maintaining that consistency while expanding under tight costs constraints is exactly what Lee has in mind.
Digitalisation a shared landscape for Scoot and Singapore Airlines


For Scoot, as with parent, Singapore Airlines (SIA), digitalisation and social media are crucial to growth.
"We benefit from what SIA is doing because we don't have to re-invent the wheel," said Lee.
"Many of the things they are doing can apply to the budget side of the business. When you are in the digital sphere, the legacy burden no longer exists. Many times what prevents [new technology] transfer are legacy systems.
"For example, anything that happens in the GDS world becomes difficult to cut across to the low-cost world. Digital completely transcends all that. Of course, we have to figure out initiatives we want to do on our own. As a separate business, we might operate different infrastructure and frameworks from the parent.
"At the same time, we have that channel of communication where we can benefit from whatever achievement the parent has made in the digital space. Sometimes it is the reverse. They can benefit from what we have learnt."