Glad to see the back of 2020, Asia-Pacific carriers now fear the coming year could be just as bad. Read More » Instead of a relaxation of border restrictions and quarantine rules, the opposite is happening, dampening hopes of a tentative recovery in international travel in coming months.
International Air Transport Association (IATA) senior vice president airport passenger cargo and security, Nick Careen, put it bluntly. Airlines are suffering "death by a thousand cuts. Things are not improving. Restrictions are going in the opposite direction", he said last month.
IATA colleague, chief economist, Brian Pearce, added the short-term outlook "has certainly darkened. The vaccine should make all the difference so the second half of the year should be different. We are hoping this is the darkness before the dawn. But it really depends on governments co-operating", Pearce said.
In a forecast critical for many of the Asia-Pacific's major airlines, Pearce said long-haul travel will not return to 2019 levels for another two to three years.
The analysis was delivered at a virtual industry briefing from Geneva last month at the same time COVID-19 was continuing its devastating sweep through the U.S., the UK, continental Europe, Africa and several Asian countries including Malaysia, Japan and Korea. In the northern hemisphere, case numbers and fatalities have risen to record levels with two new strains of the virus, far more contagious than the original version, spreading in the UK, South Africa, the U.S. and Brazil. At press time, it was being diagnosed in several other clusters worldwide and vaccine manufacturers were on the hunt for treatments to hold back a deluge of the new strains.
Governments have reacted quickly to the new COVID-19 threats. U.S. president Joe Biden has ordered all incoming international passengers landing in the country to quarantine. The UK has banned travellers from some 30 "hot spot" countries and introduced quarantine for the first time since the coronavirus became a pandemic. It has banned flights from the United Arab Emirates, throwing a spanner in the operations of the big three Gulf carriers who have been providing flight links between the UK and the Asia-Pacific.
In a press statement, Etihad Airways said although flights from the UAE are banned, it would continue to operate for passengers permitted to depart the UK for travel to Sydney and Melbourne. "As a result, all flights from the UK remain unaffected and will operate as scheduled, keeping a vital link between Europe and Australia open for urgent travel," it said. Etihad did not explain how it could continue the services if the airline was banned from flying into the UK.
In Asia, quarantine and travel restrictions have been toughened in Korea and Japan has reintroduced a State of Emergency. In Australia, where COVID-19 is almost non-existent, the national government has told its citizens they should not expect to travel internationally until 2022 and that its 14-day hotel quarantine for arriving passengers was not going to be lifted any time soon.
Hong Kong extended its quarantine requirements from 14 days to 21 days in designated hotels just before Christmas and also announced it intended to implement 14-day hotel quarantine for Hong Kong-based cockpit and cabin crew plus a 7-day medical surveillance period.
Cathay Pacific Group chief customer and commercial officer, Ronald Lam, said in the final week of January "the new measures will have a significant impact on our ability to service our passenger and cargo markets".
"At this stage, our preliminary assessment is the new measure may result in a reduction of current passenger capacity by about 60%, a reduction in cargo capacity of around 25% and an increase in our cash burn of approximately HK$300 million-HK$400 million (US$38.7 million-US$51.61 million) per month on top of our current HK$1 billion-HK$1.5 billion levels," Lam said.
Cathay, which has no domestic operations, was already in dire straits. It carried 39,989 passengers in peak season December, a decrease of 98.7% compared with December 2019.
In China, where domestic airline capacity had returned to near normal levels, it was clear a nervous population was voting to remain on the ground as new strains of the virus emerged. Airline bookings made by January 19 for the February Lunar New Year holiday were 73.7% lower than for the same holiday period last year, reported travel analytics firm, ForwardKeys.
Beijing had reported no new COVID-19 diagnosis cases for 11 consecutive days, but nationwide case numbers, while tiny by the standards of most Western countries, are at 10-month highs. State media said many employees working for state-owned companies or government agencies were told not to travel without management approval.
In Japan, Japan Airlines (JAL) and All Nippon Airways (ANA) were moving towards a full domestic rebound as 2020 was drawing to a close. Both carriers were planning to operate approximately 85% of their pre-COVID-19 schedule in December and increasing it to 90%-100% from December 25, 2020 to January 5, 2021. These estimates were progressively reduced as the latest spike worsened. Much more significant cuts were announced following the declaration of the second State of Emergency on January 8.
JAL reported domestic reservations for the holiday period were down by 52% from the previous year. ANA said it had carried 58% fewer domestic passengers during that period. International traffic also was hit. ANA announced it would suspend services on 16 international routes from late March due to falling travel demand from the coronavirus pandemic. It's most recent network changes have eliminated about 80% of its international flights from its previous plans.
Another casualty of the new pandemic surge has been bilateral travel "bubbles", widely regarded as a key plank in the recovery of international passenger traffic. In January, Australia promptly closed down its air corridor with New Zealand, where Australians where not allowed to fly to New Zealand but New Zealanders had been permitted to fly to Australia, after a case of the highly contagious UK coronavirus strain was confirmed in Auckland. Fortunately for trans-Tasman carriers, the bubble has been re-instated.
In the final days of last month, Singapore announced reciprocal arrangements with Malaysia, Germany and South Korea would be suspended for three months from February 1. Singapore's Ministry of Foreign Affairs said the decision was the result of a resurgence of COVID-19 cases worldwide. Its link with Malaysia had been operating since August, with Korea in September and Germany in October.
In its latest results statement, the SIA Group struck a positive note, despite the cancellation of Singapore travel bubbles. "The resurgence of COVID-19 infections, as well as the spread of more transmissible strains of the virus weighs on international travel, as border controls and travel restrictions continue to tighten in many countries," it said.
"Nonetheless in line with Singapore's progressive re-opening, the group expects to see a measured expansion of the passenger network over the coming months. We will continue to monitor the status of travel restrictions and adjust our capacity accordingly to meet demand."
In its preliminary traffic results for the 2020 calendar year, the Association of Asia Pacific Airlines (AAPA) said 69 million passengers were transported by the region's airlines in 2020, which represented 18% of volumes recorded in 2019. The decline in the 12 months had "not be seen in the region's history of commercial aviation", the AAPA said. Offered seat capacity was similarly disastrous at 19% of levels recorded in 2019. International passenger load factor averaged 61% of already ravaged networks.
"The dismal numbers underline the severity of the pandemic's impact on the airline industry. The discovery of several effective vaccines towards the end of 2020 provided hope recovery was on the horizon as large-scale vaccinations of citizens were expected to give governments the confidence to allow admission of travellers from abroad without restrictions'', AAPA director general, Subhas Menon, said.
'Understanding government policy benchmarks and agreeing to global standards needed to support a return to normality in travel will ensure that air transport is well prepared and does not become a meaningful vector for reimportation. Airlines are ready to support governments in this task. But even as the crisis deepens, it is important to prepare for a resumption of flights when the epidemiological situation permits'
Alexandre de Juniac
IATA director general and CEO
"Looking ahead, many industry challenges remain as restrictions on cross border travel will continue to affect air travel demand in 2021. We encourage governments to step up coordination efforts on cross border risk mitigation measures and health protocols. The implementation of harmonized protocols, incorporating the ICAO CART Take-Off Guidance, is imperative for the safe resumption of travel. Asia-Pacific aviation is ready and willing to play its part in the successful restart and recovery in the region."
Despite being trapped by the crisis, IATA's consistent appeal for a harmonized global testing regime for travellers is being ignored by most governments. Political leaders, understandably, are focused on protecting the health of their citizens rather than opening borders. Careen said shutting down traffic is a widespread movement. "It's in the U.S., Canada and the UK and elsewhere," he said.
"We are not in a position to control how countries manage their borders, but we maintain there is a safe way to do it and manage international traffic. We can't simply be reliant on the vaccines to be the enabler. There has to be some measure of metrics. We need some leadership from the WHO (World Health Organization) and ICAO (International Civil Aviation Organization) in order to encourage States to agree a trigger to allow things to restart.
"We can't continue to operate like this. It does not take a rocket scientist to note the burning of cash that is happening and to see bigger issues that could be loss of operations, loss of schedules and increased costs. The impacts are enormous."
In the face of the deteriorating pandemic situation, IATA again has urged governments to produce a global framework for COVID-19 testing to enable smooth travel. "These last weeks have seen governments impose even more severe travel restrictions following the recent diagnosis of new COVID variants that have halted the little recovery that had been happening in air travel," said IATA director general and CEO, Alexandre de Juniac. The association supported the immediate exemption of vaccinated individuals from travel restrictions, he said.
A key element of IATA's strategy is a digital Travel Pass. The app will allow passengers to create a 'digital passport' to verify their pre-travel test or vaccination meets the requirements of their destination country. They also will be able to share the test and vaccination certificates with authorities and airlines to facilitate travel.
Emirates Airlines, Etihad Airways and Qatar Airways are the first carriers to trial the Travel Pass. "We are planning additional pilots, with more functionality, with British Airways and Singapore Airlines [this month], "Careen said. "With the results of those pilots, we will be onboarding additional pilots and tests with Qatar Airways, Emirates, Etihad and more to come." Air New Zealand will trial the app in coming weeks.
In February, at the release of the industry's full-year results, de Juniac said 2020 was a catastrophe for the industry. The first weeks of 2021 were no different. "In fact, it was worse over the year-end holiday period. While we still see airlines turning cash positive within the year, the near-term picture is bleak. Instead of a boost from the year-end holiday period, we had even more restrictions. Governments tightened borders in a knee-jerk response to a virus mutation. Canada, UK, Germany, Japan and others added testing to their COVID-19 measures without removing quarantine requirements. In other words, they have chosen policy measures that will shut down travel," he said.
"This tells us these governments are not interested in managing a balanced approach to the risks of COVID-19. They appear to be aiming for a zero-COVID-19 world. This is an impossible task that comes with severe consequences of which the full extent would be impossible to calculate. But with this approach, we know for sure that the travel and tourism economy will not recover. Jobs will continue to disappear and the lockdown's toll on people's mental health will continue to grow, particularly for those separated from loved ones."
IATA's grim forecast was mirrored by Airports Council International (ACI) World with a new report that said recovery in 2021 would be slow and uncertain and that without government policy support and assistance, the industry continues to face collapse.
ACI World's most recent COVID-19 impact analysis revealed the global airport industry had experienced a reduction of more than six billion passengers by the end of 2020, representing a decline of -64.2% in global passenger traffic, with a reduction in revenue of $111.8 billion.
'We can see the light at the end of the tunnel as vaccination programs roll out. Turning this vision into a safe and orderly re-start will require careful planning and coordination by governments and industry. This will be challenging as the priority for the weeks and months ahead will be containing the spread of new variants'
IATA
February 2021
Its newly published World Airport Traffic Forecast reveals over the next five years global passenger traffic worldwide is expected to grow at an annualized rate of +2.4%, affected negatively in the short term by the continuing effects of the pandemic. It said recovery is likely to be uneven across the world. While markets with significant domestic traffic are not expected to recover to pre-COVID-19 levels before 2023, markets with a significant share of international traffic will recover much more slowly.
ACI believes this slow recovery will only be possible if governments introduce a consistent approach to testing to promote travel and also do away with restrictive quarantine measures.
"The prospects for recovery in the aviation industry have taken a hit following the introduction of renewed travel restrictions and lockdowns in response to new variants of the COVID-19 virus emerging," ACI World director general, Luis Felipe de Oliveira, said.
"While ACI forecasts show there is a pathway for a long-term recovery, this can only be possible if a solid foundation can be laid in the short term with government policy support and direct assistance. The rapid deployment of vaccines is welcomed but there will be a considerable period before they are widely available so, in the meantime, there must be a proportionate approach to vaccination before travel balanced with a risk-based approach to testing."
In the Asia-Pacific, ACI Asia-Pacific director general, Stephano Baronci, forecast last month traffic at the region's airports would return to 2019 levels of 3.4 billion passengers a year by 2023.
In its latest statement, the AAPA stressed cargo remained a bright spot in the face of the pandemic. Asia-Pacific airlines account for more than a third of global air cargo traffic with strong networks and logistics expertise built up over the years. During the global pandemic, the region's carriers have played a vital role in transporting medical supplies including vaccines, personal protective equipment and other essential goods, even though capacity was severely restricted as a result of the wide-scale grounding of passenger aircraft. As global economic activity rebounded in the latter half of the year, the increase in export orders grew with the rising demand for the speedy delivery of merchandise by air.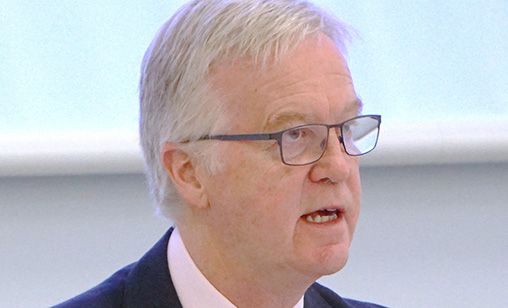 Healthy cargo business was largely the source of Korean Air's (KAL) 2020 operating profit of US$219 million. International passenger demand declined by 75.6% over 2019 for the carrier and most of its flights are suspended. KAL has had its employees on rotating leave since last April.
KAL's full-year international cargo business declined by 11.8% over the same months in 2019. Despite a sharp drop in freight capacity, KAL president, Keehong Woo, said the airline "fully utilized its 23 freighters, increasing its operation rate by 25% compared with previous 12 months".
"Almost 24% of global cargo capacity disappeared last year when airlines suspended most international flights because of COVID-19. At Korean Air, we boosted our cargo operations by operating extra/charter freighters to meet demand for medical supplies such as COVID-19 test kits and masks. We also increased capacity by converting passenger jets into freighters," Woo said.
In its third quarter results announced on February 4, the SIA Group made clear it expected cargo demand to improve in coming months.
"Airfreight capacity remains constrained due to the steep reduction in passenger flights and this has affected belly hold capacity worldwide. While cargo demand has tapered off after the traditional year-end period, strong fundamentals and healthy Purchasing Managers' Index readings across key export economies will continue to support cargo demand in coming months," it said.
"Furthermore, as the production of COVID-19 vaccines ramps up, SIA Cargo is looking to capture its share of the traffic to Asia and the Southwest Pacific."
Last December, air cargo demand improved in freight tonne kilometres (FTK), recording only a single digit year on-year decline of 6.4%. For the calendar year, international air cargo demand fell by 15.5%, while offered freight capacity plunged by 24.4%. The average international freight load factor rose significantly, by 7 percentage points, to 66.4%, in 2020, with cargo yields offering a welcome boost to operating revenue, although airlines continued to face an existential crisis with commercial passenger operations at a standstill, the AAPA said.
IATA boss reveals carnage of COVID-19 on industry


We already knew it, but now it is official. Last year was the worst 12 months in the history of global aviation.
The International Air Transport Association's (IATA) 2020 full-year global passenger traffic results documented demand, or Revenue Passenger Kilometers (RPKs), declined by 65.9% compared with full-year 2019. International passenger demand was 75.6% below results for the previous 12 months. Capacity measured in Available Seat Kilometers (ASK) declined 68.1% and load factor was down by 19.2 percentage points, to 62.8%. Domestic demand for the year, although better performing than the international sector, was 48.8% lower than in 2019.
"Last year was a catastrophe. There is no other way to describe it," said IATA director general and CEO, Alexandre de Juniac. "What recovery there was during the northern hemisphere summer season stalled in autumn. It became dramatically worse over the year-end holiday season when governments imposed more severe restrictions on travel following the emergence of new strains and fresh outbreaks of COVID-19.
The airline association said bookings made in January for future travel were 70% lower than in January last year, a situation that was putting increased pressure on airline cash positions and potentially impacting the beginnings of recovery.
In the Asia-Pacific, full-year traffic at airlines plunged 80.3% compared with 2019, the deepest decline for any region worldwide. In December alone, traffic collapsed by 94.7% amid stricter lockdowns and was little changed from a 95% decline in November. Full-year capacity tumbled by 74.1% against a year earlier and load factor tracked downward to 61.4%. China's domestic passenger traffic, one of the few countries in the region to benefit from a recovering domestic market, was 30.8% lower in 2020 compared with the previous year.
Air cargo was a bright spot for the industry in the reported period. Air freight traffic decreased by 10.6%, but the sector still recorded the largest drop in year-on-year demand since IATA began monitoring cargo performance 30 years ago.
Asia-Pacific carriers reported a cargo demand decline of 15.2% for the year over 2019. There was a 13.2% fall off in international operations, an overall capacity reduction of 27.4% and a 26.2% decline in international operations. After a Q3 pause in recovery, demand has been improving, largely driven by a rebound in manufacturing and export orders from China and South Korea.
In the Asia-Pacific and also the Middle East, the path to recovery will be "slow and uncertain" with "a diverse demand recovery pattern", said ACI Asia-Pacific director general, Stefano Baronci, last month.
However, in the next two decades, the regions will be the fastest growing the world with Asia-Pacific passenger travel to increase by 4.7% a year.
"This forecast is based on the assumption an effective vaccine is distributed in 2021 and broader population vaccination is largely accomplished by early 2022," Baronci said. "Limited vaccine supply and slow distribution combined with a prolonged economic downturn risks postponing the recovery of the whole region to 2024."
The airport association said the region's fastest growing markets in the next 20 years will be Indonesia, India, Vietnam, The Philippines and China. The top three markets in the Middle East will be Saudi Arabia, the United Arab Emirates and Iran, it predicted.
"For the aviation industry to continue providing vital services and supporting the global vaccine distribution undertakings, ACI Asia-Pacific urges the inclusion of all aviation workers and airport staff as essential workers as part of the World Health Organisation's Strategic Advisory Group of Experts on Immunisation recommendations and national vaccine plans," the association said.