Risk averse governments holding back airline recovery
When Willie Walsh took charge of the International Air Transport Association earlier this year, airlines worldwide were in the midst of their worst crisis in the history of aviation. The former airline boss is determined to see the industry through the pandemic, but he has a special message for Asia-Pacific governments, reports associate editor and chief correspondent, Tom Ballantyne.
Irish-born Willie Walsh, the 59-year-old airline veteran who heads the airline peak body, the International Air Transport Association, has a warning for the region: recovery for Asia-Pacific carriers is likely to be delayed because of the risk averse approach of Asian governments and the slow take-up of COVID-19 vaccines among their citizens. Read More »
In Asia, he explained to Orient Aviation last month, around 25% of the population has been vaccinated, which is comparable with global numbers. "But that is significantly behind countries such as the UK, Israel, the U.S. and the UAE. All of them are in the 60% - 70% range. Singapore is obviously doing very well with vaccination but most of Asia is lagging behind. I think it will suggest the recovery [in the region] will take longer," he said.
Part of the problem, Walsh believed, is Asia-Pacific restrictions on travel and quarantine that do not look like ending any time soon. "Once the restrictions are removed the demand is there. In fact, it is very strong. All of the evidence supports that. The recovery will be quick once the restrictions are removed, but given what we are seeing in Asia, and the risk appetite those Asian countries have, it is going to take longer for the restrictions to be removed in Asia than it will in other parts of the world," he said.
Walsh, who started his career as a pilot with Aer Lingus, rose to chief executive of the Irish carrier, moved to running British Airways and then the International Airline Group (IAG), stepped down from IAG a year ago. He accepted the position of IATA director general, as successor to Alexandre de Juniac, two months later. Some may have said "no thanks" to taking charge of the global airline association enduring an unprecedented crisis, but Walsh did not hesitate in accepting the job.
"I felt the industry needed to have a strong voice at this stage. I believe, and always have believed, IATA is important to the industry. Given my background, the knowledge I have of the industry, the fact I know how airlines operate and also that I know most of the players in the industry, I felt I could contribute and could hit the ground running. I felt bad leaving the industry when I did. You don't want to leave [at this time] so when I was approached about this I had absolutely no hesitation in saying yes," Walsh said.
Having spent 13 years as an IATA Board of Governors member, Walsh is well versed in the modus operandi of the association. "I am really happy to make a contribution, play my part and support all of the former competitors who I really feel sorry for at a time like this. It's a horrible time to be an airline CEO, but I have great faith and confidence in them and the industry. I am looking forward to getting through this and enjoying the recovery phase that is clearly going to be an exciting time," he said.
Walsh has not been slow to make changes at the association. He has appointed a deputy director general, the first IATA has had. The group's Asia-Pacific chief, Conrad Clifford, has moved from Singapore to Geneva to take up the post. A search is underway for Clifford's successor.
"It has been an issue debated for many years. When I was on the [IATA] board the DG was often encouraged to appoint a deputy because the role comes with a lot of external commitments and travel. The view was it might be sensible to have somebody to deputize, either to travel on behalf of the DG to represent the DG or run the shop at home when the DG is travelling," he said.
Part of Walsh's restructuring is making Geneva the centre of operations. Until now, IATA has had two principal offices: Geneva and Montreal. "In any organization it is difficult to justify two principal offices," Walsh said. "At a time of crisis like this you have to focus on your cost base so we are going to rationalize the focus on Geneva as the principal office. The main focus of the Montreal office will be engagement with ICAO (International Civil Aviation Organization) and other aviation parties that are based there. We will continue to have a strong presence in Montreal, but the executive function of the business will be in Geneva."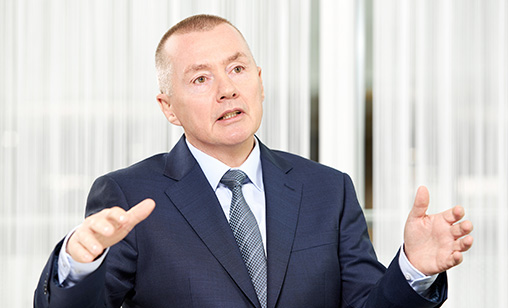 "Not comfortable" politicians fear backlash from relaxed travel restrictions


Walsh makes one issue clear. IATA will continue to fight long and hard to convince governments being aboard a plane is one of the safest places you can be during the pandemic and that restrictions such as border closures and quarantine should be eased.
"We have to continue to put the data in front of people. Most people want to be informed and make reasonable decisions based on their own risk assessment and their own risk appetite. We are not saying there is zero risk. There is risk in everything. I think that's the difference. In our industry we manage risk. That's the very basis of the industry and how successful and secure it is," Walsh said.
"We understand the nature of risk. We are all the time assessing it and ensuring the measures we have in place are sufficient to mitigate against the risk that we have identified.
"Politicians are less comfortable with risk. They don't like being accused of making the wrong decisions. We have to keep putting the data out there and keep showing the evidence. We have to be challenging the restrictions."
Willie Walsh, International Air Transport Association director general
As for the pandemic, Walsh does not think it is going on longer than airlines expected. "What is going on longer than expected are the restrictions on international travel. Like all sorts of viruses I assumed we would end up living with this one as we live with other viruses. I think governments have continued to take an extremely risk averse approach to this, particularly in the Asia-Pacific," he said.
He pointed to seven-day averages of daily COVID cases. "Mid last month, the world was at 57.6. Yet Australia, before the recent outbreaks of the Delta variant, particularly in Sydney and Melbourne, was a mere 3.18. "Yet the UK is removing all restrictions. What we are seeing is a completely different approach from governments. Some are basing their decisions on the data, but others have adopted a zero COVID approach, including probably most of Asia and Australia and New Zealand in particular," Walsh said.
"In countries with high levels of vaccinations, governments are more willing to acknowledge the pandemic is just part of our lives and vaccination is the key to enabling people to return to a more normal environment."
Walsh also is disappointed at the failure of governments to co-ordinate responses to the pandemic, particularly testing. "You have agencies like the WHO (World Health Organization) and ICAO. They come out with measures they believe should be applied on a global basis yet governments are looking at them and then doing the wrong thing," he said.
"I keep highlighting the EU (European Union), 27 countries you would have thought could co-ordinate testing regimes. Instead, there is every combination of testing you could imagine.
"Some require PCRs (the test used to detect a person has COVID-19), within 24 hours of travel, others 48 hours and even 72 hours. Ten countries think it is safe to do a PCR within 72 hours. What do the the other 17 see that makes them do something different? This is extremely frustrating and very confusing for travellers.
"People read the restrictions applicable to their country and assume, rationally so, there will be similar if not the same measures in other countries. They are often frustrated to find a completely different regime. It has been not just disappointing but one of the issues we really do have to challenge.
Asia-Pacific priorities for recovery


• Acceptance by governments that COVID-19 is part of daily living in the same way as the common flu is accepted
• Bringing governments together to establish global standardised testing and "vaccine passport" travel documents for travel worldwide
• Challenge of re-establishing pre-pandemic route networks especially if air passenger demand takes off at faster levels than airlines can accommodate
• Managing repayment of global airline debt, estimated to be US$650 billion at present and still to stabilise
• Cash flow curtailed as airline customers are not booking ahead fearing sudden flight cancellations or new imposition of border closures and unanticipated or sudden extended quarantine regulations at borders
"It's the same virus everywhere. This is a common virus. There should be common measures taken to address it. The world has to learn because this virus is not going to go away, the same way as the flu has not gone away. Flu mutates every year. We take measures to address that every year.
"When we get through this, looking back on it, there is a lot not just the industry needs to learn, but governments need to learn. You would expect global organizations like WHO, the United Nations and ICAO would pull together and address this situation in a co-ordinated fashion."
When recovery does come, Walsh believes re-establishing networks will be challenging for airlines. "We are used to dealing with challenges. We are used to managing rapidly changing requirements when it comes to security or safety issues," he said.
"We can cope with it. We would prefer not to have to, but there are a number of factors that will be on the minds of CEOs. All airline balance sheets have been very much stressed. The level of debt for the industry globally we estimate to be more than $650 billion, up from $220 billion since the pandemic started. That will increase," Walsh said.
"People will have been shocked as they saw liquidity significantly tighten during the first three or four months of the pandemic. We had all been hoping things would start relaxing and airlines could start building up cash reserves again.
"You will see a cautious approach being adopted by many airlines because the key for a lot of carriers is their costs have significantly reduced, principally because they are not flying. We are avoiding fuel costs, which is the single biggest cost. Labor costs have been significantly reduced with a lot of countries providing employee support.
"These costs will come back very quickly as airlines build up their networks. I expect a lot of them will be very cautious about how they re-establish their networks, which suggests there will be parts of the global network that will be lost and lost for some time."
Walsh cites a comparison between the current crisis and previous global economic crises in 2001 and 2009. In 2001, global airline industry revenues fell by 6.4% compared with 2000. In 2009, revenue collapsed by 16.5% versus 2008. In the current pandemic, 2020 revenues were down 56% against 2019. Despite these disastrous numbers, Walsh said carriers have done an incredible job in the face of massive losses by simply surviving the crisis and maintaining their commitment to sustainability goals.
"Airlines have demonstrated resilience from a financial point of view. Still, there are challenges for a lot of airlines," he said. "They have to be careful because there is this disconnect between cash flow of sales in advance of carriage. People are not booking in advance at the moment. And naturally, because they don't know when markets will open," he said. "So, you are going to see the traditional cash in and cash out dynamic change in the short-term.
"But the factor that is really positive is the focus on the environment has not in any way waned. It reflects the external reality that a focus on the environment has, if anything, increased as we have gone through this pandemic. The industry recognizes we have a job to do. I have been really impressed with the continuing investment by airlines in support of their environmental measures as we go through this crisis."