Defying industry odds
Orient Aviation 2021 Person of the Year, Korean Air (KAL) Chairman and CEO, Walter Cho, is steering the airline group through the worst crisis in aviation history with remarkable results. As rivals report plummeting profits, KAL is bucking the trend. But as associate editor and chief correspondent, Tom Ballantyne, reports, Cho insists KAL's team effort saved the day.
Walter Cho, Chairman and CEO of Korean Air, makes it clear. Read More » The Seoul-based airline group faced the same challenges and pressures as its industry peers in the last two years of pandemic crisis. "The pandemic has impacted every corner of our lives, especially the airline industry, and Korean Air was not exempt from major disruptions," he told Orient Aviation.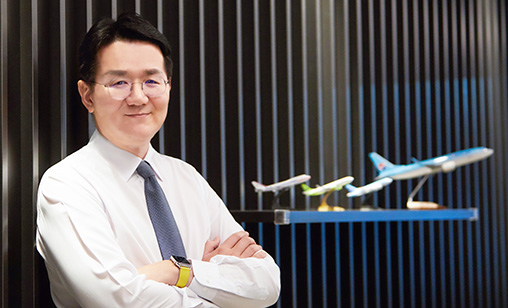 ORIENT AVIATION
PERSON OF THE YEAR 2021
WALTER CHO
Korean Air Chairman and CEO
"It was a few months into my leadership at Korean Air when the pandemic hit," Cho said. "Taking charge during this time was incredibly challenging. But we became nimble real fast. It was the strategy and skills of our all-star team that made us profitable for the past six quarters.
"We would not have been able to manage the crisis as we did without their hard work. All of our teams rose to the occasion. When passenger travel plunged almost overnight, our cargo business grew. We already were one of the world's biggest cargo carriers and we adjusted our operations to add focus to freight." Little surprise then Cho is "thankful and proud of the entire KAL team as it identified directions for growth and sustainability" during the crisis.
However, he points out the uncertainties in both cargo and passenger markets remain and there are other factors to consider, such as the Asiana Airlines acquisition. "We will continue our strategy of staying agile and making speedy decisions to respond to market demands. Cargo has been an integral part of Korean Air's business for the past 50 years and will remain so, going forward," he said.
Few, if any airlines around the world have reported such success in coping with the pandemic. KAL's latest results, announced in November, for the third quarter of its current financial year, maintained the trend with revenue of US$1.879 billion and an operating profit of $370 million, its best quarterly result since quarter three of 2016.
And while air freight clearly underpinned the positive numbers, the airline's passenger business improved 50% from the second quarter after it resumed and added more long-haul flights to its network. The carrier also experienced higher demand for domestic flights in the peak summer 2021 season.
Overall, 2021 has continued KAL's successful balance sheet trend that has marked out the carrier from its competitors. Most airlines were counting their losses from the ongoing pandemic, while KAL was reporting an operating profit of US$110 million for its first quarter.
In August, it announced a 31% second quarter profit increase, driven by record revenue from air cargo. Air freight continued to support the airline as passenger demand fell away.
As the international air travel recovery continues to be dimmed by pandemic variants and travel restrictions, KAL told Orient Aviation it will operate its network flexibly to manage all the difficulties the pandemic presents. Despite the challenges in customer operations, KAL increased passenger sales by operating chartered flights for repatriation and business and flights to nowhere.
But it may be some time before KAL's passenger and cargo fleet of 156 aircraft, mostly a mix of Airbus and Boeing aircraft, are back in the air after being grounded by COVID. In November, KAL had 30 aircraft parked. The latest information from KAL, when compared with 2019, reported passenger business at 29% capacity and weekly flight frequency at 15% of normal capacity over two years ago.
"Some of our passenger fleet has been converted to freighters to meet cargo demand. As of December, about 24% of our passenger aircraft remain grounded. As new COVID variants hamper restoration, we plan to focus on charter flights to meet intermittent passenger demand during the recovery phase," KAL said.
"We have been fortunate to remain profitable through the pandemic, a success story not shared by many in this industry," Cho said. "Our strong cargo operations have had a huge impact in achieving profitability.
"We also need to recognize the extraordinary cost-saving measures we have taken and our people who have agreed to these measures. Everyone has made adjustments. Our people have been remarkable in their patience and flexibility.
The Asiana acquisition will result in KAL acquiring another six A380s, but their lifetime will be limited. KAL will retire all of its A380s in the next five years. "It's [the A380] still a very young airplane. I think the oldest one is maybe seven or eight years. Maybe less, at five years," said Cho.
"We have routes that require large airplanes, especially at airports with limited slots, so we do need them. We will keep them for a little bit more, but it all depends on the cost of operations, especially the A380, with fewer and fewer airlines operating them. I do not know how much the cost will go up in the future. Whenever it's not rational anymore, I will look into retiring both fleets."
"It is not a simple matter of luck that we achieved consecutive profitability. We achieved what we have because of our team's sacrifices and hard work. I remain grateful for their continued loyalty during these tough times."
Bolstered by cargo operations and with demand prospects on the passenger front brightening, Cho has been quick to see opportunity in crisis. In what many in the industry regarded as surprise move, KAL set in motion acquisition of rival, Asiana Airlines, in a deal worth US$1.6 billion. While not yet finalized, Cho told Orient Aviation the merger process is proceeding as relevant approvals from all parties involved are completed.
"While I can't furnish details, I'm very optimistic we will receive the approvals we need. Once we have clearance from all competition authorities, Asiana will become Korean Air's subsidiary. The two airlines will be completely integrated as a single entity by 2024."
In November, Vietnam's Ministry of Industry and Trade was the latest government authority to approve the KAL purchase of Asiana when it said the business combination was in accordance with Vietnam's Competition Act. KAL has received clearance from the competition authorities of Turkey, Taiwan and Malaysia. The Philippine Competition Commission said the submission of a business combination report was not necessary. KAL is awaiting business combination approvals from regulatory bodies including the competition commissions of Korea, the U.S. the European Union, China and Japan.
KAL's relationship with SkyTeam alliance partners, particularly Delta Air Lines, has played a key role in the company's success in combatting the global market downturn. "Delta has been our most important strategic partner for the past twenty plus years. Together, we have created the most competitive and comprehensive trans-Pacific network. Despite COVID's impact on our industry, our partnership is robust and my long-term outlook is optimistic. I am confident our joint venture will thrive as travel recovers," said Cho.
"We have been fortunate to maintain a constructive partnership with Delta and our SkyTeam partners throughout the pandemic. We have not met often in person because of COVID, but remain committed to collective efforts to ensure the safety of our passengers.
"Together, we have launched SkyTeam's 'Skycare and Protect' campaign, an alliance-wide pledge to enhance safety at every step of the journey when traveling on or between [alliance] members.
One interesting outcome of the pandemic is growing customer demand for contactless processes and services, Cho said. "This has created an opportunity for us to be even more devoted to technological innovation," he said.
"We have enhanced our mobile and web check-in features and upgraded our website and mobile application platforms. We are the first full-service carrier to migrate our entire IT infrastructure to the Amazon Web Services Cloud system.
"This transition is creating a more conducive environment for IT innovation and is helping us improve our customer experience. It allows us to have more people work remotely and communicate more effectively with each other. There is no question technology is the backbone of our business and that Korean Air has the expertise and infrastructure to deal with technological changes and enhancements."
"The [SkyTeam]website tells you all you need to know about health regulations, border closings and testing and quarantine requirements. We also are committed to promoting the industry's sustainability and diversity goals with multiple alliance developments."
Cho said: "Alliances have benefits that can positively impact our industry's recovery. The strong partnership and cooperation between SkyTeam member airlines allows us to reinstate an expansive global flight network of flights once again."
The crisis has not dampened Cho and KAL's enthusiasm for sustainability. "Protecting our environment is a common goal. The airline industry has a responsibility and role to play in achieving net-zero emissions," Cho said.
"I believe technological advancements are essential to supporting our success in tackling environmental issues."
KAL is working to combat climate change by introducing Sustainable Aviation Fuels (SAF) and acquiring next-gen, eco-friendly aircraft. "We have ambitious targets but are committed to meet the industry's common goals," he said.
KAL's green initiatives include a partnership with SK Energy, a major petroleum and refinery company in Korea, to introduce carbon-neutral jet fuel. KAL has purchased a month of carbon-neutral jet fuel for domestic flights departing from Jeju International Airport (CJU) and Cheongju International Airport (CJJ) from the energy company.
In 2019, KAL replaced single-use plastics such as straws, coffee stirrers and cups on its flights with eco-friendly paper products. It also has initiated forestry renewal projects in Mongolia and China's Kubuqi Desert.
In July, it's environmental, social and governance management committee (ESG) issued ESG bonds to purchase eco-friendly B787-10s.
As the pandemic recovery quickens, KAL said it is well prepared for a highly competitive market, especially in its home country where the LCC sector is strong and growing.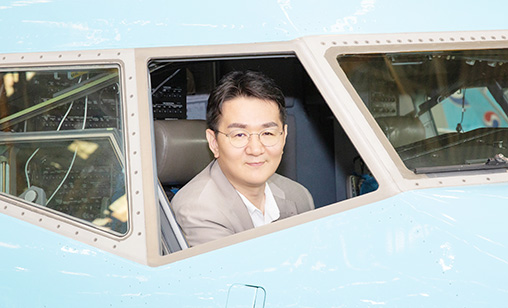 Exceeding expectations


Walter Cho was born in Seoul, South Korea in January 1976. Now 45, he was educated at Inha University an international institution of learning established by the Hanjin Group, the parent company of Korean Air, then the University of Southern California for his MBA.
Cho joined the Hanjin Group in 2003 and the following year was appointed Hanjin Information Systems & Telecommunication vice president. In 2004 he moved to Korean Air (KAL) as manager of the planning team in the operations and strategy department. He was appointed Chairman and CEO of Hanjin and KAL in April 2019 and elected chairman of the SkyTeam Alliance board in the same year.
Established in 1969, KAL is one of the world's top 20 airlines. It carried more than 27 million passengers in 2019, pre-COVID. The airline serves 120 cities in 43 countries on five continents and has a workforce of more than 20,000 in Korea and worldwide. Its global hub is Incheon International Airport in Seoul and its core businesses are passenger, cargo, aerospace and aviation maintenance and repair.
"The Korean LCC market was saturated. Pre-pandemic, LCCs were expanding their networks to include long-haul routes. With limited market share, LCCs have become more of a threat. The pandemic has shaken up the way the Korean aviation industry operates, but we expect competition to intensify once the effects of the pandemic wind down. We plan to maintain our post-pandemic competitive edge with our LCC subsidiary, Jin Air," Cho said.
While uncertainty pervades across the industry about recovery, Cho said Asia-Pacific borders are opening slowly but surely.
"It will take some time, but there is some momentum. The bilateral VTL (Vaccinated Travel Lane) agreement between Korea and Singapore started the flow and Thailand and Vietnam have commenced welcoming air travel from Korea," he said.
"These are all encouraging signs. We certainly are confident passenger travel will pick up and we will be there to meet the need. The VTL already has boosted travel. We also have resumed services to Honolulu, a popular vacation destination [for Koreans]. Business is coming back, slowly but surely.
"Our strong cargo operations have allowed us to stay profitable through most of the pandemic, but we want our passengers to come back. KAL's passenger business is the foundation of our operation. We can't wait to welcome them again."
Like everyone in the industry, Cho longs for a return to normality. "I recently realized how much I missed seeing people in person. Attending the IATA (International Air Transport Association) Annual General Meeting in Boston in person a few months ago confirmed this sentiment," he said.
"It was nice to transition away from Zoom calls and talk face-to-face with my industry colleagues. I felt we were one step closer to the normalcy we have all been longing for. I hope this trend continues."
Cho has utmost confidence in the future. "The pandemic, ironically, has given me a chance to reflect on what good leadership looks like in a crisis. I had time to think about opportunities for decisive action and honest communication and learned how our company operates from a renewed perspective," he said.
"Based on the lessons learned, I would like to see Korean Air evolve as a pioneer and a respected leader in the global airline industry with a sustainable vision and mission. I would love to see Korean Air become an airline loved by all."
All in all, the goal does not seem overly ambitious. Earlier this month, the Airline Passenger Experience Association (APEX) awarded KAL its top five-star rating for the fifth consecutive year, a record only achieved by 11 airlines, including market leaders Delta Air Lines, Japan Airlines, Lufthansa and Singapore Airlines. The award is based on customer feedback about the airline's seats, inflight and dining services and entertainment at more than 600 airlines from data compiled from an app,TripIt, that collects customer reviews. Passengers had especially high praise for KAL's first-class seats and inflight meals that incorporate seasonal ingredients.