Record jet fuel prices threaten Asia-Pacific airline recovery
As Asia-Pacific airlines fight their way back to financial health post-pandemic, their bottom lines are being battered by another drain on cash burn - the accelerating cost of jet fuel. Associate editor and chief correspondent, Tom Ballantyne, reports.
It's a no-win situation. Read More » As the region's airlines rebuild their networks and work towards restoring capacity to pre-pandemic levels, the more flights they are adding to their networks, the more fuel they need. And, mostly due to the war in Ukraine and market concerns about energy sources over which they have no control, the price of jet fuel has skyrocketed in the last six months with no end in sight to the spike.
Just how serious is this fuel price jump? While it has not yet come to such drastic action in Asia, OAG analyst Becca Rowland, in a report this month drew attention to the story of Nigerian airlines which announced the cancellation of all domestic flights in May due to the increased cost of jet fuel. A spokesperson for Airline Operators of Nigeria said: "No airline in the world can absorb this kind of sudden shock from such an astronomical [price] rise over a short period."
With fuel being the biggest percentage of operating costs for airlines, the near doubling of jet fuel will inevitably result in higher air fares and consequent dampened demand. "Almost certainly we will see more (fuel) surcharges and levies may rise," Rowland wrote. "Partly this is a function of rising demand for air travel as recovery gets underway. Therefore there is more demand for jet fuel, but also it is a result of supply side issues."
"Refineries, which have not had to produce the quantities of jet fuel that were required before the pandemic, must now increase production in an environment with competing calls on their capacity.
"While fuel surcharges are not welcomed by passengers, they remain largely hidden as travellers are presented with the all-in price. For airlines, fuel surcharges are an effective means to address the sharp increase in fuel costs [this year] and, rather than face yet more challenges to their financial recovery, allow them to offset the extra cost and help them return to financial health."
The statistics tell the sorry story. The International Air Transport Association (IATA) has predicted global airlines this year will spend $132 billion on fuel, accounting for 19.5% of operating expenses at around $67 per barrel of Brent. Last year, their total fuel bill was around $100 billion, up from $78 billion in 2020.
At the beginning of June, the cost of a barrel of Brent was $124 and the price of jet fuel rose above $170 a barrel, a 14-year high. According to IATA, the jet fuel price average for 2022 (year to date) is $138.3 bbl and the impact on the global airline fuel bill this year will be an additional $125.4 billion. While the average cost of jet fuel varies between regions, in Asia and Oceania at June 1 it was $162.33 a barrel, 116.8% higher than a year earlier.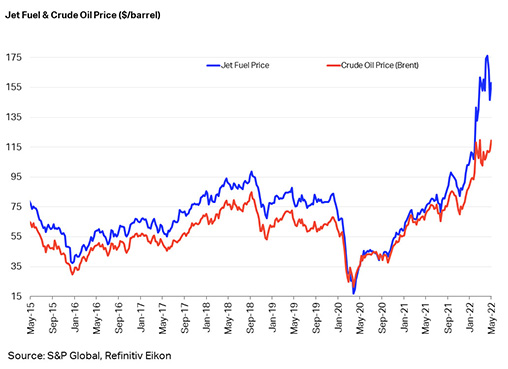 The impact on airlines of fuel doubling in price in such a short space of time was underlined in a recent IATA Airlines Financial Monitor. It warned the sharp increase in jet fuel prices was boosting operating costs and represented a risk to a recovery in profitability. It said the average monthly jet fuel price and Brent crude oil price continue to climb higher and are well above pre-crisis 2019 levels. "Many airlines have been voicing concerns about the impact of rising fuel costs – their largest operating costs – on their financial recoveries."
A report by market researchers, Mordor Intelligence, suggests fuel costs could be a factor in restraining airline growth in the Asia-Pacific. "The Asia-Pacific aviation fuel market is expected to grow at a CAGR (compound annual growth rate) of more than 10% in the forecast period of 2020-2025," it said.
"The growth in the Asia-Pacific aviation fuel market is mainly driven by the increasing number of flights and the increasing number of air passengers, on account of the cheaper air fares of recent times, stronger economic conditions and increasing disposable income. However, the effect of the COVID-19 pandemic, concerns related to carbon emissions and volatile crude oil prices are expected to restrain the growth of the Asia-Pacific aviation fuel market."
The impact of this volatility is showing up in airline financial results. In the first quarter of this year, Korean Air's fuel bill more than doubled from the year-ago period. The SIA group has reported group expenditure in its latest financial year increased 38.6%, or $967.5 million, to $3.5 billion. It said there was a $413.6 million increase (+70.2%) in net fuel costs, a $495.7 million increase (+25.1%) in non-fuel expenditure and $80 million from the half-on-half impact of the fair value changes on fuel derivatives. Net fuel costs rose to $1 billion, mainly on higher fuel prices (+$187 million) and an increase in volume uplifted (+$235 million), which was partially offset by a higher fuel hedging gain (-$83.6 million).
Looking ahead, SIA said inflationary pressures, in particular on fuel prices, remain a concern. "In comparison with the average jet fuel price of $90.31 per barrel (before hedging) for fiscal year 2021-2022, spot prices have moved up by more than 50% and were close to $150 per barrel, at early May. The Group will maintain appropriate cost discipline, even as operations expand in line with demand," it said.
Some Asia-Pacific carriers have eased their pain with fuel hedging. Hong Kong-based Cathay Pacific Airways has various hedging levels in place until next year. Singapore Airlines has 40% of its fuel hedged at $60 per barrel for the next five quarters. Air New Zealand had hedged 1.34 million barrels of oil in the six months to June 30 and 707,500 barrels in the following half-year period. Qantas Airways had 90% of its jet fuel hedged through to June 30 and 50% covered across the following three months.
Analysts say hedging strategies provide some short-term relief. But with oil prices not expected to come down anytime soon, once existing hedging contracts run out, a now well-hedged airline will face the same cost pressures as an unhedged airline.
There is another reason why the price of fuel is ballooning for many carriers, especially Asia-Pacific long-haul airlines. The Russian invasion of Ukraine has led to sanctions on Moscow, barring airlines from many countries from using its airspace. Even carriers not banned are playing it safe and avoiding Russian skies. This is a circumstance particularly critical for Asian carriers because many of them routinely flew through Russian skies.
Japan Airlines Flight JL43 from Tokyo to London, for example, uses a B777-300ER aircraft that burns roughly 2,300 gallons of fuel per hour. The flight to Europe, much of it over Russia, typically took around 11 hours 45 minutes from gate to gate. The new route, over the North Pacific, Alaska, Canada and Greenland, adds around three hours of flying in each direction. This pushes the journey time to almost 15 hours when bound for the UK. The rerouted JL43 flight -- which now heads east, adds 2.4 hours of flight time and burns around 5,600 gallons more fuel, a 20% increase.
Qantas Airways is not banned by Russia but it has ceased using the route as "a precautionary measure". Its nonstop 787 Darwin-London service previously took 16.5 hours. The journey is now an hour longer. Rather than take its previous route north over China, through Mongolia and across Russia, Qantas to London now tracks northwest, flying across Singapore and India, through the Persian Gulf, across Iraq and Turkey and over continental Europe to the UK.
With a hub in Helsinki and with Finland bordering Russia, Finnish airline, Finnair, is feeling the impact of avoiding Russian airspace. On its flights between Singapore and Helsinki, Finland's flag carrier previously could fly west in around 11.5 hours. But with new flight paths avoiding not only Russia but also Ukraine, each flight now takes up to 14 hours. That's 2-2.5 hours longer each way. Flights between Tokyo and Helsinki are causing even bigger headaches for Finnair. What took 9.5-10 hours before Russia invaded Ukraine, takes 13.5 hours. That's an extra eight hours of flying on every return trip!
As for fuel surcharges, their imposition is not universal. Some countries, such as the Philippines, have banned them altogether. When airlines include them in ticket prices, the percentage of the surcharge is higher on long-haul international routes, understandable given more fuel is used.
OAG gives the example of an Etihad Airways flight from Singapore to Abu Dhabi on July 23, returning on August 6, that will have a fuel surcharge of 24%. On the other hand, a Malaysia Airlines return flight between Kuala Lumpur and Bangkok has a surcharge of only 8%.
OAG's Rowland cited Japan as an interesting example of a changing situation. "Once upon a time, fuel surcharges were banned in Japan, but in 2017 they were allowed again but there was a cap on what could be charged, initially set at US$80. As pressure grew, the cap has moved up and may no longer exist. Japan Airlines publishes its fuel surcharges online and for April and May 2022 they range from a low of $14 for short international flights to a high of $157 for the longest flights. It appears that every two months they are revised based on the price of jet fuel. With rising fuel prices, they will increase to $32 up to $285 for June and July.
"The new higher fuel surcharges in Japan are interesting because in general the highest fuel surcharges are on routes that can bear them. In other words, airlines can successfully impose fuel surcharges where demand is sufficiently high that the effective increase in fares will not put off all travellers.
"Japan, however, has not seen demand recover, especially not in international markets. It remains almost closed for international tourists despite more than 80% of the Japanese population being vaccinated. Some non-tourism international travel is taking place but it is limited and international capacity from Japan remains 84% below May 2019."