South Pacific carrier plots post pandemic expansion to Paris
Aircalin, New Caledonia's flag carrier, has launched to Singapore, is still flying to Japan and intends to operate direct flights to Paris, CEO Didier Tappero tells associate editor and chief correspondent, Tom Ballantyne.
For Aircalin, the international airline of the South Pacific island nation of New Caledonia, navigating the pandemic has been a particular challenge because of its physical isolation. Read More » But it has survived and is charting a path of cautious growth. It is the story of airlines in small nations and especially the story of airlines operating from remote South Pacific islands such as New Caledonia's Aircalin CEO, Didier Tappero, told Orient Aviation last month.
"We need to have airlines. The big carriers do not have the same role. They come or they may not. That's why Aircalin was created. The bigger airlines came then they stopped flying or they changed their scheduling. They came twice a week, three times a week, four times a week. For the local people and the tourism industry it was a nightmare," he said.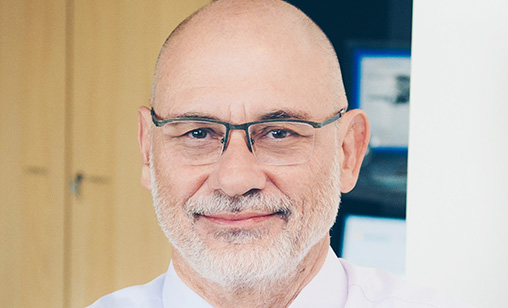 "This is a recovery year. I expect, and this seems to be the average period in the industry, we will recover in 2024. When I mean recover it is returning to what we did in 2019. That is our objective. This year we will make some losses, supportable by the company. It is hard to make some predictions, but my business model is based on some losses next year and to be in balance in 2024"
Didier Tappero
Aircalin CEO
And since its launch in September 1983, initially as Air Caledonie International until a rebrand in 1996, the carrier has faced plenty of challenges. "For us, when you are an airline like Aircalin you must have all the qualifications of a big airline. From a technical perspective, we operate under European and French regulations," he said.
"Even on the commercial front if we want to keep our customers we have to offer the same service, if not better, than competitors, than a Qantas or an Air New Zealand. That's a challenge for us to be at this level with a small number of aircraft."
It also must have the capacity to absorb fixed costs, Tappero added. "Your fixed costs, whether you are four, five or six aircraft, are more or less the same. The growth of your fixed costs is not in proportion to the growth of your fleet. That's the point. That's why we need to have some growth."
For Aircalin, 99%-owned by the Government of New Caledonia with the remaining 1% held by minority owners, including the airline's employees, there is another issue. Nickel rich New Caledonia is a former French colony 1,210 km east of Australia and 17,000 km from France. It was classified as an overseas territory in 1946 and gained special status in 1999 after a gradual transfer of power from France to New Caledonia began. It now has autonomous government, but strong links with France remain.
"In New Caledonia, we have the level of costs of a developed country because we are from Europe. So our costs are more equivalent to the big carriers or European carriers than the Fiji or Vanuatu carriers or whatever because the social costs are not the same," he said.
New Caledonia has one of the largest economies in the South Pacific. Its GDP per capita is higher than all other independent and non-sovereign countries and territories in Oceania. As a result, Aircalin can support a fleet of two A330-900 and an A320neo. It also flies two DHC-6 Twin Otter turboprops to another French-linked island territory, Wallis and Futuna.
It was fortunate, said Tappero, that Aircalin's fleet renewal began before the pandemic. The two A330-900s arrived in Noumea, the nation's capital, in 2019. Two A320neo were to be delivered to Aircalin in 2021 and this year, but the COVID-19 crisis forced a revision. Tappero decided to accept the airline's first A320neo in 2021, but deferred delivery of its second order of the type to September 2023.
"It is very beneficial for us to have new aircraft. Maintenance costs are cheaper and fuel consumption is around 20% lower. It is good for the planet and also is very good for the economy," he said.
At the outbreak of the pandemic, Aircalin was connecting Noumea to Australia, New Zealand, Vanuatu, Fiji, Tahiti and Wallis and Futuna. Its long-haul network had spread to Asia with a direct connection to Japan. Code-share agreements with Air France KLM, Japan Airlines, Qantas Airways and Air New Zealand offered around 100 global destinations to Aircalin's customers.
As was the case for all airlines, the COVID-19 crisis was a shock to Aircalin. "When it happened in March 2020, we thought it would last for a couple of months. We were thinking that by July we would recover. As it turned out, we were not able to begin to restart flights until the beginning of this year," Tappero said. Aircalin reported a 93% drop in passenger demand between March and April 2020, he added.
As well as being forced to defer delivery of the second A320neo, "positive talks" with unions resulted in salary reductions for employees and productivity improvements. It also reduced staff numbers by 20%, although no-one was sacked. It was done through a voluntary redundancy scheme "because I did not want to fire people. This was not in our company culture because they were good people". Tappero explained.
Funding arrived from the French State, which had put measures in place to assist the airline industry. The carrier managed to maintain 75% of its capacity by operating repatriation flights to bring New Caledonians home, including some 25 flights to Paris, as well as transporting medical supplies such as masks. It flew cargo flights between Australia, New Zealand and New Caledonia and was given government permission to continue some services to Japan so it could link up with Air France.
"With all of this combined, at the end of the day we were in balance last year in terms of results. Of course, the company has lost a lot of money, like any other airline, but we have been in balance even if we had our turnover reduced by more than 50%."
With the pandemic not over but with recovery certainly underway, Aircalin has taken its first step towards growth with the launch of flights to Singapore in July. The route is critical to Tappero's forward plans. The carrier's ambition is to operate all the way to Paris using its own A330s instead of passing passengers on to partner carriers. "The next step for Aircalin is the French market because there is a natural link between France and New Caledonia. Singapore will be an important hub to connect with many other airlines to an increasing number of destinations," he said.
Will there be another destination in Asia for Aircalin? "It is true that before the crisis we were working on three destinations; Shanghai, Hong Kong and Singapore," Tappero said. "We forgot Hong Kong and Shanghai was a bit more difficult than some markets, specifically because of some visa issues between France and China that do not make things very easy. We operated some charter flights to China pre-pandemic that had some success. So it might be a destination of the future for sure.
"But at this stage we have no plans for China and we selected Singapore. Anyway, if we wanted to go to China we would need to add supplementary capacity to the fleet. "With two A330s, we will not have enough capacity to fly to China. When you are on an island and a small airline you have to be very careful about what you can do and what you cannot do."
The additional capacity to open the Paris route may not be too far away. Tappero confirms there have been discussions with Airbus about a third A330-900. "We are working with Airbus to eventually order a third wide-body aircraft. We want to have the capacity to fly to Paris from Nouméa's La Tontouta airport, but it is still a project we have to work on," he said.
Returning staff to work as recovery continues has not been a major issue for the carrier. "There are many New Caledonian people who have been trained and are pilots and very happy to come back. It's not an issue for the cabin crew because it's a very popular job. It can be an issue with some technical people, maintenance people and even an issue for accounting people and back-office people," he said.
In July, Aircalin signed a contract with Airbus Asia Training Centre (AATC) in Singapore for flight crew training for its A320 and A330 pilots. Under the agreement, up to 35 Aircalin pilots will undergo recurrent training on both aircraft types to maintain their skills and qualifications. As part of the training package, the airline's pilots also can complete Airbus cross crew qualification (CCQ) training that prepares pilots already holding an A320 type rating to fly the A330 and vice-versa. Previously, its cockpit crew trained in Auckland and Melbourne and in Paris during the pandemic.
Unlike many South Pacific nations, tourism is not the major contributor to New Caledonia's economy. "It is not the first point from an economic point of view. New Caledonia is an island of nickel," explained Tappero. The island's soils contain about 25% of the world's nickel resources. The country also receives substantial financial support from France, representing more than 15% of GDP. Tourism is somewhat underdeveloped at about 100,000 visitors a year compared with 400,000 visitors to the Cook Islands and 200,000 to Vanuatu.
Nevertheless, "for Aircalin it is essential we work for tourism", Tappero said. "We work for New Caledonia. Roughly 50% of our revenue comes from the New Caledonia market. The other 50% is from Japan, Australia, New Zealand and the French market, which is important of course. Tourism is a necessity for New Caledonia but for Aircalin it is an obligation.
"It is important to develop tourism because it is a good way to provide employment for people. It is a fantastic place, but an unknown place in the world."
But ramping up tourism in the current climate is not easy because load factors have not recovered to pre-pandemic levels, Tappero said. "You have to put some frequencies on. We have done that, but it will be a bit difficult this year because load factor is not there again. It is increasing, but it is not at break-even point."
Amidst all this Aircalin, like all airlines, has been confronted by new challenges. "Now, we have another issue," Tappero said. "You know what the airline industry is like. We are never happy and there is always something happening. The day we were happy to restart flights the war between Russia and Ukraine broke out with all the consequences of it in terms of aviation.
"But at least, with the soaring cost of jet fuel and global economic damage caused by that conflict, Aircalin can find some comfort in the fact it is now operating a highly fuel efficient modern fleet."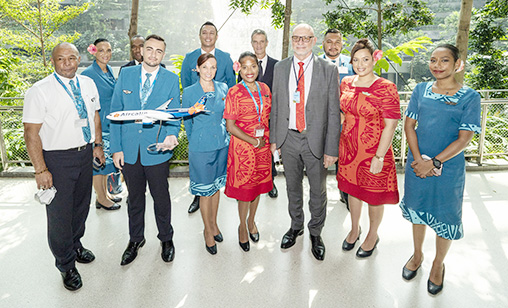 Aircalin's everyman CEO


For Aircalin CEO, Didier Tappero, finding employment in the airline business was a matter of necessity. At age 18 the native New Caledonian moved to France where he lived for seven years and completed a Bachelor degree Social Sciences at the Université de Tours. Returning to his island home in 1983 he arrived in a period of turmoil. Following a successful campaign to win independence in another French island territory, Vanuatu, in 1980, Melanesian nationalists in New Caledonia agitated for a similar outcome. The result was a period of "troubles", involving extraordinary confrontations in New Caledonia marked by hostage-taking, blockades and assassinations.
In the midst of this, Tappero was jobless. "My wife, a teacher, was working to feed me. So, I had to look at what I could do to earn a bit of money. I'm old generation so I did not like my wife to pay for me forever. I needed to find some work." That was when he saw the local airline was recruiting cabin crew. The rest is history.
"I did not do that for a long time, but clearly I fell in love with aviation. I did a lot of things after that but I am not a pilot and my maintenance director does not allow me to work on the engines. I would love to, but I cannot touch the engine. Apart from this, I did everything [at the airline]."
After his service as a flight attendant, Tappero moved through the ranks of the carrier - inflight services manager, ground services manager, executive vice president, ground services and cargo and executive vice president human resources. He was appointed to the top job in 2012.
He also has served several times as chairman of the Association of South Pacific Airlines, the region's airline advocacy body.