For Dubai Airports Corporation, which operates the UAE's two airport complexes, Dubai International Airport (DXB) and Dubai World Central (DWC), the onset of the pandemic was no different than it was for everyone. Read More » It was an absolute shock, the airport group's CEO, Paul Griffiths, told Orient Aviation earlier this month. "We went from hero to zero in virtually no time at all. We were closed for 45 days. In May 2020, we had the same amount of passenger traffic through the airports in the month than we had in four hours in the previous May. It was just cataclysmically bad," he said.
DXB and DWC closed to international passenger traffic on March 26, 2020, although the facilities continued cargo operations and flew more than 4,000 repatriation flights for around 450,000 passengers needing to return home, including UAE residents.
Restoration of scheduled operations was surprisingly quick. Emirates Airline restarted flights on June 21 and citizens were permitted to return to Dubai from June 22. Travel from Dubai to overseas destinations was opened from June 23 and international tourists were welcomed to the emirate from July 7.
DWC did not reopen until May this year, but it operated for a period to support the closure for refurbishment of one DXB runway. It will see action as it gears up for shuttle flights between Dubai and Doha for the FIFA World Cup in the final 10 days of November to December 18.
A little after two years of shutdown, "we have managed to achieve some amazing statistics," Griffiths said. "At the moment, the only factor holding us back is that transit markets are negatively affected by closed border protocols.
"Obviously, we are missing a lot of the Chinese traffic because the borders are still closed there," said Griffiths. The Chinese market is incredibly important, providing about 3% or 2.6 million passengers a year to Dubai. "It is a very significant number. It will help getting back to the Chinese market," he said. "Asia in general has been slower than the rest of the world. But everything is really quite significantly better than it was."
At press time, weekly passenger numbers through the emirate's airport are around 1.34 million or 84% of 2019 levels. Direct demand, that is passengers flying into Dubai and not transiting, is about 94.2% of overall 2019 levels. Transfer passengers have climbed to 72.4% of three years ago. "Those [closed] borders are a challenge and not every airline has put the amount of pre-pandemic capacity back into the market," Griffiths said.
'We are hoping the transfer market will pick up. Our forecast for the year is 64.3 million passengers, about 85%-90% of pre-pandemic numbers. By the end of 2023, we will probably be back at overall pre-pandemic levels if those transfer markets continue to recover."
Historically, Dubai's traffic has been 50/50 and up to 60/40 in favour of transfers. Now it's 60/40 in favour of direct traffic, which Griffiths describes as "an amazing turnaround and an amazing endorsement" of Dubai's popularity.
Just how rapidly recovery is gathering pace was revealed in the airport's latest official statistics. In the first half of 2022, to June 30, DXB traffic was 27.9 million passengers, up 161.9% year-on-year, or 67.5% of 2019 levels.
Interim passenger volume was near to full-year 2021 traffic at 29.1 million passengers. It is a milestone achieved despite a significant reduction in capacity from the 45-day closure of the airport's northern runway in May-June. The annual passenger forecast for 2022 has been revised up to 64.2 million travellers, although it is still way short of the 86.4 million passengers the airports processed in 2019.
How did Dubai beat the rest of the airport world in turning disaster into opportunity? "We were making decisions and moving forward far quicker than anyone else," Griffiths said. "For a start, the government embarked on a vaccination program for the entire country that was the most ambitious in the world.
"I think it was us and Israel that led the way on everyone in the country being vaccinated very, very quickly. Initially, we took fairly draconian measures to control the spread of the virus. We had curfews. We had mask wearing. We closed all restaurants. We did all of those things, but they were short and sharp, which was good.
"Within the airport we did masses of different stuff. We took immediate steps to protect our customers and our staff: PPE (personal protective equipment) and cleanliness of surfaces; initiatives to resolve problems and the perceptions people had about the transmissibility of the virus."
A key factor in the turnaround was reassuring people that travelling to and through Dubai was safe. "We said we do this at Dubai. We have vaccination programs. We have PPE. We have all these things. We will cover your medical expenses if you come here and you get sick. We have really good medical care with a rapid PCR test for everyone.
"We set up the world's largest PCR on site-testing laboratory to process the tests we had administered. I don't think there was any other airport in the world that coped with the testing regime. We tested on arrival. We tested on departure. We had enough capacity to do that and contrary to everywhere else in the world, all of the arrivals testing was free.
"Where lots of people were bandits and charging US$150 to US$200 for a PCR test, we were offering them free of charge on arrival. These measures gave us a reputational boost. We have seen that because traffic to and from the city has come back stronger than ever before. We are at 111% of our pre-pandemic numbers in visitors to the city. It's regarded as a safe haven now."
The airport worked very closely with its airline customers, its suppliers and staff to cope with the crisis. "We had to acknowledge we were not alone. Everyone was together in this crisis," Griffiths said.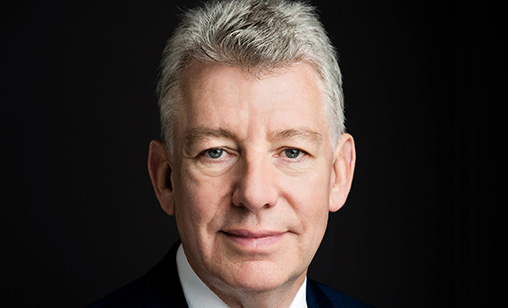 Dubai Airports CEO concedes he is an adrenaline junkie
Paul Griffiths is a maestro in more ways than one. Not only does he oversee the complex task of running the world's biggest aviation megahub, he is an organist who has performed in venues around the world including Westminster Abbey and St. Paul's Cathedral in London. In February 2019 he was at the organ's keys in Abu Dhabi for the Papal Mass marking the visit of Pope Francis to the Arabian Peninsula, the first Roman Catholic pope to do so.
It seems a long way from the 65-year-old's other passion, fast cars. He collects motorcycles and cars and is a regular participant in motorsport events in the UAE and overseas. Griffiths has even driven a Lotus Formula 1 car around the Hungarian Grand Prix circuit.
Organ playing and car racing? Not so far apart, Griffiths told Orient Aviation. "Basically, I think my life is full of adrenalin. The adrenalin of running a very complex airport. Having been on both sides of the track in the airline business and now in the airport business, the airport business is far more complicated than running an airline. I can tell you that," he said.
"So I think the complex job is based around adrenalin. And if you actually look at the music I play, that's also full of adrenalin. Some of the repertoire I perform is quite demanding.
"It needs a huge amount of energy and adrenalin as well. And my motor racing interests are similarly filled with adrenalin. That adrenalin is the common drug that joins them altogether."
Married to composer Joanne Marsh, the father of three told Orient Aviation he has four quadrants in his life: his hobbies, his professional life, his music and, most important of all, his family. "I'm happiest when the crosshairs of those four quadrants are exactly in the centre."
A confessed "transport junkie" and interested in "anything that moves" he has a restored Hawker Sidley GR1 Harrier (Jump Jet) which is on display at Brooklands Museum in the UK.
"Restoring that jet fighter was one of the most rewarding things I have done. I did not do it personally, but the people I employed and the project I managed was just incredible," he explained.
Neither is there any thing hobby-like about his music. "I have an organ in my house in the UK and an organ in Dubai. I play concerts all over the world. I fixed a date yesterday for New York. I will be going to do that next April. I have, hopefully, a concert series in Australia and New Zealand I will try to fit in next year," he said.
Professionally, Griffiths entered the travel industry in 1977 as a contracts executive with the OSL/Wings travel group, which was owned by the Rank Organization. He moved to Hong Kong in 1986 and became Marketing Manager of the then start-up airline, Dragonair. In 1989, he returned to the UK and established a software company that developed proprietary information management systems for the airline industry. One of his contracts was with Virgin Atlantic. In 1991, Richard Branson asked him to join the airline as its executive director, commercial.
In his ten years with Virgin, he was responsible for the strategic growth of the airline and many of its notable commercial successes, including the sale of 49% of Virgin Atlantic to Singapore Airlines in 2000. In 2001, he became a board director of the Virgin Rail Group.
Three years later he joined BAA (British Airports Authority) and in 2005 became chairman and managing director of London's Gatwick Airport. He was appointed by Sheikh Ahmed bin Saeed Al Maktoum as the first CEO of the new Dubai Airports Corporation in 2007.
"We established a simple principle with our customers, our suppliers and our staff. It was "that we were not going to transfer the financial and social pain we are all suffering. We are not going to transfer it from us to you. Nor are we going to accept the transfer of pain from you to us. What we will do is work very hard and very diligently to share the pain with you'."
Contracts with suppliers were renegotiated, removing nearly a billion Dirhams (around $272 million) from supply chain costs. "We have not put lots of those costs back in. They have been negotiated at the height of the crisis and we have retained the benefits from them which is really good," he said.
"We quickly reached agreements with airlines to waive landing and parking charges, scaling the costs of the business so it was affordable and relevant to operations. With staff, the airport took a large majority of its customer service staff, cleaning staff and maintenance staff and agreed long-term contractual arrangements with third party contractors.
"Basically, we said to third party contractors take these people and put them onto a contract we can stretch out over a long period of time. Use the down time to train them and when the airport bounces back, which we knew it would, we want them back quickly and better trained.
"We did stand down some employees. We took the opportunity to scale back, particularly at management level. We did reduce quite dramatically – about 34% of our staff - but the large majority of them went to third party contractors."
Griffiths said the structures the airport put in place during the crisis were a big risk. "We did not have all the data to make the rational decision, but we came to the point where we just had to make the decision and hope that it would have a good outcome." he said.
"I believe it has been a good outcome. We ended up in a situation where we could react quickly and with scale as soon as the recovery came. We knew it would be strong. We just did not know when it was going to happen.
"We had exactly the right structure to react appropriately when traffic did come back. We have had no resource problems, no shortages and no shortcomings in customer service. We have been able to reactivate the airport and take the operation back to scale incredibly fast. Compared with a lot of airports around the world, everyone was wondering how we did it. How did we manage it? It was because we structured the success in the future and managed the problem of the day."
"Customer needs were changing. Staff needs were changing," Griffiths said. "People needed reassurance they were not going to become ill if they travelled. Before, it was about Wi-Fi speed, the quality of duty free shopping and the price of the food at outlets," he said.
"All of those disappeared. Number one, it become can you reassure me that travel rules, which were being revised all the time, will allow me to take this trip and return home safely as scheduled.
"Secondly, can you guarantee I will not get sick when I travel? It became all about that. So we were able to put the testing in place. We were able to reassure people Dubai was a safe, clean and medically safe city to visit. We made the travel journey as seamless as we possibly could. Recognizing customer needs had changed was absolutely fundamental to making everything else work effectively."
"What have we learned from the crisis? Firstly, the hope that governments will work together to establish common standards for safe global travel is unlikely. I was highly sceptical of it from the word go and my scepticism was well-placed."
"What we saw, and it was probably one of the most difficult issues of the entire pandemic, because it made the pandemic last a lot longer, were the ever-changing travel restrictions governments imposed on travel. Largely, they were not based on medical advice. They were whimsical political statements plucked out of the air, more to sustain fragile democratic majorities than to protect the travelling public and make travel possible again.
"That was the very lamentable realization quite early on that persisted pretty much all the way through the pandemic. The second lesson we learnt was a crisis always favours the bold, the innovative and people who see and do things differently."
Griffiths dismisses suggestions from some quarters that video conferencing will replace flying and that new high technology aircraft, able to fly longer distances, will result in overflying Dubai rather than landing there. On the latter, he points out the same forecasts were made when the B747-400 was launched. "Everyone was thinking, 'oh well that's the end of the Middle East as a transport hub'. In fact, the Middle East then evolved its own aviation model, becoming a hub in its own right. We have been very adaptable at moving forward," he said.
People "can't get enough of flying"
"I will paraphrase Newton's third law: for every action there is an opposite and equal reaction. We knew for every downturn there was going to be an equal and opposite upturn.
"I have been in this business long enough to know every crisis is followed by a pretty strong and immediate rebound. Travel is an aspirational commodity. Everyone loves to travel and I think it has become almost in Maslow's hierarchy of needs (essentially what needs people have that take precedence over others) pretty close to the top now. In most people's agenda the freedom to travel has become a phenomenon over the last 50 years that people can't get enough of."
"People really missed it and they could not get enough of it when it became possible to travel again".
Dubai Airports CEO, Paul Griffiths
Also, the view that point-to-point traffic on longer haul routes will displace the importance of hubs is not a logical extrapolation of route networks, Griffiths insists. "Let's take a city pair out of the air. Chiang Mai to Nairobi. Could you ever imagine there would be enough people in Chiang Mai or Nairobi wanting to travel between those cities in a single hop? And even if this was so, what size airplane would you put up?" he asked.
"The answer is (a) demand would be small, and (b) you would never have enough traffic for the route to be sustainable or profitable. However, if you put people on a service from Chiang Mai to Singapore and from Singapore to Nairobi you can easily sustain a daily service because the number of connecting opportunities people arriving from Chiang Mai and people arriving from Nairobi would have through Singapore are considerable.
"The same applies to Dubai. If you offer it as a hub you can bring people to the hub and then disperse them to literally thousands of different unique city pairs never available on a point-to-point route.
"I just don't buy the argument hubs are dead and point-to-point traffic will replace them. It's never going to happen."
As for the challenges ahead, Griffiths said if we could all move in lock step towards the same point, it would be easy. "Obviously, markets are recovering at different rates. The difficulty we have is some markets are slower to recover than others. We have the capacity and the aircraft to serve more markets than are commercially viable at the moment," he said.
"The second issue is a worldwide shortage of cockpit and cabin crew. So many of them have left the industry and pursued new careers. Replacing them and recertifying aircraft that have been in storage are obviously big challenges. Actually, we have to look at this."
Griffiths said many airlines and airports made huge cutbacks in staff during the pandemic and are struggling to remobilize. "If you look at BA (British Airways), Heathrow and some of the American carriers, their traffic has rebounded and demand is there. But they are having huge problems recovering their operations to satisfactory levels. It has been a real problem," he said.
Carriers that were more resilient during the pandemic – he counts Emirates and FlyDubai among them – will fare better post-pandemic, he said. At press time, FlyDubai is operating at 144% of pre-COVID capacity.
"It shows how strongly they recovered from the pandemic. The competitive landscape has changed. We have to do more to reassure our customers about the quality of service we are providing. We have to make absolutely sure people want and choose to fly a combination of Emirates and FlyDubai and use our airports rather than going through Istanbul, Doha, Abu Dhabi, Frankfurt or other places.
"We have to offer them an end-to-end journey so compelling that people will only want to fly with us and people will continue to want to use the service we provide."
While the pandemic held back growth at Dubai's airports, Griffiths is confident about their potential because planning for expansion has begun. "In fact, I have a proposal on the table for the consideration of our board by our chairman. It advocates significant investment in aviation infrastructure in the next few years planned to get us to the traffic numbers we were seeing originally," he said.
"Of course, it is dependent on lots of other factors: growth in aviation based on global GDP, the availability of aircraft necessary to support that level of growth and our ability to provide the appropriate airport infrastructure to support it.
"There are many things that will have an impact [on Dubai airports] in the next few years. But we remain optimistic. Maybe it will not be at quite the scale we saw [pre-COVID], nonetheless you can rely on Dubai being a very influential and pre-eminent global hub for some considerable period of time."