As business began to pick up after an easing of travel restrictions, most airlines adopted a cautious approach to recovery, slowly matching capacity to demand. Read More » Not at Singapore Airlines. As a "deliberate action", explained SIA Group CEO, Goh Choon Phong, the group's airlines have been deploying capacity ahead of demand.
Even when Singapore itself was closed, the carrier group carefully monitored border restrictions across the globe to determine how SIA could capitalize on developments. "Some of the early opening was not from Singapore. It was in Europe and all that, " Goh said last month.
"So, we were looking, for example, at how we could leverage some of our fifth freedom points to deploy our aircraft to carry that traffic. But the real brick of course, being based in Singapore, was when Singapore began to open up.
"It started with the VTL (Vaccinated Travel Lane) in September of 2021. That subsequently led to the general lifting of restrictions by Singapore in April of 2022. Every step of the way of opening we were actually deploying capacity ahead of the market.
"If you look at Asia-Pacific airlines throughout this period, even to today, we are 30 points above Asia-Pacific airlines in general for international traffic in capacity relative to pre-COVID."
The strategy has paid off big time. In November, the SIA Group announced its highest interim and quarterly operating profits in its history, a record S$1.23 billion (US$890 million) for the half year and an S$678 million (US$491.6 million) quarterly operating profit. Proactive fund raising, talent retention and resource deployment initiatives positioned the Group to capture the surge in travel demand, said the airline. SIA's latest operating results, for October, clearly show the remarkable steps forward it has taken.
Capacity for the month was 96.3% higher than the same month a year ago. Passenger numbers were up 829.8%. Load factor was 86.5%. At LCC subsidiary, Scoot, capacity increased 185.7% and passenger numbers jumped 2,914% for the 31 days. The LCC's load factor climbed from 7.7% a year earlier to 86.2% for the month.
Goh (59), who was appointed SIA CEO in January 2011, explained to Orient Aviation in Bangkok that capacity recovery, in relation to pre-pandemic levels in 2019, is not uniform in all regions. "In some regions like the U.S., we have actually gone beyond 100% of pre-COVID capacity," he said.
"On the whole, for this quarter, which is October-December, we expect capacity to be about 76% of pre-pandemic numbers. But in December itself it is forecast to reach around 80%."
China is another market where SIA is being proactive. "It is still closed, but we are adding capacity because we know it is not just lack of demand. It is artificially being constrained. Many of the passengers boarding SIA flights are Chinese travellers who, for one reason or another, have to leave the country and then return," he said.
SIA and Air India to merge carrier


Subject to regulatory approvals in Singapore and India, the SIA Group is on track to acquire 25.1% ownership of a revitalized Air India in one of the most exciting potential markets for commercial aviation in the world.
On November 29, SIA Group CEO, Goh Choon Phong, and Tata Sons chairman, Natarajan Chandrasekaran, announced the two parties had agreed to merge Air India with former rival, Vistara, with SIA Group to inject US$250 million into the new entity. The two parties aim to complete the merger by March 2024. To date, joint venture Vistara has been 49% owned by SIA Group with the Tata Sons conglomerate holding the remaining 51%.
The acquisition will give SIA, within the enlarged Air India Group, "a significant presence in all key markets", SIA said.
"Through this transaction, SIA will reinforce its partnership with Tata and immediately acquire a stake in an entity that is four to five times larger in scale compared with Vistara," SIA said.
"This merger will bolster SIA's presence in India, strengthen its multi-hub strategy and allow it to continue to participating directly in a large and fast-growing aviation market."
Goh said: "We will work together to support Air India's transformation program, unlock its significant potential and restore it to its position as a leading airline on the global stage."
Tata's Chandrasekaran said: "We are transforming Air India, with the aim of providing a great customer experience every time." The bankrupt government-owned Air India was acquired by Tata's in January this year.
Air India has valuable slots and air traffic rights at domestic and international airports not available to Vistara since it was established in 2013. It has greater access to the fastest growing economy in the world and is the world's third largest aviation market.
Including Air India Express and AirAsia India, Air India and Vistara have a fleet of 218 wide-body and narrow-body aircraft operating to 38 international and 52 domestic destinations. SIA said "India remains underserved with low international seats per capita, signifying significant growth potential".
"With a huge population and so little international capacity it is another reason to add flights to capture a share of the market to and from China. SIA also operates passenger aircraft for cargo missions to China, which in some cases will help it pick up slots that can later be converted into passenger operations."
As for the pandemic itself, Goh describes it as "without precedent" and said in his 32-year career in Asia and with SIA he has never seen anything like it. Speaking in Bangkok during the Association of Asia Pacific Airlines (AAPA) Assembly of Presidents last month he said: "When Wuhan shut down we thought things could get worse. Of course, we did not know how bad it would be.
"That was in January 2020, but the very next day we started crisis management to see how we could manage the potential impact on our customers."
Cash flow was "humungous because the traffic virtually disappeared overnight. By April, we carried 11,000 people on the entire network, 99% below the passengers we usually carry in a month. It is quite sad to see all the planes parked," he said.
From the outset, Goh knew the airline group needed funding support. "At that point, we did not know how long it [COVID-19] would last and there were all kinds of theories. Some people said it would be like SARS (2003-2004) and be over in a few months. But nobody really knew," he said.
"We decided we wanted to raise enough money to last us for a long time. Long enough to outlast the crisis, the pandemic. We went for S$15 billion (US$10.9 billion). It was a big ask I have to say. It was more than our market cap at the time. We wanted an amount that would outlast the pandemic and, very importantly, to give peace of mind to all of our colleagues, to make sure the organization could focus on handling the crisis because a lot of things were going on during that period.
"You can imagine S$3 billion (US$2.2 billion or S$4 billion (US$2.9 billion) would have been much easier to raise than S$15 billion. Anyway, we went ahead and asked for it. We were very fortunate to win the support of our shareholders. Not just from Temasek (the Government investment arm that is the major SIA shareholder), but all the other minority shareholders who backed the fund raising. The rights raising was oversubscribed. This gave us the ability to attract more money from other means such as sale and lease back. We issued bonds and notes and used other avenues for raising funds, a total of S$22.4 billion. It put us in a very strong position."
At the same time, SIA worked on changing processes to prepare for very different demands from customers. It looked at every single step along the customer journey, more than a hundred points, to ensure any customer concerns were addressed. It also started to talk to major suppliers, the OEMs (Original Equipment Manufacturers) to defer aircraft deliveries and payments. "We moved about S$4 billion (US$2.9 billion) of aircraft payments in the first year of the pandemic," Goh said.
Staff also made sacrifices, taking no-pay leave and pay cuts. "Eventually, some of them had to leave. Let go. But we kept that to a minimum. We did not do our retrenchments until September 2020, quite late relative to many airlines. The intention was to keep our core operating resources as intact as possible so we could bounce back as soon as possible," Goh said.
"We did not know when the recovery would take place, but we knew it would come at some point and when it came the pick-up could be very rapid. These were the expectations. We did not know if that would be the case, but we were determined to be the first off the block if it did happen."
Something else SIA Group has achieved is speeding up the decision-making process. "It used to be the case that for something to receive approval at my level it went through about seven levels. We determined this was not good. We decided anything that required approval at my level must not be more than three levels. That cut out a lot of bureaucracy."
At the same time, the group began its second transformation, to determine its goals coming out of the pandemic. "Looking back, you can see we came out dynamic, more resilient for sure, more agile. We can make decisions very quickly. Look at the way we deploy resources, whether it's up or down. And also be more innovative," Goh said.
SIA Group's Asia destinations to exceed pre-COVID capacity by 2024


In late November, SIA Group announced increased flights to North and Southeast Asia in 2023 and boosted A380 services to Australia from next March to October.
From March 26, SIA also will operate daily A380s between Singapore and Hong Kong and from October 1, add daily A350-900s flights, with two rotations, between the two cities, bringing SIA daily services on the route to four.
In the same month, SIA will rebuild Singapore-Taipei frequency to 14 times weekly by May 31.
In North Asia, from May 1, the airline will have returned Singapore-Osaka to double daily, restored Singapore-Seoul Incheon frequency, accumulating in four times daily, and rebuilt Singapore-Busan to four times a week,
In Southeast Asia, Singapore-Phuket will become four times a day with 737-800NG from March 26 and Singapore-Bangkok will operate five times daily with A350-900s by October 1.
In the South West Pacific, SIA's A380 will return to Melbourne after four years, on May 16, up gauging from 777-300ERs, and Singapore-Sydney will operate a second daily A380 service from mid-May.
Elsewhere in its global network, SIA Group will down gauge the A380 from some North American and European destinations, including one-stop via Frankfurt to New York JFK and Newark, Los Angeles either nonstop or via Tokyo Narita, Seattle and Manchester in the UK.
Singapore-Manchester-Houston will be reduced to three times a week from March 28, and Singapore-Manchester will be launched twice a week from April 2.
"SIA remains strongly committed to the North American market," the airline company said in a November 22 statement. "Even with the network adjustments, the airline will be operating a higher seat capacity to the U.S. compared to pre-pandemic levels."
"The amount of innovative digital solutions we have put in place to help manage the new expectations of customers during the pandemic is quite amazing."
The critical factor to rapidly react to recovery was undoubtedly because SIA kept its operational resources in readiness. "Although we were operating at much lower capacity than pre-COVID, we were utilizing a lot more of the resources than necessary. This is really about crew and aircraft resources. The key reason is we positioned these resources to be ready operationally ahead of time. The utilization would be much lower but they were being used," Goh said.
"When we were operating about 50% of our pre-COVID capacity we were using almost 100% of the resources. So they were actually rotated, being used and could be operational any time we want to have more capacity.
"The outcome of all that is that when demand comes back we will be among the first, if not the first, to deploy capacity and we are able to capture this pent-up demand. You can see that in our latest quarter results with record revenue, high load factor and record operating profits."
Goh said it has not been just about managing the crisis or getting ready to be first mover when full recovery comes. "It's also about preparing ourselves for the future. We continue to invest in bringing in new aircraft types and continue to upgrade our products.
SIA is the launch customer for the A350 freighter with an order for seven. "The A350 freighter is not just an order. It is a freighter we pushed very hard for. If you talk to Airbus I believe they will acknowledge that. As the launch customer we also are helping Airbus to refine some of the design requirements to make it commercially more efficient to operate."
Singapore Airlines has an operating fleet of 131 passenger aircraft and seven freighters. Scoot has 55 passenger aircraft. The group has 54 A350-900s with four more on order and seven A350-900ULR (Ultra Long Range) aircraft. The ULR airplanes used to operate non-stop from Singapore to Los Angeles, Newark and San Francisco. A fleet of 15 A380s has been reduced to 12 as a result of the pandemic.
SIA is the launch customer for the B787-10. It has 15 and 13 more on order. It also operates 26 B777-300ERs. On the single-aisle front, the fleet includes B737-800s and 15 B737 MAX 8, with 22 on order.
SIA is continuing to examine ways it can leverage its multi-hub strategy - part of its first transformation - particularly India. At press time, it announced its joint venture India carrier, Vistara, will be merged with Air India, the flag carrier embarking on a transformation program under new owner, Tata Sons, and CEO, Campbell Wilson. Before his appointment to the top job at Air India, Wilson was on his second stint as CEO of Scoot, the SIA LCC he launched near a decade ago.
"Look at India. It's a huge base with huge growth. In some sense, we identified this more than a decade ago. It is the reason we invested in Vistara. It got us a place at the table to talk about how we could participate directly in a more effective manner in the growth of India. Vistara is more than 100% of pre-COVID now. That's how fast the market is growing," he said.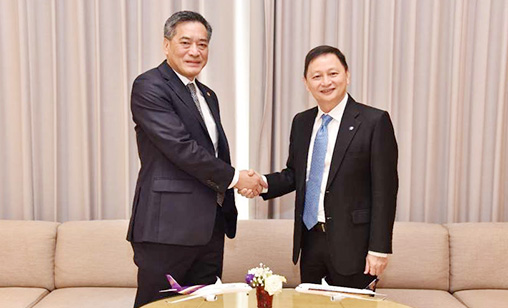 Thai Airways and SIA sign expansive strategic partnership


It was a very busy four days indeed for SIA Group CEO, Goh Choon Phong in late November and early December.
On November 29, it was announced the airline and the new Air India owner of 11 months had agreed to merge the former India flag carrier with joint venture Vistara. Full-service India-based Vistara, which began flying in January 2015, is 49%-owned by SIA and 51% by India conglomerate Tata Sons.
With a stroke of their pens, in an development that will greatly influence the future of commercial aviation on the sub-continent, the two parties agreed SIA will inject US$250 million into the merged airline in exchange for 25.1% equity.
As the market absorbed the impact of the merger, subject to regulatory approval, Goh already was preparing to sign a strategic partnership with Thai Airways International (THAI), up the road in Bangkok.
On December 2, acting THAI CEO, Suvadhana Sibunruang, and Goh shook hands on the establishment of a strategic partnership. The sweeping Memorandum of Understanding details the plans of the two Star Alliance carriers to progressively code share "more extensively on each other's services and explore wide-ranging commercial collaboration".
Initially, in the first quarter of 2023, the two carriers will codeshare on each other's flights between Singapore and Bangkok. THAI also will place its code on SIA's routes to Cape Town, Johannesburg, Houston, Los Angeles, JFK and Newark in New York, San Francisco, Seattle and Vancouver if regulators approve.
"Additional codeshare arrangements to points in the networks of both airlines will be explored to support increased connectivity to Thailand and Singapore," an SIA statement said, "as well as points in Europe, India and the South West Pacific."
Goh said: "SIA and THAI have had a close relationship for many years, which we aim to strengthen through this comprehensive agreement.
"Both airlines have a loyal customer base as well as extensive operations within Southeast Asia and around the world.
"This is a win-win opportunity to support the growth of our perspective hubs and enhance the options and service offerings of our customers."
"I am glad this cooperation between the two airlines will certainly cater for demand of travellers between Thailand, Singapore and beyond," THAI's Suvadhana said.
"It will enable expansion of THAI's network" and "greatly benefit our customers, including the frequent flyer program, lounge access and airport ground services."
Like all airlines, the pandemic had added to SIA's debt levels but Goh is unconcerned. "The interesting thing for us is you can see our cash flow is now so strong. Already we are paying back our first tranche of MCBs (Mandatory Convertible Bonds). That is one," he said.
"The second is we raised those funds at a very early stage, S$22.4 billion in total, including the S$15 billion. We raised it at a very attractive pricing point. If you look at interest rates today we are actually in positive territory. Debt is not too big a concern when the interest you are receiving from that money is more than you need to pay."
Despite the crisis, SIA Group has prioritized goals for decarbonization, declaring operating a young fleet of modern aircraft is the most effective and direct way for an airline to materially lower carbon emissions in the near-term.
Goh said Sustainable Aviation Fuel (SAF) remains a key part of the industry reaching net-zero emissions by 2050 but pointed out questions remain about supply and feedstock, particularly in Asia. "We are talking to many people, exploring many different outcomes for the use of SAF, but there is no definitive way of securing SAF," he said.
Interestingly, when Goh was asked if the group would involve itself in SAF production, he did not dismiss the idea. "To me, we should always look for opportunities. We have been actively seeking new revenue streams. I would not rule out being involved in some kind of revenue stream related to SAF. SAF could be one of them. Whether it's production or not, I don't know, but I am saying we are definitely keeping our minds open on this."
Not surprisingly, the onset of the pandemic put extreme strain on the airline's management, including Goh. "The worst pressure was at the beginning. We did not know if we could survive. We were burning S$300 million (US$217.5 million) to S$400 million (US$290 million) a month. That was without paying for aircraft," he said.
"Put that on and it's a lot more. We decided we wanted to do what was right by the customers, which meant if the customer is asking for a refund, we will honour the refund. You can imagine refunds are a very huge portion of cash flow for airlines. To me personally the most stressful time was during that period - whether or not we had enough money to survive.
"I can tell you that during that period, me included, the team of finance people were basically day and night trying to work on it. Plus the decision to go to the shareholders for such a huge amount of money. The smaller the amount the easier it is to justify, but with this huge amount you can imagine so many questions were being asked and we had to justify it.
"We felt it was the right thing to do so we did not have, potentially, to go back in a few months for [additional] funds. That would be much, much worse. Fortunately for us, our shareholders were supportive. The Singapore government was very supportive of the aviation industry as a whole.
"It's not just about SIA. It provided a jobs support scheme for the whole of aviation. Still, I have to say the most painful decision I had to make was to have to let go of people."
Today, Goh believes the company, as a whole, is not only financially strong but has all the necessary foundations laid out. "The challenges will come. We know some of them. Recession. High oil prices. Increasing capacity being added back to international routes. Potential impact from deteriorating China-U.S. relations etc," he said.
"But those are issues that will come before all airlines. The question is: do we believe we have the right foundations and also the right attributes going forward because of what we have done during the pandemic - not just for the near-term but for the longer-term."