Industry's pandemic pain has passed
After three years of crisis the mood among airline leaders attending the International Air Transport Association's (IATA), 79th Annual General Meeting (AGM) and World Air Transport Summit was surprisingly upbeat. But nobody was under any illusion about the challenges ahead in striving for total post-pandemic recovery.
International Air Transport Association director general, Willie Walsh, delivered a succinct State of the Industry address to representatives of the 300 member airlines and senior government officials, strategic partners and equipment suppliers who attended the association's AGM in Istanbul early in June. Read More » Airlines, he declared, are en route to a profitable, safe, efficient and sustainable future.
"The pandemic years are behind us and borders are open as normal," he said. "Despite economic uncertainties, people are flying to reconnect, explore and do business. Latest data show passenger traffic above 90% of 2019 levels. Airports are busier, hotel occupancy is rising, local economies are reviving and the airline industry has moved into profitability," he said.
It was, however, a message tempered by the fact industry margins remain wafer thin. In his address, Walsh said with revenue of US$803 billion globally, airlines will share $9.8 billion in net profit this year.
"Put another way, airlines will make, on average, $2.25 per passenger. The value retained by airlines for the average plane trip won't even buy a subway ticket in NYC (New York City)," he said. "Clearly that level of profitability is not sustainable. But considering we lost $76 per passenger in 2020, the velocity of the recovery is strong."
In the Asia-Pacific, a few carriers are making record profits, but airlines will remain in the red this year, he said. IATA is forecasting airline losses of $6.9 billion for the region although that result will be only half of the $13.5 billion they lost in 2022. Nevertheless, for a global aviation industry that suffered its deepest losses in history, around $183.3 billion, from 2020 to 2022, the outlook is highly encouraging, he said.
But, said Walsh, suppliers must find a solution to supply chain blockages, and added they have been too slow to react to this issue. He also took a swipe at airports and air navigation service providers, accusing some of them of "shifting the costs of their inefficiency to airlines".
His targets, however, did not include any in the Asia-Pacific. Walsh singled out Amsterdam's Schiphol Airport, accusing it of having "no shame". "After a self-made operational disaster in 2022, the airport continues its three-year program of raising charges by 37% — with 12% this year," he said.
South African airports want a 38% jump in their charges only to be outdone by ATC demands for a 63% hike.
In Europe, airlines paid a EUR1.9 billion (US$2.3 billion) addition to the air traffic management cost base in 2022. "You would expect good performance. But delays were triple anticipated traffic and capacity and environment targets were missed," Walsh said.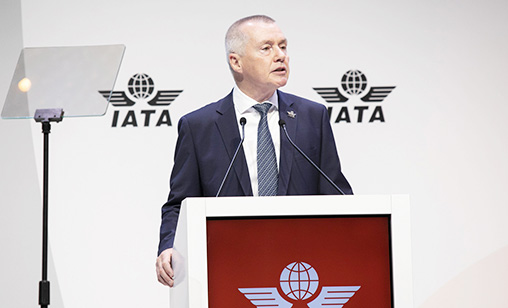 'Inflation continues, cost pressure is acute and in some areas, labor is in short supply. Unfortunately, many of those we do business with are adding to these pressures. OEM (Original Equipment Manufacturers) suppliers have been far too slow in dealing with supply chain blockages that are raising costs and limiting our ability to deploy aircraft. Airlines are beyond frustrated. A solution must be found'
Willie Walsh
IATA director general
"With such bad behavior on open display, calls for lighter touch economic regulation of our monopoly suppliers must not be taken seriously by any government. Considering these many challenges, that airlines are turning a profit at the industry level is truly impressive."
While sustainability and the industry's drive towards net zero emissions by 2050 were the major topic of discussion during the AGM - around a third of Walsh's address was dedicated to the subject - delegates were not ignoring other issues.
They were told jet fuel is expected to average $98.5 per barrel in 2023 and that their total fuel bill is forecast to be $215 billion for the year. That is cheaper than the $111.9 per barrel previously expected (at December 2022) and the average cost of $135.6 experienced in 2022.
High crude oil prices were exaggerated for airlines as the crack spread (premium paid to refine crude oil into jet fuel) averaged more than 34% in 2022 — significantly above the long-run average.
As a result, fuel was responsible for almost 30% of total expenses. In recent months, the crack spread has narrowed and the full-year average crack spread is expected to be around 23%, which is more closely aligned with the historical average rate. Fuel costs will account for 28% of the average cost structure, still above the 24% of 2019.
Also addressed were the potential economic and geopolitical threats of inflation, rising interest rates, the possibility of recession and the war in the Ukraine. Walsh said the conflict was not having a major impact on profitability for most airlines.
"An escalation, however, would likely have negative prospects for global aviation. Already broader geopolitical tensions are weighing on international trade. Any escalation of such tensions represents a downside risk to the industry outlook," Walsh said.
Airlines can be impressed by the industry's safety record. Today, there are more than 400 carriers on IATA's Operational Safety Audit (IOSA) registry. But it is never "job done" on safety, he said. "So, we are marking two decades of success by making IOSA even more effective with a transition to a risk-based approach."
There was, however, a call for governments and their agencies to speed up final reports on accidents, which are vital to preventing accidents. Of the 214 accidents in the last five years, only 96 final accident reports are available. "This is an inexcusable violation of the Chicago Convention and a disservice to the safety of our passengers and crew. Governments and their agencies must improve," Walsh said.
Another issue causing angst at airlines is passenger rights. More than a hundred jurisdictions have developed unique regulations intended to protect air travelers. And at least a dozen governments are looking to join this group or toughen the rules they already have enacted.
'With more governments introducing or strengthening passenger rights regulations; the situation is no longer sustainable for airlines. Every journey is not perfect. There are lessons to learn from rare but widely reported incidents where customers are not treated as they should be. But governments are going beyond the reasonable'
Airlines question the basis of this approach. IATA recently surveyed 4,700 travelers across 11 markets to understand their experiences. It found 96% were satisfied with their last trip, 77% said air travel was good value for money and 73% were confident they would be treated fairly by their airline in the event of operational disruptions.
IATA complains that whenever there is a delay or a cancellation, where specific passenger rights regulations exist, the burden of care and compensation falls on the airline, regardless of the part of the aviation chain at fault. It is urging governments to ensure responsibility for flight issues is shared more equitably across the air transport system.
"The aim of any passenger rights regulation surely should be to drive better service. It makes little sense that airlines are singled out to pay compensation for delays and cancellations that have a broad range of root causes, including air traffic control failures, strikes by non-airline workers and inefficient infrastructure," Walsh said.
Another concern is a rise in unruly passenger incidents. Latest figures show there was one unruly incident reported for every 568 flights in 2022 up from one per 835 flights in 2021. The most common categorizations of incidents in 2022 were non-compliance, verbal abuse and intoxication. Physical abuse incidents remain very rare but they recorded an alarming increase of 61% over 2021, occurring once every 17,200 flights, IATA reports.
"The increasing trend of unruly passenger incidents is worrying," IATA's deputy director general, Conrad Clifford, said. "Passengers and crew are entitled to a safe and hassle-free experience on board. For that, passengers must comply with crew instructions.
"While our professional crews are well trained to manage unruly passenger scenarios, it is unacceptable that rules in place for everyone's safety are disobeyed by a small but persistent minority of passengers. There is no excuse for not following the instructions of the crew." IATA is calling for more states to take on the necessary authority to prosecute passengers under Montreal Protocol 2014 (MP14).