For PAL president & COO, Captain Stanley Ng, affectionally known to his staff as Captain Stan, there is a significant advantage to being a pilot when running an airline. Read More » Commanding an aircraft, he explained to Orient Aviation, you face challenges every day. "Whatever happens, it is really up to you how you manage, navigate and make sure the flight is safe and economical at the end of the day." In other words, the buck stops here.
He brings the same attitude to the top job at PAL. But also, while leading by example and being the one making the decisions, he tries to include everyone in the decision-making process, whether they are board members, shareholders or employees.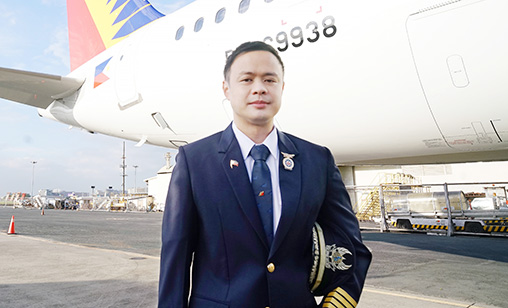 'I told the team we are not just here to exist. We are here to win the game. So, we better have a deeper purpose of doing this, like giving back to the nation and promote the Philippines as a destination because we are an amazing country that has not had enough marketing support in the past'
Captain Stanley Ng
Philippine Airlines president and COO
"My brand of leadership is always to encourage a culture of transparency and engagement. Encouraging all staff to come forward with their suggestions," he said. "Instead of a top-down approach, I prefer a bottom-up approach because every single day with the passengers they see what's going on.
"Their insight is more valuable than any directive from the top because at the top you sit in the office. You don't know everything that is going on. You might try to save a little bit here and there so for me it is not the most profit. It's an output of our great service. I always tell people it is not the cost. Sometimes we are so focused on cost or spending too much, but in reality it is about the value we provide."
Doing just that, which is improving customer service, has been a key driver of PAL's recovery. Like other carriers, PAL suffered badly through the pandemic, filing for Chapter 11 Bankruptcy in September 2021. Unlike many airlines forced to do the same, but taking a year or more to come out of it, PAL emerged from Chapter 11 in just four months, in January 2022.
Capt. Ng was immediately named acting president, an appointment confirmed three months later. His aim, he declared at the time, was to make PAL one of Asia's top three full-service airlines as early as 2025.
His first year in charge showed encouraging signs of financial recovery and the prospect of achieving that goal. In the twelve months ended December 31, 2022, PAL reported an operating profit of $297.2 million and a net profit of $196.9 million. It was its first operating profit since 2019 and its first net profit since 2016.
While it did emerge from the red, like most airlines its operating expenses rose, to $2.27 billion, up from $1.31 billion a year earlier, due to an increase in flights operated coupled with the impact of rising fuel prices.
Jet fuel costs represented the biggest expense for the airline. However, PAL's positive performance was consistent for all four quarters of 2022 and largely was a result of increased passenger demand following eased travel restrictions and the reopening of borders in most countries.
This year has begun with just as much promise. In May, PAL reported an operating profit $135.2 million and a net profit of $108.2 million for its first quarter to March 31. Revenue for the period was $776.9 million, up 66% on the $466.6 million it generated in the same months last year.
The gains were a result of the airline capturing increased demand as COVID-19 restrictions continued to melt away across the Asia-Pacific. Passenger numbers increased by 156% compared with the same months in 2022. PAL flew 3.4 million customers from January 1 to March 31.
"I think we are making progress," Ng said. "Of course, financially we are breaking records every time. We are doing well. However, it's not sustainable if we don't improve customer service and all the other things."
So far this year PAL has inaugurated nonstop Manila-Perth and reopened multiple routes between the Philippines and China's cities.In addition to an extensive domestic network anchored at its gateway hubs in Manila, Cebu and Davao, it is the only airline operating nonstop from the Philippines to the U.S. and Canada. It also has the largest network of flights from Manila to multiple cities in the Middle East, Japan and Australia.
In another critical development, announced in May, PAL ordered nine A350-1000s. They will operate to the U.S. and Canada. Services to Europe are planned.
"We realized, and we decided, we had to have a new fleet moving forward to satisfy the needs of our customers. Around the middle of last year we started looking at which aircraft would serve our mission to supply our long-haul fleet," Ng said.
"The A350-1000 will give us a competitive advantage because by that time, among all the carriers, we will have the latest technology and innovation inside the aircraft. We will be able to define that and put that in the aircraft. We expect them to start arriving in the fourth quarter of 2025."
Financing of these aircraft has not been finalized, Ng said, but the proposal is to own around half of ordered airplanes and do sale and lease back arrangements with the remaining aircraft.
The A350-1000s are a critical element in PAL's network plans. They will allow the flag carrier to expand nonstop to more destinations in the U.S. and Canada. "The U.S. market is really important to us. It is actually the route that kept us afloat during the pandemic because of the early opening up of the U.S.," Ng said.
"But we also believe in the vision of going back to Europe, having our tail, our flag there in Europe is important to us. With the delivery of the new fleet that will make the mission possible. I believe the demand is there. We just have not had a good aircraft to fly direct to Europe."
He added having a strong code-share partner would help, allowing PAL to fly passengers to Europe and transfer to a partner connecting them to other European destinations. At this stage, no such agreement has been finalized.
As it is for many airlines, China is an important market for PAL. Pre-pandemic it was 20% to 25% of PAL's revenue. "It did not just contribute to our revenue internationally. Much more importantly, it contributed to local tourism. When Chinese tourists come to the Philippines, most of the time they also travel to various local destinations.
"The issues in China about its COVID situation are done. However, there are some things we have to figure out, including the issuing of visas to the Philippines even as we can see a lot of demand for charter flights from China.
"A lot of charters are asking for planes but we just cannot provide them because we don't have the capacity. We still must figure out a way, maybe short-term leases of planes. That is part of the plan as well."
PAL has a fleet of 81 aircraft. It owns 15: nine A320-200s, two Bombardier DHC 8-400s and four DHC 8-300s. The other 66 planes are leased, including nine B777-300ERs and ten Bombardier DHC 8-400s. Leased Airbus aircraft are two A350-900s, ten A330-300s, 21 A321-200s, eight A321neos and six A320-200s. Thirteen A321neo have been ordered and are scheduled to arrive at the carrier in the fourth quarter of 2025 or in early 2026.
Domestic destinations are split between a full-service model and a hybrid. "For the major domestic destinations we are still doing a full-service. The bigger destinations like Cebu are still doing a business class and full-service is available," Ng said.
"However, for some smaller provinces we have moved into a hybrid model. It's still not low cost. It will never be low cost because we still provide food and a lot of other services like baggage allowances.
'But it is a reduced service because sometimes the flight is less than an hour and passengers don't see much value in paying for a business class seat. We have modeled it as a comfort class. That is with wider seats, but not necessarily providing full meal service when sandwiches will work. Something like that."
PAL has a program to refurbish some of its fleet to match passenger expectations. "Previously, we had some planes flying to various Asian destinations that did not offer IFE. The direction today is to provide more value so customers see more value. We also have a new chef to improve our menus. It is trying to satisfy the needs and beyond of customer expectations."
Ng told Orient Aviation transforming the airline is more about focusing on people and not just strategy. "If you have a good strategy but you don't have good people to activate your mission then I don't think it is going to happen," he said. "So, customer experience is number one. We always focus on that. It is very valuable to me. It is about the customer but in practice it is beyond that."
Work also has to be done to change the mindset of people brought up in a legacy culture, he said. "We are working on this. We have progressed I would say, but there is still a long way to go to align every mindset," he said.
"For example; we don't say no to customers and genuinely try to go beyond the regular delivery. Exceeding expectations. Because in today's world we have so many challenges from supply chain to manpower. All these things. We have to differentiate ourselves from the others to win this competition. That is an attitude I emphasized when I started," he said.
"We believe that today the government is really pushing for tourism and that is a significant amount of GDP for the country. We are at one with the country to promote tourism to help our country."
To achieve its targets Ng said PAL is focusing on differentiation, investing in systems and processes to enhance the flying experience, improving back-end support and implementing digital innovations, all with the aim of elevating service for customers to grow its market.
Digitalization is one of the main pillars of PAL's rebuilding. "In terms of technology we are still quite behind. We have been trying to improve a lot. It is not just trying to have an initiative of digitalization. So far, we have identified the problems that can be solved," Ng said.
"It's not only marketing but locating and removing pain points and inconveniences for our passengers. That is the focus. Soon we will launch a customer relationship management system. PAL has never done this. But today this is critical and is the only way to know our customers better and predict their behavior. This is really important to us."
After more than a year of planning a total overhaul of PAL's back-up systems, the ERP (Enterprise Resource Planning) systems, is underway. ERP systems organize all the internal processes of the airline from inventory management, the supply chain, sales, accounting and more. "It will involve three to four years of implementation, changing all the back-end systems, the entire enterprise," Ng said.
As for the challenges ahead, Ng recognizes there may be many. "Not to mention all the volatility, like energy prices or manpower issues. Those will happen. There may be recession from time to time. That may be a risk," he said.
"But I believe if we have the right mindset we can tackle any challenges that come to hand. One of the biggest is competition. Other airlines are aggressive. They are trying to improve their service to. At the end of the day it is differentiating us so consumers choose PAL. This is what we have to identify.
"We also would like to have supply chain resiliency for our programs. During the pandemic it was quite difficult to source suppliers from overseas. We can't get our stock. We can't get spare parts. We can't get a lot of things timely, so having local suppliers and supporting the local community and having a touch of Filipino is important.
"Even the food that we serve today has a lot of Filipino touches. We collaborate with famous local Filipino chefs to promote their food and Filipino cuisine. It is part of our vision, to help promote the country and its products."
There is little doubt PAL has had a chequered history. Founded in February 1941, it was once the largest airline in Asia. Over the years it has been through periods of financial distress, receivership and bankruptcy, government ownership, privatization and re-privatization, as well as industrial problems and frequent revampings of its management. Today, all the signs point to it heading back to where it belongs with Captain Stanley Ng in the cockpit.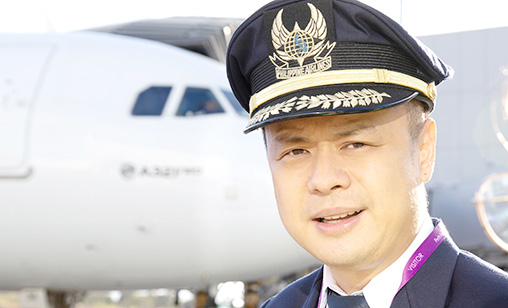 Destined for the top


It's not often that an airline chief has the honor of piloting the aircraft carrying his country's leader to an important international gathering, but for Philippine Airlines president and COO, Captain Stanley Ng, that is exactly what happened last November. Ng, the first active pilot to serve as the airline's top executive since the 1960s, was Pilot-in-Command of the flight that flew the president of the Philippines, Ferdinand R. Marcos, First Lady Liza Araneta-Marcos and the official Philippine Delegation to the ASEAN 2022 Summit in Phnom Penh.
It was a highlight of Ng's time at the airline in a career that began in 2003 and has seen him rise through the ranks to PAL's top job in January last year. Ng joined PAL as an airport-based customer relations assistant. He is a Chinoy, a Chinese Filipino, and speaks Mandarin, Fukien and Cantonese. Aside from his main job doing check-ins and boardings, he was the interpreter for Chinese speakers using the airport. It was an enriching experience, teaching Ng to go above and beyond when it comes to serving passengers.
After almost a year as a ground staff employee, Ng successfully applied for PAL's Flying School. After graduating, he served as a Second Officer and was then promoted to First Officer on the A320, He was appointed a PAL commander in 2014. He was PAL's A320 chief pilot until 2019 when he was promoted to senior vice president for airline operations, in charge of the airline's internationally respected pilots and cabin crew as well as PAL's operational airport and engineering teams. Ng recently completed an Advance Management Program at Harvard Business School and is a Bachelor of Science in Business Administration and a Major in Computer Applications from the De La Salle College of Saint Benilde.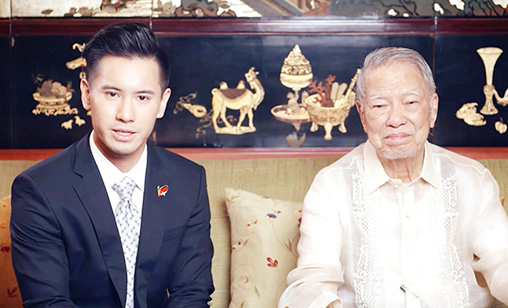 He is the son-in-law of PAL owner, billionaire Lucio Tan, the Chinese-born Filipino entrepreneur who heads Fortune Tobacco Corp, Asia Brewery Inc. and of course, PAL. Ng is married to Tan's daughter Lilybeth, who is PAL's Assistant Vice President for Pilot Affairs. Tan himself is the longest-serving chief executive of PAL.
In May, Lucio Tan III, recently appointed to succeed his grandfather Lucio Tan as president of PAL's parent company, PAL Holdings, said: "I am committed to providing stability and upholding the highest levels of integrity within the company. I look forward to working closely with the PAL team, under the leadership of Captain Stanley Ng, to ensure a collaborative and cohesive approach in serving the best interests of our customers."