Philippine Airlines (PAL) is facing the same threats as its full service rivals across the Asia-Pacific, including fierce competition from budget carriers and unprecedented capacity being thrown into the market by Gulf airlines, forcing yields down. Read More »
PAL also is severely constrained at its extremely congested Ninoy Aquino International Airport (NAIA) home base, which is curtailing operational efficiency. Just as serious are the negative travel advisories issued by 11 countries that advise their citizens to be cautious about travelling to the Philippines because of a protracted guerilla war centred around the southern Phillipines island of Mindanao.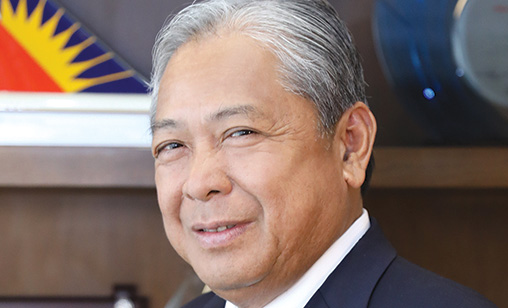 'PAL's trans-Pacific capacity, already increased by nearly 30% in the last 12 months, should expand another 50% as Manila to New York and Toronto are upgraded to nonstop, Cebu-Los Angeles is resumed and Chicago, Houston or Seattle are launched'
Jaime Bautista
Philippine Airlines president
and chief operating officer
Despite these political and practical problems, PAL president and chief operating officer, Jaime Bautista, is pushing ahead with a fleet modernization plan that will greatly improve profitability and help PAL achieve formal recognition as a five star airline
The biggest challenge for Bautista in reaching his goals is Manila's NAIA. Its four terminals, designed to handle 30 million passengers annually, last year processed 42 million domestic and international travelers.
"That is why they are all very congested. It causes delays not only for PAL but for other airlines. Operations wise, because of this infrastructure, there are many disruptions and many cancellations. We have to address these issues because if we want to be a five star carrier our on-time performance (OTP) should be comparable with other airlines," Bautista told Orient Aviation from Manila.
"If these external factors are not addressed our OTP will be the lowest among our peers. In an AAPA (Association of Asia Pacific Airlines) report I think we had one of the lowest OTPs. Largely, the reasons for the low ratings were factors beyond PAL's control: airport congestion, air traffic congestion and, lately, several typhoons that hit the Philippines."
As an interim solution, Bautista has asked the government for permission to build a $400 million, 89,000 square meter terminal (equivalent to 200 basketball courts) next to Terminal 2 at NAIA. It will allow PAL to consolidate its flights from three of the four airport terminals under one roof. Designed to handle 12 to 15 million passengers a year and equipped with aerobridges that will take up to 17 wide-bodied and single aisle jets, it will unlock the traffic log jam, but it is not, as PAL knows, the ultimate solution.
"We can make it a world class international terminal. We could move all our international flights to this terminal and use terminal 2 for domestic operations," Bautista said. "If we are allowed to build this annex our code share partners also could operate from the terminal."
If the government approves the plan, it will be a feather in the cap of the veteran airline boss, who is well into his second stint as the airline's president. He stepped down from the top job after tobacco tycoon, Lucio Tan, sold 49% of PAL to San Miguel brewery and its boss, Ramon Ang.
Management control went with the deal, although Tan remained as PAL chairman once ownership changed. Under San Miguel management, the airline went downhill. In 2014, Tan, whose love of the airline is legendary in the Philippines, bought back control of the carrier for $1 billion, twice the amount Ang had paid for its shareholding two years earlier.
Bautista was immediately restored as PAL's boss. He quickly set about turning around the carrier. He ordered new, fuel efficient single and double-aisle aircraft, deferred some deliveries and benefitted from the lower fuel prices of recent years.
As a result, PAL reported profits in 2014 and 2015, but capacity adjustments remained necessary. The carrier deferred five of 10 A320 deliveries, initially scheduled to arrive in Manila in 2015, as its domestic and regional network threatened overcapacity.
Two years on, PAL is on the cusp of one of the most significant fleet revamps in its history. The carrier operates 82 aircraft, including 20 at its domestic budget subsidiary, PAL Express. Its fleet is made up of A320s, A321s, A330s, A340s and B777s.
Next year it will begin accepting 30 A321neo and six A350s, which will replace its six AA340s. By December this year, PAL Express will be flying four new Bombardier Q400 turboprops, part of a 12-strong order for the type.
Two B777-300ERs will arrive at the carrier by the end of the year, that will increase the type in the fleet to 10 and allow the carrier to replace its A340s from Manila to London. Bautista said the A340 is "not really a very good product. It is an older plane and the IFE is not that good. Hopefully, the B777s can attract more passengers from London", he said.
In the first quarter of 2018, three A321neos will arrive at PAL. From June, Rolls-Royce powered A350-900s will begin deliveries to Manila. Initially scheduled for next March, well publicized production delays at Airbus have delayed the planes' arrival by three months.
"Then we will receive one each in August, September and December," Bautista said. The new planes will increase capacity by around 10% over the A340s, which have 295 seats against 354 on the A350s. PAL plans to carry 20 million passengers annually by 2021 with a fleet of 96 aircraft.
"We will phase out 18 older aircraft and take delivery of 27 brand-new airplanes," he said.
The arrival of the long-haul aircraft not only brings significant economic benefits to PAL, it will allow the carrier to fly non-stop Manila-New York at full capacity. "We should be able to carry the required number of passengers without doing a tech stop, especially returning to Manila, which is against the wind," Bautista said. "We also will fly this aircraft to Vancouver and we are looking at Chicago and Seattle."
"This aircraft (the A350) can be a good aircraft for developing long-haul markets. We will look at Europe. Maybe in 2019, after we accept the next two A350s coming in that year." The A321neos will clear the way for the launch of nonstop services to Brisbane, Delhi, Perth, Mumbai and Sapporo and increase flights to Melbourne and other Asia-Pacific destinations.
PAL, like many of the region's carriers, has been hit by market conditions and competitive pressures. While it has been doing better than many of its peers, Bautista said it is "in the same boat" as everyone. The carrier is seeing "ever higher load factors compared with last year, but we are not making money", he said.
"The next quarter will be a difficult one for us because it's the low season. Hopefully, Christmas will generate more revenue and [we will] report a small profit."
PAL has reported a US$32 million net loss for the first half of this year, to June 30, a reversal of a $92.2 million profit for the same period a year ago. Fuel costs increased 73.6% and the carrier operated additional flights during the period. Losses were recorded despite a 17.7% increase in revenue in the six months, to $542.4 million, up from $460.8 million a year ago.
Passenger and cargo growth, increased ancillary revenue and more flights and new routes pushed up cash flow, but costs rose 32% outweighing the cash flow improvement.
PAL has been doing its share to decongest NAIA while stimulating air travel to the Philippines. "We are building up a new network of local and regional flights from Clark, Cebu, Puerto Princesa, Davao, Caticlan and Kalibo," said Bautista, who added PAL continued to invest in the latest technology to speed up passenger processing and aircraft turnaround times.
"We are mounting new flights from Cebu to Bangkok in December, adding to flights from Cebu to Japan, Korea and Singapore. We did fly Cebu-Los Angeles, but we have temporarily stopped the route until we take delivery of the A350.
"It's another destination the A350 can serve. We tried the A340 on that route, but coming back we had to stop in Guam many times. We decided to wait for the right plane and make the route a profitable operation."
One market that is doing well for PAL is China. "Shanghai is doing very well. In Xiamin we are doing well. Hong Kong and Macao are good markets, but Guangzhou is a very challenging market for us," he said.
"We have charter flights to Chengdu and flights from other smaller Chinese cities to Kalibo (on Western Vasayas island) where Chinese tourists go on to Boracay. On the other hand, we are experiencing some challenges in Japan. Flights are being cancelled because of the Mindanao [guerilla war] situation."
More and new planes are only part of PAL's product development. It is spending $80 million reconverting eight A330s from an all economy 414 configuration to 311 seat business, premium economy and economy cabins.
"We have refurbished four of the A330s. They are flying to Melbourne, Sydney and Honolulu. With the completion of the remaining four by the end of this year we should be able to introduce this aircraft to Japan, Korea and Thailand and really improve the product," said Bautista.
With the arrival of the new fleet, this reconfiguration is part of Bautista's goal of winning five stars from airline ratings group Skytrax, which was expected to conduct an audit of the airline at press time.
"Our timetable is to get four stars this year. Five stars are really difficult. We are giving ourselves until 2020 to get the fifth star. I am very optimistic that we should have a fourth star this year. We have implemented so many improvements in service, our systems and the fleet, including the refurbishment and reconfiguration of the A330s. And once the neos and A350s arrive, that will be a big help," Bautista said.
There is another potential development on the horizon for PAL: selling equity to a foreign investor. Bautista was coy about suitors when he spoke to Orient Aviation, but he confirmed PAL "is still in discussion" with possible interested parties.
"It's not easy to find foreign investors at this time, but we are talking to one group who have really given a sign of good interest. They have investments in other airlines," he said.
"The biggest challenge for us is our ability to grow. We have ordered so many aircraft in the hope that the government will improve airport and aviation infrastructure," he said.
"The development of this infrastructure is quite slow. So how should we maximize the utilization of our planes and how can we efficiently operate these aircraft in this situation?
Gulf carriers want more flights from Manila


"There is overcapacity in the market. Emirates, for example, operates 21 flights a week between Manila and Dubai and the market is really small," PAL president and chief operating officer, Jaime Bautista told Orient Aviation.
"What they do is carry passengers to other destinations. It affects our flights to the UK. The other Middle East carriers do the same. They take passengers going to Europe, to Africa and even to the U.S.
"This morning there was news that Emirates wanted to call another ASA (Air Service Agreement) meeting with the Philippines to increase their entitlements to Manila. They operate to Cebu and Clark, but they still want Manila which is very congested. Emirates even wants to operate the A380 to Manila."
Another annoyance is the ability of U.S. airlines such as United Airlines and Delta Airways to use wide-ranging sixth freedom rights through the Philippines, although Bautista said PAL has maintained its market share on U.S. routes. "Foreign airlines are getting a good share of that market and they are offering very cheap fares," Bautista said.