Infrastructure overload morphing into crisis
When the region's airline leaders met in Taipei last month for the 61st Assembly of Presidents of the Association of Asia Pacific Airlines, the threat of an infrastructure crisis and more costly airport security measures dominated the discussion. Chief correspondent, Tom Ballantyne, reports from Taipei.
Industry leaders gathered in Taipei last month once again warned governments that the aviation faced an infrastructure crisis and that in the Asia-Pacific several airports were close to crisis operating conditions. Read More »
"We are headed for an infrastructure crisis. I believe an infrastructural crisis everywhere in the world can only be averted with coordinated efforts to address deficiencies. We must remind our governments of basic infrastructural needs, which is sufficient capacity and technology in line with our developments and affordability," the International Air Transport director general and CEO, Alexandre de Juniac, told delegates at the China Airlines hosted assembly.
"In many ways, the Asia-Pacific is ahead of the game with major hubs investing in expansion, but Bangkok, Manila and Jakarta are among airports that need major upgrades," he said. "Chinese air traffic management struggles to cope with growth. And high costs at India's privatized airports are burdening the industry.
De Juniac said the 34 million jobs and $700 billion of economic activity supported by aviation in the Asia-Pacific were expected to more than double in the next 20 years. "But the realisation that these economic benefits are at risk in the region does not address the long-term challenges of sustainability, infrastructure and regulatory harmonization," he said.
IATA's latest 20-year air passenger forecasts that 7.8 billion passengers will travel in 2036, almost twice the four billion passengers expected this year. More than half of that growth will be in the Asia-Pacific, with the region accounting for 2.1 billion new travelers in 2036.
Even with traffic at today's levels, panellists at the Assembly pointed to the daily difficulties their airlines faced from delays caused by congestion that were irritating increasing numbers of passengers and higher fuel costs.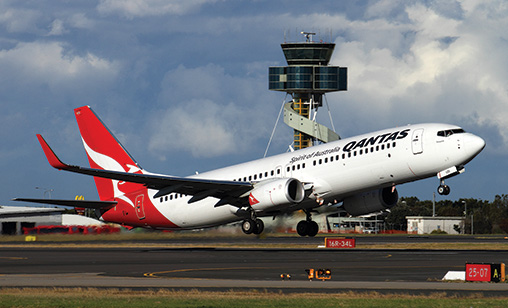 IATA campaigns against private ownership of airport monopolies


IATA director general and CEO, Alexandre de Juniac, said in a press briefing at the AAPA Assembly of Presidents in Taipei last month that many governments see privatization as a solution to gain revenue and funds, but airports perform better in public hands.
"We have seen disappointing experiences with airport privatization. The primary focus of airports is to support local prosperity as an economic catalyst. In private hands, shareholder returns are top priority and we have seen cost increases in privatized airports like Paris and Sydney.
"We need robust regulation to balance private and national interests, and we have not seen any long-term success story." He said airlines had no issue with injecting private sector mentality into the operation of any airport. "But our conclusion from three decades of largely disappointing experiences with airport privatization tells us airports perform better in public hands. The primary focus of airports should be to support local and national prosperity as an economic catalyst."
Major hubs across the region are operating well beyond full capacity. One of the worst affected cities is Manila, where two runways are limited to handling 40 movements an hour. Speaking during a "Market Growth and Infrastructure Challenges" panel in Taipei, Philippine Airlines president, Jaime Bautista, said his home hub airport was designed to handle 30 million passengers annually, a level it reached in 2012.
This year the airport is coping with a forecast 42 million passengers. "At PAL alone, we expect to carry 15 million passengers this year and 20 million by 2020. With airport infrastructure limitations we are not really sure if we will meet our targets," Bautista said. Already, he added, the airline's ability to grow had been affected.
China Airlines strategic planning department general manager, James Chung, said some of the issues could be addressed by smarter management, including better integration of resources. "For instance, under airline alliances, carriers using the same business model should be accommodated in the same terminal," he said.
A primary motion passed at the China Airlines hosted AAPA assembly urged Asian governments to coordinate investments in aviation infrastructure, including airport runways, terminals and air navigation services to keep pace with growth and also to deliver operational efficiencies and a reduction in emissions, noise and waste.
Airlines bearing burden of enhanced and discretionary security rules


Also under the spotlight at the Taipei assembly were the numerous problems caused by discretionary and unco-ordinated security measures. The latest examples were the new security rules the U.S. has imposed on all inbound flights that came into effect in October.
The new rule can subject any passenger travelling to the U.S. from any airport in the world to additional interviews at check-in or at the boarding gate. All personal electronic devices also must be inspected. In Taipei, De Juniac said the industry understood security threats to aviation were made regularly, but in this case the U.S. government had not shared any specific information about new risks before it imposed the October rule.
"What we have seen is very strange. Unilateral measures announced without any prior consultation. That is something that is very concerning and disturbing," he said.
The Association of Asia-Pacific Airlines (AAPA) director general, Andrew Herdman, said the new security measures for flights to the U.S were a "significant cost and a training burden" for airlines. A globally coordinated security approach made more sense than having destination-specific requirements, he said.
"They must add screening staff, find dedicated space for additional screening of passengers on affected flights, allocate longer time windows at gates for each flight and train employees to conduct the extra screening. The result is lower gate utilization, a potential knock-on effect on airline on-time performance and extra cost," he said.
"Who provides the extra manpower and facilities? Who pays for it? Ultimately, it will be the passengers. We are concerned that people rarely sit down and work out the costs; I don't think the costs have been estimated, but they are significant. A globally coordinated security approach made more sense than having destination-specific requirements," he said.
At congested and slot constrained airports around the world, of which close to 40 are in the Asia-Pacific, the AAPA assembly called on governments to ensure optimal use of scarce airport capacity by managing slots in an independent, fair and non-discriminatory manner.
"Airspace modernization is a global challenge with the objective of deploying new technologies to improve both airspace utilization and further enhance safety performance. Failure to make the necessary investments and operational improvements in Air Traffic Management (ATM) infrastructure and services to keep pace with air traffic growth will lead to adverse consequences for the travelling public and the wider economy," the AAPA said.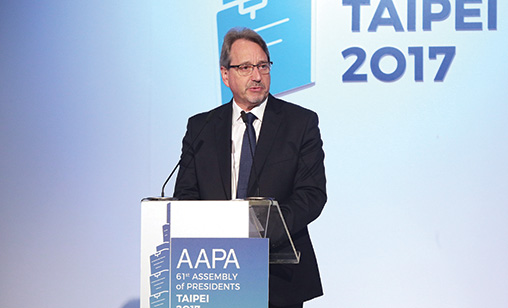 'Mitigation measures need to be proportionate so unnecessary disruption is avoided. There has to be a balance. We are doing it for the assurance of the passenger and to serve their needs. We need global standards and global harmonization, but what we are seeing contradicts that. What we have is destination security'
Andrew Herdman
Association of Asia-Pacific Airlines director general
The Association urged governments to think beyond national borders and commit to the development and implementation of enhanced Asia-Pacific air traffic flow management systems."
Airlines also want improvements to the system of airport slot allocations. In 2017, almost half of all passengers fly through 179 slot-coordinated airports, of which 37 are in the Asia-Pacific, the AAPA said. "Although overall slot coordination is managed in accordance with global principles, a number of governments and slot coordinators have deviated from these processes, adversely affecting the efficiency and predictability of airline operations to the detriment of the travelling public.
The association urged governments and slot co-ordinators to allocate slots in an independent, transparent, fair and non-discriminatory manner in line with International Civil Aviation Organisation's (ICAO) guidance to ensure a single, globally harmonised process.
Airlines also are disappointed in the slow progress of a Seamless Asian Skies, which has been hampered by national interests in the region. "It is about changing operational procedures," said the AAPA's Herdman. "Unlike a centralized flow control in Europe, Asia is a different mechanism and is more complex. You have to overlay that with individual institutional arrangements and operational practices to deliver the results."
Despite challenges on several fronts, the region's airlines continue to grow. The latest AAPA statistics, for September, reported double-digit air freight volume growth, a sign that the freight business, which had been in the doldrums since the global financial crisis, is continuing its strong recovery. Freight volumes carried by Asian airlines over the first nine months of the year were up by 10.7% year-on-year.
"The global economy is in pretty good shape, with encouraging growth in both international air passenger and cargo demand seen this year," said Herdman. Improvements in global trade sentiment had delivered robust 10% growth in air cargo volumes so far this year, "a welcome development for Asian carriers which account for nearly 40% of global air cargo traffic"
Taxing times


Despite past exhortations, more taxes have been imposed by various countries on international air transport and via air passenger charges, airlines said. Several of them can be categorised as taxes on the sale or use of international air transport which contravenes International Civil Aviation Organization (ICAO) policies on taxation, the Association of Asia-Pacific Airlines (AAPA) director general, Andrew Herdman, said.
A number of governments have recently introduced or increased taxes on air travel including Australia's Passenger Movement Charge, Malaysia's Advance Passenger Information (API) charge and Sri Lanka's Embarkation Tax, the association said.
"AAPA renews its call on governments to carefully consider the overall economic effects of putting additional financial strain on the travelling public and on the aviation industry and to refrain from increasing the burden of aviation levies in any form. The Association goes further in calling on governments to avoid the imposition of unjustified or discriminatory taxes on international aviation, in contravention of ICAO policies," it said
"AAPA carriers operating in the world's most competitive markets have continuously innovated and adapted their service offerings to satisfy the ever-changing demands of the global travelling public, whilst maintaining the highest safety standards," said Herdman.
"Whilst these achievements are certainly celebrated, the ever-growing burden of restrictive government legislation, increasing taxes and charges and the lack of shared vision for the industry hold back the potential of Asia's carriers to fully contribute to the social and economic development of the region."