Engine business booms in Asia-Pacific
The Asia-Pacific will to lead the world in aircraft engine orders and deliveries in the next two decades. Demand for engines powering single aisle aircraft remains strong, but the appetite for very large aircraft engines is diminishing.
The most recent global fleet forecasts of Airbus and Boeing give the "Big Three" engine manufacturers the reason to dream big. Read More » The Asia-Pacific will require a minimum of 29,500 new aircraft in the next two decades, up to 60,000 turbofans for single aisle lines and up to 23,000 engines for larger wide body aircraft. Revenue from spares and replacements will come in over airlines' initial purchases of the engines.
At a price tag of US$12 million for Pratt & Whitney's geared turbofan (GTF) and US$14.5 million for GE/CFM International's rival LEAP, the single aisle engine market should be worth up to US$870 billion to 2036.
GE's GE9X, which will exclusively power the wide body B777X programme, is the biggest and most expensive engine in the market. It has a unit cost of US$41 million, which extrapolates into a market valued at US$940 billion for large turbofans over the forecast period. Between them, the cost of the engines needed for the two main aircraft sectors of the market will be a staggering US$1.81 trillion in engine revenue.
The single aisle engine sector is dominated by Pratt & Whitney and the CFM joint venture. Rolls-Royce has a firm grip on engines for wide bodies, although its two American rivals are competing for business in that sector.
The Engine Alliance and International Aero Engines joint ventures appear to have peaked. They are not pursuing new turbofan lines, but have said spare parts sales are still strong and that they are expected to remain so for the next decade.
---
Single aisle engine market accelerates
Pratt & Whitney have spent more than US$10 billion and more than 20 years to develop the geared turbofan (GTF), which uses an internal gearbox to slow down the fan. Rolls-Royce is committed to a geared design, the UltraFan, by 2025. GE and CFM are working on their own proprietary solutions.
The GTF is being sold on its ability reduce fuel burn by 16%, lower emissions by 50% and reduce noise by 75% compared with past generation engines. The engine manufacturer has had serious teething problems with the GTF, which has lost it business to CFM's competing LEAP engine.
Despite Pratt & Whitney's best efforts, some of its customers are "not happy" with the situation. IndiGo Airlines president, Aditya Ghosh, said in August: "We continue to have a high number of engine removals and sufficient spare engines have not been available. Regrettably, there have been days when we have had to ground as many as nine A320neo due to lack of spare engines." He added the operational disruptions were "quite challenging".
In contrast, CFM has sold ten times as many LEAPs for Airbus' A320neo Family as its rival. But Pratt & Whitney can still recover its lost ground. Of the approximately 5,200 A320neo on order, 2,200 will be powered by LEAP and 1,500 will have GTFs, which leaves 1,500 aircraft without an engine choice at press time.
GTFs are the exclusive engines for the Bombardier C Series, Mitsubishi Regional Jet (MRJ) and Embraer's second-generation E-Jets. Boeing's competing B737 MAX series is powered solely by the LEAP.
More than 175 hours of ground testing have been completed for the next-generation GTF, which is now in development. It promises another 2% reduction in fuel burn. "Opportunity exists to further reduce the fan pressure ratio and combine it with a short inlet. We are looking at how to further optimize the work split through the engine. We are also exploring development of higher temperature materials and higher efficiency components," Pratt & Whitney said.
The "ultra-high bypass fan design" is said to have a "significantly higher" bypass ratio than the 12.2:1 ratio in the current PW1100G, the company said.
"The success of this ground test is an important step in taking our GTF engine technology to the next level," said Pratt & Whitney vice president of technology and environment for the engine market, Alan Epstein. "We are working to make sure the next generation GTF engine—already a game-changer—remains on the cutting edge of performance and sustainability."
The next generation GTF will compete against a higher thrust version of CFM's LEAP engine. The most powerful LEAP produced today, a -1A for the A321neo, is rated at 31,160lb thrust. CFM is confident it can push it to 50,000lbs for future A320neo and B737 MAX series, with a design based on the existing CFM56 series—the most widely used engine in the industry.
The CFM56 series flies with more than 550 airlines. About 2,400 aircraft are powered by the series at any one time. The new LEAP offers 16% efficiency savings by using more composite materials and achieving higher bypass ratios.
Electric engines on horizon


The industry is looking more seriously at the viability of electric and hybrid-electric propulsion aircraft. Electric propulsion is a reality, but is restricted to powering very small aircraft. Airbus has outlined a technology roadmap that leads to a narrow body-sized hybrid electric demonstrator in about 20 years.
Boeing has teamed up with JetBlue's Technology Ventures to fund Zunum Aero, which is designing a hybrid-electric business aircraft and a 50-seat regional jet to fly in the early 2020s.
"Gradual progression of electric and hybrid-electric aircraft from small planes to large planes will require technology advances in multiple areas, which include energy storage, electrical machines, power transmission, power electronics, control systems, materials, thermal management and multi-scale modelling tools," said deputy director for research and engineering at NASA's Glenn Research Center in Cleveland, Dr Ajay Misra.
Mixed fortunes for wide body propulsion
The wide-body engine market is dominated by GE's CF6 that equips A330s, the GE90 for B777s and the GEnx for the B787s. Rolls-Royce Trent 1000s are on B787s and the Trent XWB powers A350s. The Trent 700 propels the A330ceo series and Pratt & Whitney's PW4000 family of engines is manufactured for A330s and B777s.
GE is focusing on the development of the GE9X for the B777X series, which is scheduled to enter commercial service with Emirates Airline in 2019. Certification testing will commence in May. With almost 700 GE9X engines on order, the GE9X will be in the 100,000lb thrust class and will have the industry's largest front fan at a 134" diameter.
The engine will be 10% more fuel efficient than the current generation B777 GE90. It is scheduled for flight testing on GE Aviation's flying testbed by year end.
At the Derby headquarters of Rolls-Royce in the U.K., the manufacturer is relishing the "very smooth entry into service" of the Trent XWB with the A350 programme and also preparing for the next-generation engine scheduled for entry into service from 2025.
For Rolls-Royce, the future is its Advance and UltraFan engine designs, with the first run of its Advance3 demonstrator engine in the works. The demonstrator will test a new engine core, attached to a Trent XWB fan system and a Trent 1000 low pressure turbine that will deliver at least 20% better fuel burn and CO2 emissions than the first-generation Trent engine.
The same core is also part of the UltraFan engine design that will be available from 2025. It will deliver power for high by-pass ratio engines with a geared design similar to the GTF.
Just months after trials began Rolls-Royce said testing on the power gearbox has broken the world record as the most powerful aerospace gearbox in existence when it reached 70,000hp in tests at its dedicated facility in Dahlewitz, Germany two months ago.
In partnership with Liebherr-Aerospace, the U.K. engine maker is developing manufacturing capability and capacity for the UltraFan at its Aerospace Transmission Technologies joint venture. Rolls-Royce's chief technology officer, Paul Stein, said: "Setting this record is a great achievement for the team. Our Power Gearbox technology is central to the success of the next generation of Rolls-Royce jet engines."
Rolls-Royce has supported three "first flights" in the last twelve months: the Trent XWB-97 on the A350-1000, the Trent 1000 TEN for B787-10 and the Trent 7000 for the maiden flight of the A330neo on October 19.
The 68-72,000lb thrust Trent 7000 delivers a step-change in performance compared with its predecessor, the Trent 700, which is the most popular engine choice for the A330ceo. The Trent 7000 will improve specific fuel consumption by 10%.
All 'Big Three' engine makers confirmed to Orient Aviation they were talking with Boeing about the potential supply of engines for the under-study "New Midsize Airplane" (NMA) that could enter commercial service from 2025.
The focus will be on a 250-270-seat, 5,000nm range wide body jet that would sit between the B737 MAX 10 and the B787-8. The NMA will be equipped with composite wings and fuselage. Qantas Airways said in October it was "very keen" on the NMA. Other Asia-Pacific airlines have expressed a strong interest in the proposed plane. Boeing's NMA will compete with Airbus' A321neoLR, a fast-selling aircraft that will be available next year.
3D printing revolution


GE Aviation adopted an out-of-the-box approach to engine technology from 2003 when the giant manufacturing conglomerate developed a new fuel nozzle, which was critical to reducing fuel burn and emissions. But turning the game changing design into reality required the welding and braxing together of 20 parts.
GE began a top secret project with Morris Technologies to produce the fuel injectors of the fuel nozzle using 3D printing – or additive manufacturing. Morris employees had to sign confidentiality agreements if they were working the nozzle prototype.
Today, that fuel nozzle sits in the engines of the LEAP family. The GE/Morris Technologies partnership developed the 3D printing process to mass-produce the 19 fuel nozzles in each LEAP engine, with the interiors made additively of cobalt-chromium, the same material used to make hip replacements. In prototypes, GE found the material wildly capable, which is when the then CEO of GE, Jeff Immelt, and current GE Aviation vice chair and GE Aviation president and CEO, David Joyce, decided to take up 100% of Morris Technologies.
In 2015, GE launched the GE93, a turboprop engine produced with more than one-third additive components. Additive design processes have enabled its engineers to make parts with improved weight and durability that have improved fuel efficiency and performance capability.
By 2016, these experiences led GE to commit to being a "vertical" business as a provider of additive machines, materials and application engineering expertise to several industries, from aerospace and automotive to medical and luxury goods.
At Rolls-Royce, additive manufacturing is used to produce larger aircraft parts. Rolls built the world's largest 3D-printed aero engine structure, the front bearing housing, for the Trent XWB-97 engine that powered the Airbus A380 flying test bed in November 2015. The front bearing housing used in the test flight was 1.5 metres across, half a metre deep and contained 48 titanium aerofoils.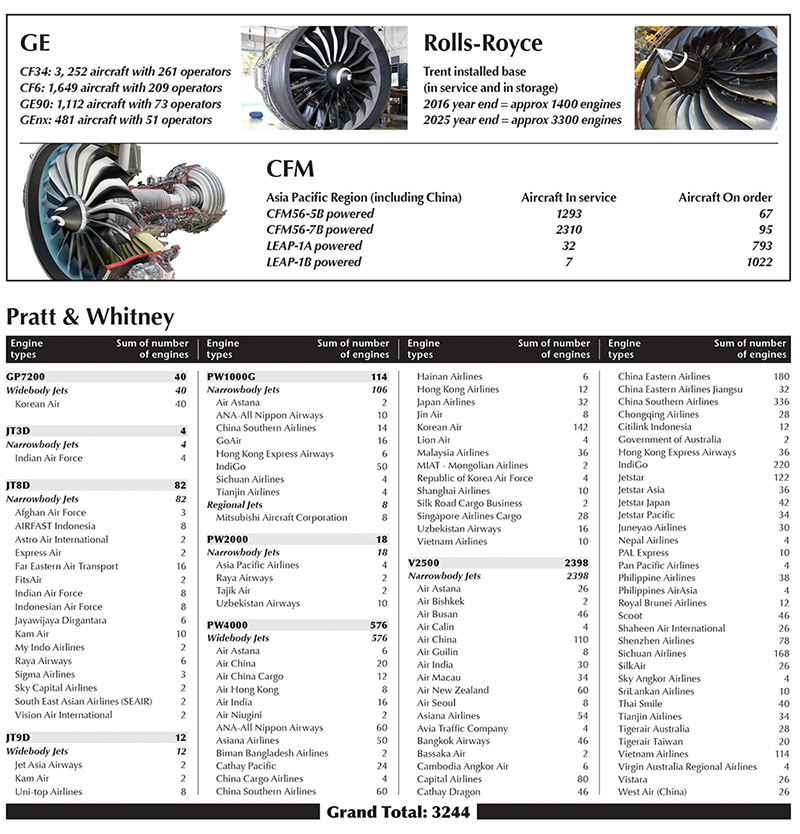 Engine market enjoying unlimited growth


In Airbus' latest global market forecast, the Toulouse manufacturer raised its 20-year forecast from last year's 33,070 to 34,900 jets, valued at US$5.3 trillion. Seventy one per cent (24,810) of the aircraft will be single aisles. It foresees demand for 8,690 twin aisles and 1,410 very large aircraft (VLA) such as the A380 or B747-8.
Boeing was more optimistic. The U.S. manufacturer predicted 41,030 new airplanes will be needed in the next two decades, valued at US$6.1 trillion, with single aisles the fastest growing market thanks to low-cost carrier demand and air passenger expansion in Asia's emerging nations. It estimated the Asia-Pacific would need 29,530 new narrow bodies, a 5% increase over its 2016 forecast. The wide body segment will require 8,210 passenger aircraft, with a wave of potential replacement demand beginning in early 2020 – a significantly lower tally than the Airbus forecast.