Air New Zealand chief executive, Christopher Luxon, has every reason to be satisfied with the performance of his business. Read More » "We are having a really good year. Another good year, which is really fantastic," he told Orient Aviation in Auckland last month.
On the other hand, he was quick to point out that the last year, while good commercially, presented the carrier with plenty of challenges. As well as several new competitors flying into New Zealand, the carrier had to manage periods of extreme weather, overcome disruption to its flying schedule from a ruptured fuel line at Auckland Airport and ground some of its B787-9 Dreamliners because of problems with their Rolls-Royce Trent engines.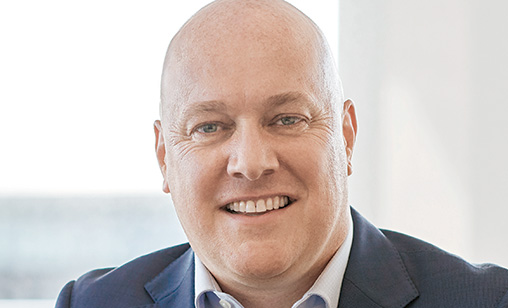 'For us, there are no insurmountable challenges, headwinds or tailwinds. It is about our strategic agendas of sustainability and digital innovation. They are big fixation points for us'
Christopher Luxon
Air New Zealand chief executive
Despite these setbacks, the carrier reported a US$276 million after tax profit for the year ended June 30, 2017. It was a decline of 17% over the previous year, but the results were still the second biggest profit for the carrier in its history.
Last month Luxon reported another impressive interim profit, to December 31, 2017, of US$237.7 million. While the results were slightly lower than the $256.8 million profit it reported for the same period a year ago – as higher fuel prices dampened profits – Luxon said the airline group was on track for its second highest profit in the company's history for the full year to June 30.
"The domestic market continues to show strength driven by the New Zealand economy as well as inbound tourism. We will increase capacity by approximately 6% across our regional and jet services to support that demand over the second half of the financial year," said Luxon.
"It's been quite a challenging 24 months to be honest," Luxon told Orient Aviation. "Last year was all about dealing with lots of new competitors. We had 10 new competitors show up in twelve months in New Zealand.
"But the business was highly resilient. We fought back and were highly competitive, which was great. All the work of the previous five years stood us in good stead. It is why we were very proud of the results despite the pressure we had competitively." Among the newcomers flying into an already crowded market were Qatar Airways and Chinese carriers Sichuan Airlines, Hainan Airlines and Tianjin Airlines.
Last September, the challenge was more immediate, to say the least. Thousands of airline passengers were stranded in Auckland after a pipeline burst that was the only conduit for jet fuel to Auckland airport.
"These are issues outside our control, but it is the culture we have built [at Air New Zealand] and the speed and agility of our reactions that allowed us to deal with them. The fuel pipeline rupture was incredibly frustrating," said Luxon.
"We had to run the airline for two weeks on 30% of fuel. Our flight operations people arranged to uplift fuel from other ports. How we managed fuel stocks and how we managed flying again was a pretty impressive response."
Just as serious was the news in December that some of the airline's 11 B787s would have to be grounded. Rolls-Royce had to inform Luxon, in the lead up to the peak Christmas travel season, that the Trent 1000 engines that powered the airline's B787s required premature maintenance. Worse still, Rolls-Royce said, no replacement engines were available.
The fault, which centres around corrosion of intermediate pressure turbine blades, is effecting B787 fleets worldwide. "We've had really good transparent conversations with Rolls-Royce. We also have very good engineering and maintenance resources here in New Zealand," said Luxon.
"We have worked our way through the issues incredibly well. We realized that if we were to deliver our peak summer schedule when the engines could not be serviced as quickly as we would have liked we had to find other aircraft. We hired two A340s from Hi Fly, a Lisbon-based wet leasing specialist, which we have been operating between Auckland, Sydney and Perth."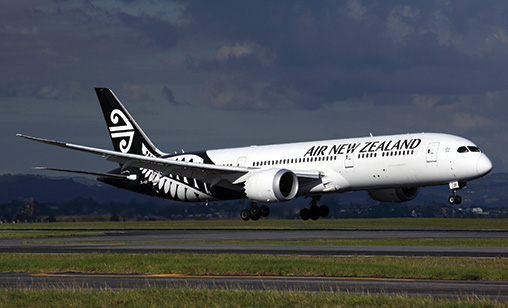 Seeking China's wealthy travelers


"We are interested in the free and independent traveler, not the group traveler. You can fill planes up with different customers, but without the right margin structure and economics, there is a real problem. Your planes are full but you are losing money flying to China," said Air New Zealand CEO, Christopher Luxon.
Over the last five years, Air NZ has changed the whole set of wholesalers and retailers it deals with in China. "We go after wealthy 30-year-old couples and wealthy middle-class families. Eighty per cent of the passengers on our flights spend eight days or more in the country, which is almost as much as U.S. tourists' daily spend," he said.
"It's a much better mix for us. They also are customers with limited annual holidays - two weeks a year – and they want to start their holiday on an Air New Zealand flight interacting with Kiwis. They have consciously chosen Air New Zealand over Chinese mainline carriers. This is how we have margined up our business and how we got the economic model right."
New Zealand was the first country in the world to sign a free trade agreement with China and Luxon wants to deepen the airline's presence on the Mainland. It flies daily to Shanghai and has a revenue-sharing joint venture (JV) with Air China on daily flights to Beijing from Auckland. As well, it has a JV with Cathay Pacific Airways between Hong Kong, Shanghai and Beijing.
The A340 is hardly a fuel efficient replacement for the B787, but Luxon said it was much more important that the airline's customers could travel as planned during the peak summer period. "Within a week of reaching the agreement, we had the planes here and operating," he said.
"It was a phenomenal effort from all our people that made that happen. Think about the network implications, the customer communication tasks and all the logistics that actually made that come into being."
Air NZ and its subsidiaries operate 106 aircraft of which 56 fly mainline operations: 30 A320s for domestic and short haul international flights, eight B777-200ERs, seven B777-300ERs and eleven Dreamliners that service the carrier's long haul network.
Mount Cook Airlines, a domestic subsidiary carrier, flies 27 ATR 72s and Air Nelson operates 23 Bombardier Q300s in New Zealand. Two more B787s and four A321/320neo will arrive in the Air NZ fleet this year as will four more ATRs.
The airline is proceeding through an assessment process with Airbus and Boeing as it considers replacement of its B777-200s. The A350, the B787-10 and the B777X are being considered.
Like Alan Joyce, his trans-Tasman Qantas rival, Luxon is extremely interested in the opportunities new generation jets offer for ultra long haul flying. But unlike Joyce, Luxon is not interested in flying non-stop to London.
"For us, Europe is best delivered through our alliance driven network. It operates to London via Los Angeles. But we have a real source of competitive advantage in linking Asia to South America, two big, growing and emerging parts of the world. We are seeing that already in our traffic flows starting to come out of Asia into South America and South American goods travelling through Auckland on their way to Asia. We also are seeing huge growth from this strategy around Australia, through New Zealand and onto the Americas."
Ground-breaking advertising campaigns featuring Dave the Goose and more recently, Pete the Kiwi, have promoted flying on Air New Zealand to North and South America from Australia via Auckland. They have been a huge success.
"It's going superbly well," said Luxon. "In the last three years, we have built a much stronger presence in Australia. We are the number one corporate reputation company in Australia, which is unusual for a foreign company to have that title.
"We have expanded our sales presence across all the states. We have a compelling story that says if you are in Adelaide why not jump on a Dreamliner, come through Auckland and then transition out to Buenos Aires, to Houston, to Los Angeles.
"To give you a feel for it, probably 40% of our traffic to Argentina is Australians. Twenty five per cent of our traffic to Houston would be Australians. It's been a great source of extra volume in a country of five million people to tap into a much larger market."
Air NZ's fleet has an average age of seven years and is one of the youngest in the world. "Our network is 30% bigger than it was five years ago," said Luxon. "It is affording us some opportunities and connectivity that have not been tapped.
"For us, to go from Australia through New Zealand out to the east coast of North and South America is very promising. To be able to connect China and Southeast Asia through Auckland to South America also is very promising. Being three hours closer to the Americas than the eastern seaboard of Australia means that yes we think there is a huge opportunity for us to do launch into the east coast of North America and also South America. As we go through the B777-200 Request for Information and Request for Proposal, as we look for a replacement for those aircraft, this is very much in our thinking."
As for the increased competition, Luxon said 2017 was the most competitive 12 months in the seven years he has been at Air NZ, but the airline is handling it. "We have started to see much more rational behavior over the Tasman, which is really fantastic because there was over-capacity sitting there," he said.
"The American carriers have reduced their services to New Zealand. And yes, the Chinese have come in, but a lot of the Mainland traffic is from secondary and tertiary cities, which impacts us less. We have built a pretty good business model for China where we have gone after upper middle-class travelers."
Partnerships are a key plank in Air NZ's strategy. Apart from its greater China partners, it works closely with Star Alliance partner, United Airlines. into North America. "We have Virgin Australia and the Singapore Airlines relationship, which is huge for Europe and for Southeast Asia.
"They are a great set of JV partners for the markets we need to service. We have relationships with Aerolineas Argentinas and All Nippon Airways and a bunch of other players around the world. We have the set of partners we want. With an alliance driven network we have both skin in the game and the ability to support each other in our home market, under the blessing of the competition authorities. It is a really good outcome," he said.
Unlike many airlines who complain they are carrying more passengers for less yield, Luxon begged to differ. "It has not been our experience. If you look at our monthly statistics, we've had an improving RASK (Revenue per Available Seat-Kilometer) situation for the last year. It has been a very big focus for us, getting the revenue mix right and where possible making sure, as fuel costs rise, that we try to recover that through our RASK. Yield has been moving in a very positive direction."
Luxon strongly believes digital technology improves customer outcomes, simplifies the business operationally and helps it commercially. And when it comes to customer service he is not shy about his views.
"When you are airline of the year for five years in a row, when you're doing lots of things within an airline world incredibly well, we're not being arrogant but we don't think there is heaps to learn from other airlines about customer service," he said.
"We think there is a lot more to learn about serving customers from celebrity cruises, from Zappos (an online shoe and clothing shop based in Las Vegas, Nevada), from Four Seasons, from Disneyland. We are much better to go to those places because they have much higher levels of service than airlines."
Luxon has sent Air NZ hospitality teams to Disneyland where they saw the magic band the theme park uses to manage traffic through the park. "We actually stole it because we are a big believer of nicking things with pride. We actually repurposed that as our Air New Zealand Air Band," he said.
"It is used for unaccompanied minors travelling with the airline. It's highly anxious putting your kid on a plane under 12 years old and sending them off to see your grandparents in Sydney from Auckland. We have an unaccompanied minor bracelet that sends five text messages to the parents in Auckland and five text messages to the grandparents sitting in Sydney. The kid has a cool band which helps us operationally because it digitizes. We know exactly where everyone is so we can track everybody.
"Commercially, our customers have come back and said we love the service so much. They will pay a premium for that and a service fee for that. It is a situation of high anxiety. It is a pain point in the customer dealing process. We have used technology and innovation to solve that problem."
None of this, Luxon insisted, has anything to do with replacing people with technology. "For some things, the technology gets you through the process quicker, faster, with more accuracy," he said. "It means that rather than leaving our people behind a desk where you line up and check in, we can have our people circulating, concierge-style, around the kiosk who ask 'Sir, can I help you?'
"We have a lot of flexibility and we think we can augment the service we offer. Its not a cost-cutting exercise where you use robots or machines to do the jobs humans can do. It's an end.
"We need everyone doing all the jobs we possibly want done because we have higher standards of customer service and operational efficiency as well as goals for commercial revenues and commercial performance. It's a combination of human and automation working together."
When Luxon joined Air NZ in 2011 as group general manager for the carrier's international arm, he had chosen to quit his high powered position as president of Unilever Canada, a US$1.4 billion business, and return to his native New Zealand.
When he arrived at the carrier, he was not exactly enamoured with the airline industry in general and was critical of some of its traditional practices. "From when I started [at Air New Zealand] to today, airlines have become more like proper businesses rather than excuses for poor performance which is what they kind of were," he said.
"There's still a lot of that around, a lot of incrementalism and lot of calcified paradigms that sit out there that people don't challenge. Having said that, in the last five or six years the industry has become commercially orientated, much more rational and thoughtful about what they can control in their business.
"The history of airlines is they have not faced up to the shortfalls of their business model with the sufficient regularity that you would do in a normal business. So sometimes airlines get what they deserve because they just have not been innovative enough and they have not evolved their business model. The market has changed around them and these are just the basics of how you constantly have to be dynamically tuning up the business.
"We have built a business in the last six years that can deal with fuel at higher levels or low levels, or God forgive a fuel pipeline or any engine issue. That's just the stuff that happens in any given year. If you have a really great culture, really good people and a really great executive team you can deal with it."
Air New Zealand's digital vision


High on the agenda of Air New Zealand CEO, Christopher Luxon, are innovation and the application of digital technology across the entire business. "We have about 700 people in our digital team. We want to be the most digitally advanced airline in the world and also one of the most digitally advanced businesses in Australia and New Zealand," he said.
"We are well on that pathway, but there is a lot more we want to do in the next few years. We think this is a big strategic agenda that needs to be planted and seeded really well and that it wil pay off in five, ten or fifteen years."
The array of Air NZ trials with new technology is astounding. Last August, in conjunction with the Commonwealth Bank of Australia, it conducted a five-day experiment that utilized Chip, the bank's social humanoid robot. It interacted and assisted Air NZ customers to check in and also assisted staff and passengers at the airport gate in Sydney before boarding.
The airline also is testing Google Pexil Buds, which are wireless earpieces that allow Air NZ staff to speak in English to a foreign language speaker and have the exchange instantly translated into the other language. "With language as a barrier, [Pexil Buds] allows us to engage with that customer. The frustration and the pain point are minimized by technology," Luxon said.
Twelve months ago, the carrier launched Oscar on the airline's website, where it began testing the waters of Artificial Intelligence (AI). Oscar answers customer queries and learns as it goes.
"It has been going incredibly well," said Luxon. "It's learning 900 new questions a day.
"There's a whole spectrum of technology available. We don't want to run everything as a bog standard airline doing incrementalism. We have a bigger and better vision of where we want to go."
Last November, Air NZ announced it would explore Blockchain technology, a secure ledger database that records and stores every transaction by all parties participating in a transaction and eliminates third parties such as banks and payment processors.
Luxon told Orient Aviation the trial is at a very early stage, but potential applications for cargo and baggage tracking, retail, distribution and loyalty program opportunities are being assessed. Air NZ also has a mobile app that scans and saves the passport information of passengers and sends a timely reminder for the document's renewal. Every month around 550 customers turn up at the airport with an expired passport.
Also under review is the elimination of physical baggage tags on luggage by employing computer chips in bags. "Why do we put bag tags on bags? We've been doing it for 75 years. No one questions the paradigm, but it's a pain and a hassle for the customer to go to a kiosk or to an agent and put a bag tag, a physical piece of paper, on a bag," said Luxon. "In the 21st Century it does not make any sense. We need to disrupt and take these pain points out and the frustrations away from customers."