Compensation mounts as more engine faults emerge
It has been a rough twelve months for most of the world's major jet engine makers as problems continue to surface on engines that power the world's airline fleet. Chief correspondent, Tom Ballantyne, reports.
Pratt & Whitney's new PW1100G GTF (Geared Turbofan) engines, which power Airbus' latest single aisle A320/321neo, took a turn for the worse last month when the U.S. Federal Aviation Administration (FAA) issued a formal warning that the power plants posed a potential shutdown risk. Read More » The announcement followed a similar decision by European regulators earlier in February.
In an airworthiness directive, the FAA cited a knife edge seal fracture in the engine that could lead to an engine stall, consequent inflight shutdown and rejected takeoffs.
On February 22, Pratt & Whitney announced it had released a revised configuration as a remedy for a knife edge seal on the High Pressure Compressor (HPC) aft hub.
"The solution is based on a design with which the company has significant experience and this solution has all the necessary regulatory approvals. Pratt & Whitney has begun implementing this solution and production engine deliveries incorporating this change will begin in early March," the engine manufacturer said.
If that was a concern for Pratt & Whitney, there was no sign of gloating across the Atlantic in Derby, England, where rival Rolls-Royce also has its troubles. In December, it had to issue an advisory that some of its Trent 1000 engines on B787-9 airline fleets required maintenance sooner than previously indicated because of corrosion issues.
It forced Air New Zealand to cancel several international flights and also to ground some of its 11 B787s. Problems with the engines had caused two of the carrier's flights to be aborted. One flight from Auckland to Tokyo had to turn back to home base when the plane experienced shaking and registered strange noises.
Last year, some Rolls-Royce engines on the B787s of All Nippon Airways 787s were taken out of service because of turbine blade corrosion.
For airlines operating the new aircraft, these incidents are serious issues that disrupt schedules, force flight cancellations and reduce revenue. For aircraft manufacturers, Airbus and Boeing, while they are not responsible for the engine purchases, the incidents are doing them persistent brand damage.
To date, 113 Pratt & Whitney powered A320neo family aircraft are flying with 18 customers.
One airline seriously impacted by the Pratt & Whitney problems is Indian low-cost carrier, IndiGo, which has more than 400 of the aircraft on order. It said it has been forced to replace faulty Pratt & Whitney engines on its jets in 69 cases over the last 18 months.
There had been three occasions when engines shutdown during IndiGo flights and three other cases when flights were cancelled after engine issues were identified. Other big Asian customers for the neo are AirAsia, with 304 on order, Lionair with 113 and VietJet with 42.
So what has gone wrong? Pratt & Whitney has been transparent in its reaction. It said in February that the company had implemented an "engineering change" in the middle of last year that was intended to improve the durability of the knife edge seal on the high pressure compressor aft hub on a limited number of the GTF engines.
Engines that incorporated this change entered revenue service on customer aircraft beginning in December 2017. "In late January and early February of this year, four of these modified engines did not perform as anticipated," it said. It added that defective engines are installed on about 32 aircraft across the world.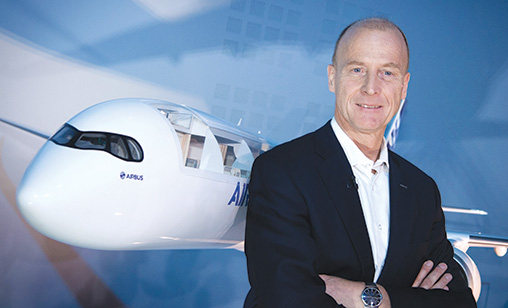 'We're expecting to deliver another record number of deliveries in 2018. Of course we need engines for these aircraft, but I am confident our partners will not let us down'
Tom Enders
Airbus CEO
"The current population of impacted engines is 43 engines installed on 32 aircraft, of which 21 aircraft have one engine with the modified configuration and 11 aircraft have two engines with that configuration. There are also approximately 55 such engines delivered to the Airbus final assembly line, which are now awaiting installation on customer aircraft. Pratt & Whitney is working with Airbus to implement the remediation plans set forth in its all operator transmission," it said in a statement.
The engine maker said that in coordination with Airbus it is presenting a proposed mitigation plan to regulatory authorities for a modified configuration. "Pratt & Whitney will be in a position to provide greater detail around the remediation plan and impact, if any, on its 2018 delivery plan, once the regulatory authorities address its proposed solution," it said last month.
Airbus, which ended 2017 with a record order backlog and delivered more jets than ever despite the engine issues, is promising 20% growth in earnings this year. Announcing the company's full year results last month, chief executive, Tom Enders, said Airbus was working on measures to gain control over the engine issue.
"The A320neo ramp-up remains challenging and requires engine suppliers to deliver in line with commitments," he said, and added the impact on deliveries of the latest turbine issues is under assessment.
The latest issue relates to a seal Pratt replaced after an earlier version exhibited durability issues. Fixing the glitch is "not rocket science", Enders said, and confirmed the U.S. engine marker appeared to have identified the root cause of the malfunction. Deliveries of modified engines should start from April.
Airbus 320neos equipped with a rival power plant made by the CFM International alliance of General Electric and France's Safran are also behind schedule, due to less serious "maturity" concerns. Enders said, Airbus would still look at increasing the production rate of the neo to 70 jets a month from the planned 60 aircraft. "We're expecting to deliver another record number of deliveries in 2018. Of course we need engines for these aircraft, but I am confident our partners will not let us down," he said.
The latest Rolls-Royce Trent 1000 engine problem was not the first hiccup in the program. Introduced into service seven years ago, the engine has had several adjustments to rectify fuel burn and reliability issues that have pushed up development costs of the turbine.
In 2012, launch customer, All Nippon Airways (ANA), grounded five of its B787s due to corrosion within an external gearbox on the Trent 1000 engines. The component, a gearbox from Hamilton Sundstrand, was replaced for all existing and subsequent aircraft. Last year, it disclosed it would have to replace the turbine blades on the entire fleet of Trent 1000 engines powering the B787 after corrosion and cracking problems were discovered on some passenger jets also operated by ANA.
At its interim results in 2017, Rolls-Royce took an $85 million provision to cover technical costs on large engine programs, just under half of which was related to the costs of replacing the turbine blades on all engines affected — roughly half the installed base of 434 turbines.
The problem with Air New Zealand aircraft is not isolated. Virgin Atlantic revealed it plans to lease up to four A330-200s for at least a year from this month to make up for the fact that some of its B787s have been grounded by Trent 1000 problems.
Rolls-Royce said it is working closely with Air New Zealand (and other carriers) to "minimize this impact and restore full flight operations as soon as possible. This is the continuation of work that started last year to upgrade Trent 1000 engines to the latest standard", it said.
Over three years, Rolls-Royce will replace all Trent 1000 intermediate pressure turbine blades and airlines will replace blades impacted by corrosion with new or minimally used blades in the interim.
Analysts said the good news is the problem has been identified and a solution is underway for both Rolls-Royce and Pratt & Whitney. Now, it has to be decided is who pays the airlines for their lost income and additional expenses and how much they will pay.