Cathay Pacific Airways may have surprised the market with better than expected financial results for full year 2018, but there was nothing triumphant about CEO Rupert Hogg's view of where the news positions the carrier after two years of losses. Read More » "It's good to be in the black and it's good to be in the black at the airline," he said.
However, the reality was the US$240 million profit was not a huge amount when more than US$100 billion was being invested. "Clearly, we want to do better and we've got plans to do better," he told Orient Aviation in Hong Kong last month.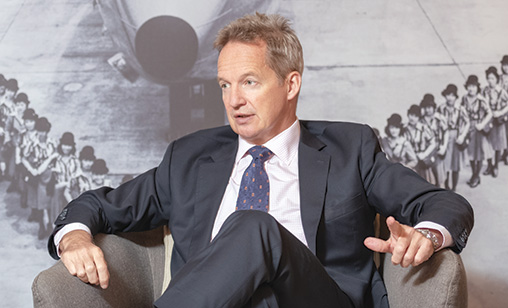 'In terms of the business going forward, the critical issue was for everyone to understand it was about the competitive environment. "It is going to remain that way and we are just going to have to get more agile and more productive year on year. A lot of people think that sounds like management speak for cost-cutting but it's not actually. It's much more about productivity'
Rupert Hogg
CEO Cathay Pacific Airways
Hogg, who took charge of Cathay in 2017, has not had an easy ride. The airline was in the doldrums, losing $73 million in 2016 and $160 million in 2017. High fuel costs, intense competition from low-cost carriers, rapidly expanding Chinese operators, expensive hedging miscalculations and Gulf airlines throwing capacity onto routes in the region took a toll on the Hong Kong carrier.
His task was to implement a three-year transformation program that included widely publicised big staff cuts, at head office and abroad, and the upgrading of the airline group's digital capacity at every level. That has been a challenge in itself, but there also have been Black Swan events that attracted negative publicity for Cathay at a time the carrier was attempting to "move mountains".
In September there was the bizarre incident of a new Cathay aircraft emerging from the paint shop with the livery of Cathay Paciic, an error that attracted global glee from the social media universe.
In late October the carrier announced that in March it had suffered the biggest cyberattack in the history of aviation. The enormity of the assault aside, the public was outraged that Cathay had kept the news of the hackers' efforts to obtain confidential information from them for almost eight months.
Then, at the turn of the year, first and business class tickets, mainly on routes from Vietnam to the U.S., were sold at economy prices. Cathay accepted the error and honoured all the tickets.
"There are two different orders of magnitude there," said Hogg. "People should not forget it was an illegal data breach. We had been doing a lot before the discovery of that but we have done a huge amount in terms of cybersecurity and data governance since then.
"It is really about making sure we are as secure as we can be and that we are watertight, having completely accepted we are in an arms race that's never going to finish. We can see what is going on around the world when big platforms like Facebook and Google get hacked. That was a really serious thing for us and we are really sorry about what happened."
The other two incidents were a different matter, he said. "These are cock-ups. Are they going to kill us? No. Are we smart enough to learn lessons to make sure they don't happen again? Yes. Have we done that? Yes.
"Will we have another cock-up somewhere else? I'm sure. It's just annoying and embarrassing and frustrating for everyone who is working really hard that they happened in such quick succession."
Cyber breach decision


Why didn't Cathay Pacific go public earlier with news of the cyberattack it suffered last year? CEO Rupert Hogg explained the number one obligation of the carrier was to understand who had been affected and in what way they had been affected.
"Because of the nature of the data which may have been accessed we were not even sure if it was readable (by the hackers). We worked with a whole lot of external experts to find out if it was readable," he said.
"When we discovered it was conceivable it was readable, we then had to do a whole lot to find out who might be affected and what data points of information might pertain to that. That's what took us the length of time.
"Could we have done that in a more compressed way? I think there are maybe a couple of bits where maybe the answer is, perhaps. If you look at the thrust of legislation in some jurisdictions like Europe the alternative is you have to tell people immediately about a data breach but we don't know what and in what way. I'm not sure how that is going to pan out as an effective measure. So, we're working with all the authorities and they are making inquiries with us, but that's about where it's at."
Those events aside, Hogg has brought renewed vigour to Cathay, pushing ahead with re-engineering the airline. "It is a three-year transformation and we are at the end of year two. If you think back about the drivers of that transformation program, about how we started it, we had three years of negative revenue growth which was clearly not a sustainable model on the passenger side," he said.
"So, what have we done? Well, the competitive strategy has been about growth and investment. The business goal has been to have a reasonable return on that growth and that investment. We believe Hong Kong is uniquely positioned geographically because you can do both coasts of the U.S. non-stop with existing technology. It is an advantage we have. We are about as far south as you can come in Northeast Asia and be able to do that.
"You can't do that from Singapore or Bangkok without some sort of technical trade off. We think that's a huge advantage. Hong Kong is the best connected of all the hub airports in this part of the world. We wanted to build upon that, keep building upon that. That's an ongoing strategy for us."
Even with pressure on its bottom line, Cathay is investing heavily in new aircraft and network expansion. "We put these plans into effect. We launched 10 destinations last year. We'll launch at least two this year and we also have increased the size of aircraft on the most popular timings to the cities we already serve. We have put more frequencies on as well. So, we are building that network," Hogg said.
He added its fleet of 213 aircraft, including 48 Cathay Dragon airplanes and 10 Air HK A330-600Fs, was designed not just to link big hub to big hub but to bring more services to several destinations that had not been joined to Hong Kong.
"The fleet acquisition is the second big part of the transformation plan. We are now at 32 A350s. They are making a great difference not only because they are joining all these places but because they are a great platform for creating an inflight experience and a customer experience in flight," he said.
"Before the third runway opens [at Hong Kong International Airport in 2023-2024] we will be taking another 70 aircraft. There is the remainder of the 350s, which is another 18 aircraft, then 21 B777-9X and of course from next year 32 A321neo." The neo will replace all the narrow-bodies at Cathay's regional subsidiary, Cathay Dragon.
Hogg said Cathay is taking the A350-900 particularly – it has 22 as well as eight A350-1000s – because it allows the carrier to join places that have never been joined to Hong Kong by non-stop journeys.
"Last year we did Dublin, Brussels, Washington and Copenhagen. We are now operating that aircraft to Tel Aviv, Barcelona and Madrid. All of these are new places on the radar for Hong Kong. We have Seattle from March. Every flight gives exponential permutations for connectivity and they are genuinely new sources of revenue for us," he said.
Much has been written about Chinese airline international expansion that allows people who traditionally flew into China through Hong Kong now fly directly to Chinese destinations. Hogg has a practical view on the trend.
"A lot of media become obsessed with a zero-sum game. Honestly, look at the numbers now versus 10 years ago. The International Air Transport Association's (IATA) definition of the Asia-Pacific is 1.7 billion people travelling in 2019. By 2034, it's going to be 3.9 billion. This Hong Kong hub handled 75 million people last year and we carried 35 million," he said.
"So yes, more people will start going over Guangzhou or elsewhere or they may start going on non-stop services from Perth to London. But it's not a zero-sum game to the extent that you win, I lose. It's just the bigger picture of whether the infrastructure, collectively, will be able to accommodate the huge growth in travellers happening and going to happen.
"My view in that debate is Hong Kong is well positioned because you have a government that has invested ahead of the curve. We have the third runway coming up and we have a home-based carrier in the Cathay group that is investing heavily in aircraft to attract that growth. This gives three banks of connectivity that makes this hub really work."
Equipped for the job


Cathay Pacific's three-year turnaround program is not CEO Rupert Hogg's first experience of organisational transformation at the carrier. A little more than 20 years ago, when he returned to the airline from a six-year stint running Swire's diversified tea business, James Finlay Ltd, he led a team focused on restructuring in the turbulent post global financial crisis period.
He was appointed director of cargo in the same year, promoted to director of sales and marketing in 2010 and then chief operating officer in 2014. He took charge of the airline group in May 2017 when it was looking down the barrel of its first back to back losses in 71 years.
Hogg, 56, had started his career with Cathay Pacific in 1987 after graduating with an honors MA in history from Edinburgh University. Recruited in 1986 by Cathay parent, John Swire and Sons Ltd, he moved to the airline and Hong Kong in 1987. In the following 10 years he worked across the region and at the carrier's home hub in a number of management positions.
From 1998 to 2002, he was based in Australia, firstly on a two-year secondment as commercial manager at the Sydney office of John Swire & Sons Ltd and then as managing director of the parent's transport and logistics company, Kalari, in Melbourne. He moved to his native Scotland in 2002 where he ran the diversified James Finlay tea plantation business until he returned to Hong Kong and Cathay Pacific in 2008.
Hogg pointed out Hong Kong is the biggest hub in the world and it's increasingly about being a gateway for the Greater Bay area. "We see that as a massive opportunity for us," he said.
"When you look at the Greater Bay Area it's clearly not going to be one size fits all, but there is a developed innovation hub - the Shenzhen corridor that extends north from Hong Kong - and this airport is rapidly becoming multi-modal."
One example: there are eight ferry terminals in the bay area with the CX code, which means passengers from around the Pearl River Delta can check in at the terminal before boarding the ferry to Hong Kong International Airport.
"Let's say at Shenzhen. You can check in at the CX terminal there. Your bags will go right the way through from that point. You come through on the ferry to the SkyPier at the airport, where ferries arrive from nine ports in the Pearl River Delta and Macao. You can continue straight through to your gate. So, it's a seamless multi-modal airport and the numbers are really big now. They are moving huge amounts of people in a multi-modal way. That's one point," he said.
"The second point is the new infrastructure that is being built: the bridge that links Hong Kong to the Western Greater Bay Area of Zhuhai and Macao and then there is high-speed rail. All of these factors make Hong Kong airport more accessible. It is why we talk about it as a gateway airport and not just a hub airport."
Hogg said these new links transform the interconnectivity of these places and that while the bridge and the high-speed rail are the headliners, the authorities are looking at opening border crossings and making cross border journeys as seamless as possible.
Hong Kong's airport is congested but Hogg is confident the situation can be handled. "I think they (the Hong Kong government) can increase movements a bit all the way up to the third runway. They have said they've got plans to do that," he said. "From our point of view, we say we can grow at about 3%-4% ASKs every year until the third runway opens. We are quite comfortable at managing our way through to the third runway."
Operationally, Cathay faces similar challenges to other airlines across Asia. "You would have to say there's more uncertainty, it certainly seems, than last year," said Hogg. "There is the trade uncertainty, particularly between the U.S. and China. Discord creates uncertainty.
"For us on the passenger side, corporate uncertainty is really about business travel. Consumer sentiment impacts on propensity to travel and how often you travel. On the cargo side, volumes are definitely down but I would caveat that in a couple of ways. One is that clearly people over-filled their supply chain in the last quarter of last year. The second is looking forward in the first two or three months of the year is always difficult because Chinese New Year is a big distorter. All the factories shut down. It won't be as strong a market as last year."
Fuel remained Cathay's biggest cost, said Hogg, at about 30% of total expenses. Cathay has been hit hard by losses from hedging decisions in the recent past, and has adjusted its hedging policy. "We will never hedge more than two years forward and we will never hedge more than 50% of fuel consumed," Hogg said.
"The other hedge we are getting against the impact of fuel is those modern aircraft. It's interesting that fuel consumption dropped by 2% in 2018 over 2017 so given we grew 3% last year that is a really good story for us. It's reducing the amount of consumption but also the amount of emissions. These new aircraft make a huge difference in lots of different ways."
That included bringing new levels of comfort to customers. New aircraft attract new passengers, he said. "There are lots of different reasons for that. The first is they enable us to get to new markets. The second is they are very comfortable aircraft, very quiet, more humid. The cabin environment is very good," he said.
"The third factor is that in every class of the A350-1000 we have new business class seats, new premium economy seats and new economy seats. And through all of that we have new IFE and IFE is all about speed and resolution these days.
"The more modern your seat environment, the much better the IFE is, not just in resolution but in the quantity of content you can put out there. The new A350s are all WiFi enabled so that's a real benefit to people. We have now rolled out a retrofit program across all the long-haul aircraft which will be finished by 2020."
Hong Kong Express purchase


The other radical change on the horizon for Cathay Pacific is the acquisition of budget operator Hong Kong Express, which will allow it to enter a market segment it has eschewed for years. At the time of his interview with Orient Aviation, Hogg could not comment on the sale because talks were continuing on the now confirmed purchase offer. More than 20 low-cost carriers operate to and from Hong Kong. Cathay had long remained the only big full-service Asian airline without a low-cost subsidiary. What Hogg did say was it did not worry him to have to compete with LCCs. "It's just part of the competition we face and we have been competing with it quite successfully for some time really."
Maintaining company morale through bad financial times has been critical to the program. "We've had two years, particularly the first year, of real uncertainty. Everyone gets the need for change. There's a great innate fondness for the company so everyone wants it to succeed but they have to be convinced that the plan you are outlining has a reasonable chance of succeeding." he said.
"That's why, even though we are only two years into a three-year program, it is so gratifying to get back into the black at the airline level. The board definitely recognized that, so they said let's give everyone HK$2,000. Across a very large population of people it's about US$50 million and we only made US$240 million. It is a tangible acknowledgement it's a people business and the people have got us where we are today."
Micro-managing parts of the business and finding better ways to implement change has been critical to the program. For example, a cross-functional team employed lean methodology and digital tools to determine if meal wastage could be reduced. As a result, 47 tonnes of food and US$18 million was saved last year.
The amount of aircraft towing around the airport also was reduced because of a study. "We've been doing lots of stuff like that. If you add up all the initiatives, we have between 700 and 800 different initiatives going at any one time," Hogg said.
"Some make us more productive to the tune of a HK$1 million, some to HK$30 million. Others generate more revenue. It all adds up. In retrospect, one of the best things was not only to invest in new aircraft and the customer mindset, but to invest a lot in setting up a digital team, additional infrastructure and a lean team.
"The third foundation was shared services, where you take all the humdrum accounting processes in the different parts of the business and put them in one centre. It becomes a centre of excellence. Now we are starting to apply robotics in it so as we grow the business. We don't need to grow the amount of people doing that work."
Hogg said a lot of effort has been put into the digital side of the business. "We started at the get go and probably have about 50 people in our digital team. It is integrated through the [entire] business. A core tenet was the business had to say what the problem was that was trying to be solved," he said.
"So it was 'I want to reduce towing or I want to reduce meal wastage' or whatever. Then the digital team come in and help translate that into how to get the information and how to extract the data that will give the insight to solve that problem. Then the lean team comes in and teaches everyone the most efficient way to do the work," Hogg said.
As for the future, there is no doubt there will be challenges. "In terms of the macro issues that affect aviation, whether you are running a good, bad or indifferent business, oil has been rising again off its base. From our point of view, it has risen 30% against the previous year and has not dropped below its peaks in the last quarter of last year," he said.
"Secondly, the U.S. dollar has moved back into ascendency. We do better with a weak U.S. dollar because so much of our revenue comes from overseas. That's clearly a factor for us.
"Third is the issue of whether the world is more comfortable or more stable than last year. Clearly it's not. A trade deal between the U.S. and China would definitely calm things down a lot because it would be a positive.With all the macro stuff you need to be a delusional optimist to say it's probably a little less positive than it was last year but I don't see it being a train crash at the moment.
"The final point I would make is that anyone who makes any predictions in the first quarter is an idiot… and you can quote me on that."
Despite these challenges, Hogg said: "We clearly are going to grow. That will require big investment in fleet and will require us to get to a sustainable position in terms of return on capital employed. That will require us to be in a continuous state of improvement.
"In effect, what we are doing in phase two, and we are only about a third of the way through it, is redesigning the airline from the bottom up and asking where would technology combine with better data to allow us to really up our game, change our game and make us more productive but also create a better customer experience and a better employee experience. That will be ongoing. That will be a through train beyond 2019 when technically the three-year transformation program winds up."