Cutting edge technology revolutionises cabin design
Digitalisation's impact on aircraft interior trends is re-shaping airline cabins from the seat and WiFi-run IFE to the galley, the trolley and luggage storage. Read More »
IFE connectivity is the fastest growing sector in the industry with manufacturers and providers offering airlines customised content that delivers a high level entertainment experience to every passenger, including the visually and hearing impaired.
Cabin air is becoming cleaner and technology can produce water that has reduced bacteria content. Relaxation zones onboard are becoming more common as passengers demand walk around space on long-haul point to point flights.
Data analysts are putting solutions into the market that will allow airlines to understand how their passengers behave in real time in the cabin and to produce a flying experience that truly matches passenger expectations.
Seats, in particular, are having their moment in the cabin interior's sun. At the most Hamburg Aircraft Interiors Expo, recent Recaro Aircraft Seating outlined its Euros 65 million (US$73,08 million) R&D seating design investment because it anticipates a spike in demand for business class seats. Recaro said increasing numbers of passengers expect airlines to offer onboard "individualised living spaces" so it wished to be fully ready to answer "these market needs".
Recaro said first class demand will continue to decline and airlines will require a range of business class seats that will cater to each airline's premium cabin. It predicts privacy, connectivity and interactivity in an adjustable seating environment will become the norm. Each passenger will have personalised air conditioning and a mini-bar. Greater comfort and well-being will be a given for these passengers.
Also, as business class replaces first class more attention is being directed to the premium economy cabin with demand for seats in this category growing.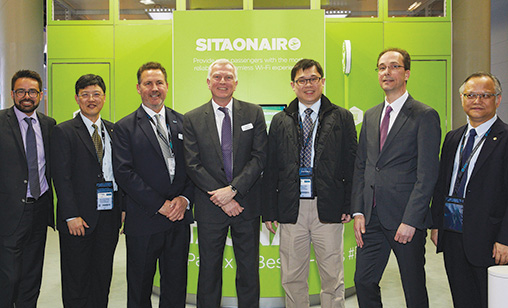 SITAONAIR signs with Taiwan's Starlux


Taiwan's long haul full service start-up Starlux has chosen the SITAONAIR's ONAIR WiFi portal to equip its planned fleet of A321neo and A350s. The Taiwanese airline, founded and chaired by pilot and former EVA Airways chairman, Chang Kui-wei, plans to begin flying in January next year.
During Aircraft Interiors Expo, Adient Aerospace, a young joint venture between Boeing and car seat manufacturer, Adient, announced the launch of its lie-in flat business seat that will be on Hawaiian Airlines' 787-900 fleet from 2021. The Ascent Seating System for the Honolulu-headquartered airline will be a premium lie-flat seat configuration with double suites that allow families to share the experience of a flight – or alternatively offer privacy during a journey for the solo traveller.
To meet growing demand for passenger social zones onboard, Collins Aerospace is showcasing its new M-Flex Duet system. It transforms an aircraft doorway into a self –service meeting place or cabin attendant working area. Also in response to passenger expectations, Airbus will introduce larger overhead bins on the A320 fleet of American Airlines that will increase storage volume by 40%.
A welcome development in IFE and Connectivity are entertainment systems that cater for the visually or hearing impaired. Turbo prop manufacturer, ATR, is demonstrating its Audioback prototype to clients. It is a hearing aid loop designed to capture any audio input, including cabin announcements, that can be delivered to the hearing aid of a passenger. ATR also is exploring cabin improvements such as Braille safety instruction cards.